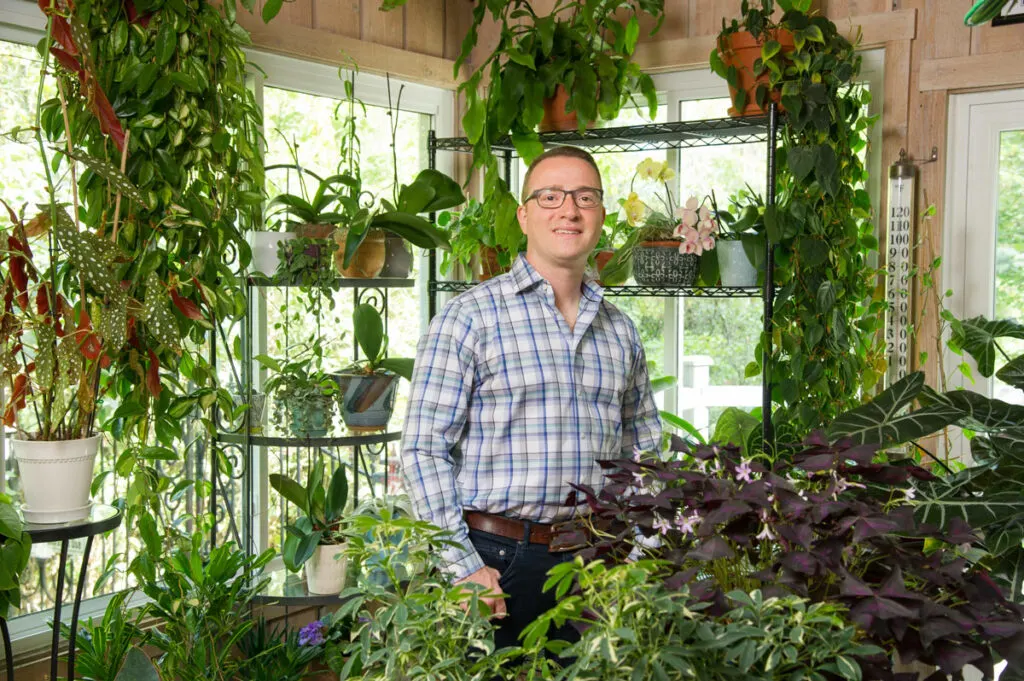 OHIO TROPICS VIRTUAL HOUSEPLANT CONSULTATIONS
---
Dear Houseplant Lover,
Hi, my name is Raffaele Di Lallo and I'm the founder of Ohio Tropics, a site that has had millions of readers in 150+ countries. Many of you may also follow me on Instagram (@ohiotropics) where 165,000+ people follow me for helpful tips, inspiration and advice on keeping houseplants.
I routinely have fielded thousands of plant related questions, and have been growing hundreds of different plants for my entire life, so you can rest assured that you will receive solid, friendly, and effective advice.
I have the experience to back up my advice, and am not yet another "plant influencer" that suddenly cropped up overnight. Don't just take my word for it though. Read the testimonials at the bottom of this page.
Consultations will be via Zoom, last for 30 minutes, and you will be able to ask any houseplant related questions that you may have, and the service will also include a follow-up email with key points that we discussed and recommendations for your issues.
The fee for the consultation is $79 for 30 minutes, and right now are by request only. Use the contact form on my website to inquire if you are interested and let me know what days and times you are available. You can also DM me on Instagram (@ohiotropics)
Read what others are saying about Ohio Tropics houseplant advice… These are just a few happy customers.
"As a Horticulturalist, I am truly inspired and impressed with Raffaele's remarkable plant blog at www.ohiotropics.com. Ohio Tropics has enriched the plant community through factual information, knowledge, and understanding of plant care." – Marisa Reyes in Wisconsin
"Ohio Tropics changed the way I water all of my plants, and they're happier for it! He's so helpful, positive and fun to follow!" – Bethany in Michigan
"I was lucky enough to come across Ohio Tropics recently after I bought my first houseplant and I have since bought many more. The tips on watering, choosing which pot to use, and how much light the plants want have helped them to thrive in my home, but behind all of that is an obvious passion for plants that he is more than happy to share with others." – Will in London, UK
"Not only do I have a black thumb, but I travel frequently and have a cat. I didn't think it was possible to grow anything in my house. Raffaele helped me to understand that orchids are not intimidating. In fact, they are quite robust and require very little attention. I would highly recommend his advice. If I can get an orchid to re-bloom, you can too!" – Meredith in Ohio.
"RAFFAELE!!! After following your advice, the pilea that I've had since June is finally growing! Horray!!! Thank you again for being you! Can't wait for your book!" – Nora
"Just wanted to say my Chinese Money Plant is doing SO SO SO well since I saw a post about ambient light on your page. I placed my small plant in an eastern facing window for morning sun and it has not stopped putting out new growth for months. There are 3 new leaves every other day, it's nuts. Thanks for educating the plant-loving community!" – Anonymous
"Hi again! It's been a while and wanted to let you know I was gifted a new orchid. The other one did die off. Since I've had this one (5 months) I followed your ebook religiously. Look at the result. And it had a new flower spike growing too! So happy!" – Julie
So what are you waiting for? Book your consultation today: