Some of the links in this post may be affiliate links.
When trying to master houseplant care, once you've become comfortable with the rhythm of watering, feeding, and positioning, there's still one major factor to consider: humidity.
If the humidity of your indoor environment isn't ideal, certain finicky plants won't be at their best. Houseplants like Calatheas, Ferns and Begonias (among others!) love high humidity environments. Aiming for a relative humidity of 40-60% is a good target in general for houseplants.
Here are our top recommendations for the best humidifiers for your indoors plants:
TaoTronics 4L Cool Mist Ultrasonic Humidifier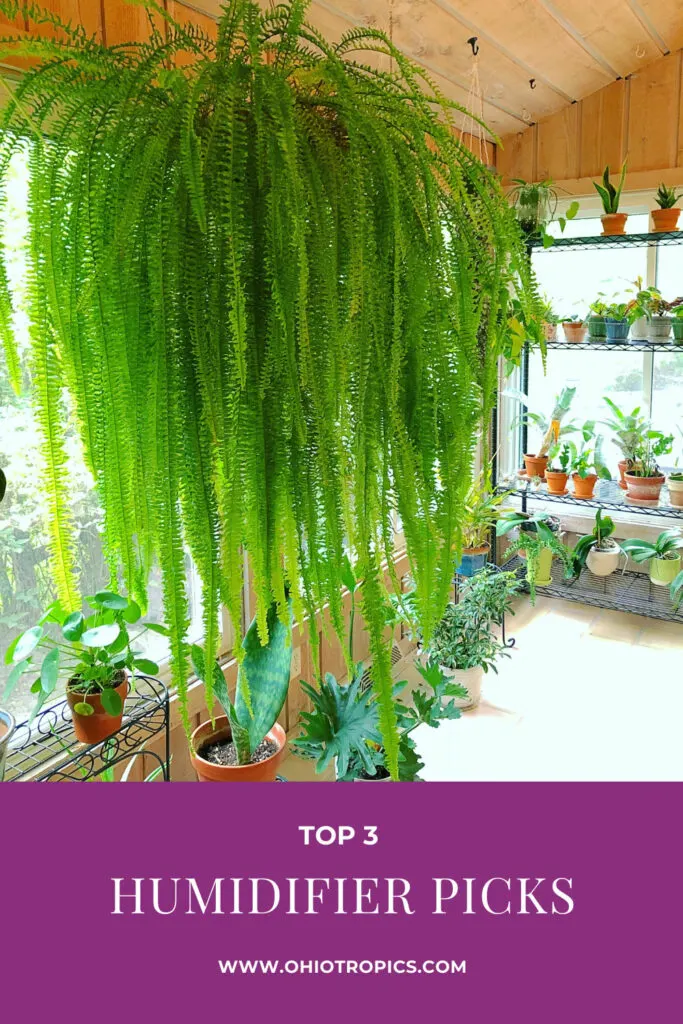 Our Three Favorite Houseplant Humidifiers
These picks are based on our personal usage of the products, as well as feedback from others who have purchased the product in the past. They're guaranteed to be quality and are sure to please both you and your houseplants!
The Levoit 6L Ultrasonic humidifier is the most powerful and effective humidifier of the 3 (if you choose warm mist and the highest setting for mist output) and is by far the best choice for larger rooms.
This generous 6L (approximately 1.6 gallon) ultrasonic humidifier offers both warm and cool mist, is powerful enough to fill a large room (up to 70 sq. meters or 753 sq. feet), and is quiet in operation. At the low mist setting, it can run up to 60 hours, and up to 10 hours at the highest output setting.
It also is the only one in these top 3 choices that also doubles as an aromatherapy device if you like to use essential oils. It also offers an auto mode to keep the room at your desired level of humidity, and comes with a remote control for easy access.
The main downside, after using this product for a while, is the cleaning of the unit. Following the manufacturer's advice, they recommend using white vinegar to clean and a bleach solution to disinfect. Balancing that out, the effectiveness of this humidifier is hard to beat.
The number one feature of this 4L (approximately 1 gallon) capacity humidifier is how simple it is to clean. It includes a washable design that enables you to take it apart and thoroughly clean every inch.
Soapy water and a sponge are all that is needed to clean this one! Unlike the other two humidifiers in this post, no vinegar and bleach is needed. There are quite a few parts, but after you clean it once or twice and get used to how it assembles together, it's a cinch.
On top of the easy clean feature, this humidifier offers a powerful and durable operation that can go for up to 24 hours before a refill is needed. At max output, the water will last about 8 hours before having to refill.
Another feature that I love, and that is unique to the 3 humidifiers discussed in this post, is that you can fill this humidifier with water right from the top and without stopping operation! I just walk over with my watering can and fill it up without having to move the unit.
This one is by far the most beautiful humidifier in this group of 3. It has a color cycling feature which illuminates the BPA-free water bowl in different colors, or you can also select a single fixed color, or leave it off.
Not included with the NR08M model is an optional miroT connectivity chip which will allow you to control power, humidity output, and more from the Miro phone app. It can even integrate with Alexa, Google Home and Bluetooth!
This humidifier is rated for a maximum space of 600 square feet. It offers a wonderful balance of beauty, ease of use, cleaning, and effectiveness, but it is pricier than the other two. Visit MIRO and get an extra 15% discount by using code OHIOTROPICS.
3. TaoTronics 4L Cool Mist Ultrasonic Humidifier
This 4L capacity cool mist humidifier is ideal for smaller rooms. It is rated for spaces up to 10-30 square meters (107-322 square feet), and the water lasts about 12-30 hours (depending on your settings) before having to refill.
Operation with this device is incredibly simple. With the LED display, you can see information about the power of the humidifier, the humidity level within the room, and the time remaining before the tank needs to be refilled.
You only need to change the filters every 4-6 months and won't have to worry about any damage as it offers an automatic shutoff once the water has depleted.
Similar to the Levoit, you need to use vinegar and a bleach solution to clean and disinfect, respectively.
This is the most cost-conscious of the 3 picks, but this would only be effective for smaller spaces.
What to Consider Before Purchasing
Here are a few tips that any plant parent should consider before settling on a humidifier for their house. These are the features we tested each of the products in our list against.
Space
How much space can the humidifier cover? If you have a large room, you'll need a more powerful humidifier to fill the space properly. Buy the best humidifier that you can afford. You will never regret it.
The space that the humidifier is rated for is the most important aspect in choosing a humidifier so make sure that the humidifier you choose can keep up with the size of your space.
In order to have an impact on the actual humidity in the room, I like to use humidifiers that are rated for spaces larger than my room that I have it in. For example, if a humidifier is rated for usage up to 600 square feet, it will be much more effective in a room that is 300 square feet versus one that is 600 square feet.
Capacity
How much water can your humidifier hold? There will be times when you're away from home and need to ensure that your plants have a constant flow of humidity. Plus, no one wants to constantly be filling the water tank!
If you want a continuous output without your tank running dry, you'll need to balance the settings and play around with it to suit your needs.
Lifespan
Whether it's your filter or the device itself, it's always better to spend more now on something you know will last rather than find yourself buying a new humidifier every year. If the humidifier doesn't have a long lifespan, it might be cheaper to buy an expensive one now rather than later. All of the ones on this list have been long lasting in my experience.
Cool Mist vs. Warm Mist
All 3 picks in this post are ultrasonic humidifiers, which means that they use high frequency vibration to propel water into the air and are generally more effective than other types.
All 3 humidifiers that I discussed are cool mist, which use the least energy. The Levoit is the only one of the 3 that can also be set to warm mist, which in my experience increases the humidity in your room the quickest (but will also deplete the water tank the fastest).
In the end, choose one that best meets your needs! Your Calatheas, Ferns and other humidity-loving houseplants will thank you for it.