Some of the links in this post may be affiliate links.
Is your Marble Queen Pothos losing variegation? No one buys variegated plants only to have them lose their variegation and grow all green leaves! This post will go over exactly what to do if your Marble Queen Pothos starts to exhibit this behavior.
These exact tips apply to any variegated Pothos, whether you have Marble Queen, Snow Queen, or any other variegated Pothos. It's very simple so keep reading!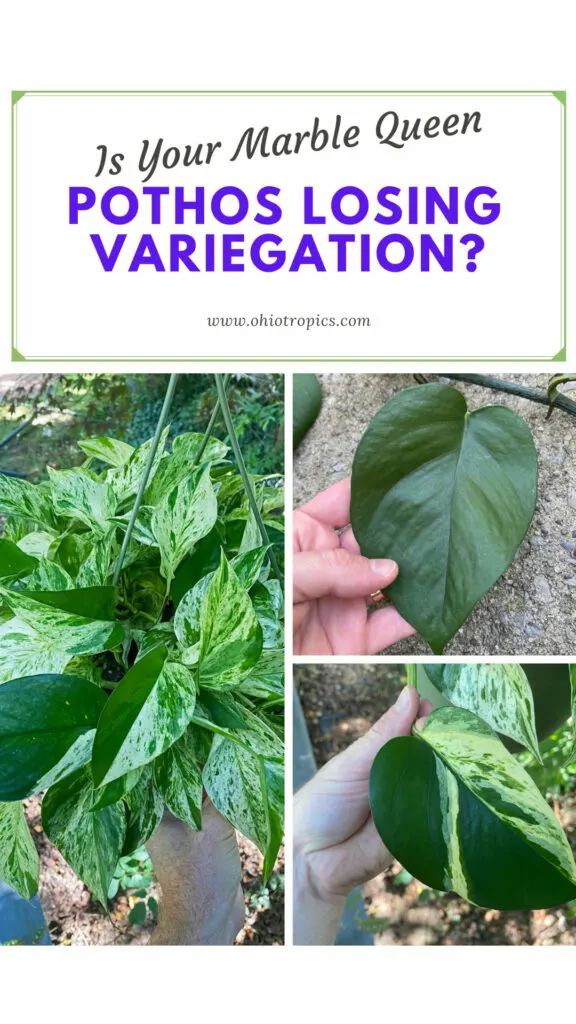 HOW DO YOU ENCOURAGE VARIEGATION IN POTHOS?
Pothos 'Marble Queen' is a beautifully variegated plant, but occasionally it will start to produce all green leaves, or nearly all green leaves. I certainly didn't buy this plant to grow all green leaves!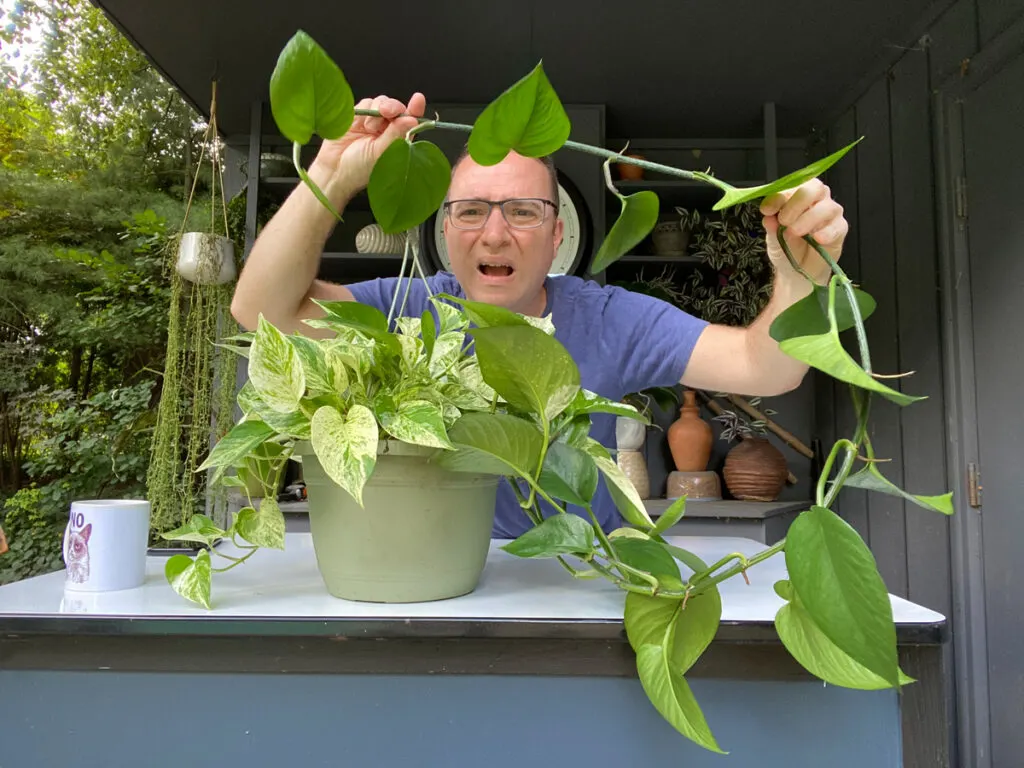 When I purchased this plant, I noticed that it had started to grow a vine with all green leaves. The vine actually had two or three variegated leaves at the base, and then it started to grow all green leaves as you can see in the photo above.
I definitely didn't sign up for that!
The vine with mostly all green leaves proceeded to grow a few feet long in a matter of just 3 months, while the other vines with variegated leaves grew substantially slower. The variegated leaves have much less chlorophyll, thus they will grow more slowly.
Variegated plants, by their nature, can be very finicky and unstable so you never know what to expect.
Here is what my Marble Queen looks like, and this is the way I'd like to "train" it to stay.
Here are two things that you can do in order to encourage your plant to stay beautifully variegated.
Both of these are important, so be sure to read until the end!
1. Make Sure You Have Enough Light
Variegated plants in general need more light, compared to their non-variegated counterparts, in order to retain their beautiful variegation.
Indoors, this means keeping your plant directly in front of a window, even one that has a handful of hours of direct sun.
My own plant was outside in the shade when it started to grow all green leaves. It was plenty of light to grow this plant, so what can you do in cases where you do have enough light but your plant is STILL producing all green (or nearly all green) leaves?
The answer is to…
2. Selectively Prune to Encourage New Variegated Growth
So many of my readers get so scared to prune any of their plants. The fact is that pruning plants will encourage growth and easily rejuvenate your plant, so don't be scared!
In this case, you don't just want to prune your vine anywhere though. You need to be strategic as far as where you trim your vine.
Look at the photo below. The 2 or 3 leaves at the end of this vine were mostly green and barely had any variegation.
Start at the very tip of the vine and keep working your way up until you reach the first leaf that exhibits good variegation. Keep the part of the vine with the leaf that has good variegation, and trim the rest of the vine off (that has the all green leaves).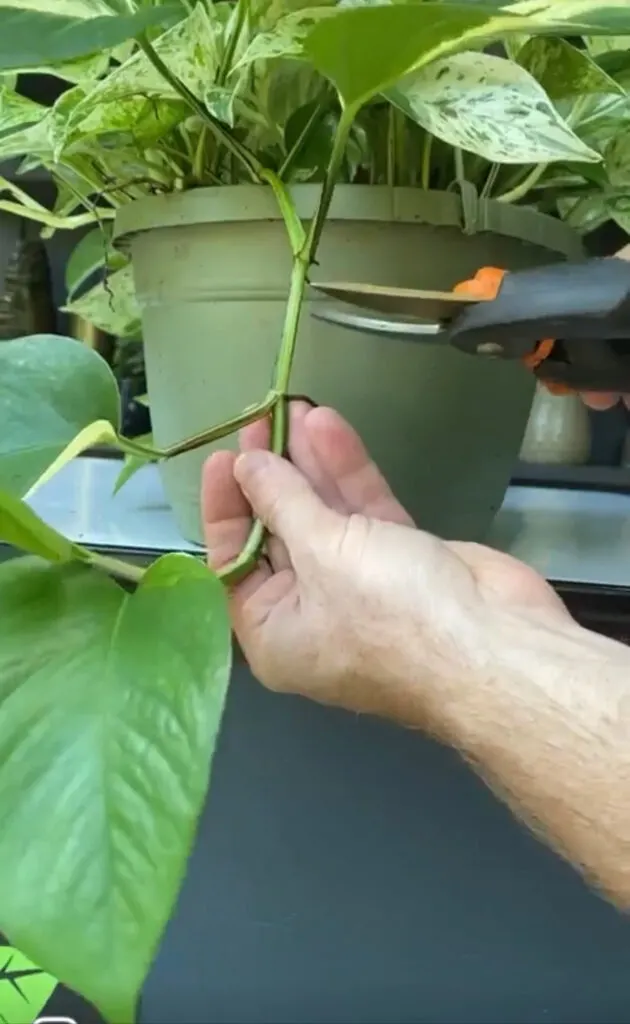 Here is the part of the vine that I left with the variegated leaf.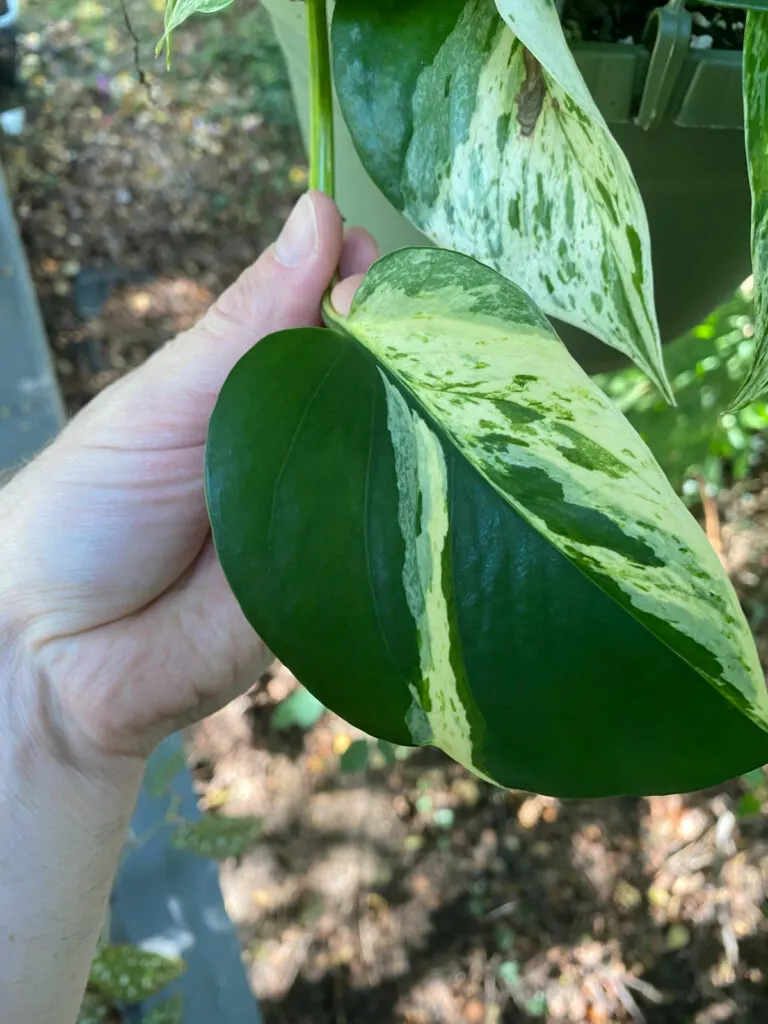 You can see here where I cut off the rest of the vine.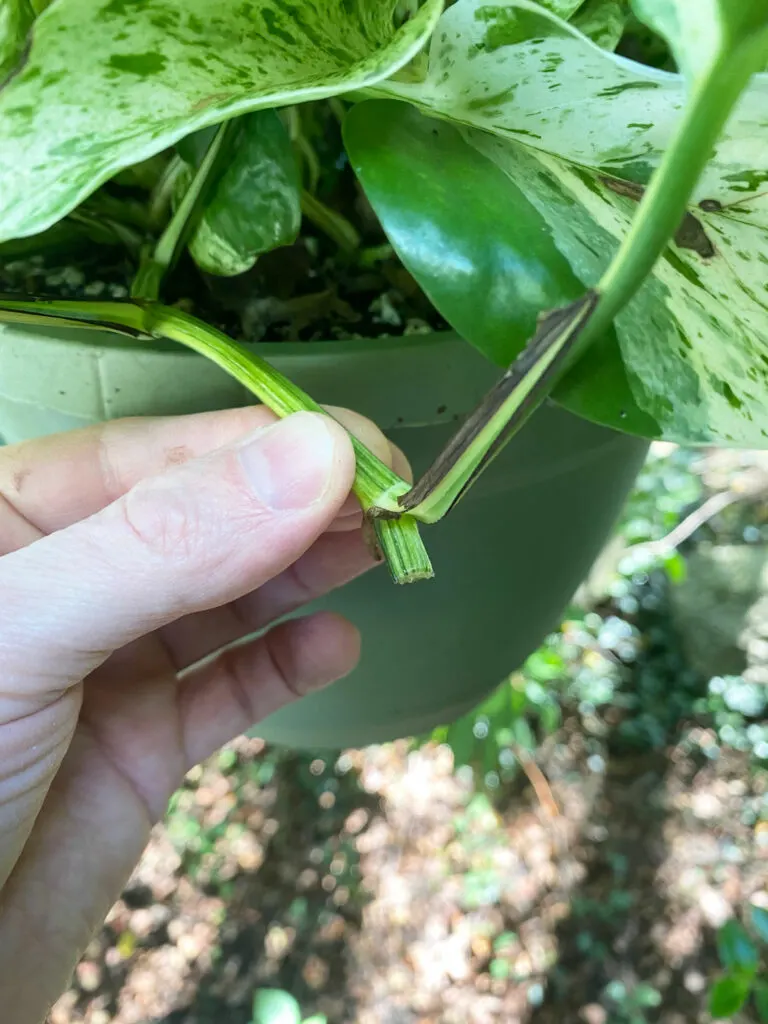 A new vine will start to grow from the node where that variegated leaf is that I left on the vine. It's not 100% guaranteed, but chances are high that the resulting new growth will be more variegated.
Here is the part of the vine that I cut off. There is a tiny bit of variegation, but nothing like I would expect or want on a 'Marble Queen'.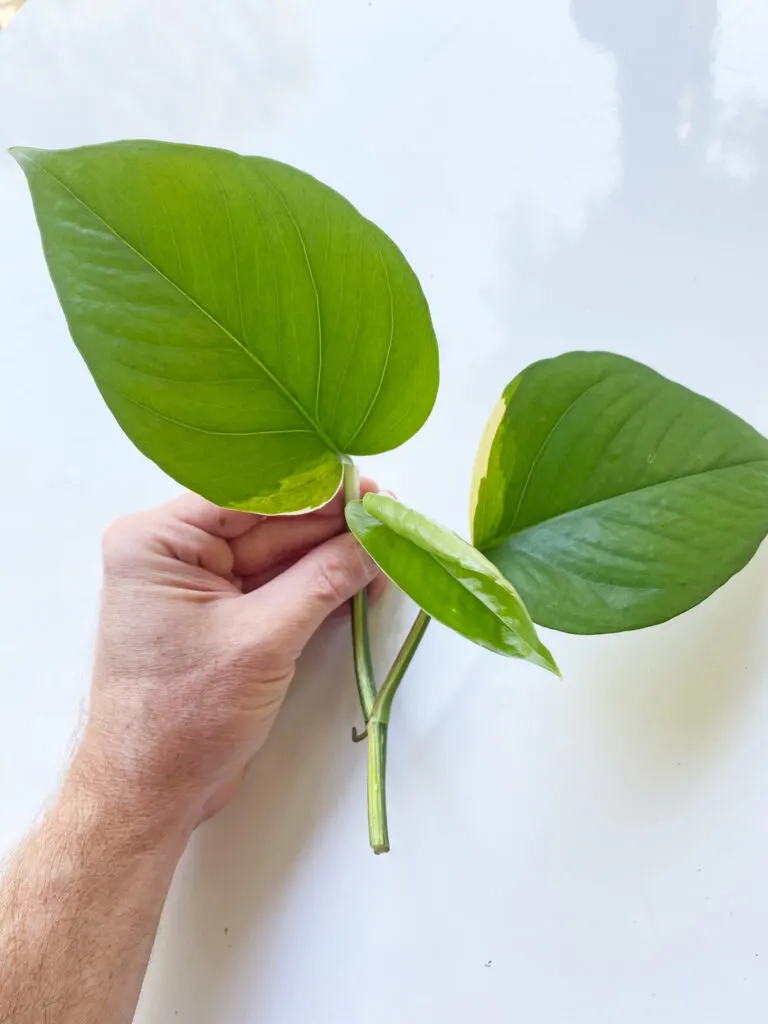 Following this same process, I did the same thing for the long, all green vine. I went ahead and chopped it off and left only the variegated leaves at the base of the vine.
Here is the portion that I cut off.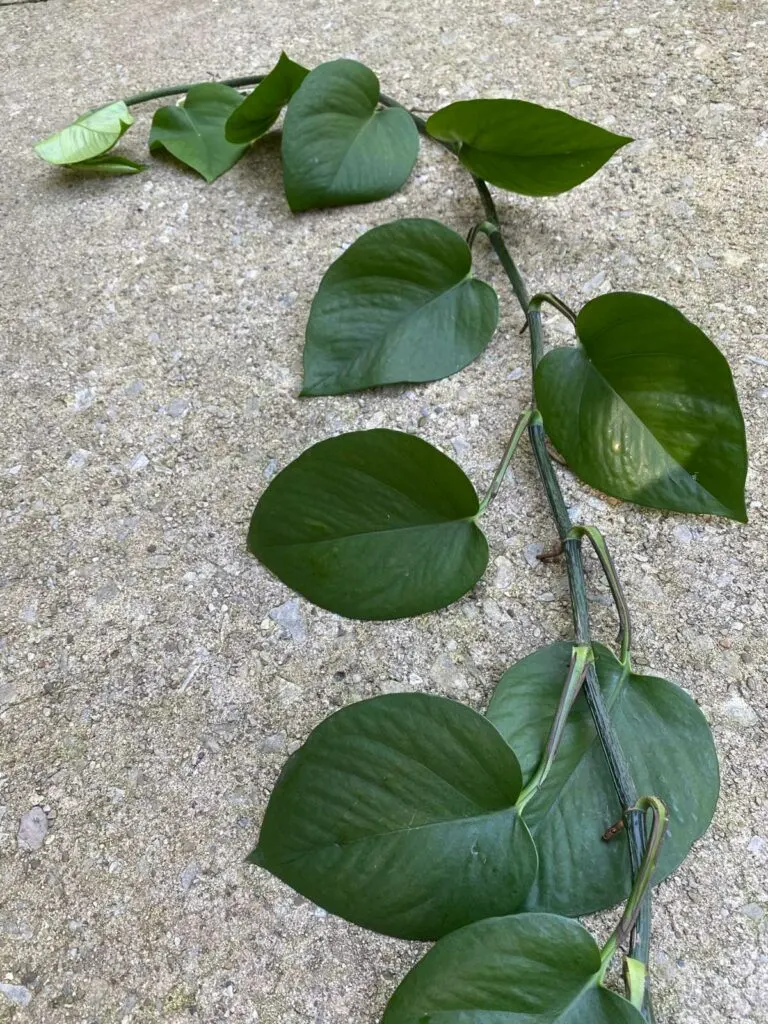 The leaves truly were all green!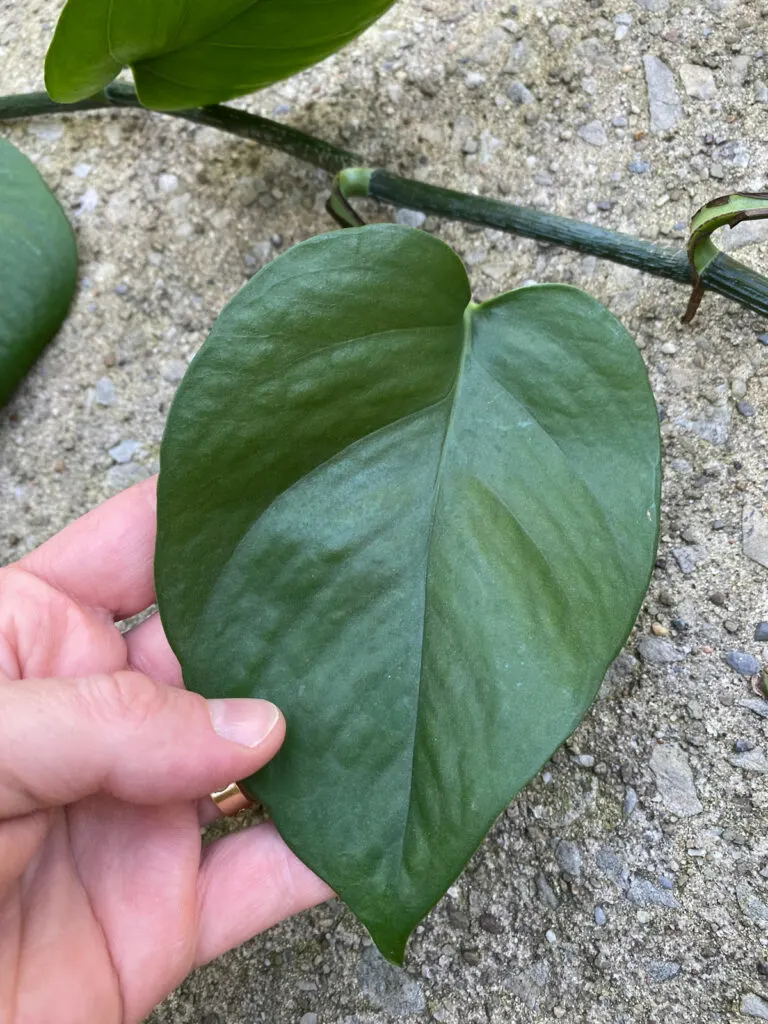 At this point, all you have to do is wait and observe what the new growth looks like. I will update this post to show the results when my plants starts to grow back.
Should You Propagate the Parts of the Vine That You Cut Off?
Although it might be tempting to propagate the parts you cut off, if you want to retain the original plant (in this case, a 'Marble Queen'), you should just discard those vines.
If you don't care about this, you can still propagate and still have a nice plant. It just won't look like the original cultivar.
Are you looking for a special Pothos? Be sure not to miss my blog post on all the gorgeous Pothos varieties that are available.
Are you looking for a special Pothos cultivar? Check out the Pothos selection on Etsy (link to Etsy). Etsy is one of my favorite one-stop-shops to find just about any plant!
I hope you've enjoyed this post. Has your 'Marble Queen' or even 'Snow Queen' started to grow all green leaves? Comment below. I'd love to hear!
And be sure not to miss my Marble Queen Care guide.