Some of the links in this post may be affiliate links.
How often do you water a Christmas cactus? The answer is simple, but don't rely on your calendar to tell you, nor will I recommend the "once a week" approach. Keep reading to learn the simple truth of exactly when you should water your Christmas cactus.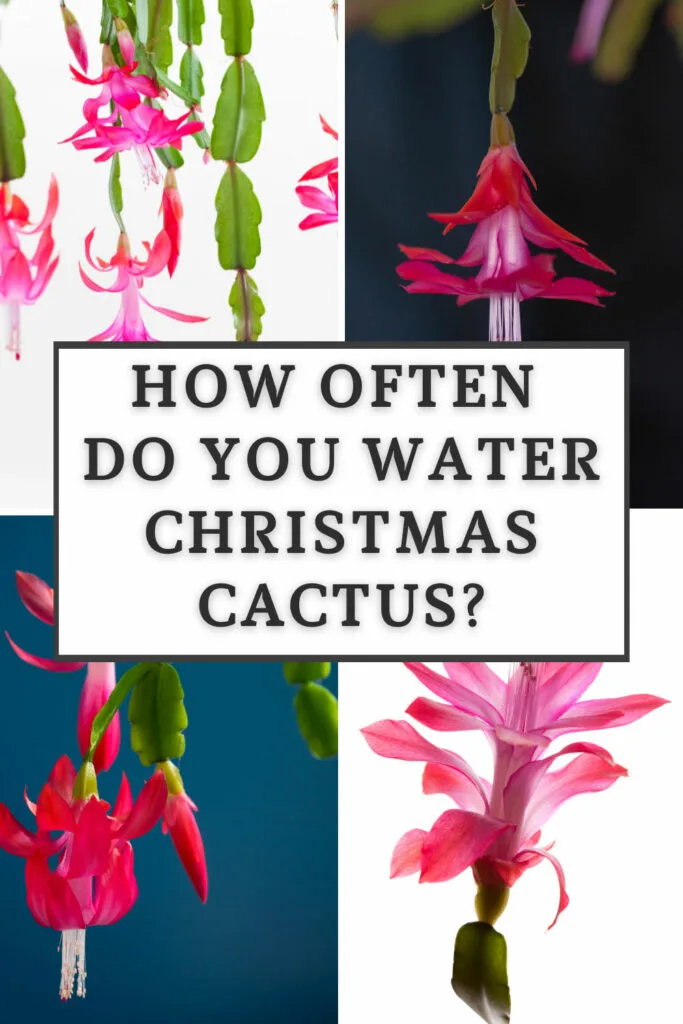 HOW OFTEN DO YOU WATER A CHRISTMAS CACTUS
I'll give you a simply answer first, and then a slightly longer explanation which is very important to understand.
Here are some important tips when it comes to watering your plant.
1. THE ANSWER IS NOT ALWAYS ONCE A WEEK
This may not be the answer you want to hear, but all of our growing conditions are different, so what works for me, may not work for you. This is why maintaining a strict watering schedule is not the answer.
It is important to check on your plants regularly, but don't water with a strict schedule just because your calendar is telling you to.
So how do you know when to water your Christmas cactus?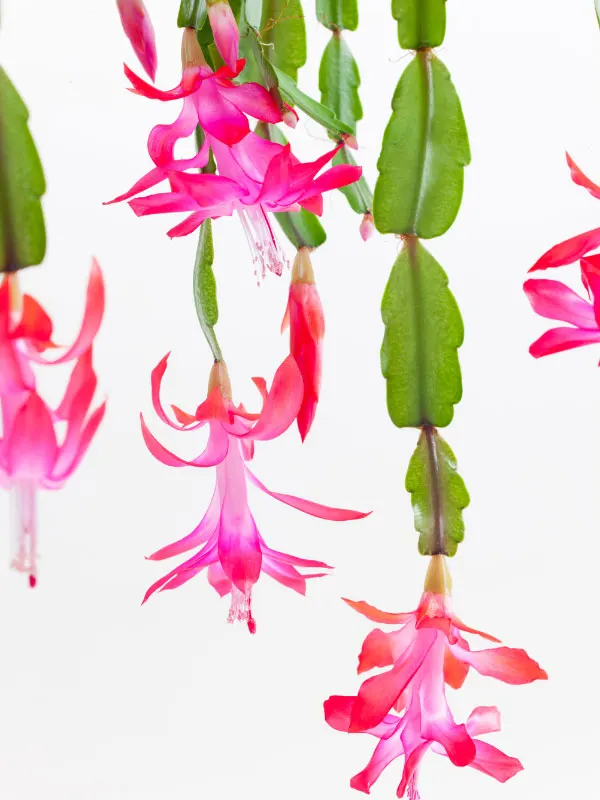 2. WATER WHENEVER YOUR SOIL IS APPROPRIATELY DRY
My best advice is to wait to water until at least the top inch of your soil has dried out. Use your finger to judge the soil moisture.
Do not use a moisture meter as many of these are notoriously faulty and often read "moist" when in fact the soil is bone dry.
Christmas cactus soil can even go completely dry, but don't wait too long otherwise you'll start to see your plant shriveling.
After you water, if your soil seems to be taking too long for the surface to start drying out (let's say, more than a week or so), then you should consider the following factors that contribute to your soil drying out.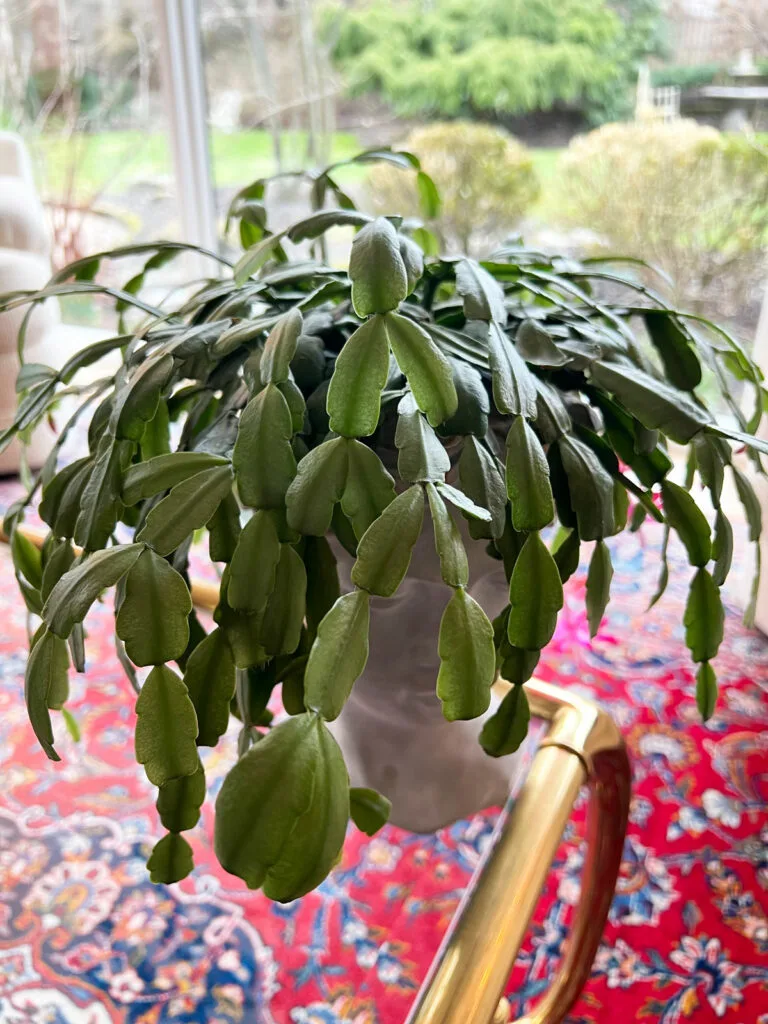 3. FACTORS AFFECTING HOW QUICKLY SOIL DRIES OUT
LIGHT
Light is the most important factor. Indoors, make sure that your Christmas cactus is right in front of a window and not set back.
In low light conditions, photosynthesis is greatly reduced and your plant will use much less water. Poor light will also prevent your plant from blooming.
A few hours of sun indoors are beneficial. For more details on light and other growing tips, check out my Christmas cactus care post.
SOIL TYPE
A well-drained soil is very important. Although these are jungle cacti, they are still cacti and drainage is very important.
Be sure not to miss my blog post on 3 choices for great potting mixes for Christmas cactus. I included an amazing mix that you can use straight out of the bag, as well as two simple DIY mixes that you can easily blend.
POT TYPE
Drainage holes are not optional! Excess water needs somewhere to go and it is too risky to grow in pots without drainage holes.
Remember that these plants are epiphytes and grow on trees, so good drainage is particularly essential.
As far as the type of material that your pots are made from, terra cotta pots are porous and thus will dry out much more quickly than other pot types for indoor plants.
POT SIZE
This is something that many people don't consider. When you repot, a good rule of thumb is to only go up 1 pot size and no bigger.
For example, if your plant is growing in a pot that is 4 inches in diameter, go up to a new pot that is 6 inches in diameter and no bigger.
If you go any bigger, you'll run the risk of the soil taking much too long to dry out, and depending on your other growing conditions, you will increasing the risk of root rot.
These are some of the main factors, but there are more.
Houseplant care is not about getting just one thing right. There are many factors to consider when it comes to plant care, and I've explained everything in my book, Houseplant Warrior: 7 Keys to Unlocking the Mysteries of Houseplant Care (link to Amazon).
I hope you've enjoyed this post on how often to water a Christmas cactus. Do you have a Christmas cactus?