Some of the links in this post may be affiliate links.
The fun part of propagating Pilea peperomioides is that you have numerous ways to do it, and it's fun to try ALL of them! In this post, I will show you 3 very easy, and very different, methods to propagate your Chinese Money Plant, UFO Plant, or Pancake Plant…whatever you happen to call it!
Now let's get into some tips for Pilea peperomioides propagation and I promise you will have success if you follow my tips!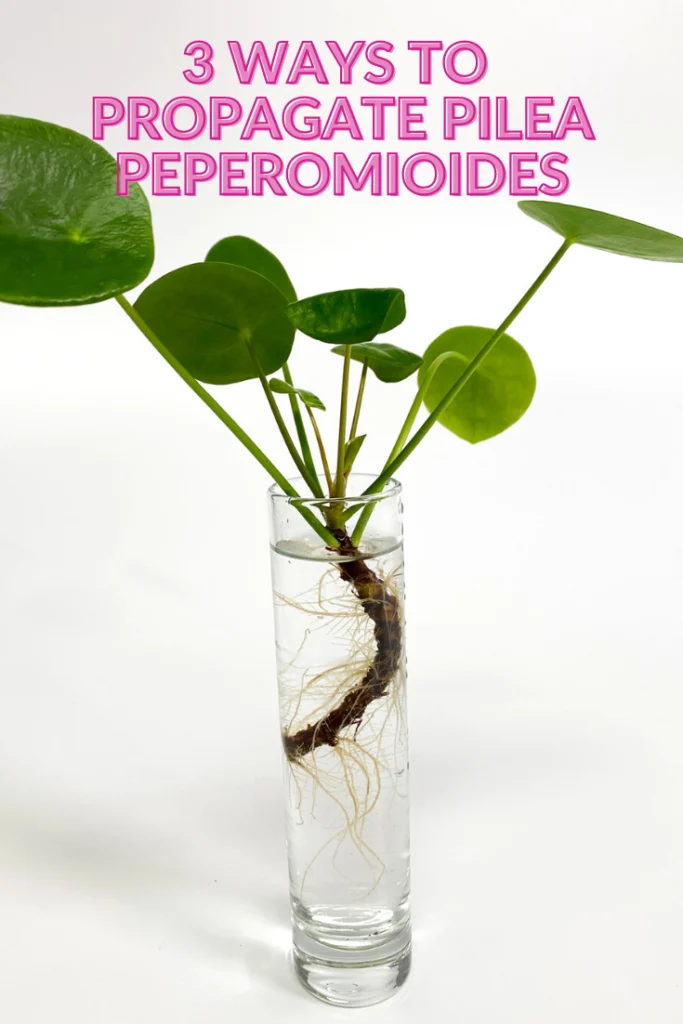 PILEA PEPEROMIOIDES PROPAGATION METHODS
Here are the 3 best ways to propagate this plant, and I'll discuss each method with photos:
Using a single leaf (YES it's possible!)
Chop off an entire trunk and make a cutting out of it
Separate or cut existing pups or babies
1. Propagation From a Single Leaf
Is it possible? Yes! But you have to keep several things in mind to be successful. All you have to do is cut off a single leaf, but you need to include a small portion of the stem or trunk that it's attached to.
I used a sharp paring knife to do that: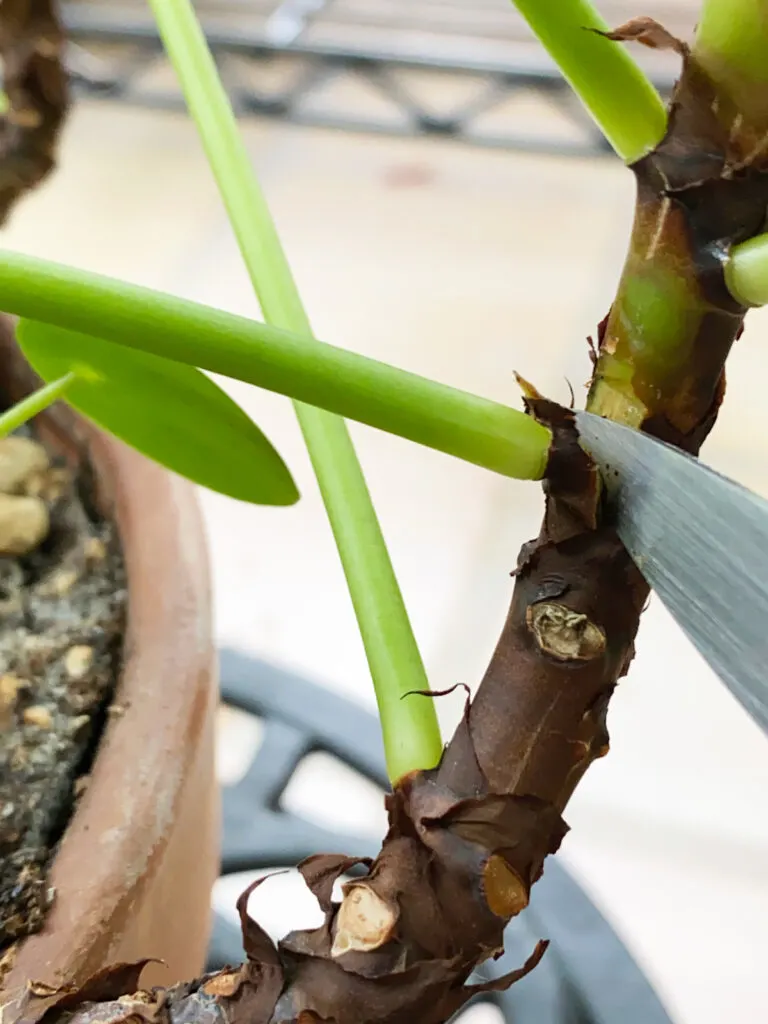 Notice in the photo above, I cut a small piece of the brown trunk that is attached to the petiole. You need to include this otherwise you will not grow any pups or babies.
Here is a closer look once I detached it compeltely.
Make sure that you use a mature and HEALTHY leaf. Don't use leaves that have yellowed, have fallen off your plant on its own, or that appear limp or weak. This will minimize your chances of success (and simultaneously increase your chances of frustration!)
Like any time I make cuttings, I always do multiple cuttings because you never know which ones will actually take and proceed to root.
Be careful when you cut into the trunk, don't go TOO deep where you'll weaken the trunk or potentially snap it off. Go slow (it's almost like performing a minor surgery!).
(If you do accidentally snap the whole trunk off, you can propagate that too. See the next method of propagation in this post.)
Once you have your single leaf cuttings, simply place them in water. Here are three single leaf cuttings that I placed in a propagation unit.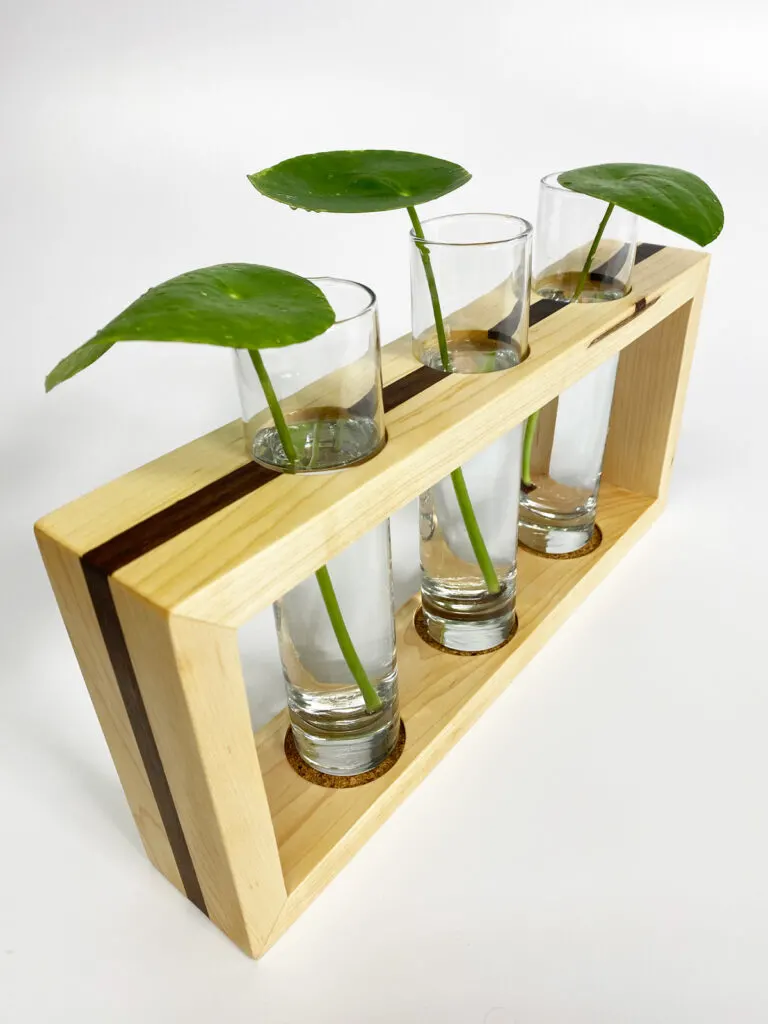 Be sure to change the water and clean your vessels regularly. I would recommend changing the water at least once a week. Make sure to keep the vessels clean and slime-free.
Less than 2 months later, here are all three of the single leaf cuttings that I made. All of them rooted and produced babies!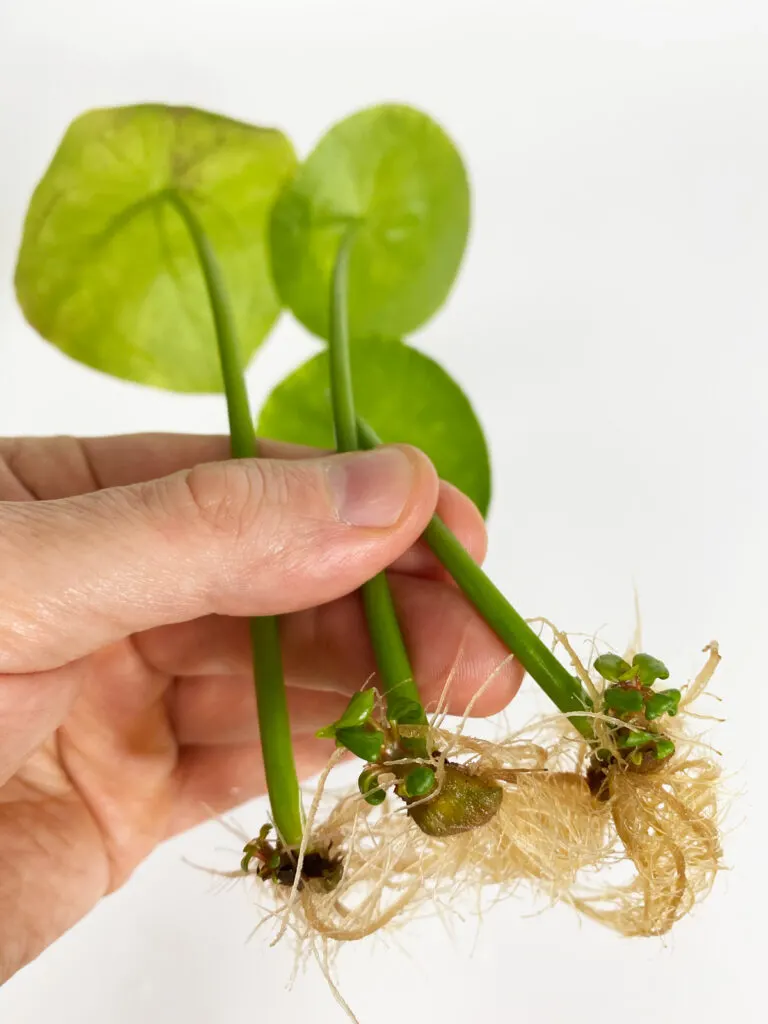 Lastly, be sure to place your cuttings in good light. Place them where you would place a normal growing plant. Many people seem to think cuttings are different and can be placed anywhere, but they still need light.
All you have left to do at this point is wait for root and pup formation which will occur right at the end where you made the cut. I will update this post once that happens so you can see exactly what it looks like. I've does this successfully in the past but neglected to take photos, so stay tuned.
Now onto the next two methods of propagation!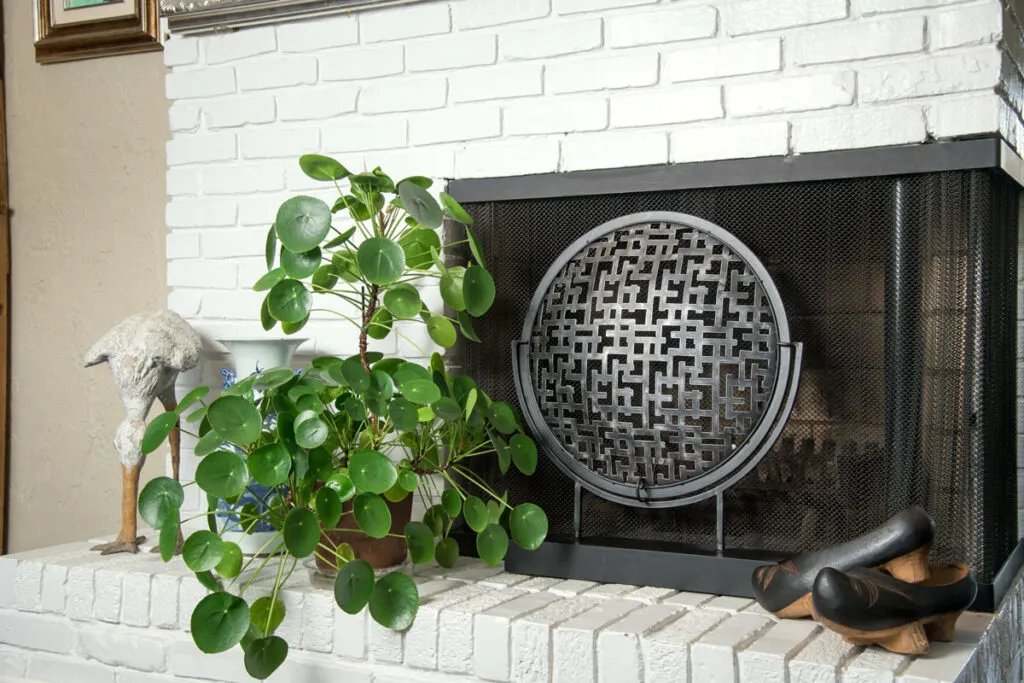 2. Chop Off the Trunk and Root in Water
This one is as simple as it sounds. Many people are TERRIFIED of trimming any plant, but I assure you this is a super easy method.
If your plant has a lost a lot of its lower leaves and you want to revive your plant, simply cut off the trunk and place it in water! It's as easy as that.
Or if you have a plant with multiple trunks and want to make more, this is an excellent method.
The cutting in the photo above started rooting in less than a week. I'll have to make sure to plant this in potting mix very soon.
The nice part about this method is that if you cut off the main trunk from your plant, it will encourage any pups to grow better and your plant will get bushier. If you do want a taller plant, I would not advise cutting off the top of your Pilea.
As an example, take a look at the photo below:
The cutting in the vase on the right is another example of one that I cut off to root. I left the pups that were in the terra cotta pot on the left. Several months later, take a look at how nice the plant got: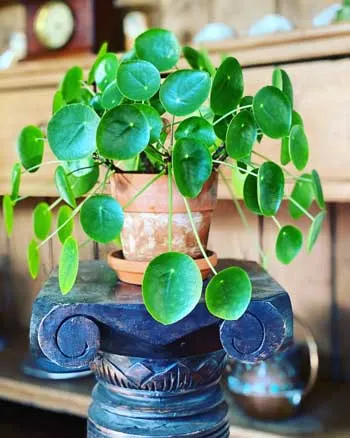 3. Separate Existing Pups or Babies
The last method to propagate Pilea peperomioides is to simply separate or cut off the pups or babies off and plant them in separate pots.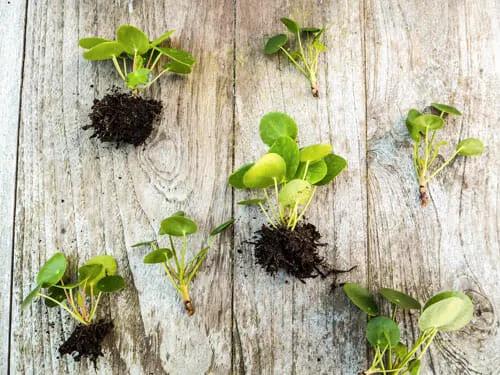 Gently tease the small plantlets away, or use a sharp, sterilized knife of pair of scissors to cut them free. If you need to take the entire plant out of its pot, go ahead and do so if that's easier for you.
Try and leave some attached roots on the pups if at all possible. If you can, plant these pups up right away. If you were not able to get any roots attached to the pups, you can simply place those pups in a vase of water and they will root, and you can plant them then.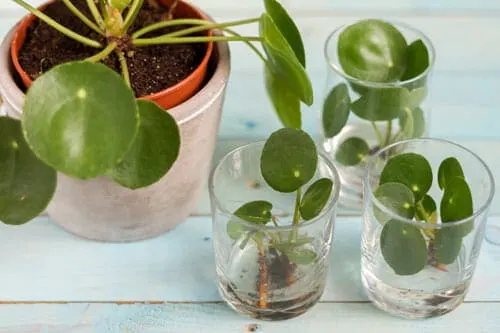 Don't separate any pups if they're too small or have tiny leaves. Wait until the pups are at least 2-3 inches tall.
GENERAL PILEA PROPAGATION TIPS
To ensure success, you may want to avoid propagating in winter time if you live in an area with short, dark days. Spring and Summer are great times to propagate since plants are actively growing. Of course, if you are using grow lights year round, it probably won't matter.
Many people fail with propagation because they place their cuttings in dark areas. Treat them like any other plant that you own and give them abundant light. Cuttings still need light!
Besides providing a nice bright location, don't ignore warmth. Propagation occurs much more quickly in a warm room. Avoid placing them in chilly locations. If you can keep temperatures of 70F and above, this works well.
Lastly, I highly recommend reading my Pilea peperomioides care post where I talk about ALL aspects of care, including many common problems that people have with this plant, along with solutions. I talk about light, potting mixes that I use, the critical aspect of water, and more so don't miss it!
You don't want to go through the whole process of propagating and then struggle with basic care of this plant.
If you are struggling to get babies on your Pilea, be sure not to miss my post on 10 tips to encourage Pilea pups. I promise that you will have an abundance of Pilea babies if you follow my guidance!
Be sure not to miss my YouTube video where I demonstrate how I propagate Pilea peperomioides.
Have you tried Pilea peperomioides propagation? It can quickly become addicting since these plants are so generous and prolific if you care for them well. You will have plenty of plants to share with friends and family in no time at all!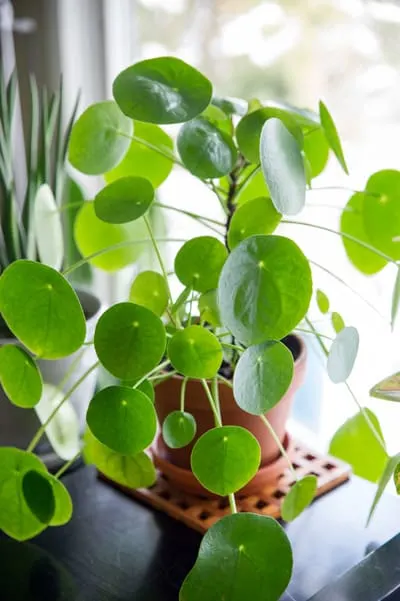 Please do me a favor and share this post to social media because it will help me spread the Ohio Tropics houseplant care tips to the masses! Also, check out my shop on Amazon for all your houseplant care needs:

OHIO TROPICS PLANT CARE STOREFRONT