Some of the links in this post may be affiliate links.
Lipstick plant propagation is super simple, and I will show you two easy and effective methods to propagate this beautiful houseplant using simple cuttings. Whether you're propagating the plain old species, Aeschynanthus radicans, or you're propagating the variegated variety, or even 'Black Pagoda', the 'Curly' lipstick plant, or others, these methods will work for all of them!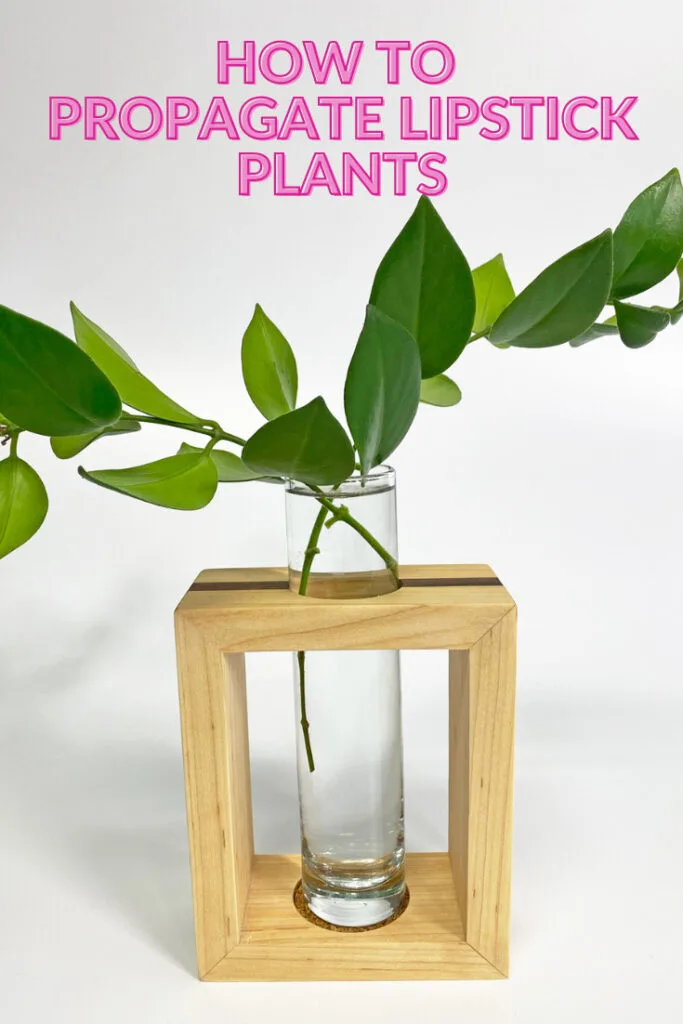 Lipstick plant is a great candidate for propagation because it will eventually get very long. Mine got so huge that I gave it a trim and used the opportunity to take some cuttings.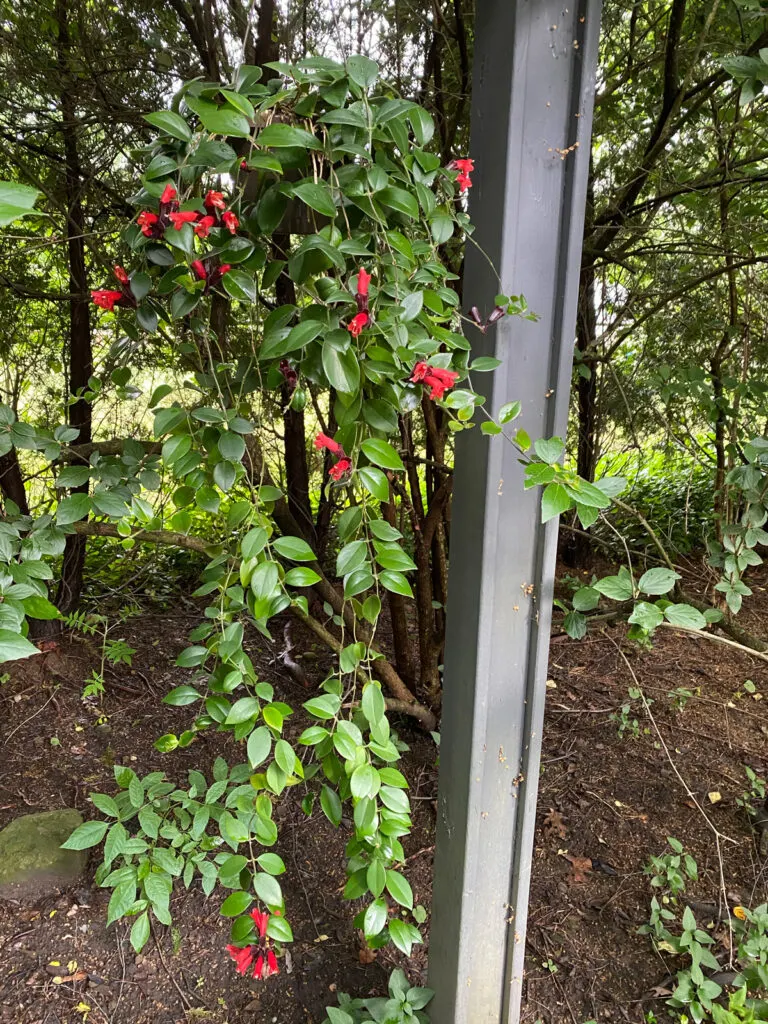 LIPSTICK PLANT PROPAGATION METHODS
I've successfully propagated this plant using both water and soil propagation methods. Before I get into both, you'll want to know how to prepare your cuttings.
You can take cuttings of the end of the vines, or even cut a long vine into multiple segments.
Shown in the photo below is an example of a cutting I made. I removed the bottom two sets of leaves. At this point, you can proceed with propagating in water or soil.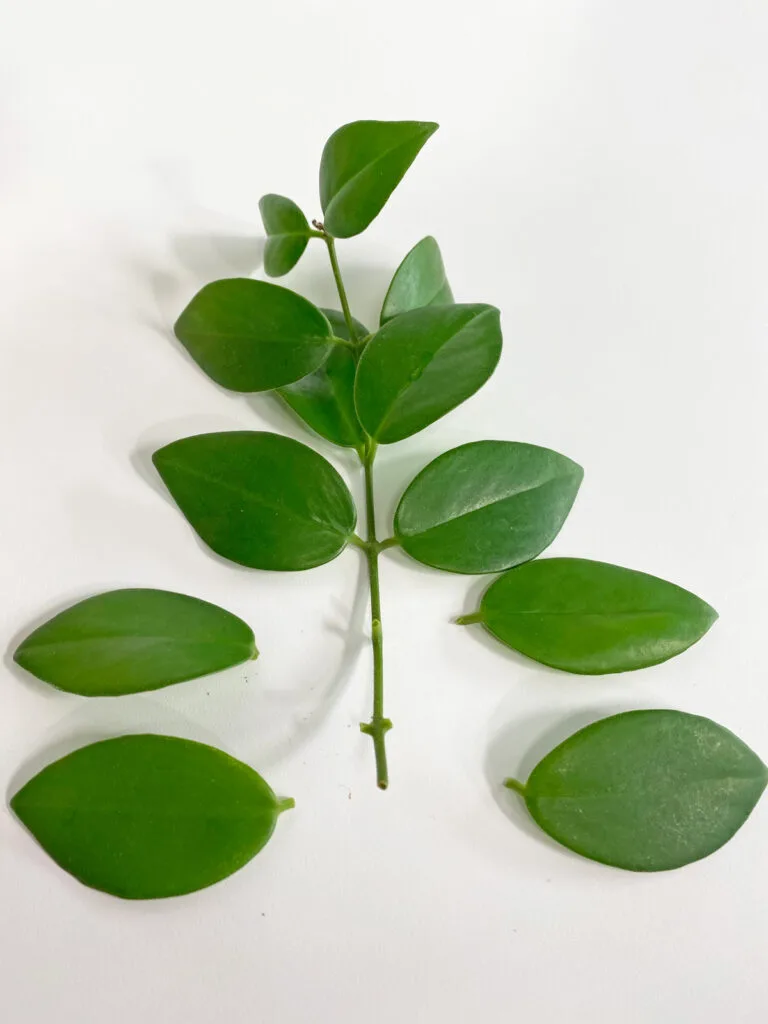 WATER PROPAGATION
At this point, simply place the cuttings in water, ensuring the the nodes (where you removed the leaves) are under water.
Remember that rooting will occur more quickly if you can place your cuttings in a warm location. Above 70F (21C) will greatly speed things up. I've propagated mine in my warm basement which at the time was kept around 75F. Rooting occurred pretty quickly.
Place your cuttings in the same location that you would normally place a growing plant.
Cuttings can be quite top heavy, so this is why I like to have a longer bare stem that can be submerged under water in order to keep the cuttings more stable (and also allow more opportunities for root formation).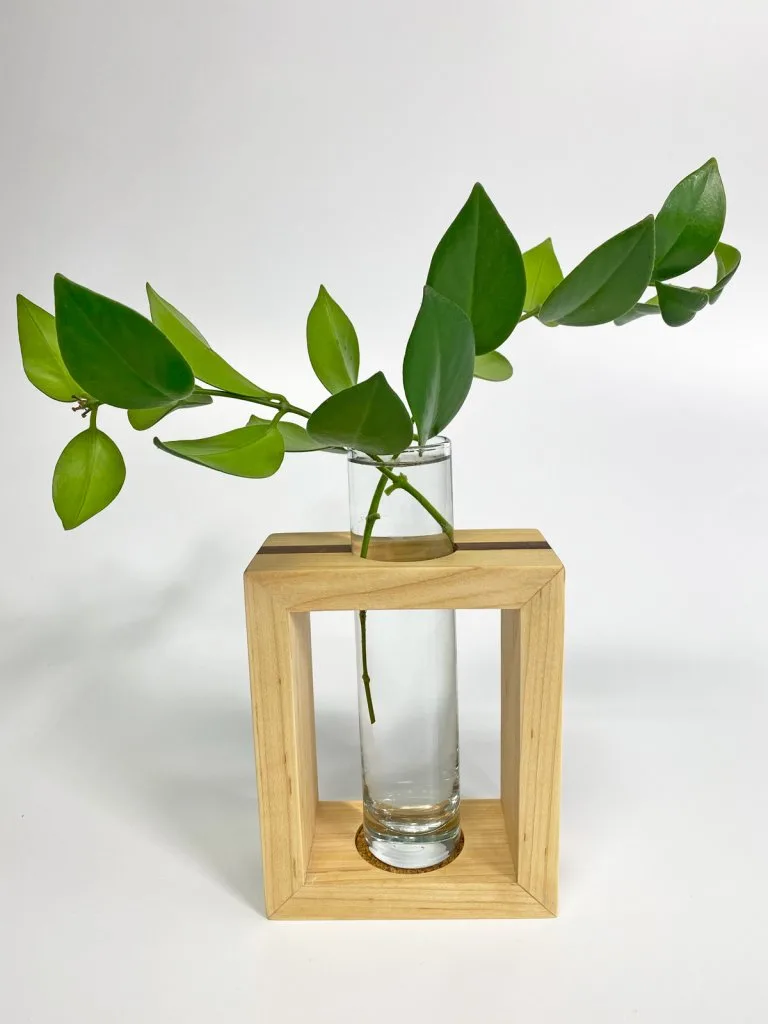 I don't remember how long it took for roots to form with the water propagation method, but I will update this post with that information once these new cuttings root.
Once roots are half an inch to an inch long, go ahead and transfer them to a small pot with potting mix.
Here is a pot of variegated lipstick plant cuttings that I propagated in water.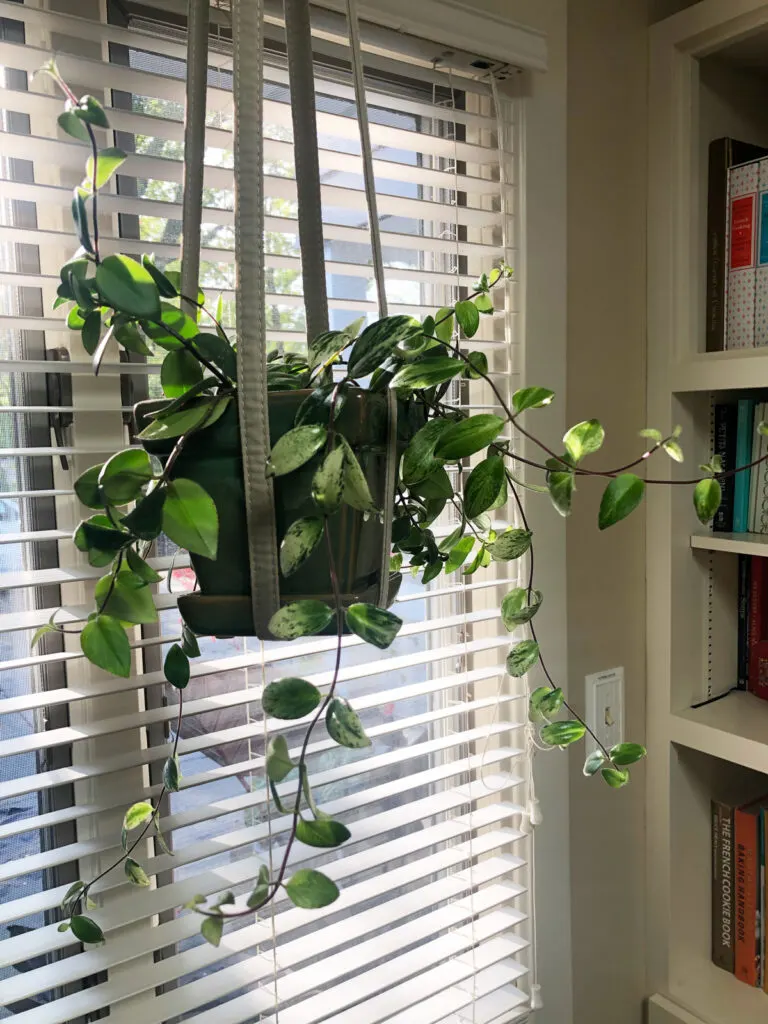 Here is the same plant about 1 1/2 years later. It is developing into a beautiful specimen, but has yet to bloom. I hope to see some soon!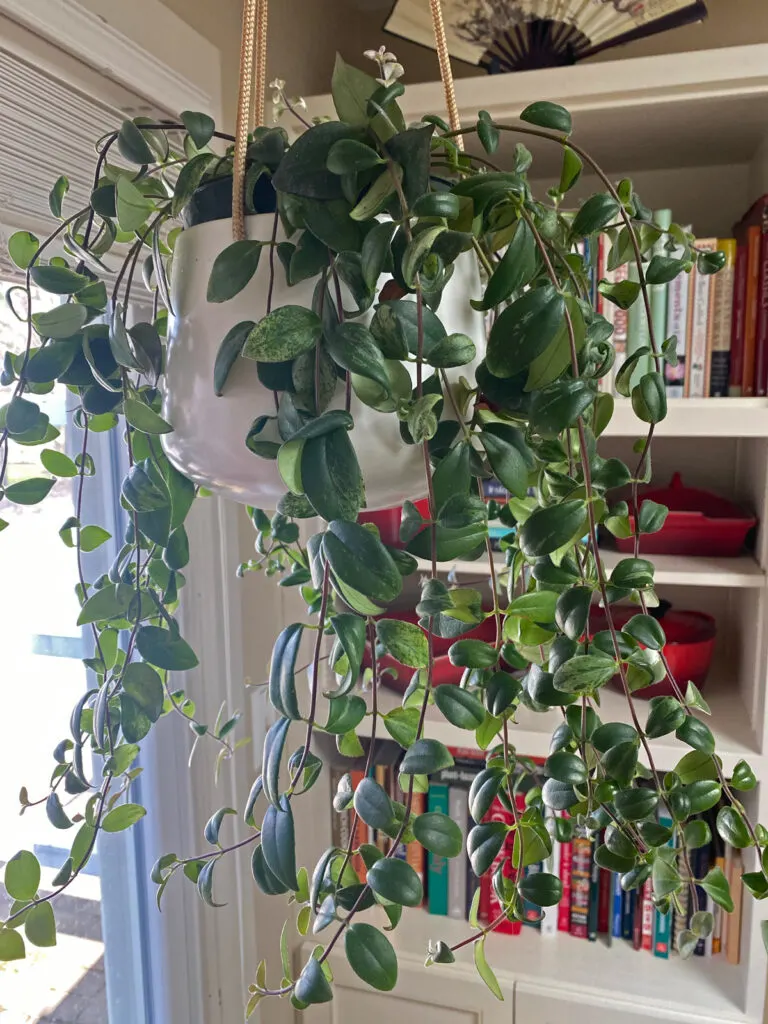 SOIL PROPAGATION
The other method you can use is the soil propagation method. You would prepare the cuttings the same way, but instead of placing them in water, you would simply insert them directly into potting mix.
Before you insert them into a potting mix, there is an optional step that may help speed up the rooting process. Dip the end of each cutting into rooting hormone (link to Amazon), and then simply insert into a small pot.
To take it an extra step, place your pot on a propagation mat. This will greatly speed up the time to root! The difference can be quite dramatic!
Keep the soil pretty moist to encourage rooting. Use your favorite potting mix, or any all-purpose mix to which you can add some perlite (2-3 parts potting mix to 1 part perlite).
If you can, go ahead and increase humidity as this will help lessen the stress on the cuttings. A clear plastic bag placed loosely over the pot and cuttings will do the trick.
The increased humidity will help lessen moisture loss through the leaves by transpiration.
When I used the soil propagation method, I placed 5 cuttings in a 4 inch pot. Two of the cuttings didn't make it, but 3 did. I always recommend taking more cuttings than you think you need, because not all of them may make it.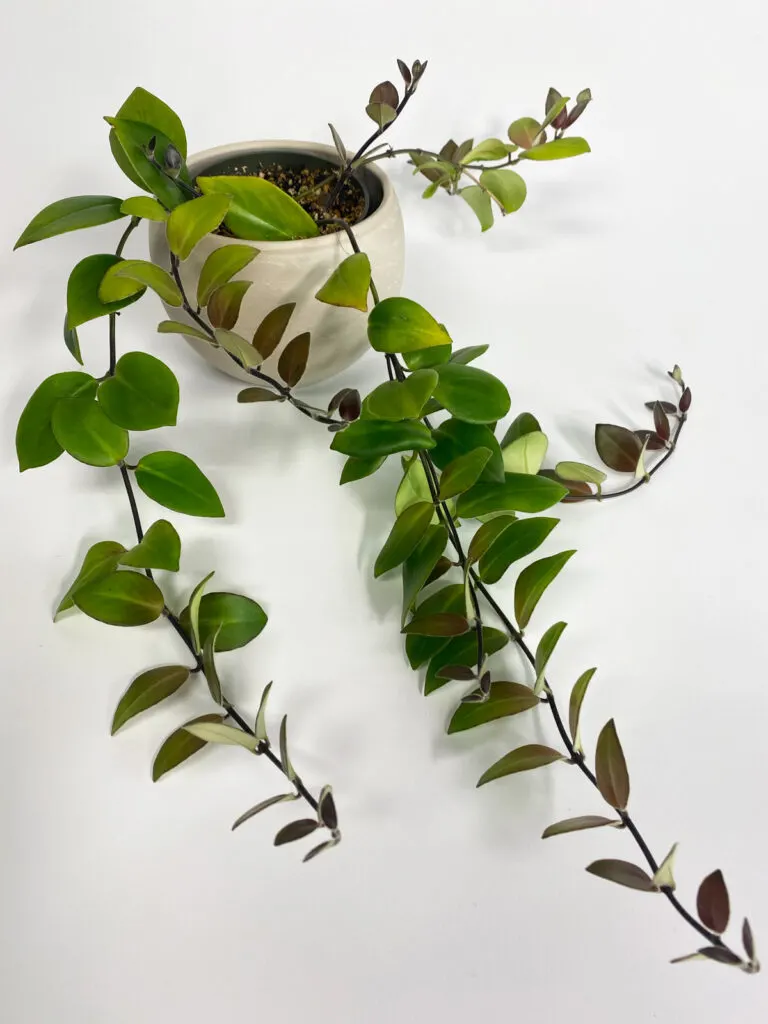 The photo above shows cuttings that I propagated using the soil propagation method. Rooting seemed to have occurred pretty quickly, within a month or less, because I noticed the cuttings were growing and even flowering!
Conditions were kept warm (75F) and under a bright grow light.
It is VERY important to keep the potting mix pretty moist while cuttings are rooting. If you let the mix dry out repeatedly, especially in the beginning of the process, you will greatly diminish your rate of success.
Lastly, one wonderful thing about lipstick plants is that cuttings will often branch off into multiple vines! See the photo below where a single cutting produced two more brand new growths (shown next to my two fingers):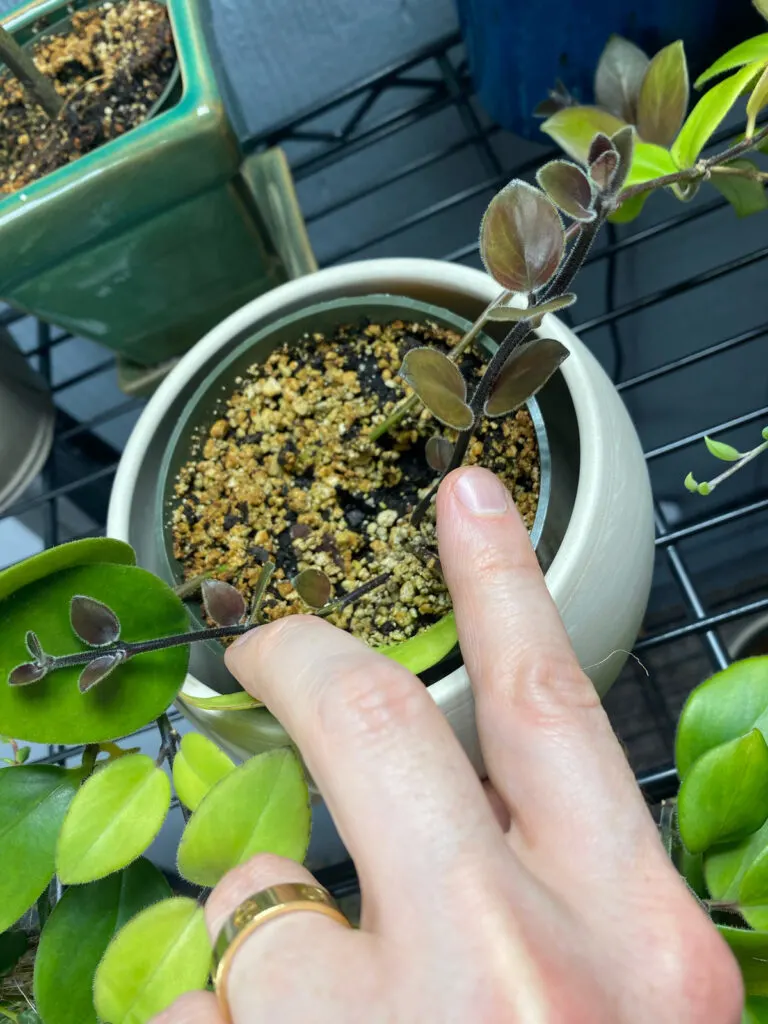 For more information on how to grow this beautiful flowering houseplant, check out my comprehensive lipstick plant care blog post.
Have you tried lipstick plant propagation? Comment below. I'd love to hear!
Please do me a favor and share this post to social media because it will help me spread the Ohio Tropics houseplant care tips to the masses! Also, check out my shop on Amazon for all your houseplant care needs:

OHIO TROPICS PLANT CARE STOREFRONT