Some of the links in this post may be affiliate links.
Tillandsia xerographica is often considered the King of Air Plants! This is due to its grand size when compared to most other Tillandsias. On top being a beautiful air plant, it is exceedingly easy to grow and can tolerate a lot more neglect than many Tillandsias. Keep reading to learn all about this amazing air plant and how to care for it!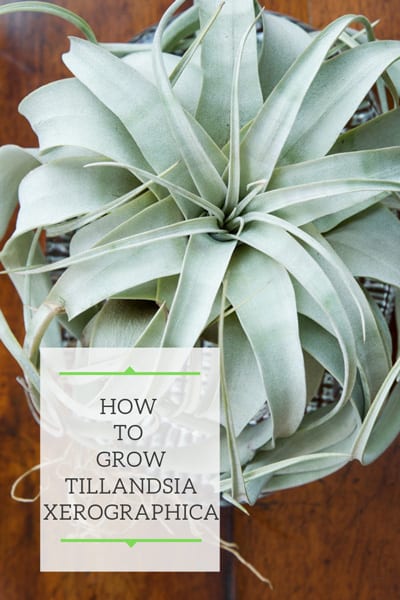 Tillandsia Xerographica in Nature
It helps to know where plants grow in nature in order to give us a clue about how to grow them in our homes.
Tillandsia Xerographica is native to southern Mexico, El Salvador, Guatemala, and Honduras. They grow in semi-arid regions and in very dry and sunny conditions.
It is a very drought tolerant plant. In fact the species name, xerographica, says it all. The words "xeros" in Greek means dry.
Most of the moisture that they get is from morning dew in nature.
Tillandsias grow as epiphytes (attached to trees) or lithophytes (attached to rocks or stones) in nature.
How Do You Care For Tillandsia Xerographica?
LIGHT
I have my Tillandsia xerographica growing right in front of a large wall of Eastern windows. It gets morning sun and is very happy in this location.
This particular air plant does like some direct sun so don't be shy about placing it in some direct sun inside your home.
WATERING
Compared to many of the thinner leaved tropical air plant cousins, the thick leaved Tillandsia xerographica needs to be watered much less frequently.
For a while I was watering my plant about every other week. Then I started to let it go a little longer and it was still fine.
My preferred way of watering my xerographica air plant is to use the soaking method. I simply turn my plant upside down and place it in a deep bowl of water so it can be completely submerged.
I would say that I water my xerographica this way about once or twice a month. This is the procedure I follow:
Place the plant upside down in a deep bowl.
Fill the bowl with tepid (never cold!) water.
Let it soak for 30 minutes to an hour or so.
Take the plant out and shake it lightly several times while holding it upside down. You want to get all excess water out of any crevices to avoid rotting.
Then I place the plant upside down onto a kitchen towel until it is dry.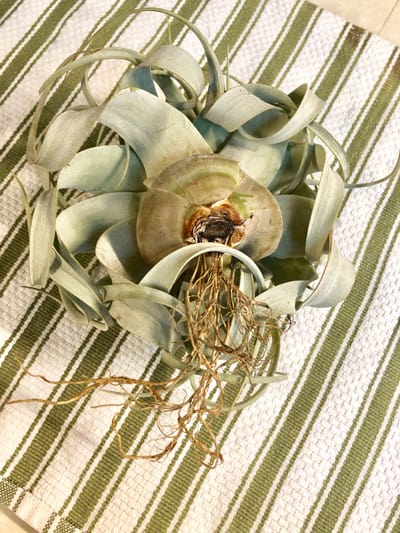 Finally I place it back in its normal growing location.
The fun part about growing Tillandsia xerographica is that you can "customize" how it looks! Depending on how dry you let it get, the leaves will be straighter or curlier.
If you let your plant dry out more, the leaves will be curly. If the plant is fully hydrated, they will be straighter.
Check out this very interesting and short YouTube video below where a Tillandsia grower illustrates this fact. You can visually see exactly what I'm talking about and then decide for yourself which one you prefer!
Depending on the subspecies, the size of this plant can vary. Take a look at this larger variety that I spotted at a nursery: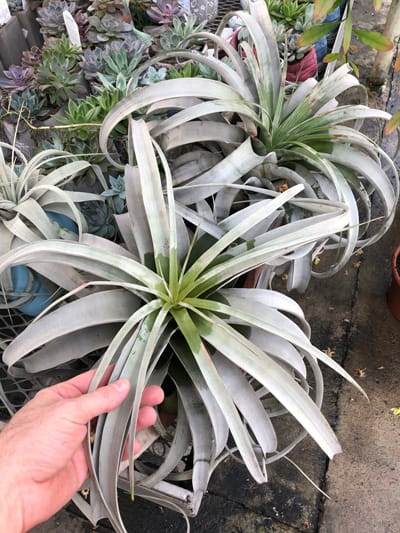 One word of caution though for watering air plants!
According to Tillandsia grower Airplant Man, never use distilled water to water your Tillandsias. Distilled water will remove nutrients by osmosis and kill your air plants.
Rainwater is of course preferred for any plant, but tap water or filtered water will work fine. I personally use plain tap water when I water my Tillandsia xerographica and all my other plants.
FERTILIZING
I do have a special fertilizer that I like to use for my air plants. You'll have to check out my general Tillandsia care blog post where I detail this information!
It is not absolutely necessary to fertilize your air plants, but they will be healthier, bigger, have better flowering, and produce more pups if you do.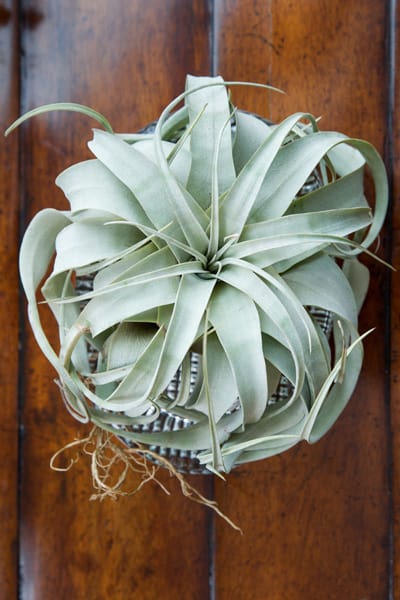 Why is My Air Plant Dying?
There are various reasons why your air plant might be dying and many important things to remember so that you can avoid this.
My Air Plant is Rotting
One way to kill your Tillandsia xerographica, or any air plant for that matter, is to leave water sitting between the leaves for extended periods of time. In order to avoid this, you can do the following:
Give your Tillandsia a few good shakes after you soak it. Turn it upside down and shake it!
Allow your Tillandsia to dry upside down after you shake it.
I've never lost an air plant due to rotting before and it is because I follow these methods.
You might wonder why air plants don't rot in nature. This is simply because they have much better air circulation outdoors and are able to dry out on their own. Indoors, we need to make some adjustments to make up for lack of air circulation.
My Air Plant is Drying Out
Is your air plant drying out too much and you can't seem to keep it hydrated?
If you find this is the case, start soaking your Tillandsia like I described above in the watering section. You will not rot your Tillandsia out as long as you follow the procedure of shaking excess water and letting it dry upside down.
That's all folks! Remember to check out my general Tillandsia care blog post for additional care information.
Please do me a favor and share this post to social media because it will help me spread the Ohio Tropics houseplant care tips to the masses! Also, check out my shop on Amazon for all your houseplant care needs:

OHIO TROPICS PLANT CARE STOREFRONT