Some of the links in this post may be affiliate links.
I first got to know Maria Failla through Instagram and her podcast, Bloom & Grow Radio. I even appeared as a guest on her podcast to chat about rubber plant care, and it was super fun being her guest! Her enthusiasm is infectious, and she strives to provide the most practical, and useful planty information through her platform.
This really sets the stage for Maria's new book, Growing Joy. Maria states that her book is not a plant care book, but rather, "it's a self care book, rooted in learning to care for yourself through plants."
I think we can all heed Maria's call for self-care, and I hope you enjoy my interview with Maria below. If you are not yet listening to her podcast and reading her book, what are you waiting for?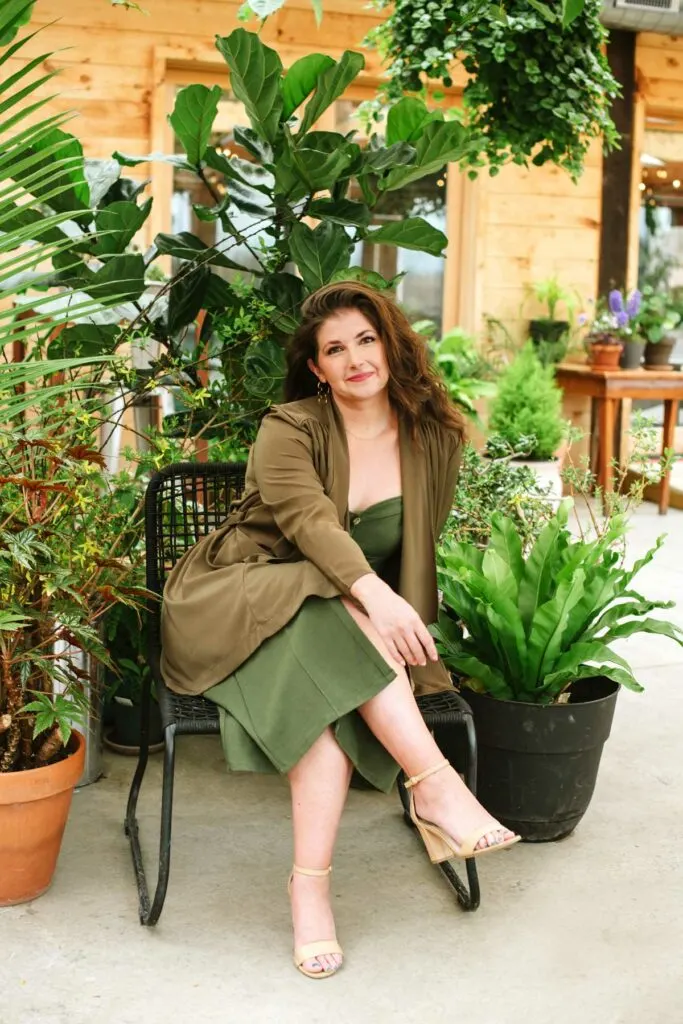 1. How long have you been growing houseplants, and how did it all start? What was your first houseplant that you owned?
I was actually a plant killer for the majority of my life. I traveled a lot for work as a musical theater performer and never took the time to really learn to care for them. Frankly, I used to think of them as longer lasting than cut flowers- eek!
When I moved in with my boyfriend (now husband) I had a real motivation to nest and decided to try plants one last time, but the difference would be that I would learn how to care for them. We had a tiny balcony and southern facing windows so I started with herbs and a few small potted plants on our windowsills.
With lots of googling, they started thriving, and it felt like a part of my heart that was dormant became alive again. I started seeing so many life lessons reflected in the humble planter of potted herbs and my solitary tomato plant.
Then I was hooked, I was an avid podcast listener but couldn't find any podcast about houseplant care, so I launched Bloom & Grow Radio, where I learn alongside my listeners and interview plant care experts to help everyone care for plants successfully and cultivate more joy in their lives.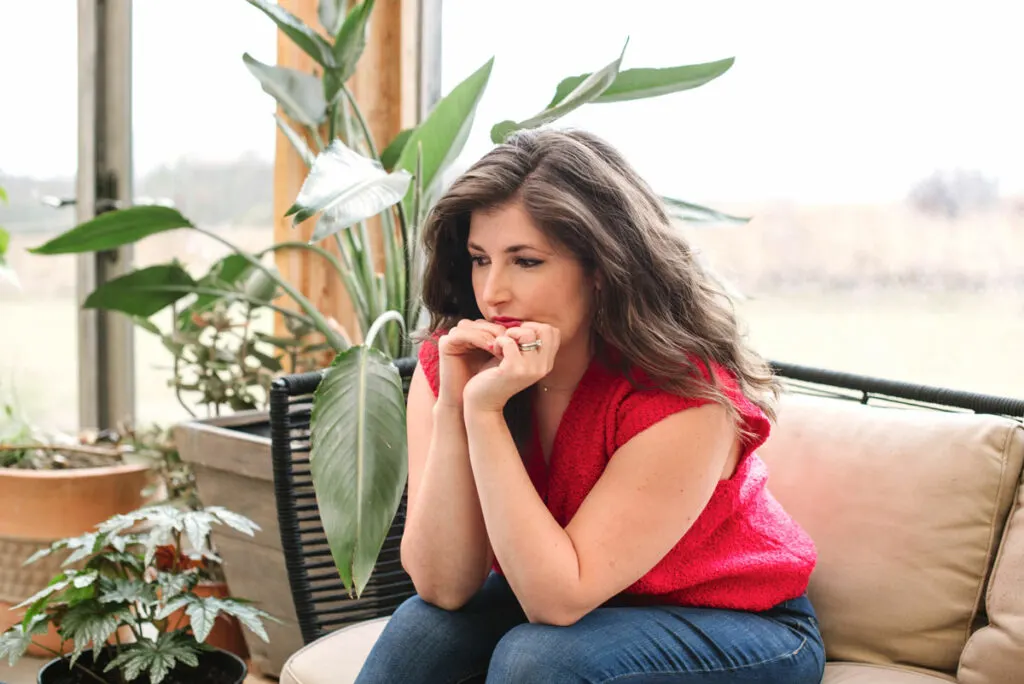 2. You are a self proclaimed plant killer turned plant lady. What were some of the things that you wish you had known, that you know now, when you started to grow houseplants?
This is why I made a "Plant Killer to Plant Lady Crash Course" in the back of my book, Growing Joy, because there were so many things I wish I knew! I think the biggest thing I didn't understand was light and drainage.
I totally misunderstood what "bright indirect light" meant and put plants in basically no light areas of my home. I also didn't understand drainage and put plants in pots with no drainage holes and basically drowned them.
But I didn't know what I didn't know! It's fun to go back through Bloom & Grow Radio and see how much I've learned throughout these 150+ interviews- in my first episodes I was asking questions like "what is mulch", "what is a grow light".
Now I'm curious about DLI, NPK and more 2.0 plant parent questions. This is also a huge reason that I launched my Virtual Garden Society. I wish I had affordable, high quality plant care information to speed up my learning curve, but when I was starting out- I didn't have the budget to go take a pricey course at a university or botanical garden.
So I created my virtual garden society for people around the world to access horticulturist taught plant care education at accessible prices. A whole year subscription to the society is less than half the price of one university level plant science course.
3. Picking a favorite houseplant is like picking a favorite child, but do you have any particular favorites? Maybe a favorite genus, or even specific plant?
It's funny, I recently moved from NYC to the country – and cut my collection in half before we moved. I had some rare plants, but the plants we couldn't live without were the plants that had history to them.
My fondest relationships with my plants are with the ones that were cuttings that listeners gifted me, an 20+ year old heirloom jade plant a friend gave me before she moved, the Pilea peperomiodes plant that I got as a cutting, and have since gifted my own cuttings to several friends.
The Ficus lyrata named Figaro that was the first plant my husband gifted me. When I look at my collection of plants, it's like a living history of all the people I've connected with through this passion for plants.
I have a whole chapter of planty friendships, and the importance of gifting plant cuttings in my book, because this is such an important aspect of plant collecting to me.
4. At the risk of sounding corny, I will ask this anyway. How have houseplants changed your life?
Not corny at all, plants have completely changed my life! I recently shared this transformation in this reel, but basically before plants: I was an overstimulated millennial living in NYC, addicted to screens, ruled by my calendar, who never gave myself any alone time with my thoughts.
I'd get up in the morning and have coffee with my phone, apps, and distractions. Once I started my small balcony garden, I started leaving my phone in its charger and having coffee with my plants: smelling the basil, watching dew drop from a sage leaf, cooking with my chives, and just being with my own thoughts.
Plants not only helped me reconnect with nature, but also reconnect with myself. I'm a self help junkie: I've read every book, taken every course, followed every guru – but nothing has been more instrumental in my personal wellness journey that simple potted plants and learning to care for them.
That's why writing this book was so important. Growing Joy isn't a plant care book (you wrote one that is better than I ever could!) it's a self care book, rooted in learning to care for yourself through plants.
It's a perfect companion for any plant parent at any stage of their relationship with plants, because it has 60+ practices that help you get out of your head, away from your screens and into yourself.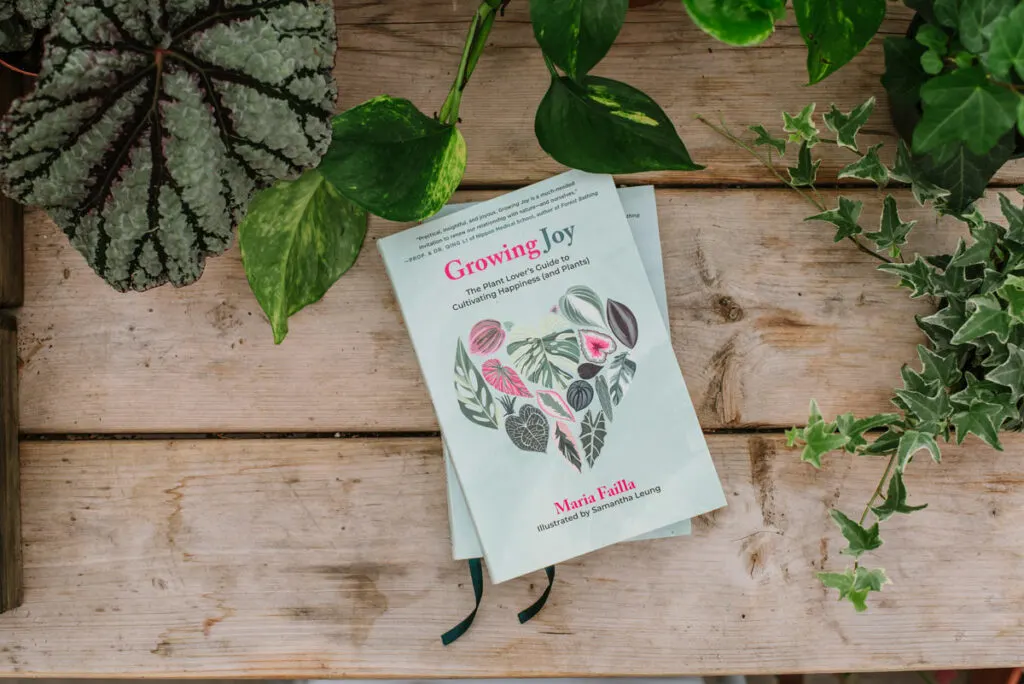 5. Are there any houseplants that you don't jive with and can't figure out?
UGH I just composted another fern the other day. I live in a pretty dry climate and home, and I'm realizing although I would love to have high moisture loving plants like ferns, maranta and alocasia, they just don't jive with my home – and I'm not interested in getting into humidifiers at this moment in my life – so my collection is really turning into an collection of exclusively hardy plants.
I hope to have some sort of IKEA grow cabinet set up one day so I can go ham on all of the Alocasia on my bucket list, but I've let go of that dream for now.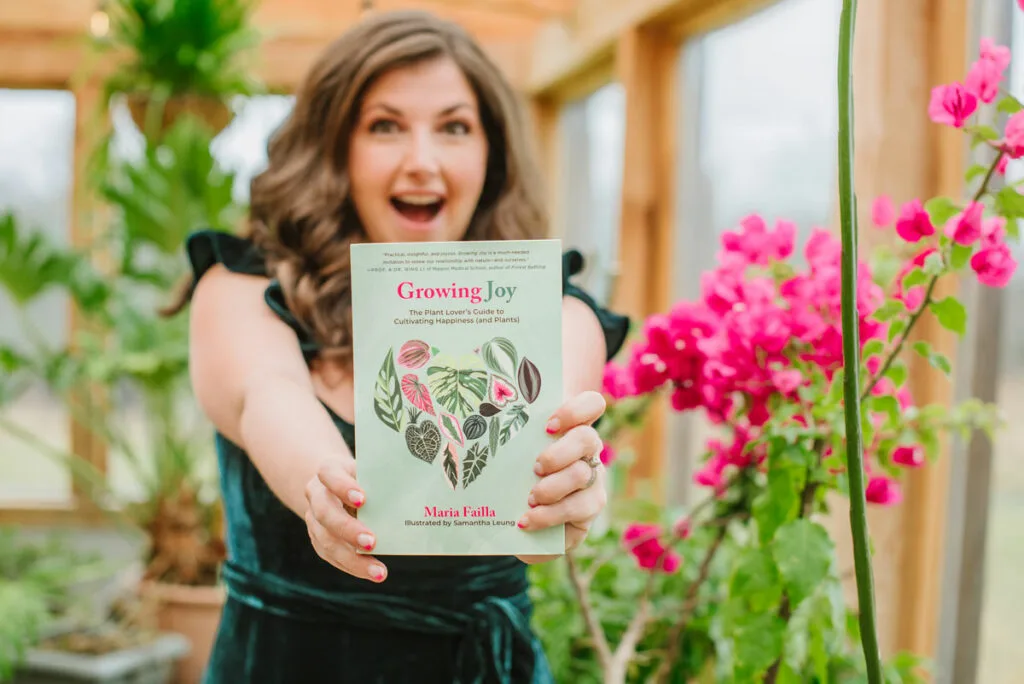 6. How did Bloom & Grow Radio come about? What do you find the most rewarding about hosting your own podcast, and what are the biggest challenges?
I shared earlier that I started the podcast because I simply couldn't find one to listen to! I wanted an easy to listen to podcast where my "dumb" questions would get answered and I could feel seen.
When I couldn't find one I decided to create one. I'm entirely self taught from youtube and blogs, and even borrowed a friends mic for the first 20 episodes. By far the most rewarding thing about the podcast is hearing from my international community of listeners.
It blows my mind that the podcast reaches over 80 countries, and that my little passion project has reached thousands of planty souls around the world. Hearing from listeners about their journeys in plant care, their questions, their transformations gives me so much joy and purpose.
I feel like I'm my listener community advocate, grilling my guests and getting down to the true meaning of all of the plant care questions, decipher plant science to make it accessible and understandable, and helping people explore their spiritual and emotional relationship with plants.
This podcast and book will certainly be the legacy I leave on the world, and I couldn't be prouder of it and the community of plant friends that have rallied around it.
I'd say the biggest challenge was simply figuring out how to make it sustainable. I paid for the podcast out of my savings account in the beginning, and never really thought I'd do more than 10 episodes – so when I realized I was on to something with this, I had to figure out how to make it pay for itself, and after I lost my job in the pandemic (I was a musical theater performer whose show closed down due to social distancing mandates) I had to figure out how to turn it into a business.
I have a degree in opera and have been a professional singer for a decade, so figuring out the business side of this passion was a little painful, but I'm proud to be on the other side of it now. In the last year I've been able to hire help, grow the platforms and release this book.
In this period of growing pains, I liked to envision myself as a hardy plant, just toughing through a cold season, getting pruned back, but trusting that new growth was coming soon!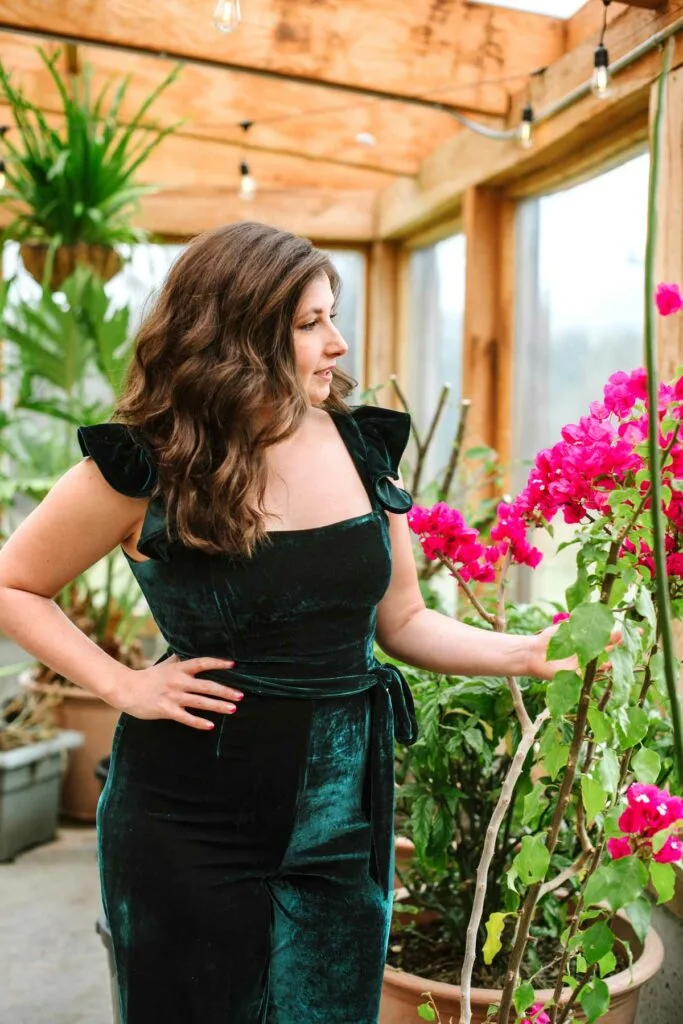 7. Can you tell me a little bit about The Bloom & Grow Garden Society?
It's one of the coolest things I've ever done: inspired 100% by my listener community. In 2020 I did a listener survey asking how I could help listeners continue to grow as I took Bloom & Grow full time, and I heard back that people wanted a community platform off facebook, and more deep dives on plant science and personal support.
I got the idea to do a garden society, but since my listener community is international, I realized it needed to be virtual. 2021 was all about R&D, I got 30 super listeners in a group and asked them to beta test two platforms, and we intentionally built what I like to call the kindest and plantiest corner of the internet: the Bloom & Grow Garden Party Platform & App.
It's a platform that you can access on your computer, and/or iOS and Android App- with dedicated conversation spaces for different planty topics (Gardening, Houseplants, Planty DIY, Plantrepreneurship, Growing Joy) and even a plant swap space.
The Garden Society is the premium tier of the platform- where I've partnered with Horticulturist Leslie Halleck, to provide KICKASS plant care education on plant nerdy topics like The Science of Dormancy, Humidity and Transpiration, Water Quality and Watering Techniques and more.
Every month people get a lecture, live office hours with Leslie to troubleshoot anything they want about their plant collection, and community calls with me. PLUS all the replays of previous lectures and meetings – it's like Netflix for Plant Care.
Leslie and I were really intentional about pricing it accessible as lots of people don't have $500-$1000 to drop on a plant science course, so we equate it to the price of a plant a month or half the price of one university level course for an entire year.
If your viewers would like to try the Garden Society out, I'd love to offer them a free 3 day trial to see if it's a good fit for them.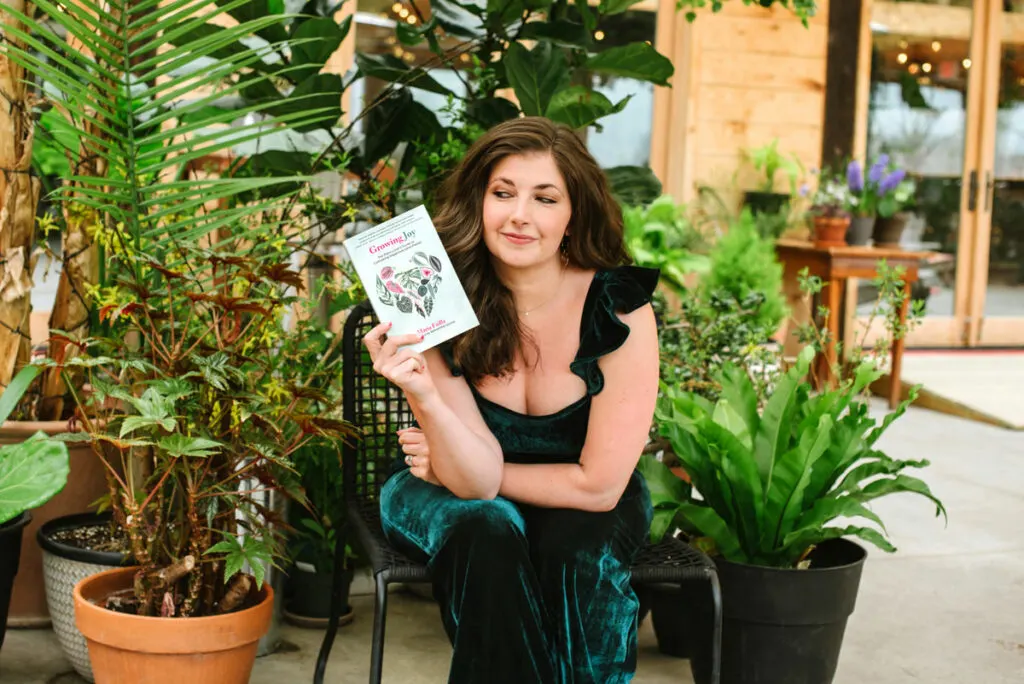 8. You have a new book coming out that I'm really excited about! Can you tell me a bit about how this book came to be, and what is the focus of your book? When does it launch?
It's my love letter to Plants! It's called Growing Joy: The Plant Lover's Guide to Cultivating Happiness (and Plants) and it's a self care book about plant care.
In addition to my stories of my personal transformation from plant killer to Happy Plant Lady, it has 60+ practices for the reader to immediately implement to help them grow joy throughout their day with plants, interesting scientifically proved theories on why plants make us happy, and journaling prompts scattered throughout the book.
There's something in it for everyone: from super science based data on Forest Bathing, to my favorite "woo-woo" practices of singing to your plants.
Plus a "Plant Killer to Plant Person Crash Course" at the back of the book to make sure any beginners are set up for success on their plant care journies. It hits bookstores June 28th, 2022 and is available for purchase here.