Some of the links in this post may be affiliate links.
Do you suspect that you have an underwatered Pothos? And maybe you're not sure if you underwatered or overwatered? Keep reading and I will help you determine how to fix your Pothos woes. I'll show you what to look for, as well as give you some common causes and solutions for your underwatered Pothos.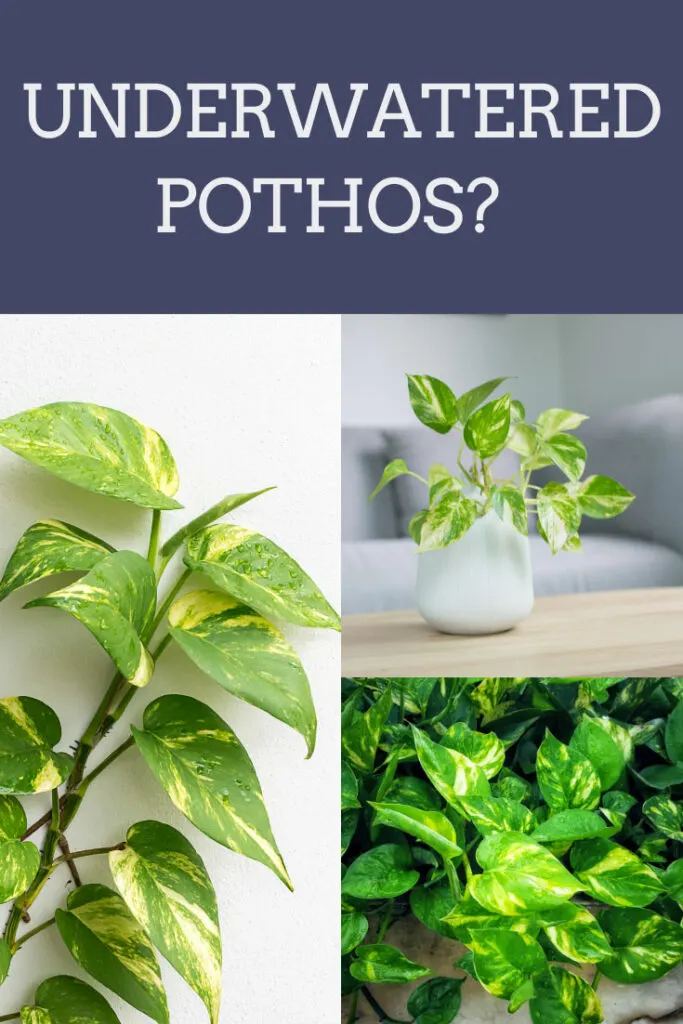 UNDERWATERED POTHOS – 3 SIGNS TO LOOK FOR
It's not always a bad thing if your Pothos' potting mix has completely dried out. But when you start noticing things going wrong with your plant, it is time to take action.
First, let's look at what you may see in an underwatered Pothos.
1. YOUR ENTIRE POTHOS HAS STARTED TO DROOP
One sign of a severely underwatered Pothos is when your entire plant has started to droop and wilt like in the photo below.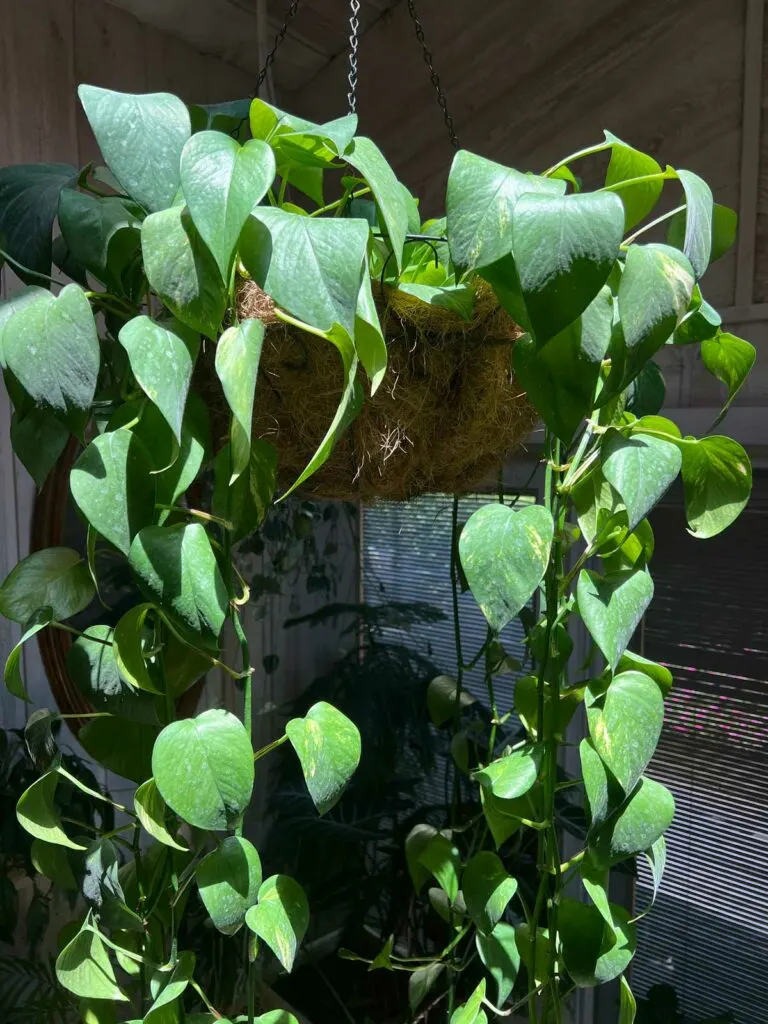 Here is a closeup of the droopy leaves.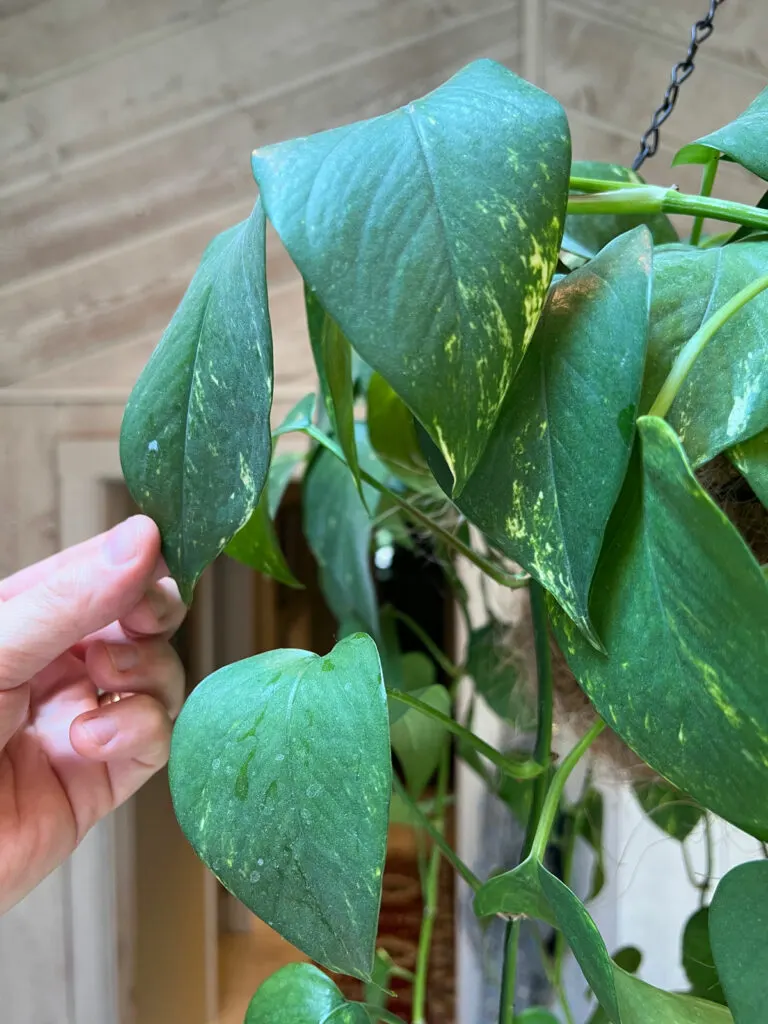 However, the fact that your Pothos is drooping is only the beginning. You must also consider the next two points.
2. SOME OF THE BOTTOM LEAVES HAVE STARTED TO YELLOW
When a plant is severely dried out, often times, the lower leaves will start to yellow. If you continue to leave your Pothos really dry, you'll get more and more yellow leaves and those will eventually turn brown.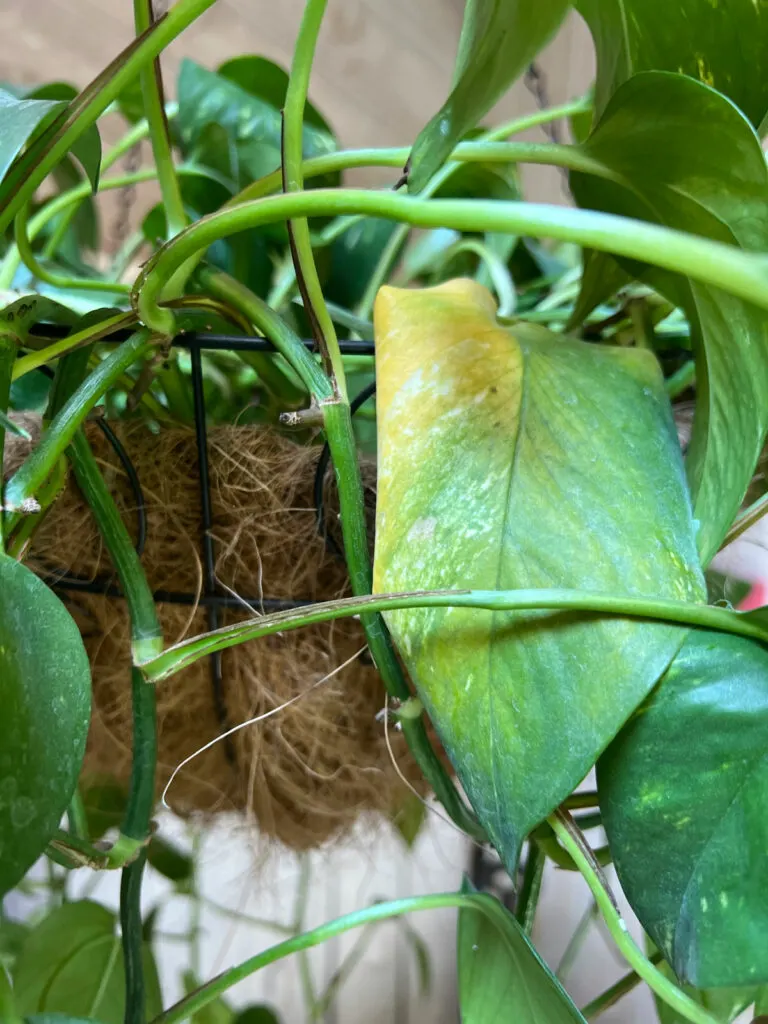 3. THE POTTING MIX IS BONE DRY
If you've noticed your plant starting to droop, and maybe also noticed some yellowing leaves at the base of your plant, you need to perform this critical step.
FEEL the potting mix with your finger. If your Pothos is truly underwatered, the potting mix will be bone dry. And if it's wilting and has yellow leaves, the potting mix is probably bone dry all the way to the bottom of the pot.
At this point, go ahead and give your Pothos a really thorough watering.
If you've found that the potting mix has gotten so dry that it has pulled away from the edge of the pot, and then you try and water and it streams straight through and doesn't seem to absorb, you'll need to do one of two things:
Keep watering a few times in a row until the potting mix seems to have absorbed some water. You can also judge this comparing the weight of the pot before and after.
Bottom water. Assuming your pot has drainage holes (which I always recommend), place your plant in a bucket or another container with a few inches of water, and allow your plant to absorb water through the drainage holes. After about an hour or two, check on your plant, and it should be good to go. If the surface of the soil still seems dry, top water at this point, allow everything to drain, and then put your plant back in its normal growing location.
Peat-based potting mixes will turn hydrophobic (repel water) when they get too dry for too long.
Although the causes of an underwatered Pothos may seem to be a no brainer, there is often more than meets the eye.
CAUSES FOR UNDERWATERED POTHOS + SOLUTIONS
Here are 4 potential causes for your underwatered Pothos.
1. YOU FORGOT TO WATER
It could be that you simply forgot to water, or maybe just plain got lazy and let your Pothos' potting mix go completely dry.
2. YOU USED A FAULTY MOISTURE METER
All too often, my readers come to me with many problems associated with relying on faulty moisture meters. Many of my readers have killed their plants because they have blindly trusted their moisture meter.
Measuring the moisture of your potting mix is not an exact science, but if you feel your potting mix and it feels dry…yet your moisture meter still reads "moist", I recommend that you throw away your moisture meter and rely on your finger from now on.
3. YOU STUCK WITH A STRICT WATERING SCHEDULE
I always say that schedules are good to have to check on your plants, but NOT to rely strictly on for watering. Why?
You may be great with watering your Pothos once a week (like many people do), but over time, your plant grows and it will eventually get root bound.
Once it's root bound, you may have reached a point where your once-a-week watering schedule is not enough. At this point, you'll either have to water more frequently, or repot into a larger pot.
4. YOU'RE NOT WATERING THOROUGHLY
Many people are scared of "overwatering" and this fears drives them to not water thoroughly. If you're not thoroughly moistening ALL of the potting mix, the roots that don't get any water will simply dry up and die.
Without a healthy root system, you will not have a healthy plant.
My book Houseplant Warrior: 7 Keys to Unlocking the Mysteries of Houseplant Care will teach you everything you need to have thriving houseplants.
There are many things to consider when growing houseplant successfully, and my book teaches it to you in plain English and in a very easy-to-understand fashion.
Be sure not to miss my post on growing Pothos for more specific care information.
I hope you've enjoyed this post on underwatered Pothos! Have you struggled with this? Comment below. I'd love to hear!