Some of the links in this post may be affiliate links.
Are your hens and chicks dying? Perhaps you've heard that they're easy to grow, but you just can't seem to get along with them. These hardy succulents are delightful to grow, if you can meet some important conditions. Keep reading and I'll teach you everything you need to know.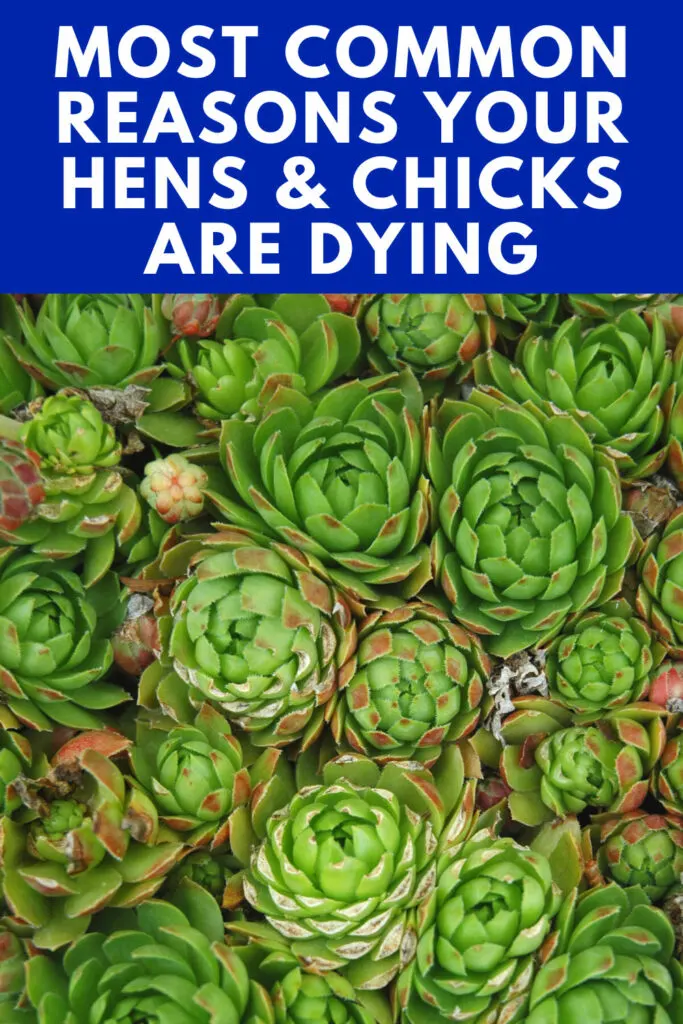 Sempervivum (pronounced sem-per-VEE-vum) is the botanical genus for Hens and Chicks. The word Sempervivum means "always alive", which is a testament to the sturdy nature of these succulents.
Native throughout much of Europe, as well as western Himalaya and Morocco, these alpine succulents have dense rosettes of thick, fleshy leaves.
Hardy down to zone 3, these delightful succulents are fun to grow and add a nice touch to any garden. However, you'll need to meet certain conditions for them to thrive.
HENS AND CHICKENS DYING? HERE ARE THE MOST COMMON REASONS
1. THEY'RE SUPPOSED TO DIE AFTER THEY FLOWER
Did you know that Hens and Chicks actually die after flowering?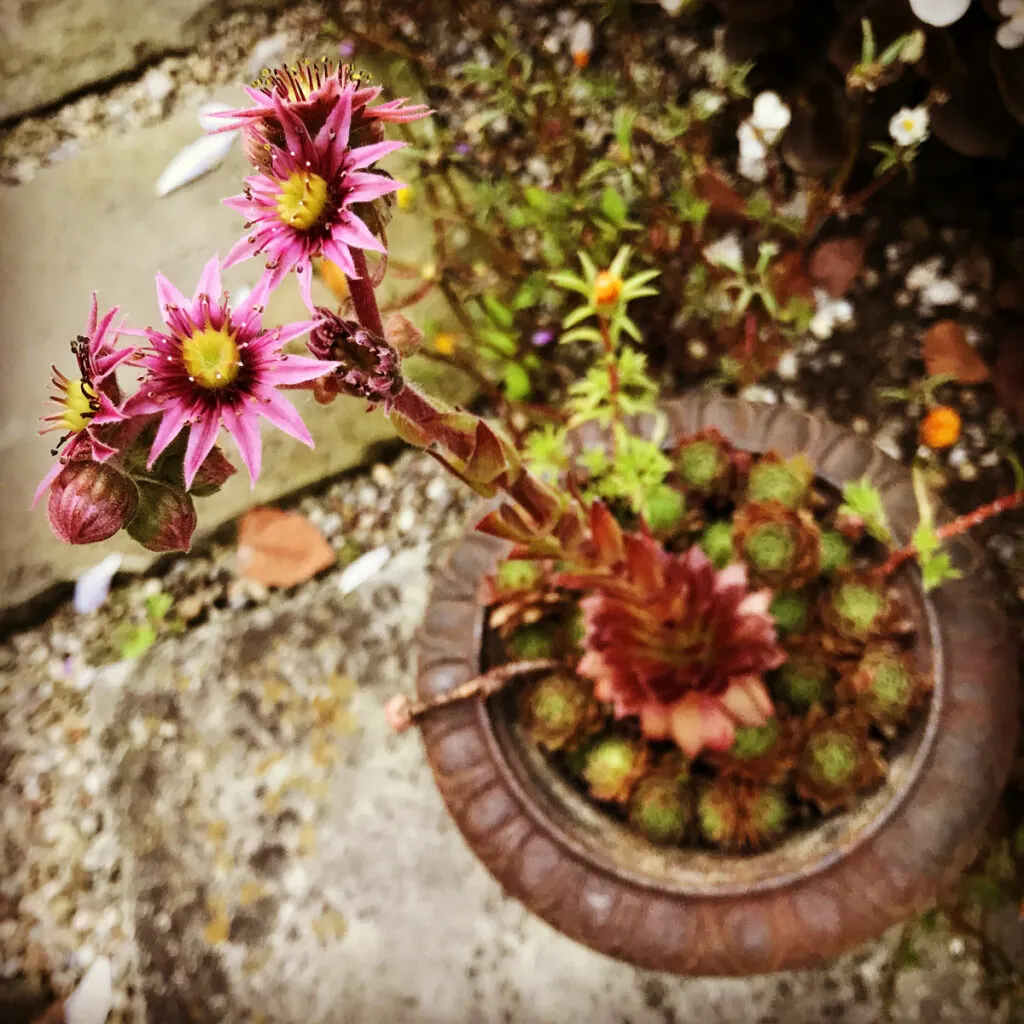 Hens and Chicks are considered monocarpic, which means that they will die after flowering, but not without producing numerous "chicks" at the end of long stolons (runners) to keep things going.
Once these chicks mature, they will become "hens" and flower, and repeat the cycle all over again.
So if your hens and chicks have flowered, and the "hen" has died, your plant did exactly what it was supposed to do.
Here's another example to visually illustrate this.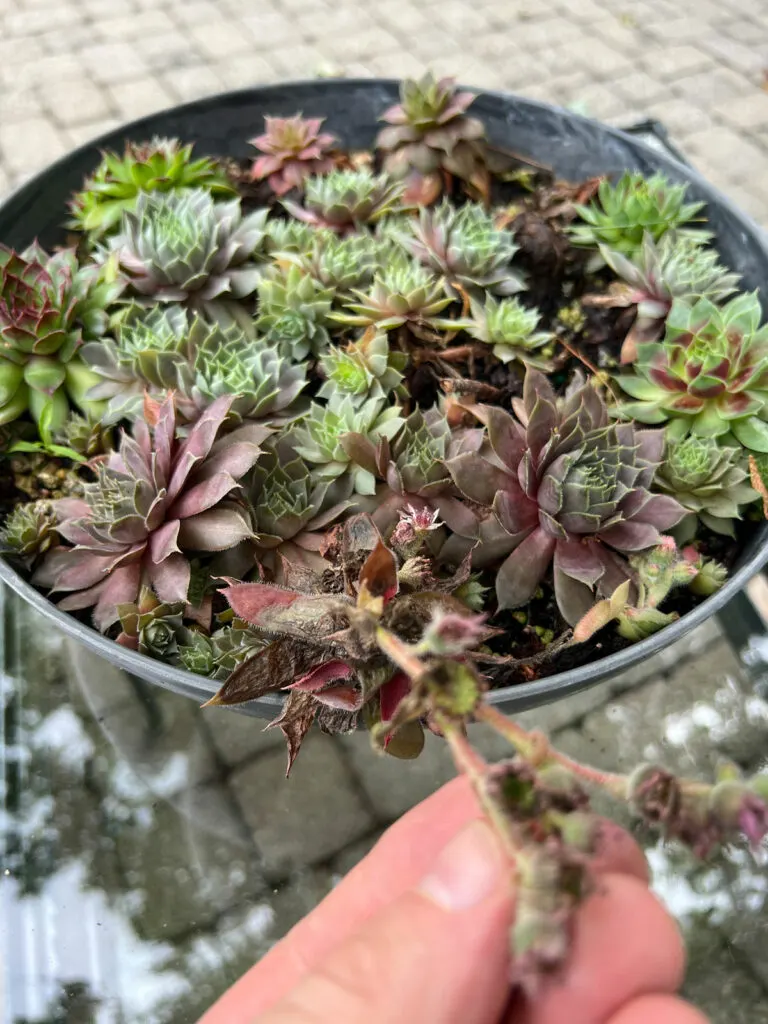 2. THEY'VE STAYED WET FOR TOO LONG
One thing these plants will not tolerate is staying wet for too long. Whether you have them planted in a pot or directly in the ground, they need excellent drainage in order for them to really thrive.
If you have them growing in the ground, avoid planting them in heavy clay. This can cause big problems if you live in a cold winter area (see the next section).
If you have them in a pot, drainage holes are imperative and they need an extremely well draining potting mix. A good potting mix to use is half cactus/succulent mix and half 1/4″ horticultural pumice. I've been very successful using this type of mix.
Under good conditions, they can grow quite rapidly.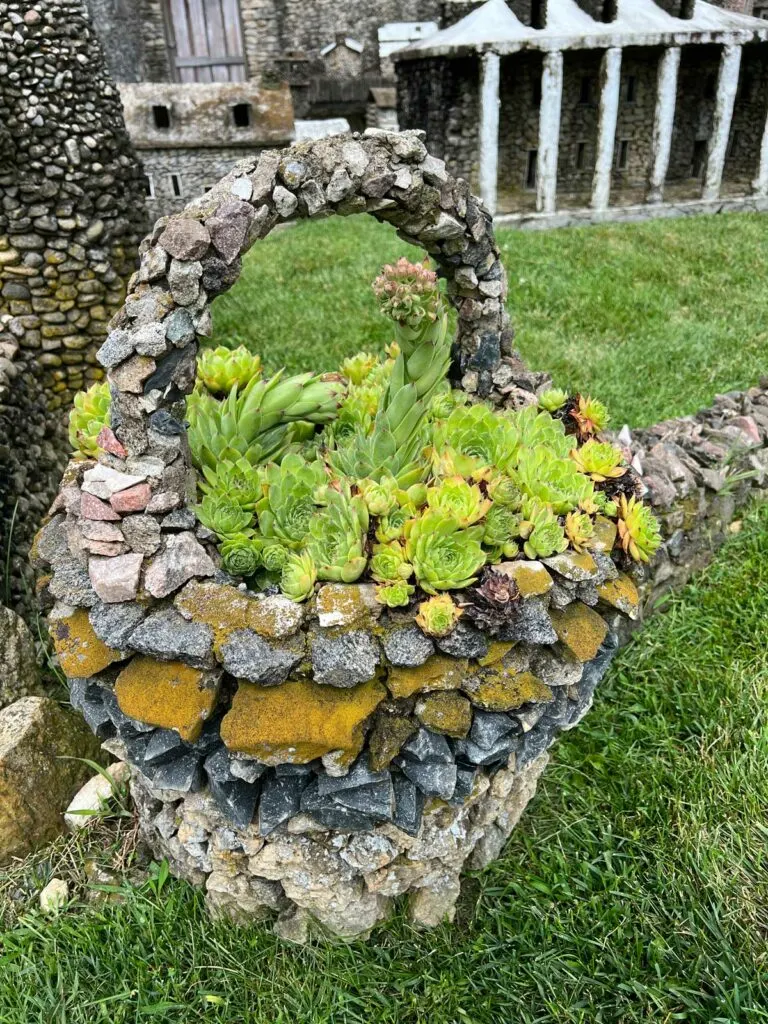 3. THEY ROTTED DURING THE WINTER TIME
I had experimented with planting Hens and Chicks directly in my zone 6a garden in northeast Ohio, and they did just fine, up until the winter.
Gardening is always trial and error to some extent, so it's part of the fun. I knew I may not have planted them in the best spot, but I wanted to try regardless.
My plants were great all summer and autumn, but they did not fare too well in the winter time. Why? The soil where they were planted in was mostly clay, and it stayed too wet over the winter.
The combination of wet and cold will spell death for plants during the wintertime, even though these plants are rated down to zone 3, which is much colder than my growing zone.
By the time spring rolled around, I dug up what was left from my clay soil, and moved them into pots. I used a mix of half cactus/succulent mix and half 1/4″ horticultural pumice.
Here are some before and after photos of one of the pots I created. This one was right after I planted them in mid-May: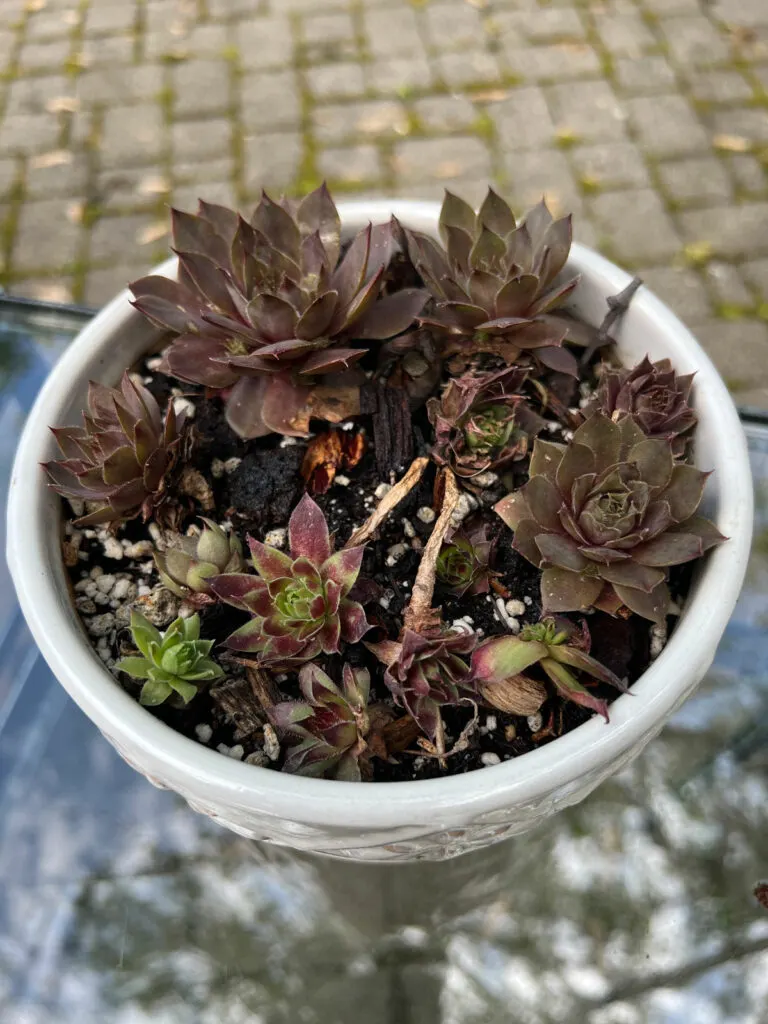 A little over two months later, here is the same pot. Nice and full!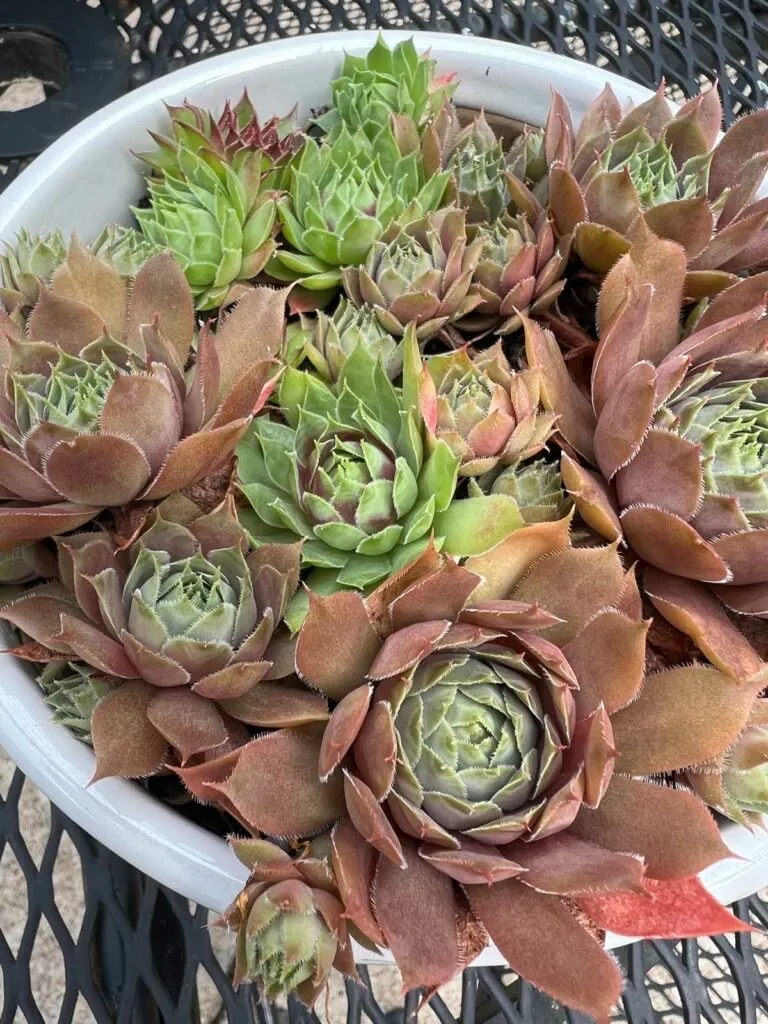 You can't force a plant to grow in a location that it doesn't like. One of the most important things you can do as a gardener is learning to plant the right plants for the right spots.
CARING FOR HENS AND CHICKS
Here are some basic tips for growing hens and chicks. Although they can be grown indoors, unless you have a tremendous amount of sun or grow lights, they will get too spindly indoors. I'll focus on conditions to grow outdoors below.
LIGHT
Place your plants in full sun. If you live in an area with really hot summers, they may benefit from some shade in the afternoon.
TEMPERATURE
Although they're pretty heat tolerant, these plants prefer day time summer temperatures of 65-75°F (18-24°C). Their natural habitats are usually 3,000-8000 feet above sea level in the mountains, so this gives you a clue of the conditions they prefer.
SOIL
A well-drained soil is a must. In the ground, if your soil retains too much water (especially if you have clay soil), mix in plenty of coarse sand or gravel. In pots, I like to use half succulent/cactus mix and half 1/4″ pumice.
POT TYPE
Use pots that are much wider than they are deep. These will spread and they do not have deep root systems. If your pots are too deep, they will also take longer to dry out, which is not favorable.
WATERING
While actively growing, they do benefit from consistent moisture. I only water when the soil is completely dry.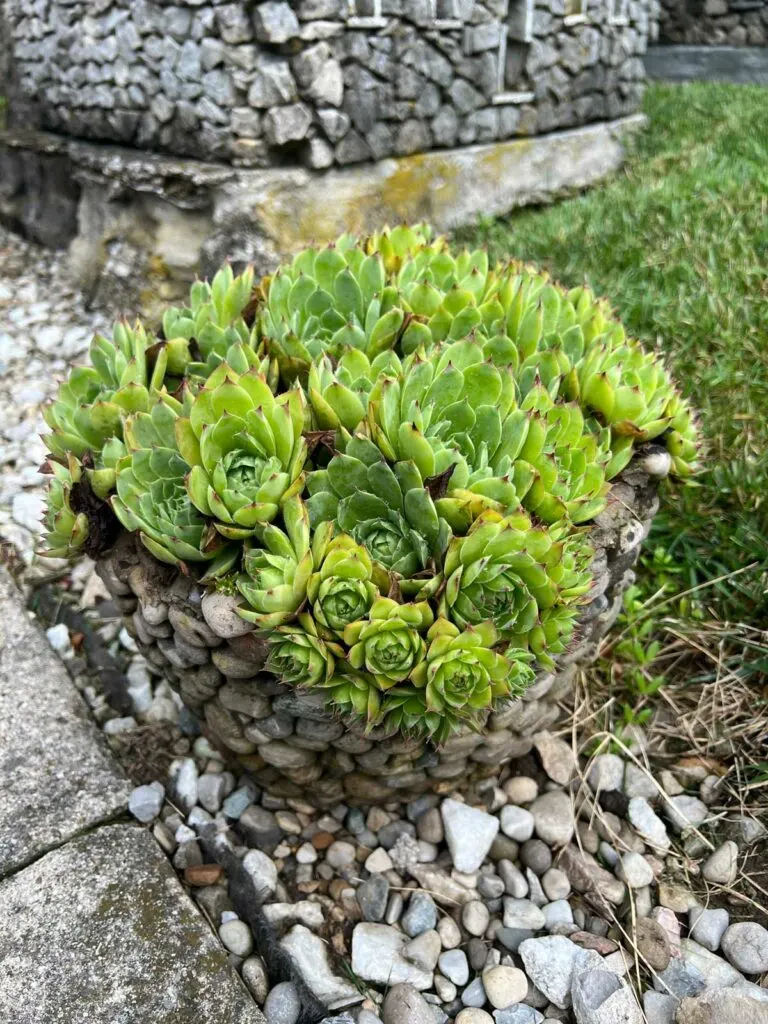 I hope you've enjoyed this post on hens and chicks dying. There are more reasons, but these are by far the most common. Do you have any hens and chicks? Comment below. I'd love to hear!