Some of the links in this post may be affiliate links.
Looking for black eyed susan vine trellis ideas? In this post, I'll give you several ideas that you can use to display this delightful plant in your garden. Thunbergia alata is a very vigorous vine and needs a support structure in order for it to be displayed the way that it deserves to be in your garden!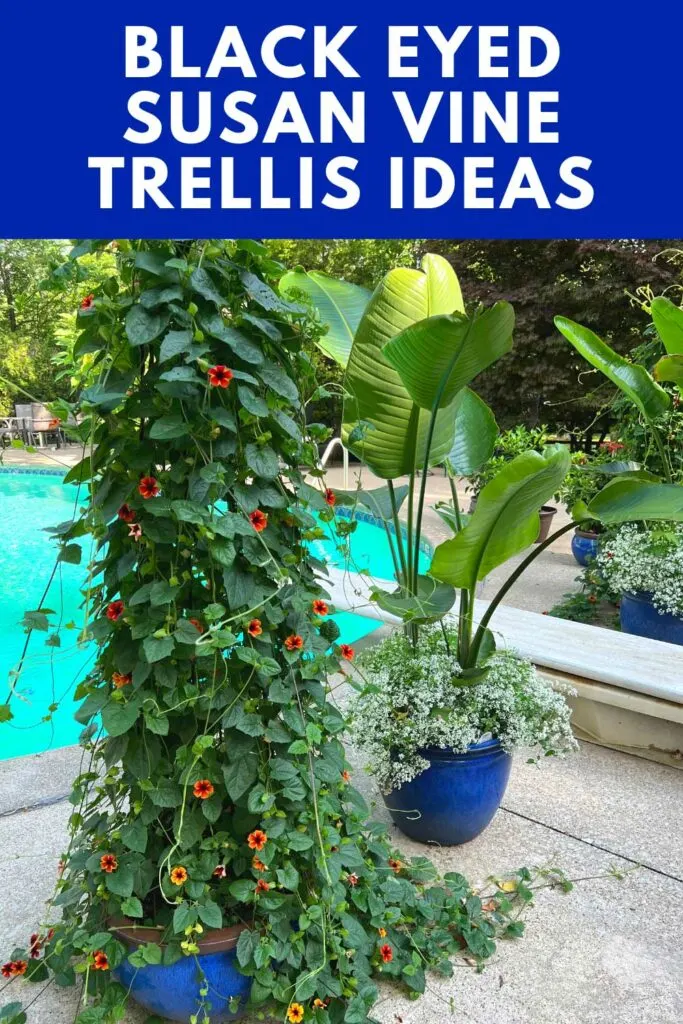 The species, Thunbergia alata has uniform, light orange flowers with a dark center. But there are many beautiful cultivars available and the flowers come in white, yellow, pink, and more.
BLACK EYED SUSAN VINE TRELLIS IDEAS
While you can certainly grow Thunbergia alata as a trailing plant or in a hanging basket, it will be best displayed with a support.
This extremely vigorous vine is native to tropical and South South Africa as well as Madagascar. It has been introduced to much of South America, parts of southern United States and Mexico, India and southeast Asia and proves to be quite invasive in those climates.
Given the tremendous growth rate in my own garden in Ohio, it is not hard to see how it can be invasive in warm climates.
Here are some support structures that you can use, and at the end of the post, I'll include some care tips for black eyed susan vine.
1. ROUND or SQUARE METAL TRELLIS
You can use this option either in the ground, as well as in a pot. I found the one in the photo below at Lowes, but there are good garden obelisk trellises on Amazon.
In the photo below, I simply placed a square, metal obelisk into a heavy ceramic pot and planted a single plant of Tangerine Slice A-Peel in mid-May in my garden.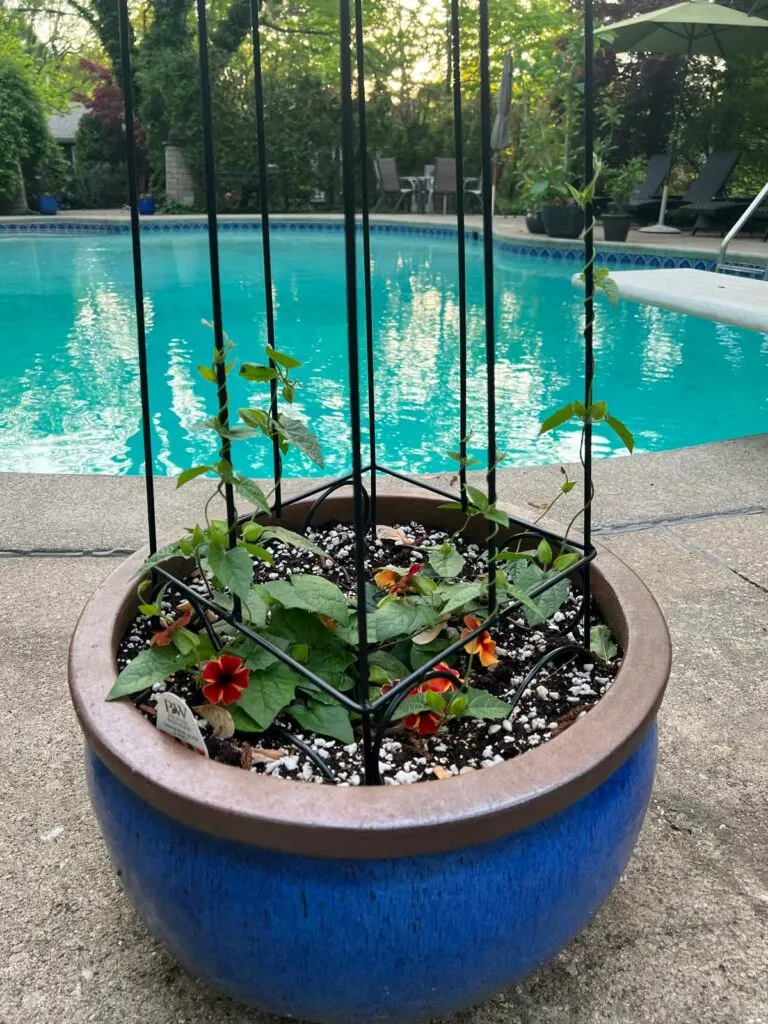 Note how the vines are wrapping themselves and climbing by spiraling up the support. If the vines grow outwards and hang over, I like to manually wrap them around the support to help get them started.
Once they get going, you won't need to do this anymore. Not even 3 weeks later, the plant looked like this.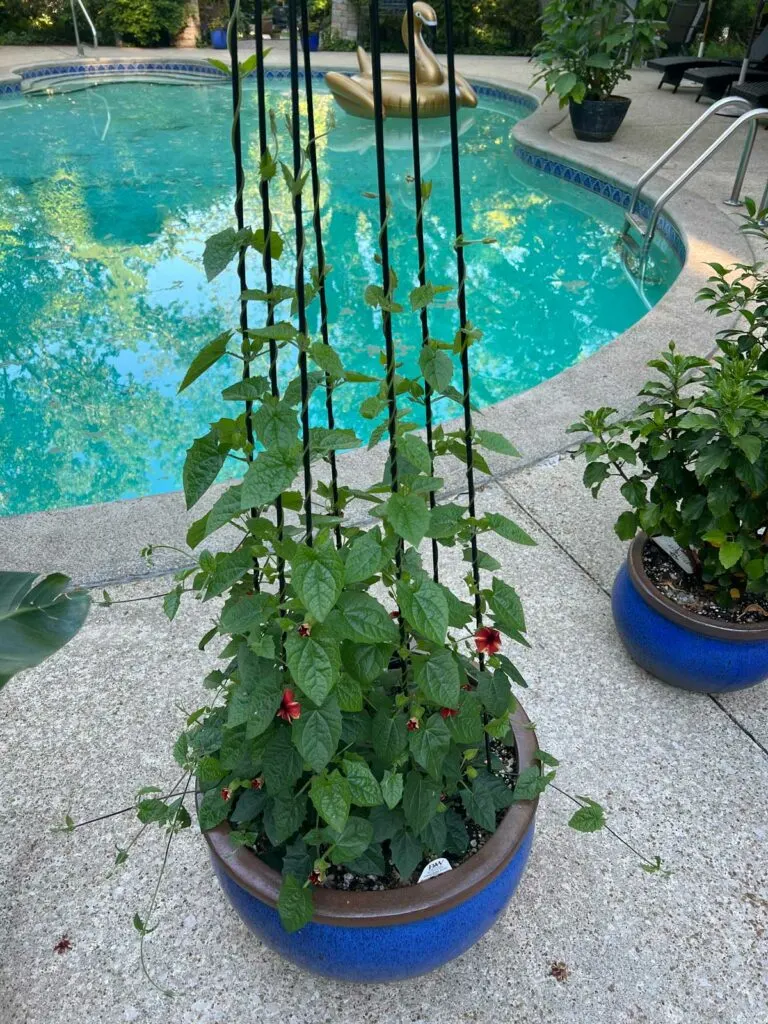 And about 2 months from the time the first photo was taken, this is what my plant looked like! The metal obelisk I used is 5 feet tall. The plant has grown up and is trailing back down on the ground.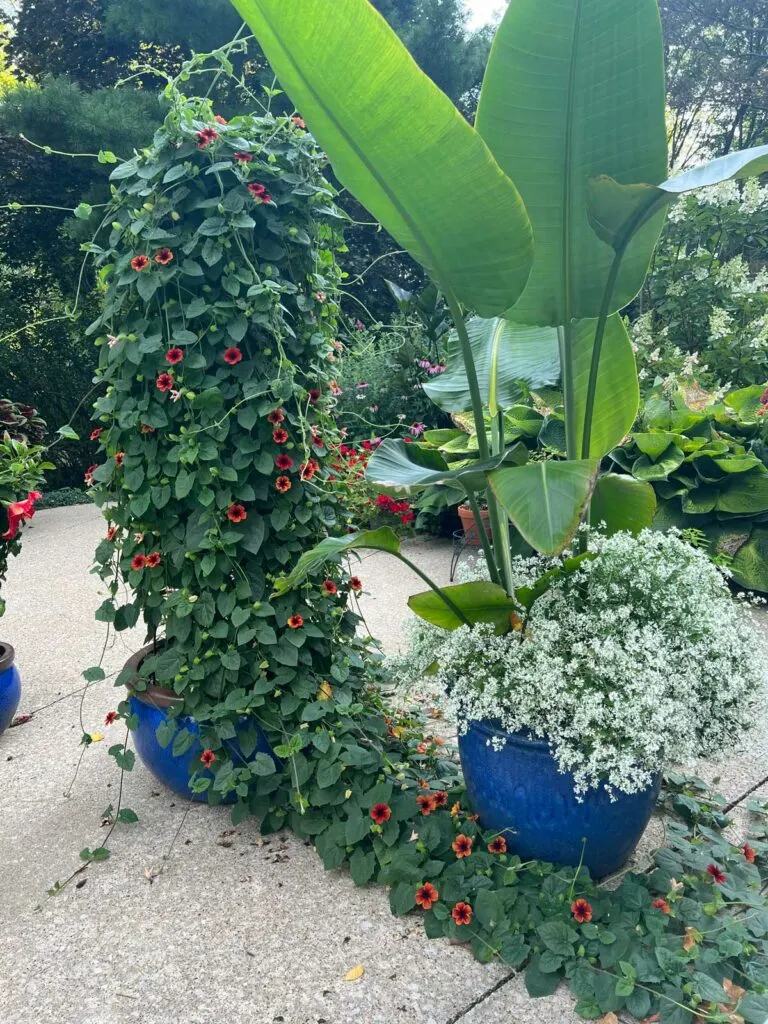 Here are both pots just two months after planting. I think vigorous would be an understatement!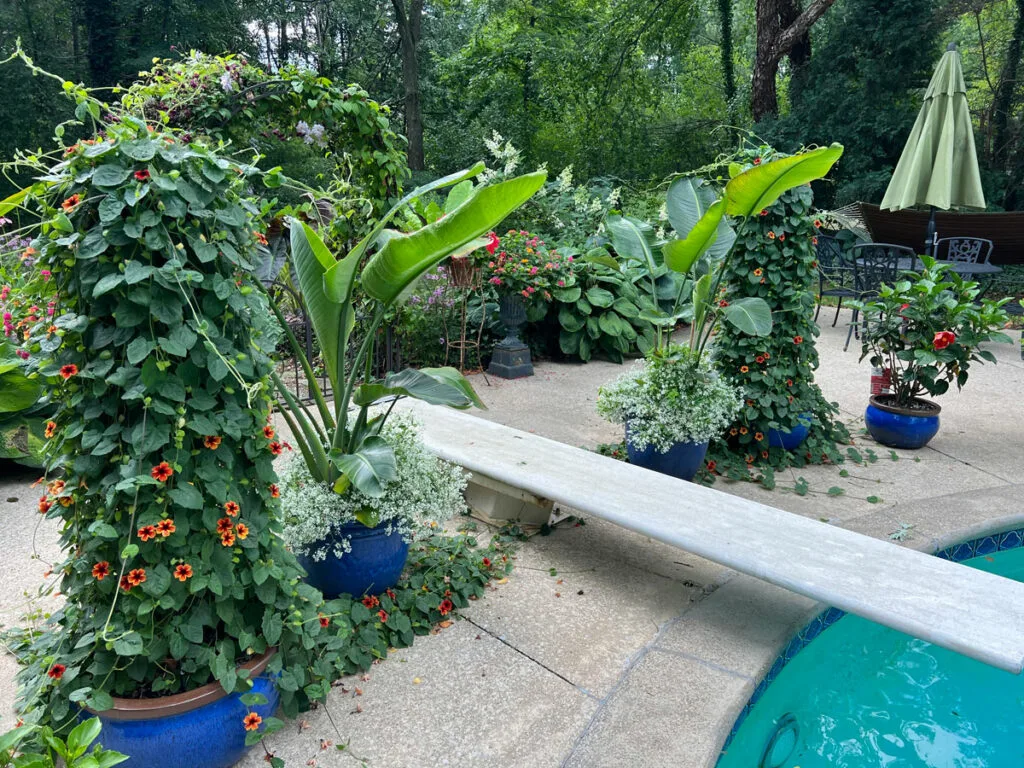 It can easily take a much taller support structure than the 5 foot structures I used, and this plant will completely cover it even if you live in a climate with short summers like I do.
2. MAKE YOUR OWN WOODEN SUPPORT STRUCTURE
One of my friends who owns the florist, Stems Fleur in Cleveland Hts., OH, fabricated the beautiful structure below for his pink black eyed susan vine in his home.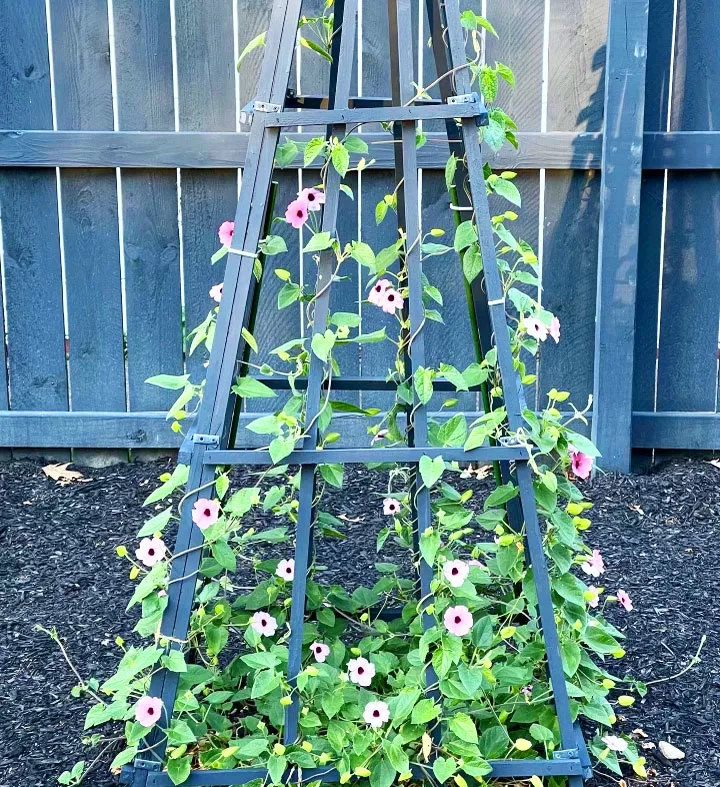 He simply purchased four flat, wooden trellises, turned them upside down, and attached them together to make a square, wooden obelisk.
Prior to attaching them together, he stained them a dark gray, and then used L shaped brackets to secure them together in a four sided structure and placed it in the ground.
3. BAMBOO AND TWINE STRUCTURE
My same friend created a bamboo structure that he used for another plant, but this would would incredible well for black eyed susan vine as well.
He created an archway structure that you can walk through. It was constructed with vertical bamboo trellises on both sides, and there is also bamboo on top for support. In between the bamboo (which he spray painted), he added garden twine for additional support.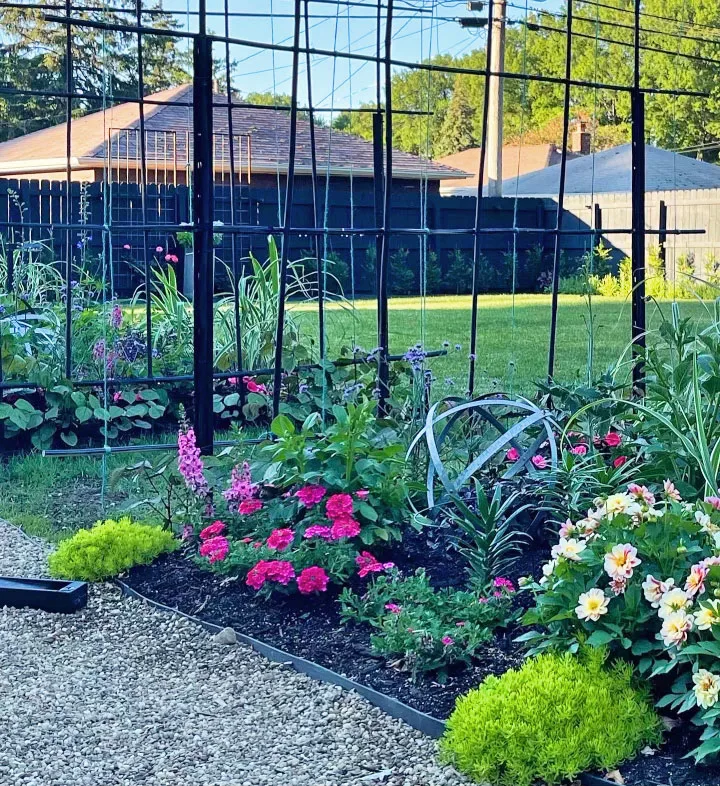 4. BAMBOO TRIPOD STRUCTURE
If you want to make your own support structure that is quick and simple (and perfect for use in pots) you can simply take 3 or 4 bamboo stakes and tie them on top, like in the photo below.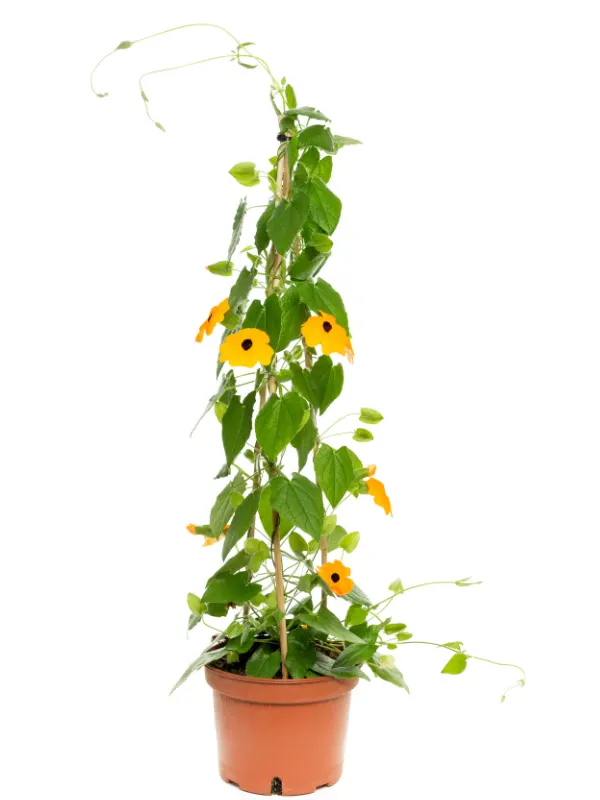 For pots outdoors, I'd recommend using bamboo that are at least 4 or 5 feet tall. The vine will quickly cover it! Using 6 foot or even 8 foot bamboo posts would provide a dramatic focal point for your garden. And they WILL cover it!
You can also tie clear fishing string horizontally, connecting the bamboo for additional areas for your plant to climb.
5. AGAINST A WALL
You can easily grow your plant on a wall outdoors using various support methods.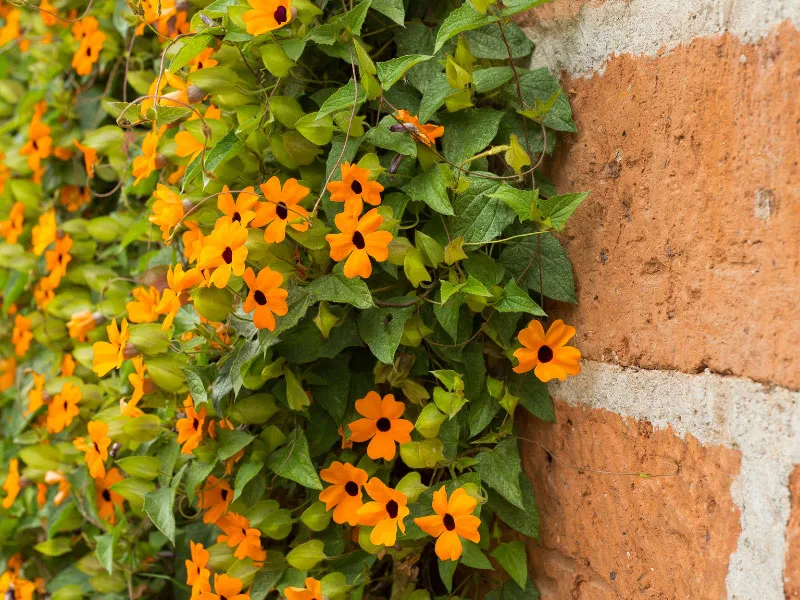 You can simply buy a pre-made, flat trellis to insert into the ground and lay it at an angle against a wall and allow your plant to grow on it.
If you have a brick wall, you can purchase a plant anchor kit. You simply glue the anchors onto any brick, wood, stucco, glass, plastic, steel, stone, or concrete surface. Then, you use the provided wire to connect the anchors into whatever configuration you choose.
You can see the plant anchor kit below which is being used for clematis support, but it would work amazingly well for Thunbergia alata too.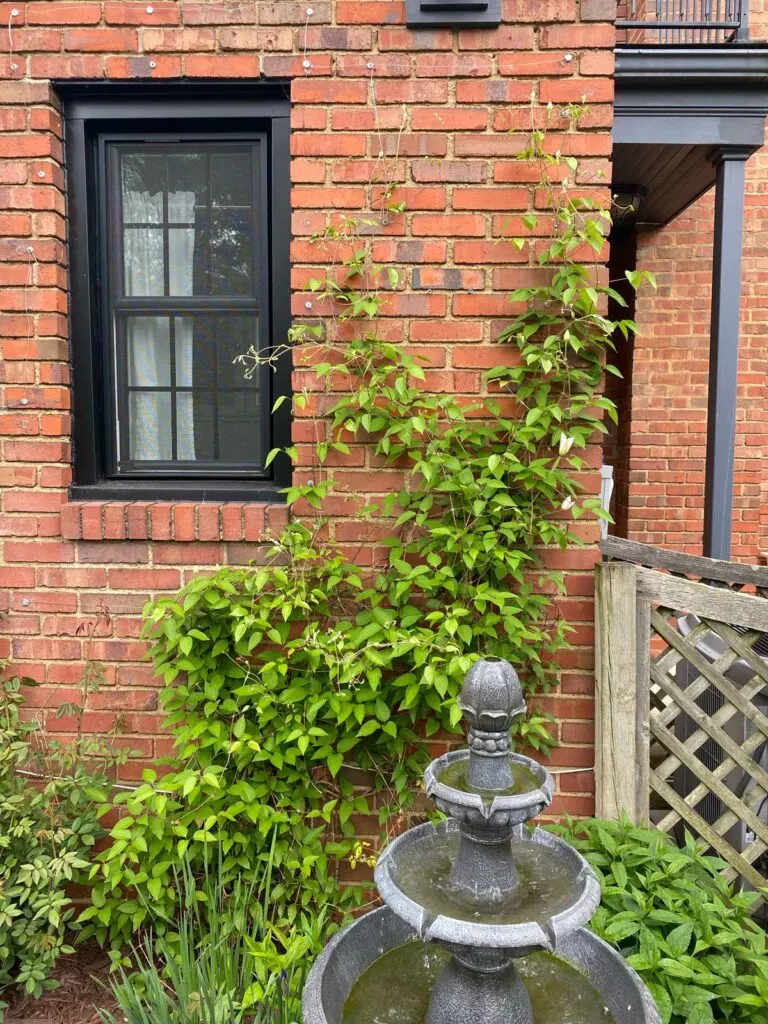 Now let's get into some basic care for your plant.
BLACK-EYED SUSAN VINE CARE
Here are some care tips for your Thunbergia alata.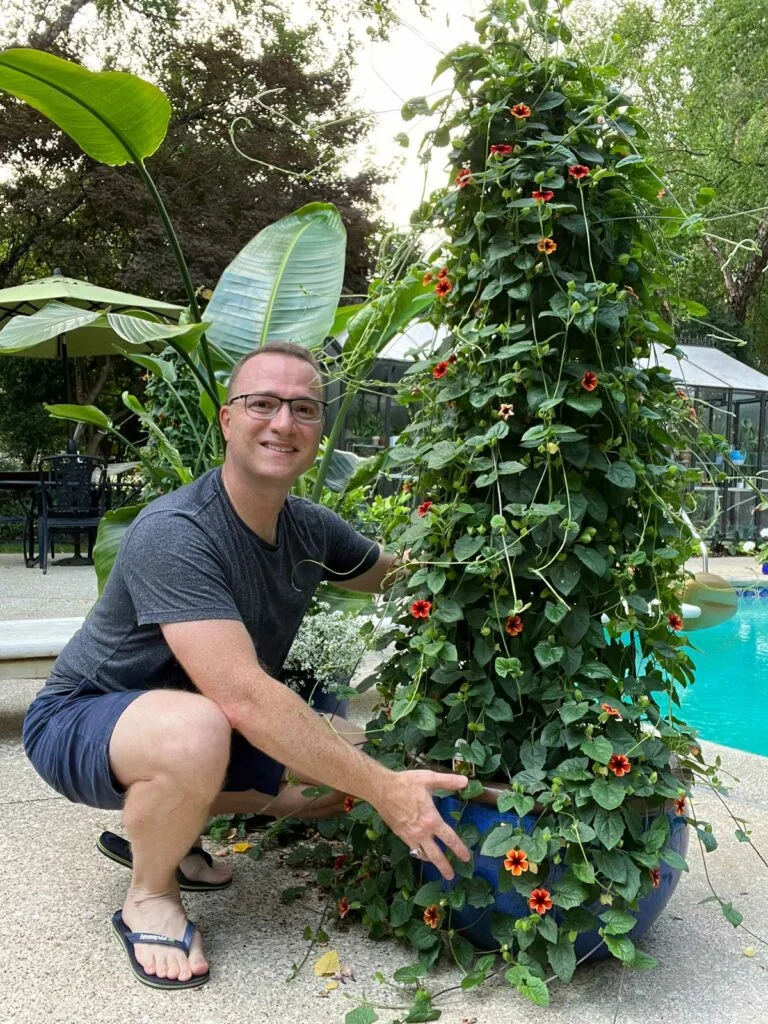 LIGHT
It will tolerate partial shade and needs at least half a day of direct sun for best growth and flowering. Full sun is best though.
WATERING
Keep the soil pretty evenly moist for best results. If your soil has dried out too much, it will start to wilt. Water immediately if you notice this.
Be sure to water abundantly especially during hot, sunny weather. You may have to water daily during this time.
FERTILIZER
Over-fertilization (particularly high Nitrogen fertilizers) can cause these plants to stop or reduce flowering.
Use a time release fertilizer like Osmocote at the time of planting, and another application a couple months later.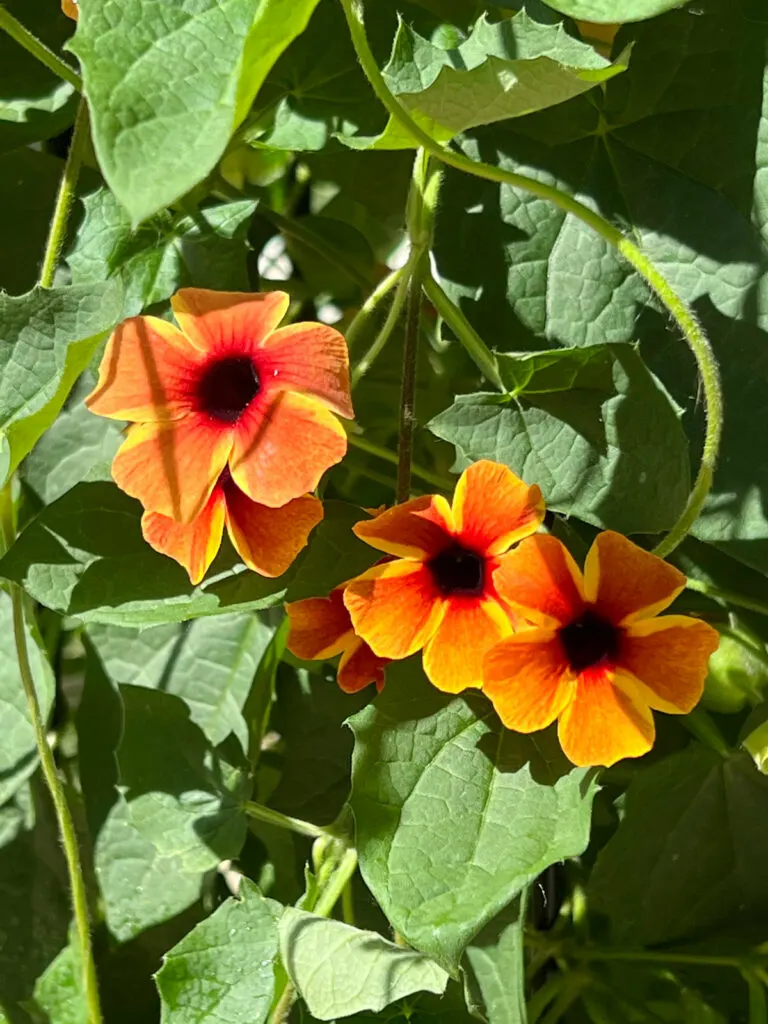 BLOOMING
These plants should bloom continuously, and fortunately, there is no need to deadhead. Pollinators in your garden (bees, hummingbirds, and butterflies) will also appreciate your plants!
The plant also may slow flowering down during the hottest part of summer. When more mild weather returns in Autumn, it will start blooming well again.
HARDINESS ZONE
Thunbergia alata is hardy in zones 10 and warmer. In cold winter areas, you can simply treat these plants as annuals.
The sky is the limit with this plant, so hopefully this post has sparked some good black eyed susan vine trellis ideas for your own garden! You can always get creative and make your own simple structures.
Have you grown Thunbergia alata in your garden? Comment below. I'd love to hear!