Some of the links in this post may be affiliate links.
Are you looking for beautiful hanging baskets for full sun for your garden? In this post, I made it easy for you to select a variety of hanging basket plants that will look amazing in your summer garden.
With consistent care, plenty of sun, and well-draining soil, you'll have showy flowers and colorful foliage in your hanging planters all summer long.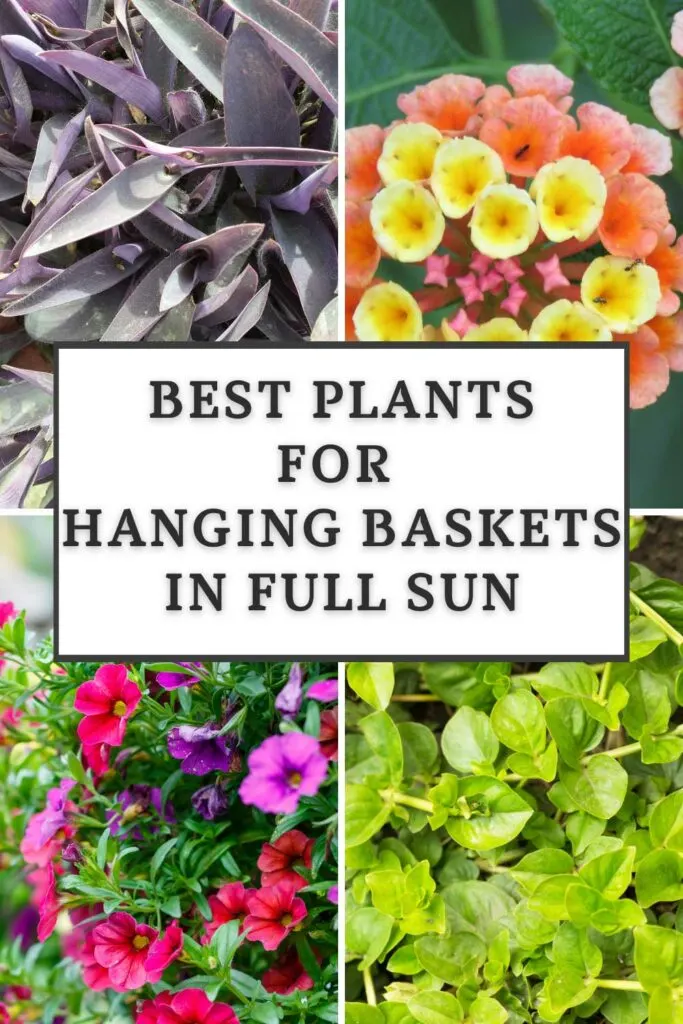 BEST PLANTS FOR HANGING BASKETS IN FULL SUN
1. Ivy Leaf Geranium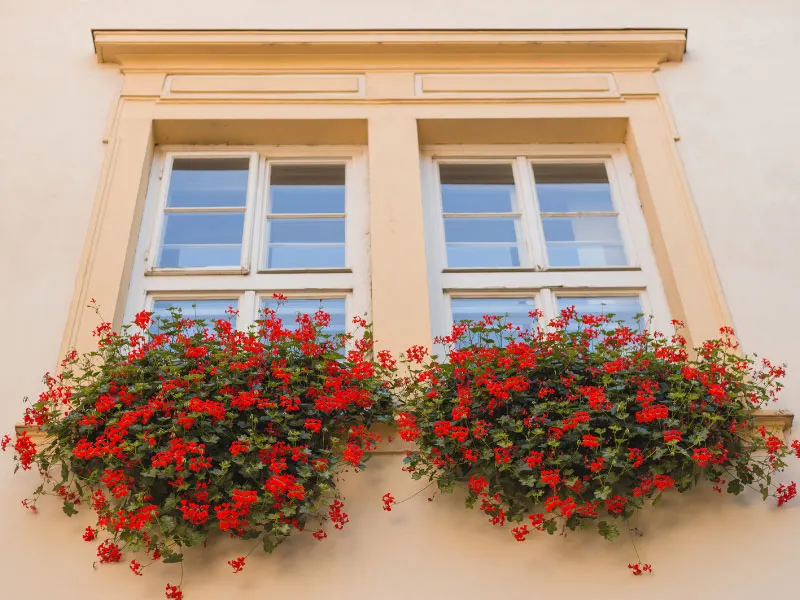 The Ivy geranium is the trailing version of the popular bedding geranium. It usually has thicker, waxier leaves and it trails down beautifully, making it a great choice for your hanging basket or window box in sunny spots.
Flowers come mostly in white, pink, red and purple and will flower continually until frost.
These plants are tender perennials that will not survive freezing temperatures. You can simply treat them as annuals if you live in a cold winter region, or winter them over.
2. Petunia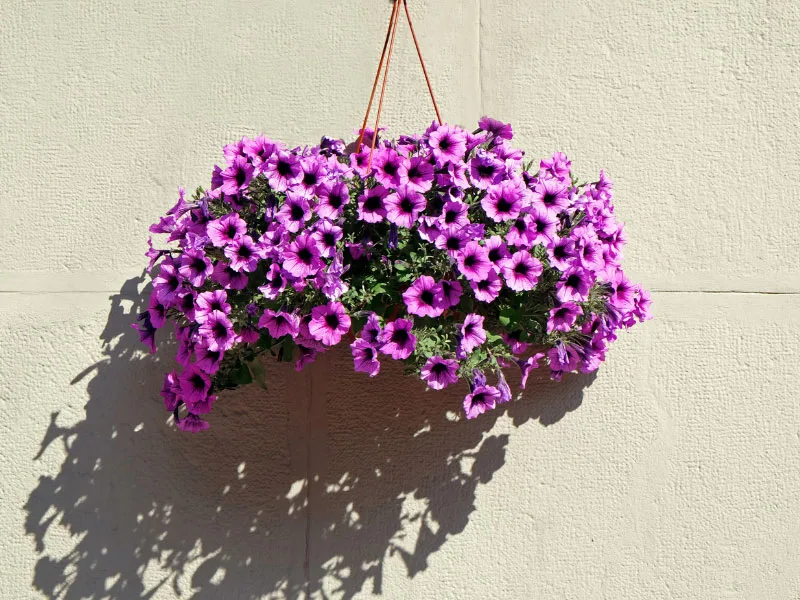 No summer is complete without mounds of petunia hanging baskets. Don't buy petunias too soon though since they love warm temperatures. So make sure that you wait until all threat of frost is over.
Give your petunias a sunny spot in your garden, water plentifully, and fertilize throughout the growing season to promote vigorous growth and non-stop, colorful blooms.
3. Million Bells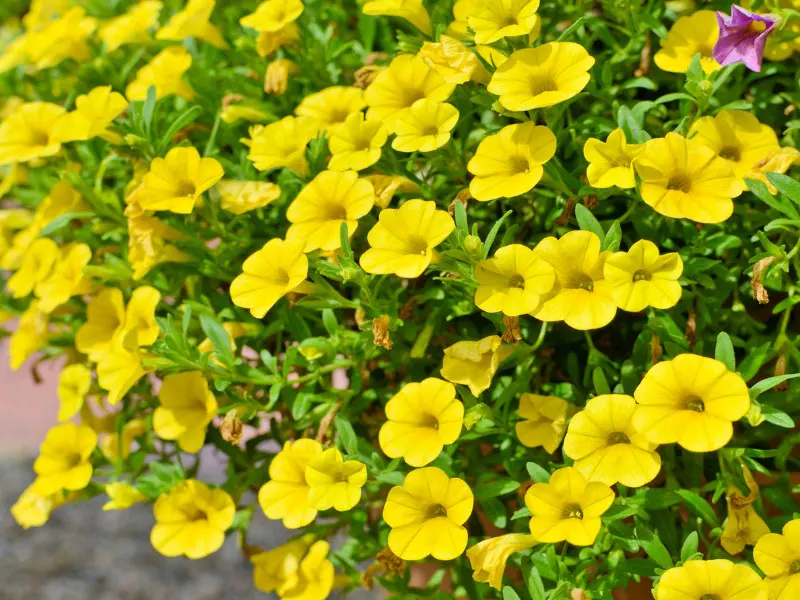 Calibrachoa, commonly known as Million Bells, is a wonderful garden annual that produces non-stop flowers all season long. The flowers resemble petunias, but are smaller.
In full sun locations, they produce mounds of blooms all growing season.
Be sure to be attentive to watering though, and water as soon as the surface of the soil feels dry to the touch. Fertilize regularly throughout the growing season.
4. Bougainvillea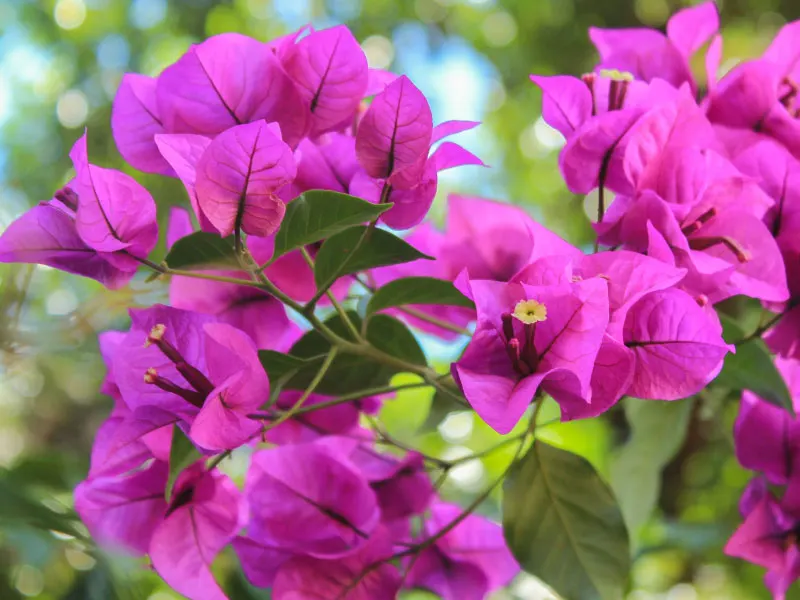 Often seen climbing walls and trellises in warmer climates, Bougainvillea also make nice hanging baskets. What appear to be the flowers are actually modified leaves called bracts. The true flowers themselves are very small.
This plant needs as many hours of sun as possible, so it is not really ideal for partial shade. For best blooming, allow your plants to almost dry out before watering again, and don't overfertilize.
You can overwinter these plants before it gets too cold if you'd like to hold it over to the next season.
5. Portulaca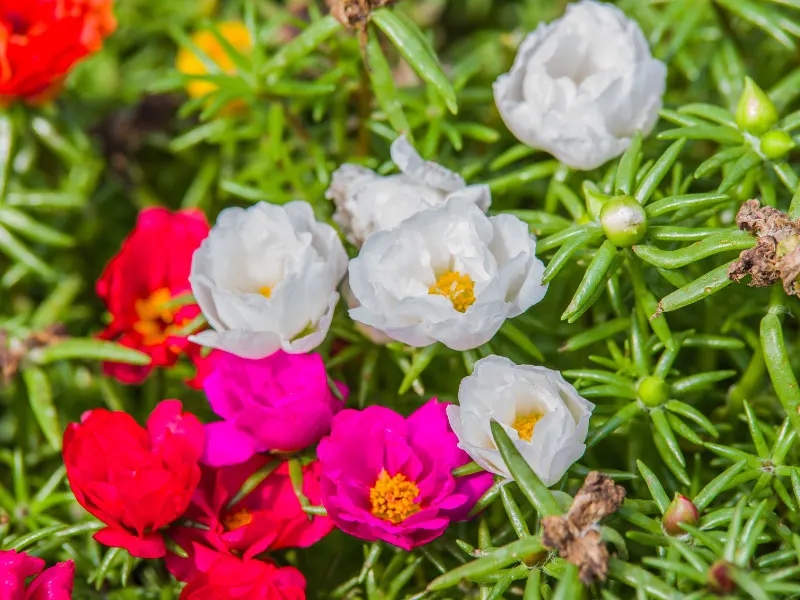 Sometimes called moss rose, Portulaca plants have blooms that comes in a wide range of colors including white, pink, yellow, magenta, and more.
They thrive in full sun and hot areas, and will tolerate neglect since the plants are quite succulent. They do like their soil to dry out a bit before watering.
6. Dragon Wing Begonia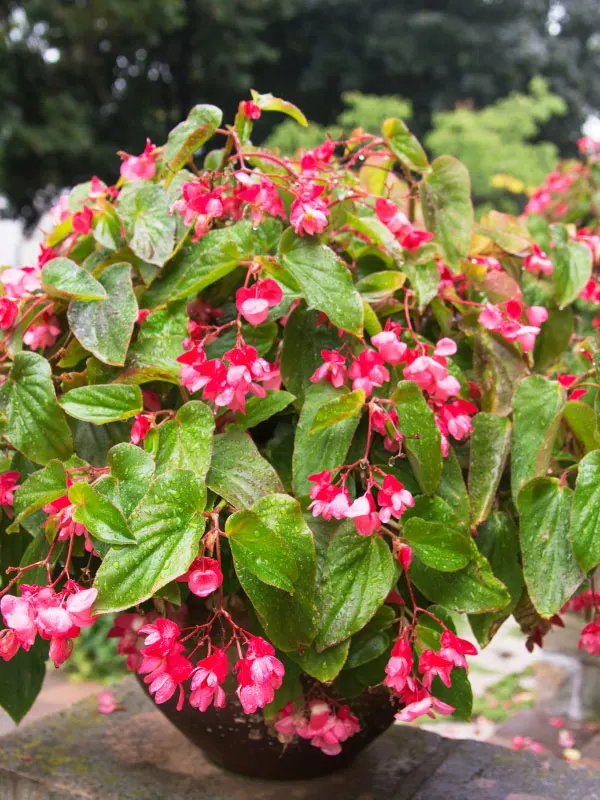 These beautiful cane begonias make for beautiful hanging baskets. Their pendulous blooms are graceful, though they do tend to make a bit of a mess when they drop their flowers.
Keep your begonias moist for best results. They are great for part shade areas, but still need a few hours of direct sun for best growth and flowering.
7. Begonia boliviensis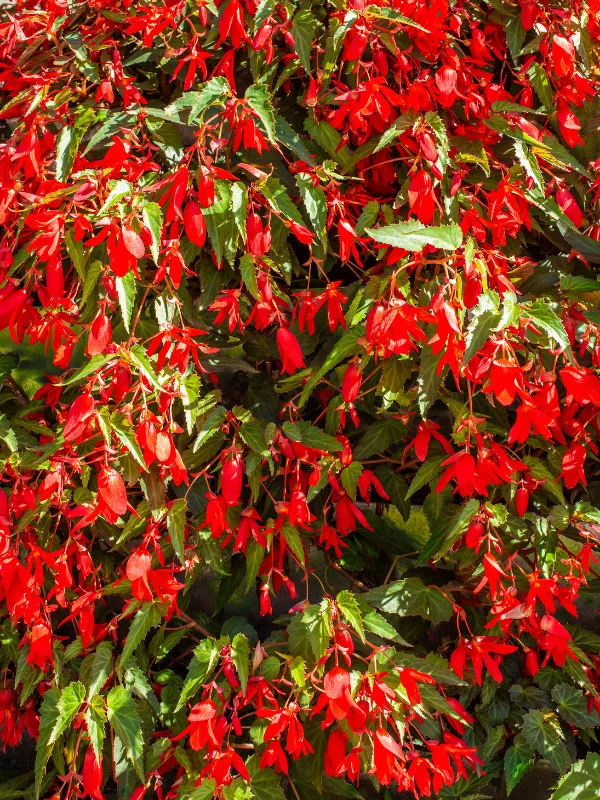 This gorgeous begonia prefers fairly moist soil, so water when the surface of the soil feels dry.
This plant is great for locations that have full sun, but will also do well in part sun. Many newer cultivars have been developed to do well in full sun.
8. Sunpatiens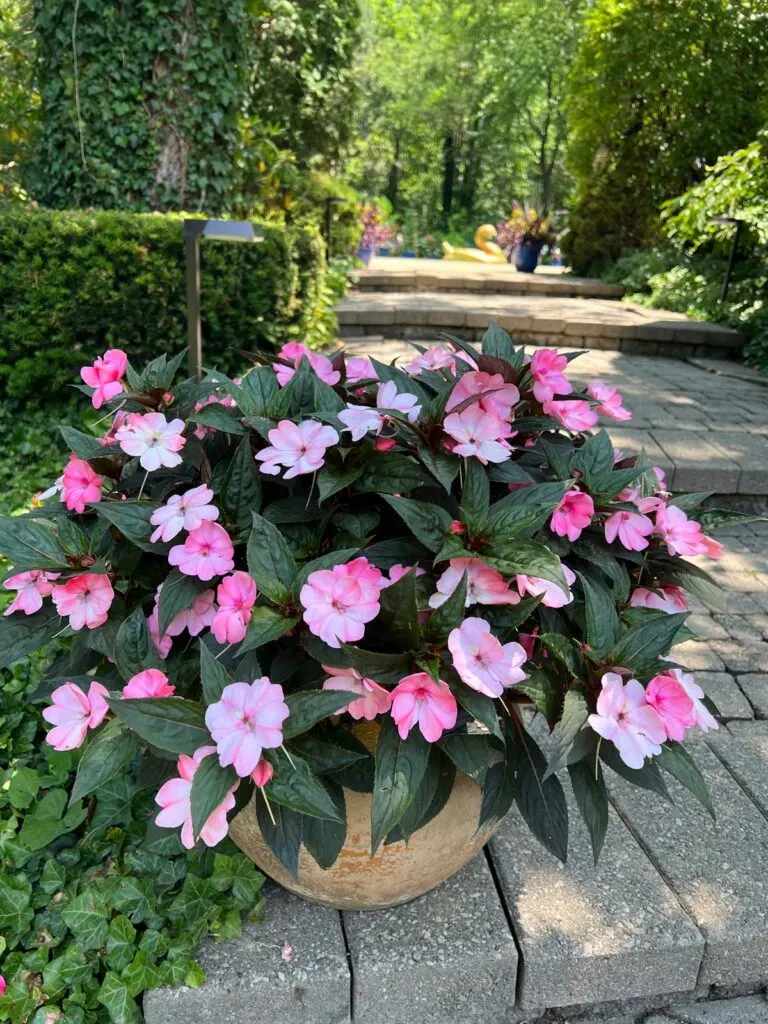 If you love impatiens but have been shying away from them because you have only sunny locations, then you're in luck. The SunPatiens line of impatiens thrives in full sun!
Just make sure you keep them watered very well and fertilized plentifully all season. They will wilt very quickly if their soil goes completely dry.
9. Black-Eyed Susan Vine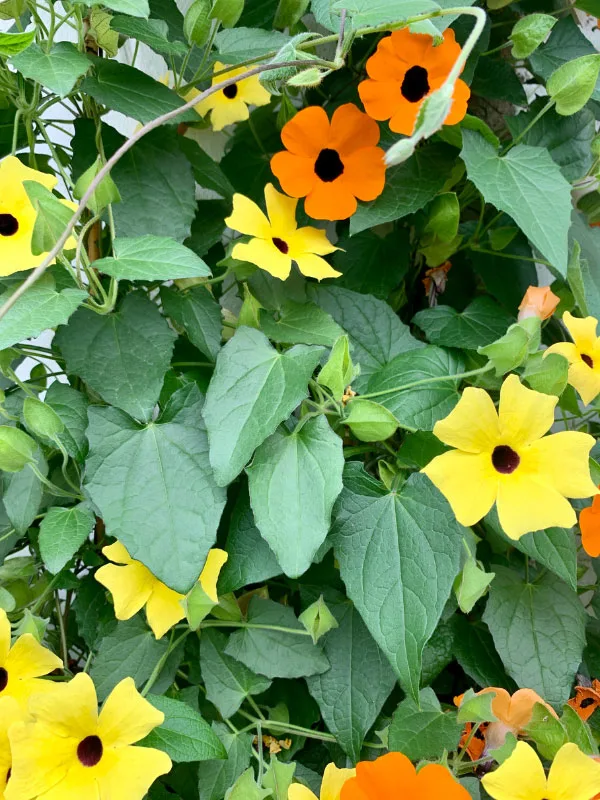 These plants are among the more vigorous growers in your garden. Most often grown on a trellis or support, you can also grow them in a hanging basket. But beware! The vines will wrap around everything.
Keep the soil fairly moist and never let them dry out. Full sun is best!
10. Tradescantia pallida 'Purpurea'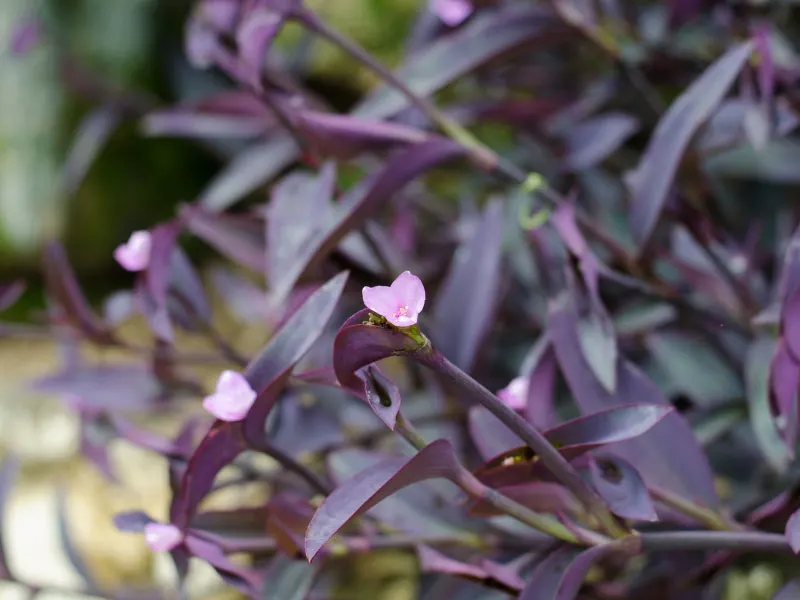 This trailing plant with purple foliage really adds a nice touch to mixed hanging baskets, or even to grow on their own. Full sun is best as it brings out the rich purple color of your Tradescantia, and they also have small pinkish-purple flowers, but they're mainly grown for their foliage.
When there is not enough sun, the color will not be as deep and may even turn greenish.
11. Lantana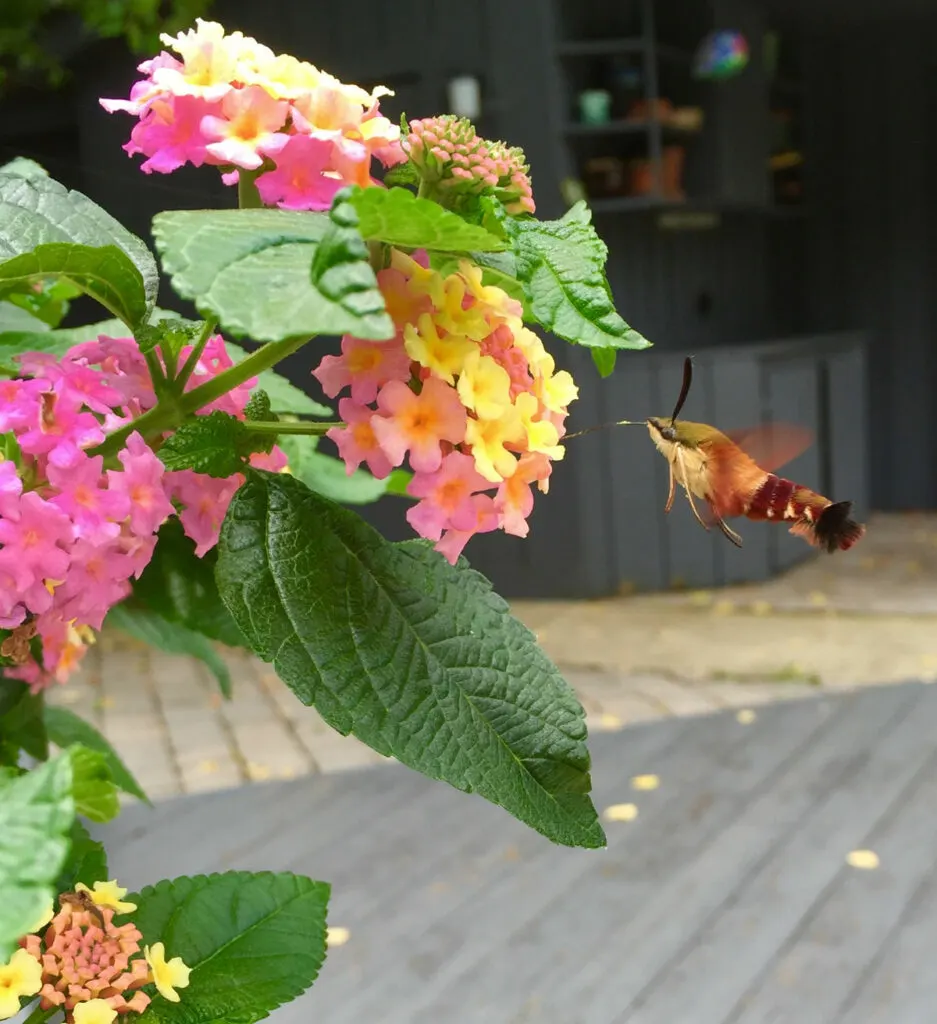 If you have hot and sunny locations, few plants are better than lantana. There are many beautiful cultivars, some with multicolored blooms.
I also love to grow them because each year they attract hummingbirds, hummingbird moths, and butterflies.
Give them at least half a day of sun, or more, for best blooming. Check out my blog post on growing Lantana in pots for some important growing tips.
12. Sweet Potato Vine
Often a popular choice in mixed hanging baskets, these plants are grown for their foliage and are extremely vigorous growers. Don't be surprised if their vines reach the ground in record time.
They like plenty of sun and plenty of water. You will quickly notice if they're dehydrated because they will wilt in quite a spectacular manner.
Sweet potato vines come in different colors ranging from bright chartreuse to deep purple.
13. Verbena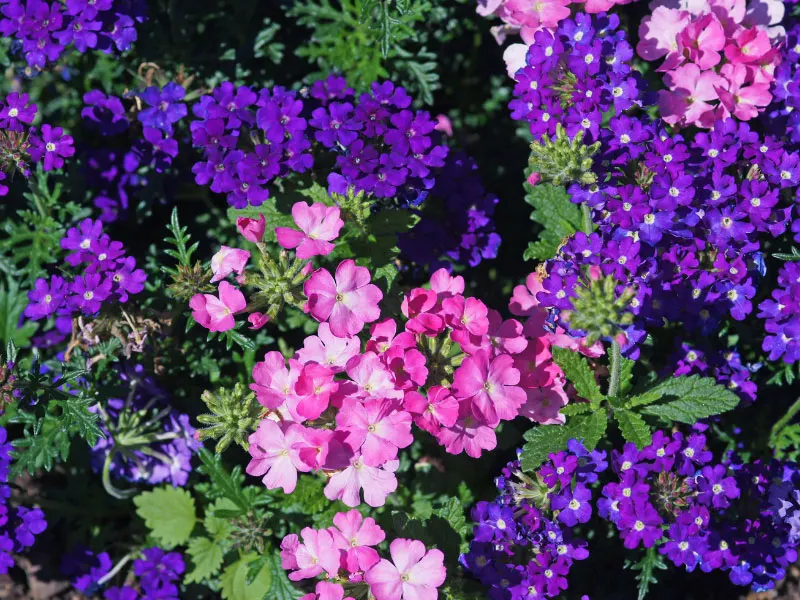 The most commonly available hybrid verbena grows to about 6-18 inches tall and they come in a beautiful array of colorful flowers: pink, red, purple, white and even bicolors.
These plants are tender perennials that many of us in cold climates can grow outdoors as annuals. Allow the soil to dry out a bit before watering thoroughly. Good drainage is essential.
Verbena flowers are a favorite of insect pollinators, and the plants are easy to grow and well-behaved, so this one is a no-brainer!
14. Lobelia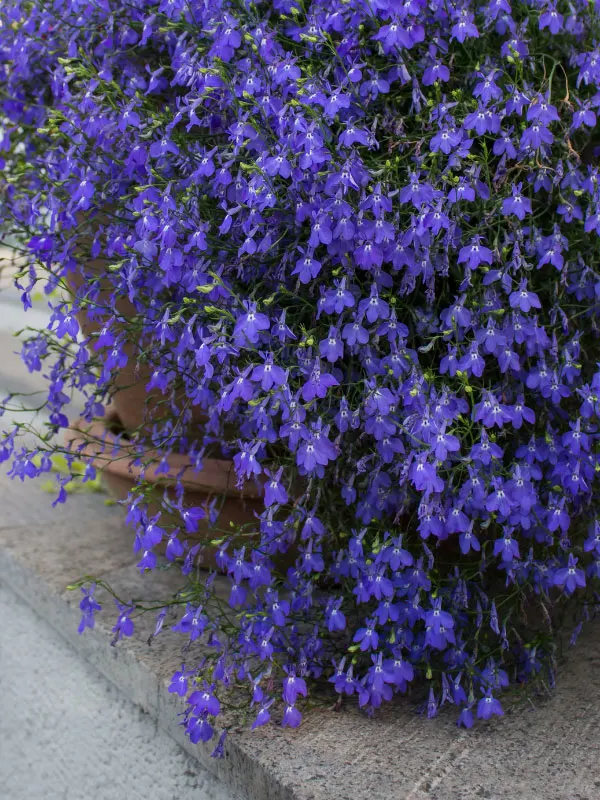 It's hard to resist the rich purple flowers of Lobelia, but there are also white and pink flowered varieties. Typically a tender perennial, if you live in zones colder than Zone 9, they will act as annuals for you.
Flowering best during cooler weather, be sure to keep this plant very well hydrated during hot and dry periods. If your plants start to look ratty, you can prune up to 1/3 of the plant off in order to encourage more growth and flowers.
This is a great "filler" or "spiller" plant in your mixed hanging baskets or pots.
15. Licorice Plant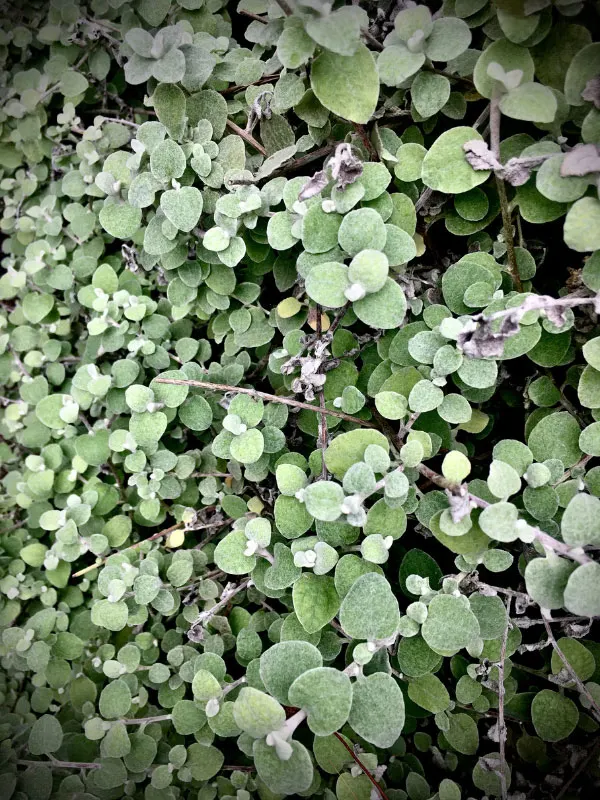 The Licorice Plant has beautiful silvery foliage that contrasts nicely with other plants in your hanging baskets for full sun.
Beware though. It is a very vigorous grower so if you are doing mixed hanging baskets, you don't need more than one plant!
16. Vinca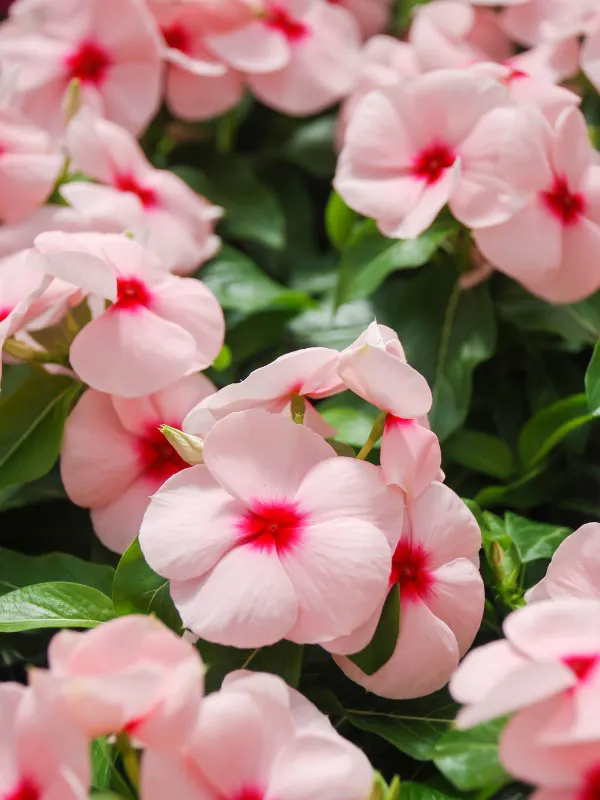 The Vinca plant (Catharanthus roseus) has glossy green leaves and colorful flowers. This plant is native to Madagascar and typically grows about a foot tall or so.
Once it is established, it is pretty drought tolerant. It can be susceptible to root rot, so wait until the top inch of soil feels dry before watering again. Flowers come in white, pink, purple, and reddish.
17. Pansies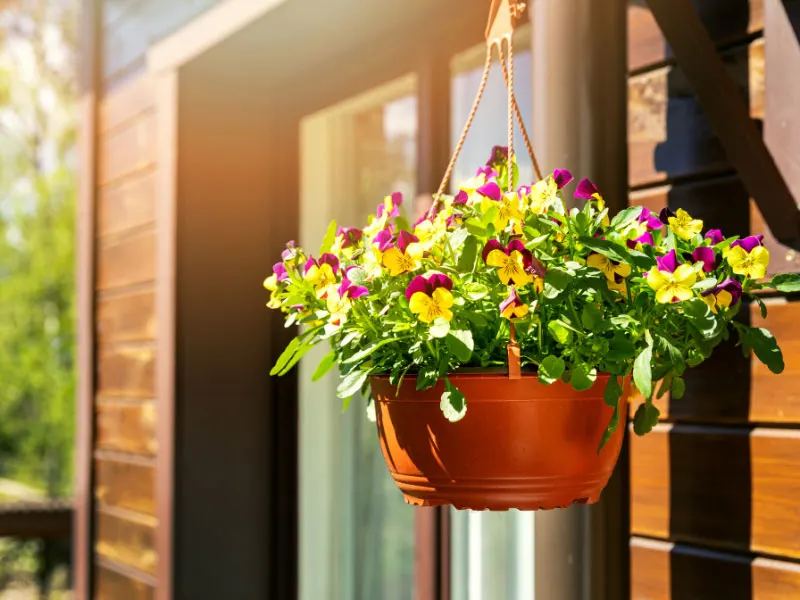 Pansies are cool weather plants, so you'll get the best performance when temperatures are 40-60°F (4-16°C). These plants are hardy biennials. Sometimes if your weather gets too hot, they get leggy and ratty and they're best thrown out.
If you want to wait it out though, you can prune them back in late summer or early Fall, and they should flush out with new growth and new flowers with any cooler weather that is approaching.
18. Nasturtiums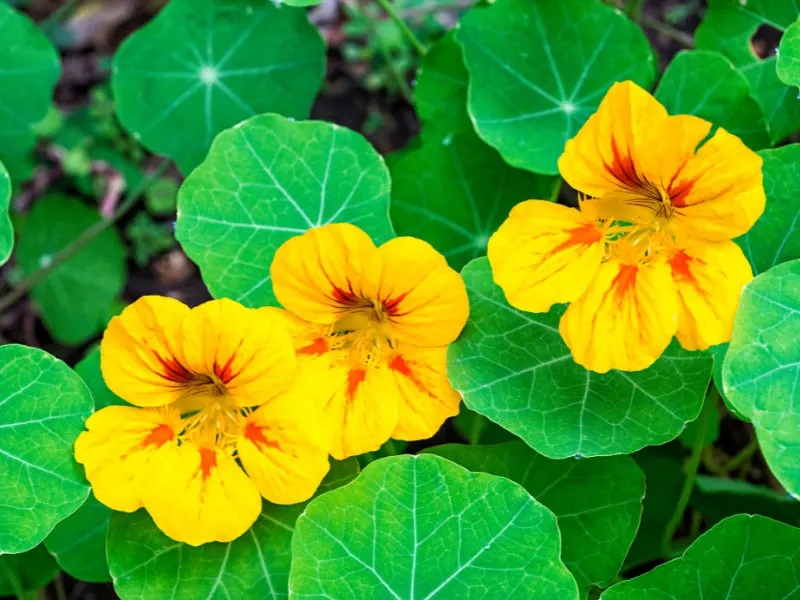 Nasturtiums have the added benefit of having edible flowers which have a peppery or watercress-like taste. There are both vining varieties as well as varieties that stay short and bushy.
They flower best in poorer soils, so don't go crazy fertilizing them. Just give them plenty of sun and water your nasturium hanging basket when the top 1-2 inches have dried out.
19. Burro's Tail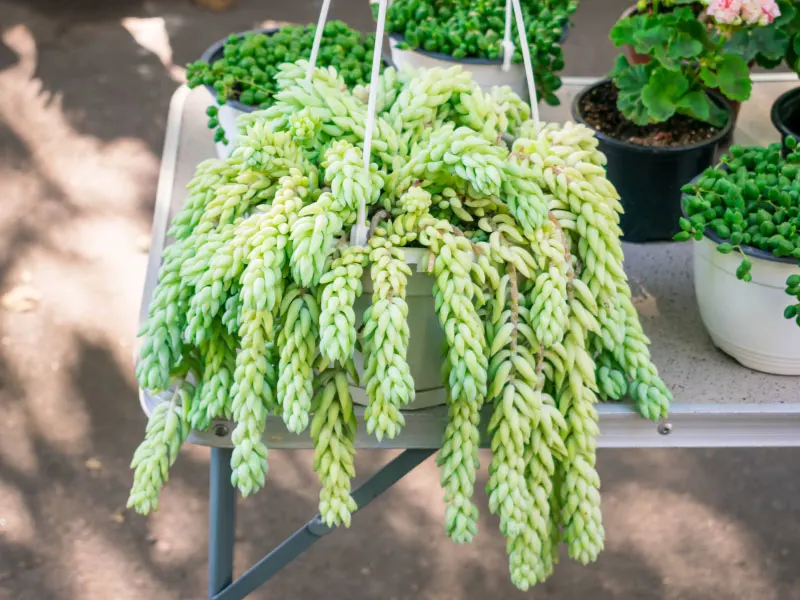 Typically grown on their own, these beautiful succulents are often grown indoors, but you can also grow them outdoors in a protected, sunny spot.
The plump leaves will very easily break off, so be careful when you're handling the plant. Allow the plant to dry out completely before watering again and give your plant plenty of direct sun.
20. Bacopa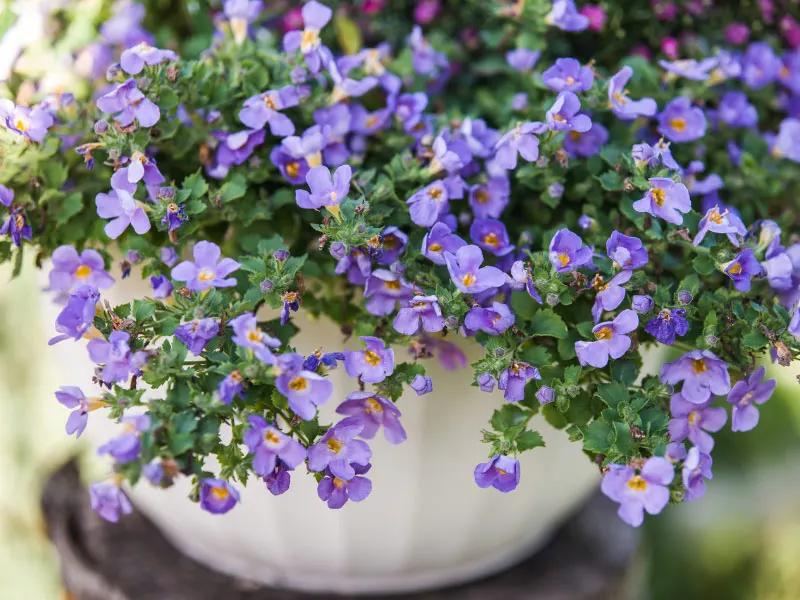 Bacopa is a beautiful filler plant in hanging baskets. Most varieties you will find have small white flowers, and sometimes you will find ones with purple flowers.
They despise when their soil dries out too much, so try and keep your plant well-watered. If allowed to go too dry, your plant will stop blooming temporarily.
21. Dichondra 'Silver Falls'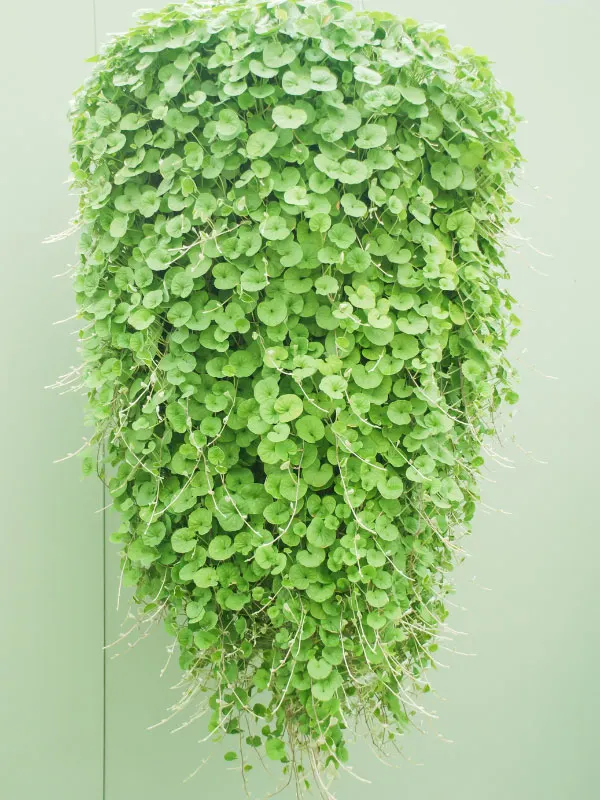 An extremely vigorous, trailing plant, Dichondra 'Silver Falls' works really well in mixed hanging baskets, with loads of cascading, silver foliage. Don't be afraid to trim your plant if it gets too long.
22. Creeping Jenny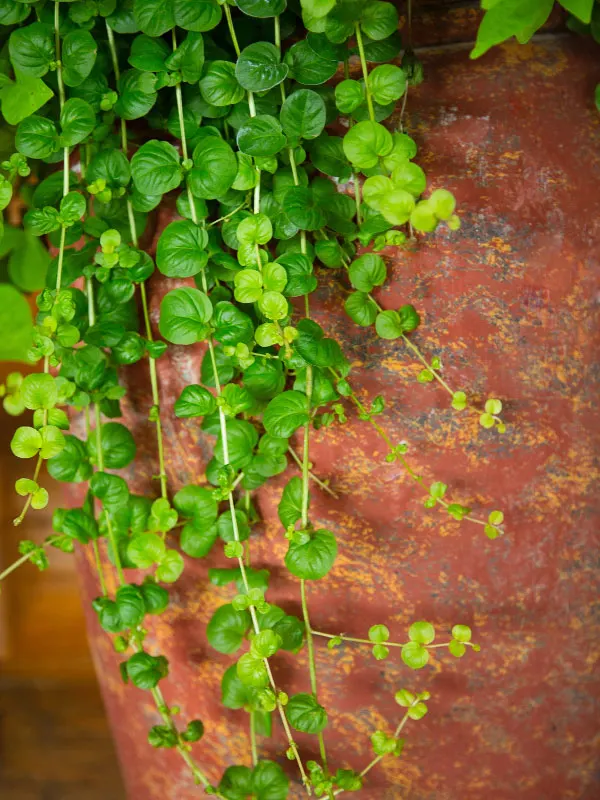 Creeping Jenny (belonging to the genus, Lysimachia), are beautiful trailing plants for hanging baskets. The most striking variety has gorgeous chartreuse leaves, which make a beautiful contrast against darker-leaved plants.
It prefers at least half a day of sun and a well-draining, yet moist soil.
23. Strawberries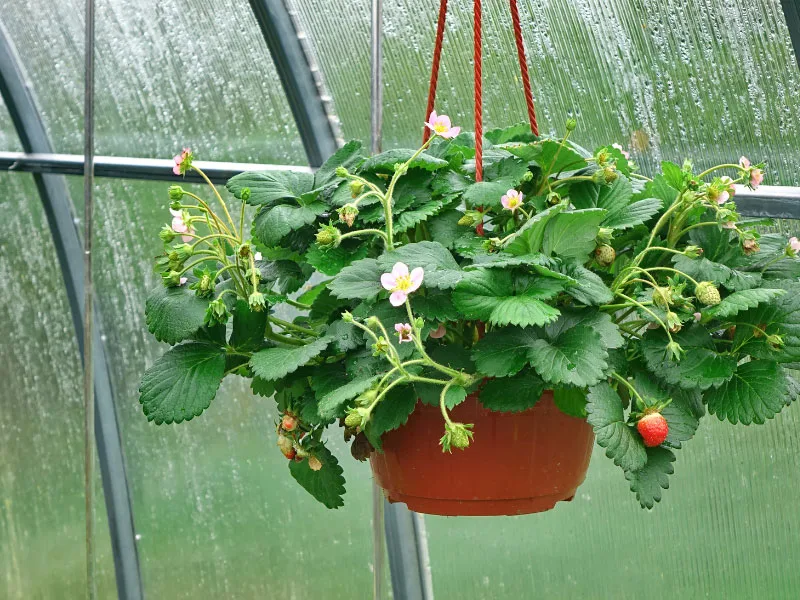 Have you ever thought about growing strawberries in a hanging basket? If you don't have a good spot for an edible garden, growing strawberries in hanging baskets is a great option if you have full sun!
There are some important things to know, so I'll refer you to a post on growing strawberries in hanging baskets.
24. Scaevola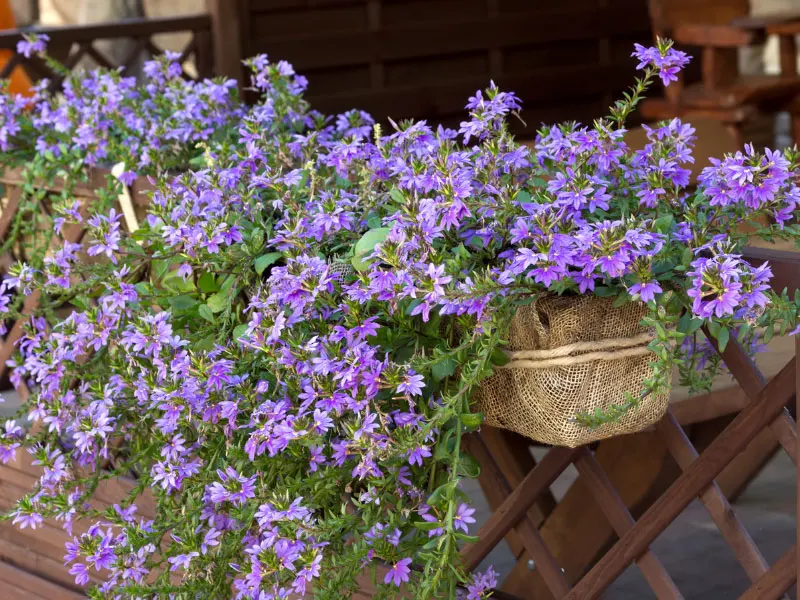 Wonderful for hanging baskets, window boxes and more, Scaevola is a heat and drought tolerant annual that has the added benefit of having self-cleaning flowers, which means you don't have to deadhead!
Best grown in full sun, this plant loves evenly moist soil, but will tolerate some drought. Flowers typically are white, pink or bluish-purple.
25. String of Pearls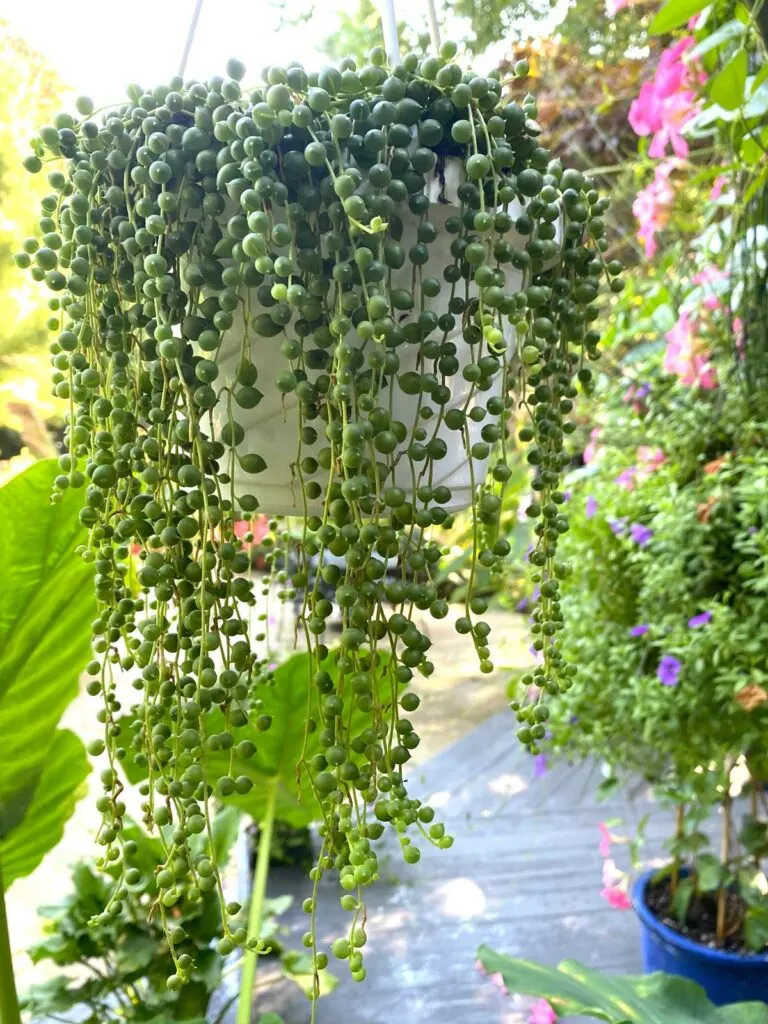 Popular as an indoor plant, these plants are much easier outdoors where it is easier to provide the high light that they need to really thrive.
If you move your plant from indoors to outdoors, make sure that you acclimate your plant slowly so it doesn't burn.
Place your plant in full shade for a few days before gradually increasing the amount of direct sun.
26. Sweet Alyssum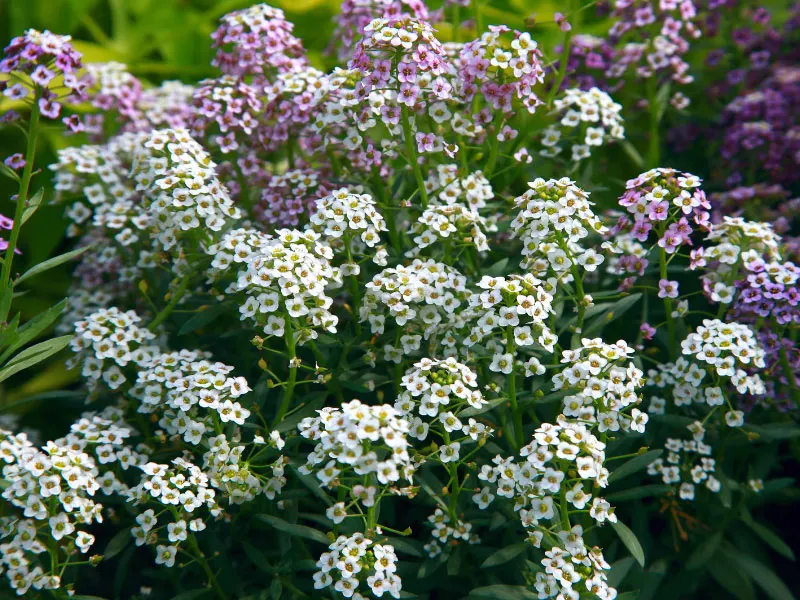 The profusion of tiny, fragrant white flowers makes sweet alyssum a true joy! They also come with purple, pink, and soft peach flowers as well. These plants need as much as you can give them in order to bloom heavily.
Air circulation benefits these plants, so these are great candidates for hanging baskets.
27. Ivy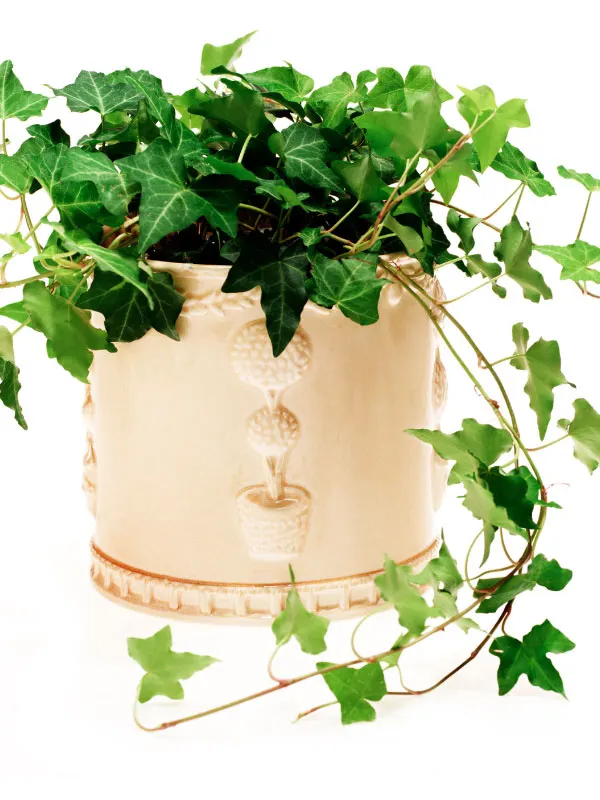 Whether you have ivy in a mixed hanging basket, or by itself, this is an easy care plant outdoors. Indoors, they can be prone to spider mites, but outdoors, they are much easier to grow.
They will thrive in sun or shade, but be sure to provide plentiful water, especially if grown in full sun.
28. Nemesia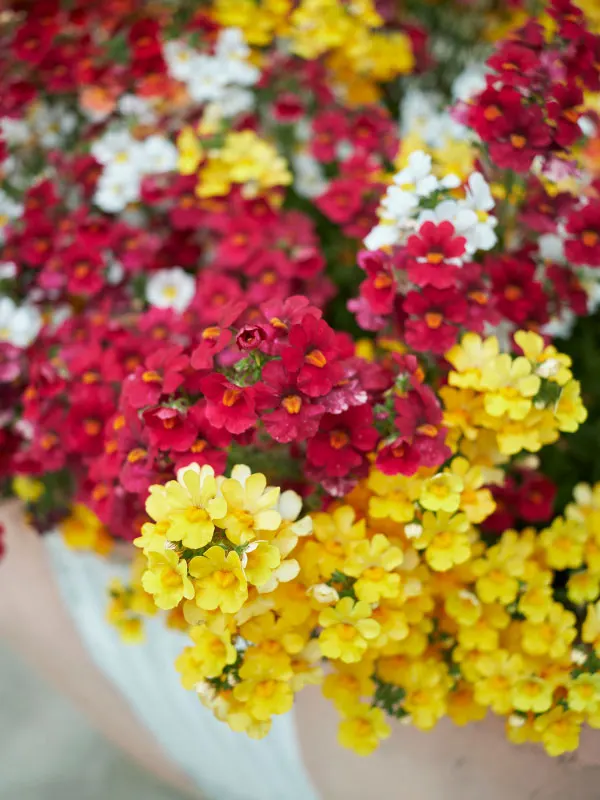 Nemesia performs better in cooler temperatures of spring and fall, but they will provide you with loads of blooms.
When they get a little tired, you can trim them back a bit and fertilize, and you will get a fresh flush of new growth and flowers.
29. Osteospermum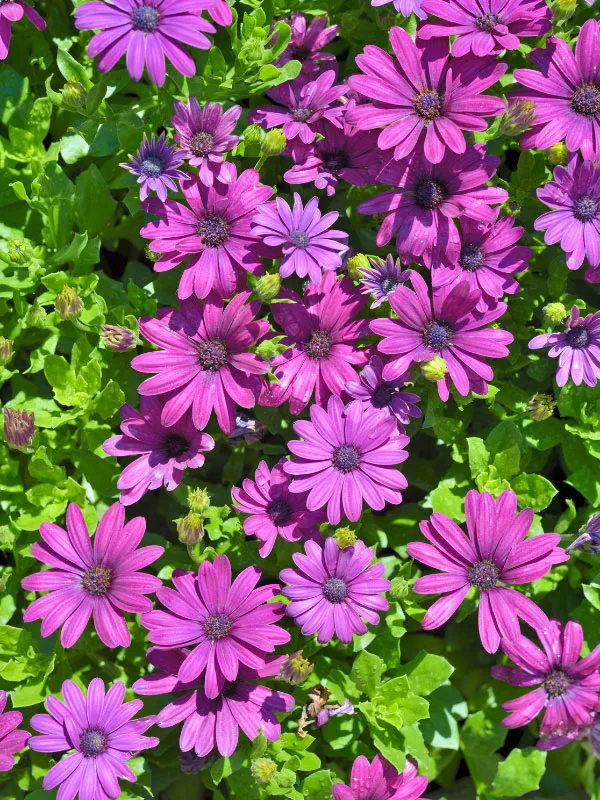 Osteospermum plants make for a great addition to hanging baskets. They come in a wide range of colors and attract pollinators as well.
These are more upright plants, so it may be interesting to pair a trailing plant with your Osteospermum.
30. Trailing Coleus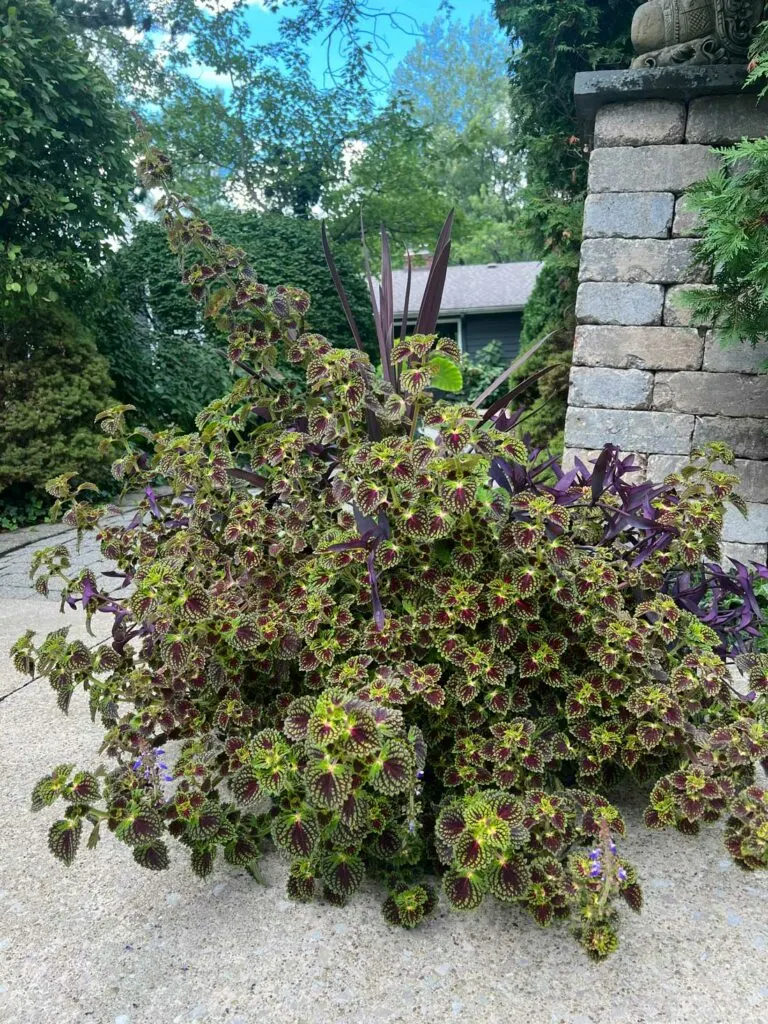 Many of us know and love Coleus, but did you know that there are trailing coleus? Some of my favorite varieties are ColorBlaze Chocolate Drop and ColorBlaze Strawberry Drop. I love them so much that I grow them every year in my garden.
Most of us think of Coleus as shade-loving plants, so you may be shocked to find these Coleus in a post about plants for full sun!
The ColorBlaze line of Coleus from Proven Winners was developed to perform beautifully in full sun! And I've tested them in my garden with flying colors.
Check out 17 spectacular varieties of Coleus for more information.
31. Mandevilla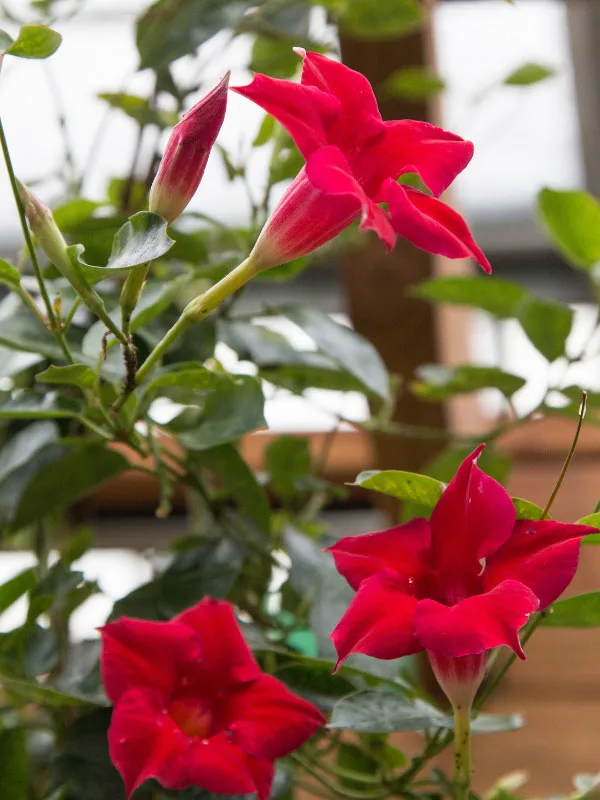 Although Mandevilla plants are often grown with a trellis or support, you can grow them in hanging flower baskets as well.
Many of the Mandevilla plants that you'll find at your local garden center are vining plants that get quite large, but there are also "mounding" varieties that will stay bushy and tidier, so you may want to consider these types for your hanging baskets.
This is a sun-loving plant so be sure to give your plants at least a half day sun or more.
32. Cherry Tomatoes (bush varieties)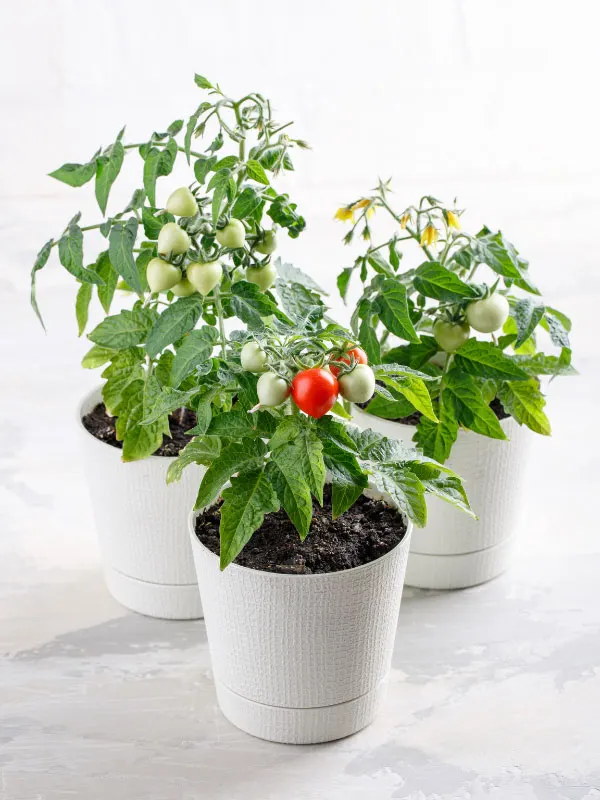 Don't have the space or room for a vegetable garden? Have you ever thought of growing cherry tomatoes in a hanging basket?
Normal cherry tomato plants can get gigantic, but bush varieties of cherry tomatoes are an excellent choice.
Give your plants lots of sun, and you'll be picking endless cherry tomatoes all summer long.
33. Heliotrope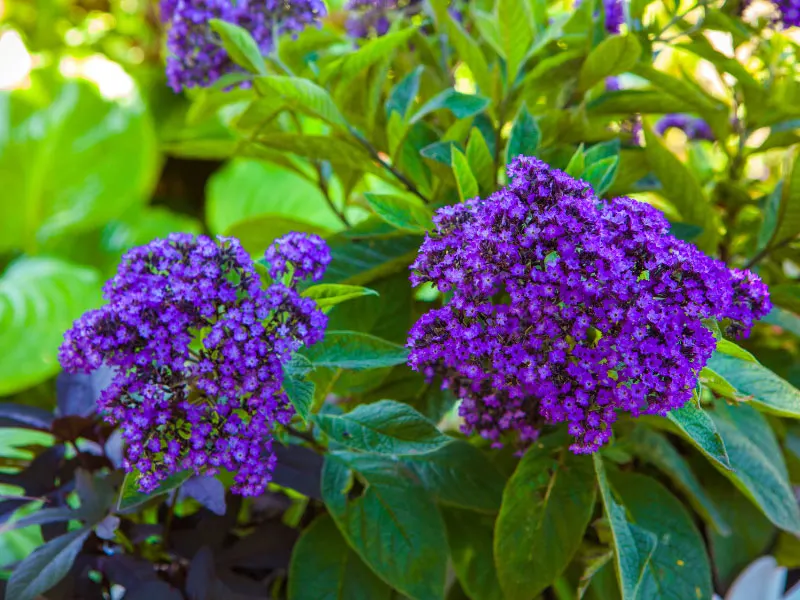 Nothing beats the scent of Heliotrope flowers. They smell like baby powder to me, and the vivid purple flowers are gorgeous!
Give them plenty of sun and keep them well watered for best results.
34. Euphorbia 'Diamond Frost'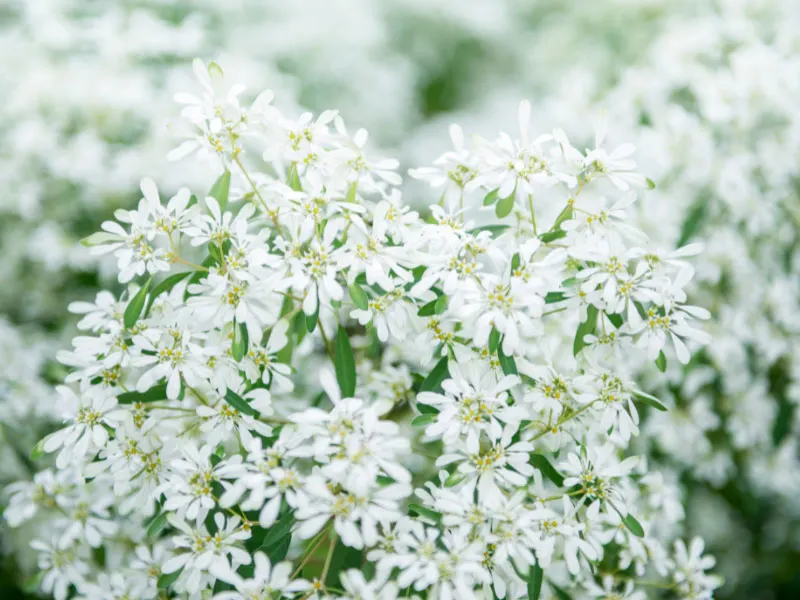 I was skeptical of the first time I grew Euphorbia 'Diamond Frost', but it proved to be a huge winner!
This plant will reward you with clouds of white flowers throughout the entire growing season. They are great on their own, or to fill in space in your hanging baskets while mixed with other plants.
35. Angelface Cascade Angelonia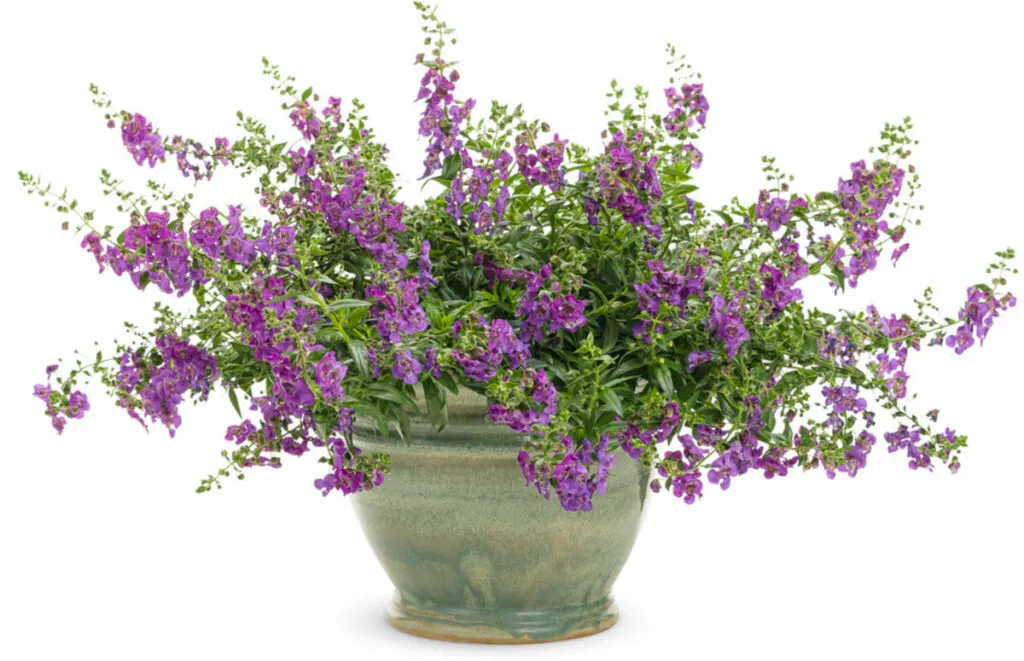 Angelonia plants are typically upright and make for amazing bedding plants. For outdoor hanging baskets though, you'll want to choose the Angelface Cascade series from Proven Winners.
It has a cascading habit, but it also has some height, so you can use this as a filler and a spiller in your hanging baskets.
There is a purple variety as well as pink.
I hope you've enjoyed this post on the best plants for hanging baskets in full sun. What do you like growing in your hanging baskets? Comment below. I'd love to hear!