Some of the links in this post may be affiliate links.
Wax begonias are among the most versatile outdoor plants for your garden. The waxy leaves, endless blooming, and ease of care make this plant a gem in the garden. I use them yearly in my outdoor garden. Keep reading to find out how to care for the wax begonia plant, including ideas on how to use them in your garden.
WAX BEGONIA CARE
1. WHAT IS WAX BEGONIA'S SCIENTIFIC NAME?
The wax begonia is a complex hybrid of at least 5 species of begonias and is marketed commercially as Begonia x semperflorens-cultorum.
2. WHAT COLORS DO WAX BEGONIAS COME IN?
These popular bedding plants come in different colors of both foliage and flowers. There are varieties with green foliage, as well as ones with dark bronze foliage.
The varieties with bronze leaves are typically more sun tolerant than varieties with green leaves.
Flowers come in various colors, from white, pink, and even various shades of red. There are even varieties that have double flowers.
3. SUN OR SHADE?
I've grown wax begonias both in full sun and full shade in my garden, so they are quite versatile! However, for best results, the plants will be more sturdy and full when given at least some sun, so partial shade/partial sun works well.
Morning sun and afternoon shade, or vice versa, is a wonderful happy medium.
Wax begonias that are grown in too much shade will still grow, but they won't be as full as those that are growing in at least a few hours of direct sun.
Regardless of whether you have them in sun or shade, they should be perpetually in bloom all season long.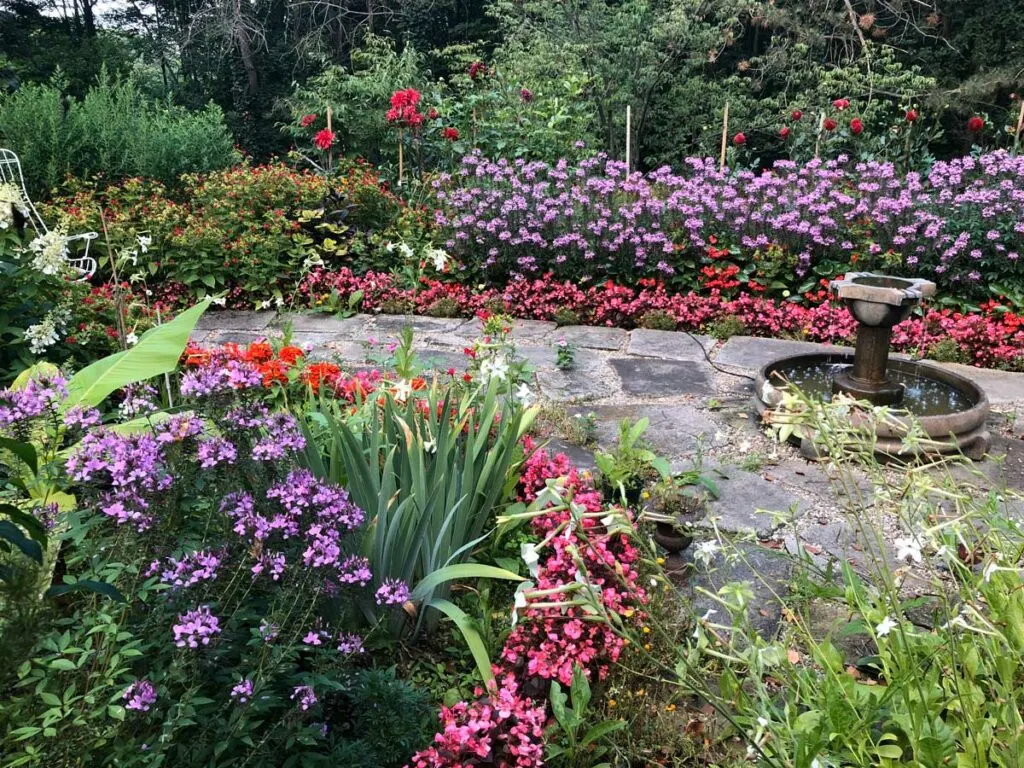 4. ARE WAX BEGONIAS PERENNIALS OR ANNUALS?
Wax begonias are tender perennials, but for those of us that live in colder winter climates, they are treated as annuals.
If you live in Zone 9 or 10 or warmer, your begonias will be perennial, and the roots are winter hardy. The tops will be damaged by frost and cold temperatures, but may still come back from the roots in Zone 9 and warmer.
In zones colder than Zone 9, wax begonias will behave as annual plants so you'll have to buy them each year, or propagate and overwinter to save for the following season.
5. HOW TALL DO WAX BEGONIAS GET?
Generally, wax begonias will mature to 6-12 inches high or so. They are wonderful plants to line the front of your flower bed with or even to do mass plantings.
I like to space mine 2-3 inches apart. They quickly fill in and make a beautiful, blooming border for my garden.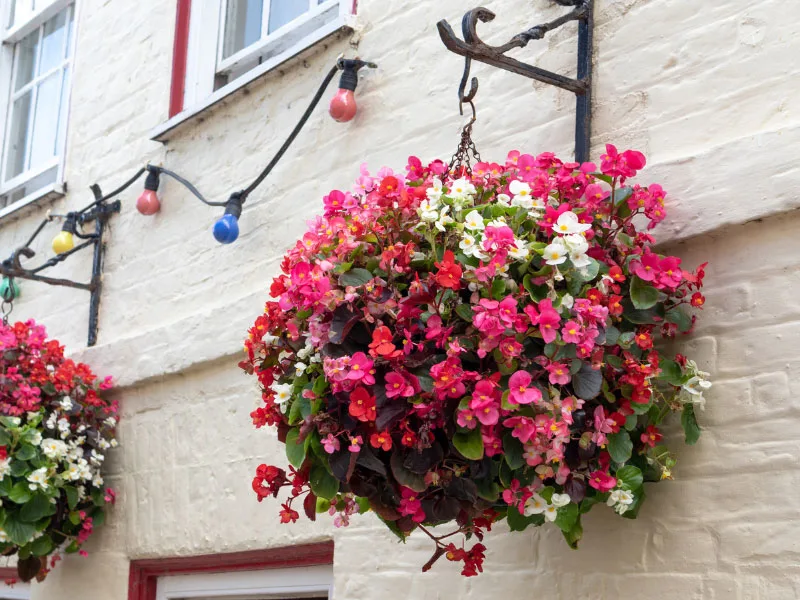 6. WAX BEGONIA WATER REQUIREMENTS?
Wax begonia plants are pretty resilient and tough plants, especially when they grow and become established. Plants that are in the ground will be much less maintenance than plants in pots.
I normally water plentifully when I first plant them in the ground, and as they grow, they can get by with much less water. These plants have thick, succulent stems and leaves and can even withstand dry periods quite well.
They prefer not to dry out completely, so be sure to be attentive to watering, particularly during hot, dry periods of weather.
For wax begonias in flower pots, you'll need to water them much more frequently, and even daily in hot weather. I will wait until the surface of the soil feels dry to the touch, and then give the plants a nice, thorough watering.
If you are growing them in pots outdoors, make sure the pot has a drainage hole, and try and maintain a pretty consistently moist soil.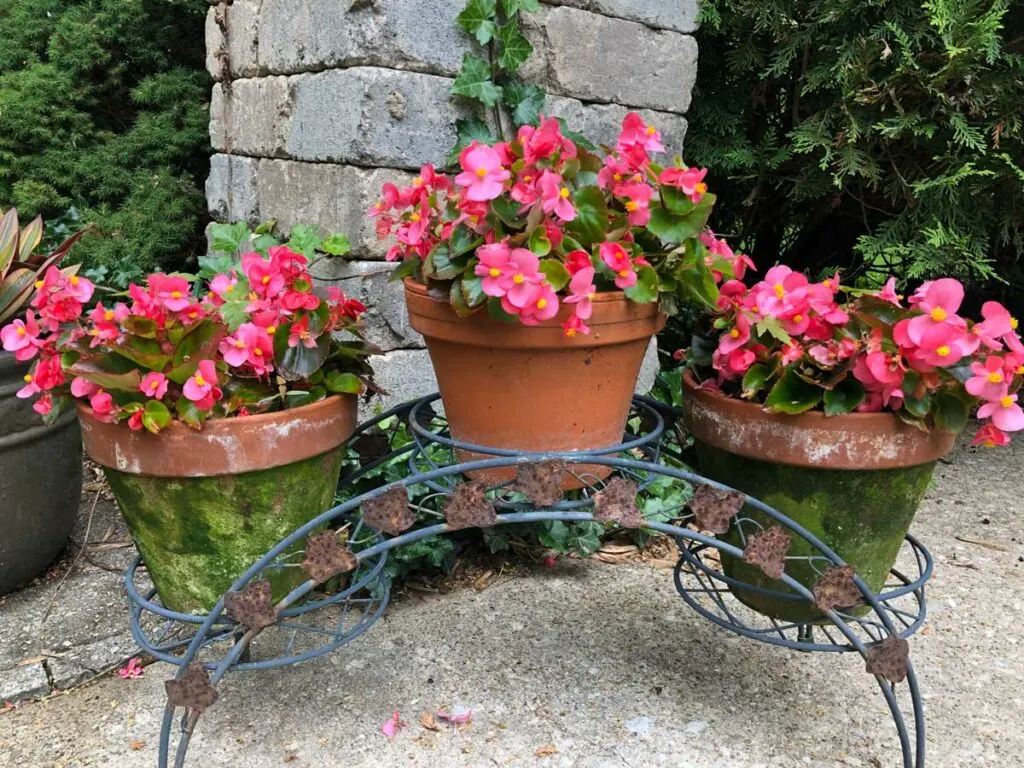 7. HOW TO FERTILIZE WAX BEGONIAS?
Wax begonias don't need a ton of fertilizer, but if you really want robust plants, I recommend regular fertilization.
I like to apply Miracle-Gro All Purpose Plant Food (link to Amazon) every couple weeks or so, particularly early in the season to get them going. I like to mix it up in a watering can and I water the entire plant (foliage and all) and the soil.
It's best to water in the morning if you can, but anytime will do.
If you don't want to use a synthetic fertilizer, try using a good, organic, liquid fertilizer like Neptune's Harvest Fish & Seaweed Fertilizer. Follow the directions on the fertilizer label for frequency of application.
8. WHAT KIND OF SOIL DO WAX BEGONIAS LIKE?
A well-drained soil is always best, but I've also grown wax begonias in clay soil and they will still grow. They aren't too picky!
That being said, they will grow better if you can amend any clay soil with compost, manure, peat moss, and even pea gravel to help break up the clay.
Over time, the more you dig organic matter into the soil, the better the soil structure will be, and the better the drainage will be.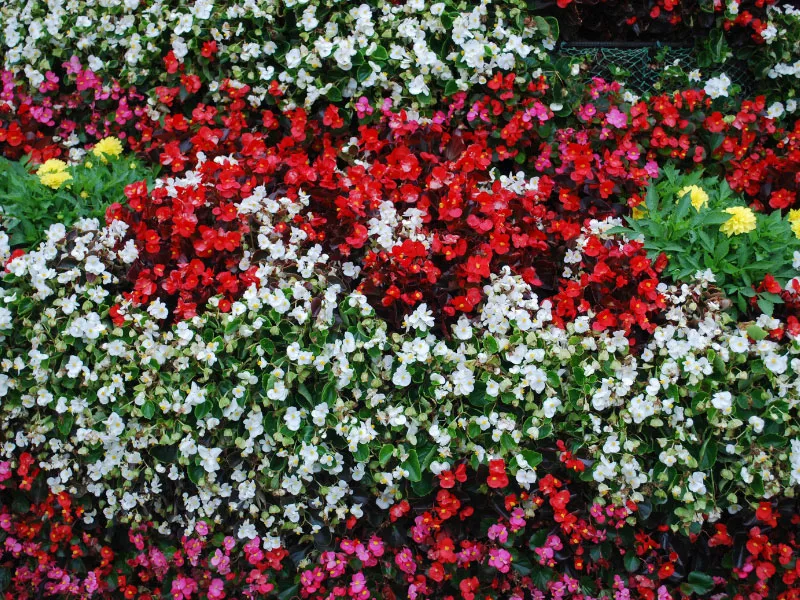 9. HOW COLD CAN WAX BEGONIAS TOLERATE?
Wax begonias like warm temperatures and are not frost tolerant at all, so be sure to plant them when all danger of frost has passed.
I like to wait until nighttime minimum temperatures are consistently at least 45°F or warmer before planting them.
They will keep going all growing season and well into the autumn until frost. Keep in mind that if you are growing them in zones colder than Zone 9, they will not survive the winter and you'll treat them as annuals.
10. HOW TO PROPAGATE WAX BEGONIAS?
You can propagate by stem cuttings or by seed.
STEM CUTTINGS
Wax begonias are easy to propagate simply by snipping stem cuttings that are 3 or 4 inches long. Remove the lower leaves so you can insert each cutting in soil.
Insert a few cuttings into soil in a 4-inch pot and keep the soil moist. Place in a warm area that receives some sun, but not all day. Morning sun works well. Once the cuttings start growing, you can give them more sun.
SEED
You can also propagate these plants by seed. Wax begonia seeds are very small and they need light to germinate so make sure that you don't cover them with soil.
Start any seeds about 12 weeks before the date of your zone's last frost. Use a good grow light (which should be on for 12-14 hours a day) and try and maintain temperatures in the 70-75°F (21-24°C) range or so.
Keep the soil moist. It will help to maintain high humidity, so you can prop a clear plastic bag over your containers until the seeds germinate. Maintaining a humid environment will help the soil stay moist for germination.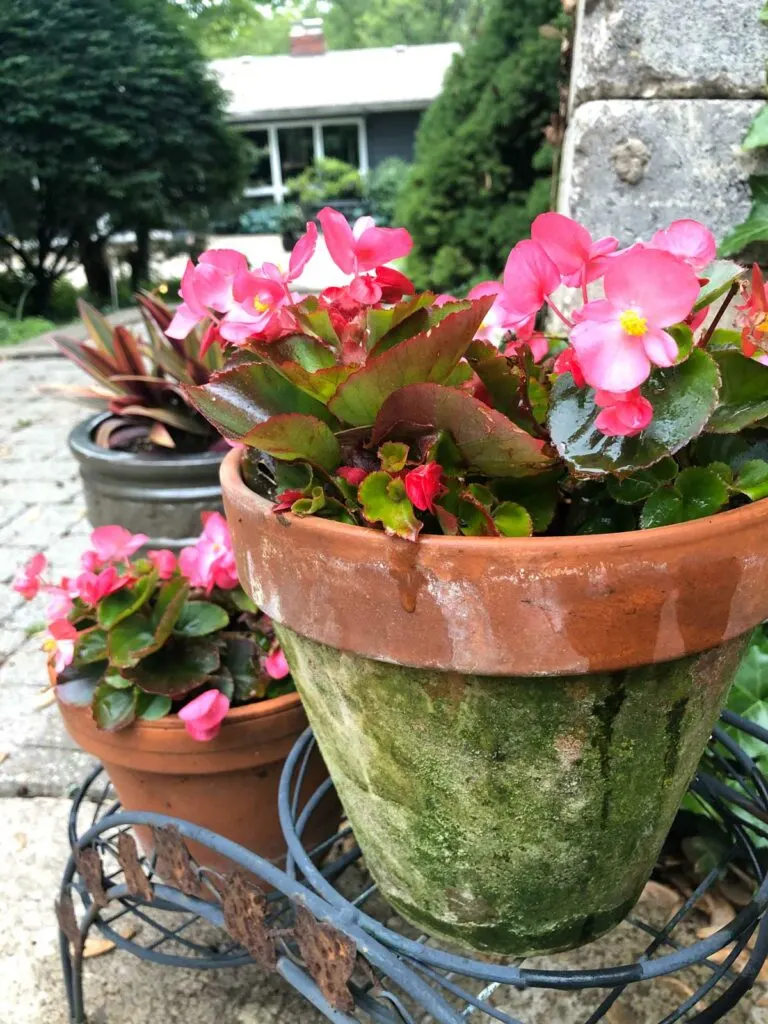 11. CAN YOU GROW WAX BEGONIAS INDOORS?
While these are not commonly grown as indoor plants, you can certainly grow them indoors.
They will need as much direct sunlight as possible indoors though, so place them immediately in front of a sunny window (not set back from the window because light intensity drops dramatically even a couple feet away from a window).
Unobstructed South-facing windows would be ideal (if you live in the Northern Hemisphere) since they will get the most direct sun. Remember that light intensity indoors is much less than it is outdoors, so you can't overdo the direct sun indoors.
I hope you've enjoyed this post on wax begonia care. These versatile plants are a joy to grow and their everblooming habit is hard to pass up.