Some of the links in this post may be affiliate links.
Are you looking for some great clematis trellis or support ideas for your garden? Clematis need an appropriate support in order to grow properly and flourish, and there are many different trellises or supports that you can use. Keep reading for some inspiration for your own garden!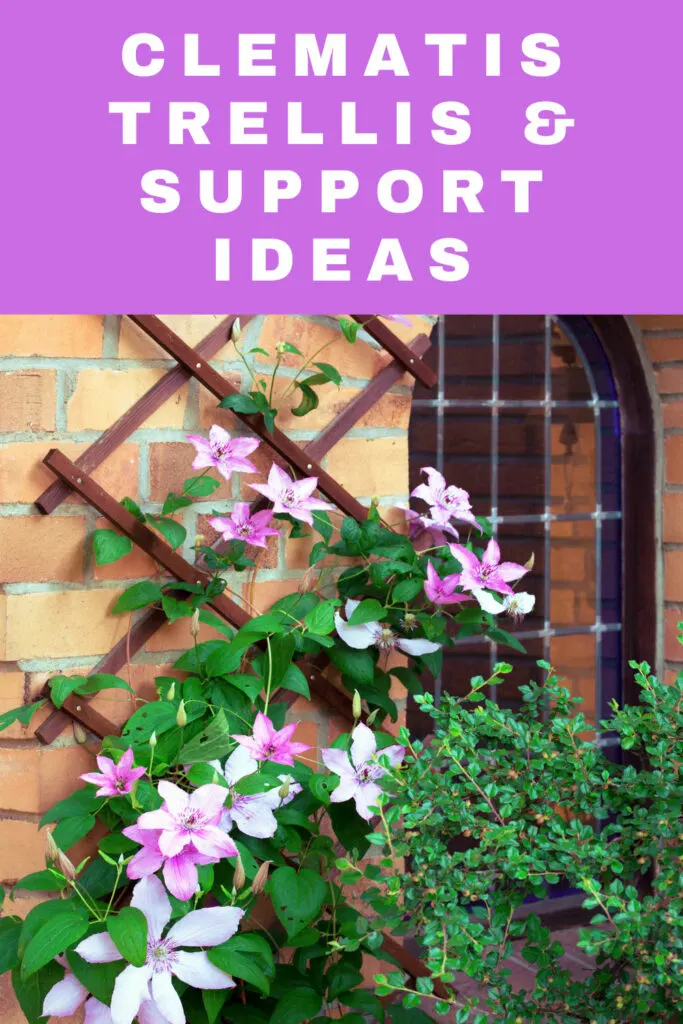 CLEMATIS TRELLIS & SUPPORT IDEAS
Unlike many climbing plants, clematis don't grow any aerial roots to attach onto surfaces, nor do they grow any tendrils, so you'll have to help them out by providing an appropriate trellis or structure to climb on.
Clematis climb by wrapping their leaf stems around an object. The object can't be too wide otherwise it won't be suitable. And it is important to provide a climbing structure for your clematis as soon as it starts growing. This will help encourage better growth.
Here are several different trellis or support structure ideas for some inspiration.
1. For brick walls
Since clematis don't have any aerial roots to attach onto brick, it won't climb onto the brick on its own. But there is a solution for this! If you want to make it appear like it's climbing onto the brick without using another structure against the brick, you can use a plant anchor kit.
Take a look at the photo below. This is in my friend's garden.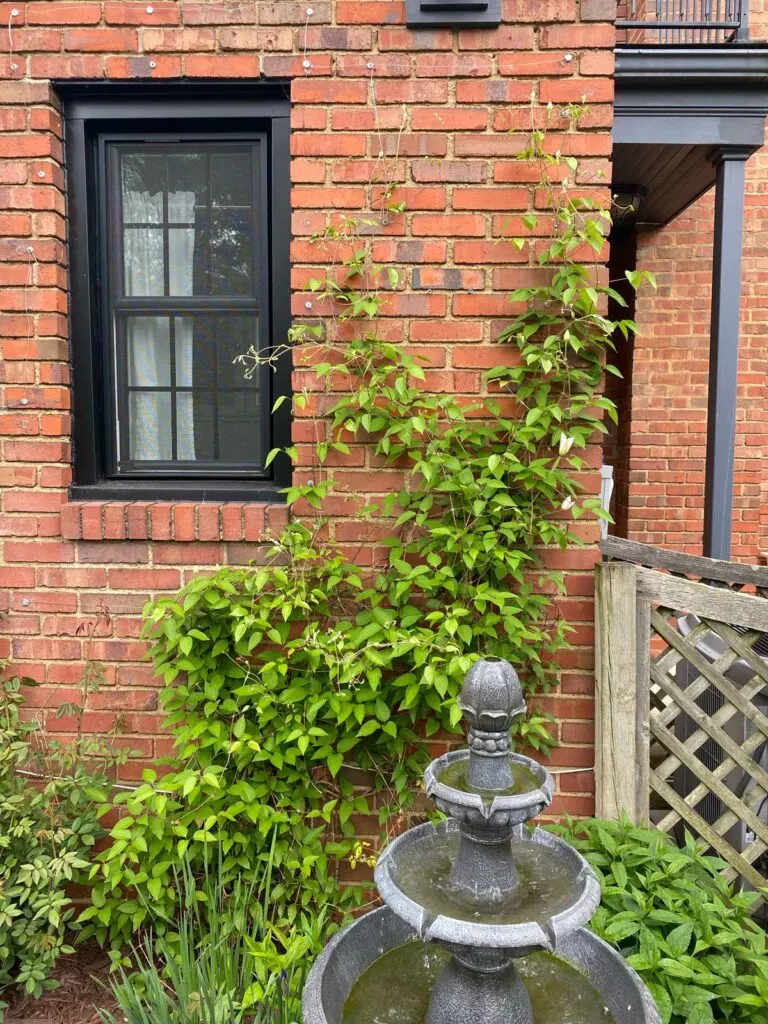 The plant anchor kit provides everything you need. Simply glue the anchors onto any brick, wood, stucco, glass, plastic, steel, stone, or concrete surface. Then use the provided wire to connect the anchors into any shape or configuration that you'd like.
The clematis will then climb using the wire, and once that happens, it will essentially climb on itself.
Here is another clematis from my friend's garden. The plant anchor kit was used, and then the clematis started to climb on the wooden lattice at the top of the fence.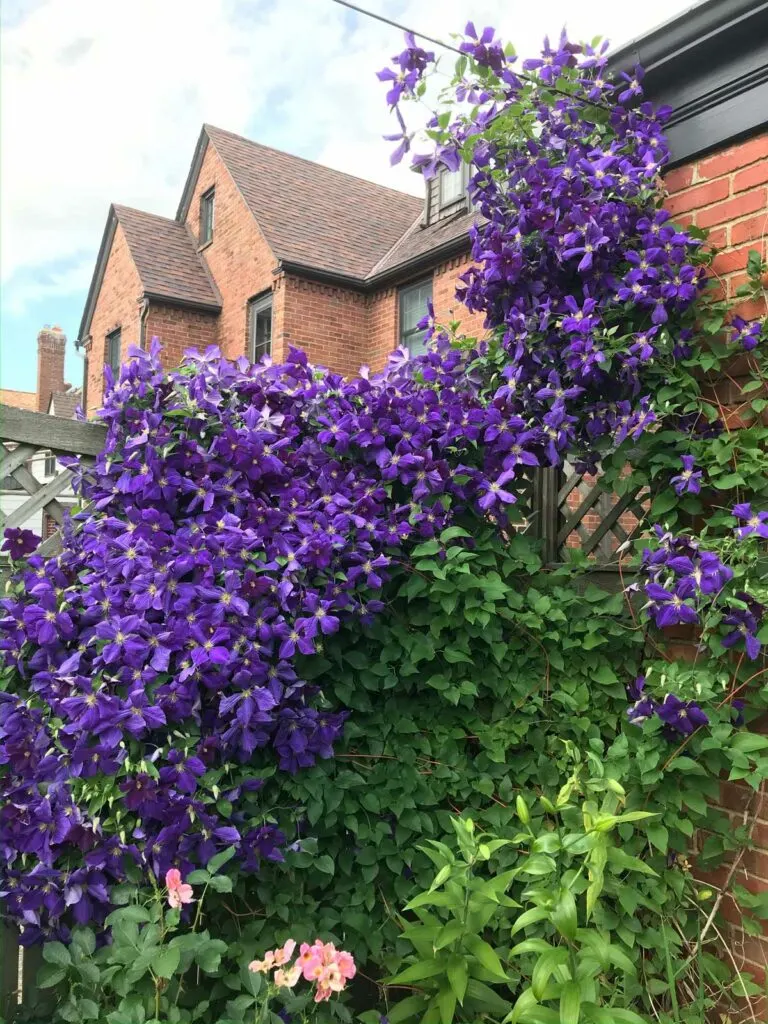 2. Wooden trellis or lattice
There are many free standing flat trellises that are wooden or metal. You can simply insert these into the ground and allow your clematis to start growing on it.
Any good nursery or hardware store will carry a nice selection, or you can purchase them online.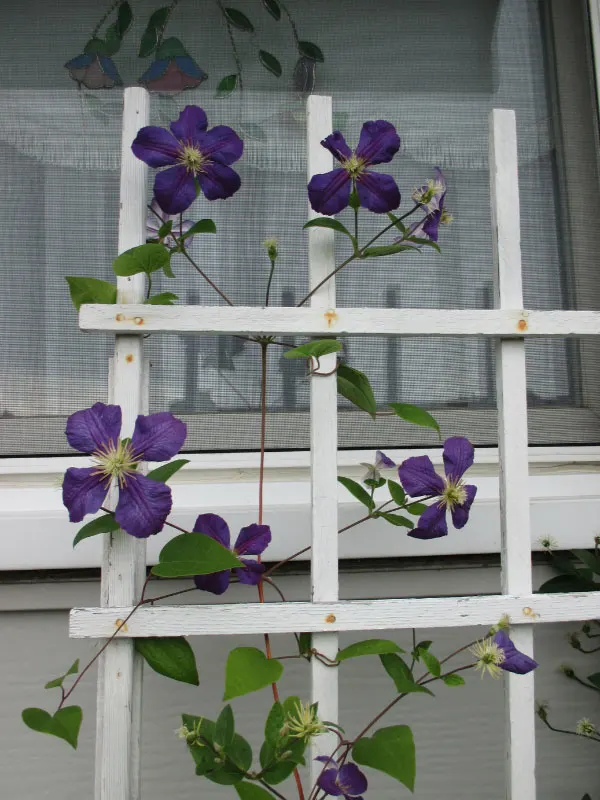 If you have a wall and don't want to use the anchors and wire like in the previous example, you can construct or purchase a simple wooden trellis or lattice like in the photo below and rest it against a wall to allow your clematis to climb.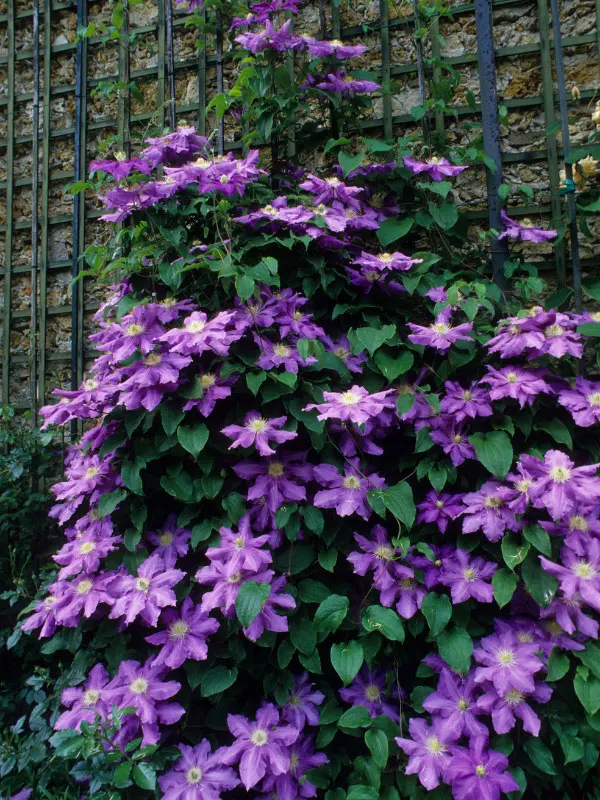 3. Wire fencing
Wire fencing can be a great, inexpensive way to support your clematis. Clematis can very easily climb and be supported by wire fencing.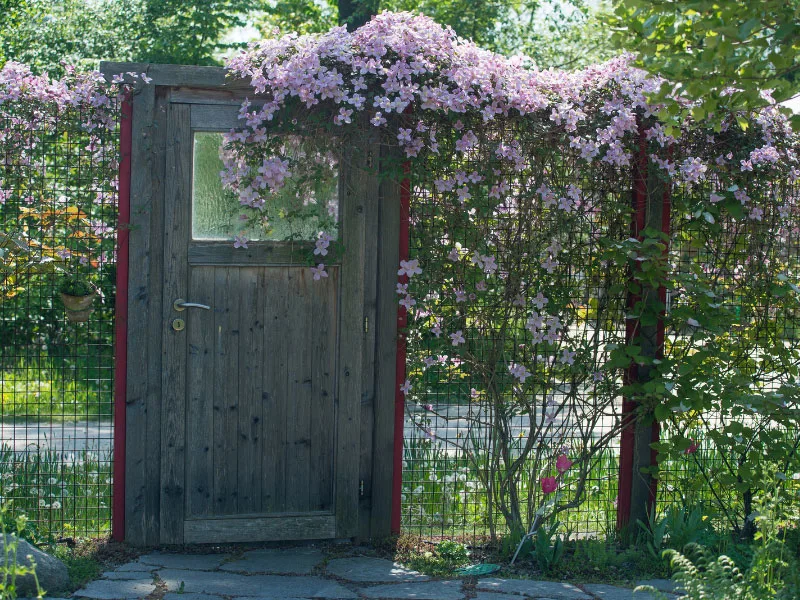 In the example below, a wooden frame was constructed, and wire fencing was then stapled onto the wooden frame. The results are lovely!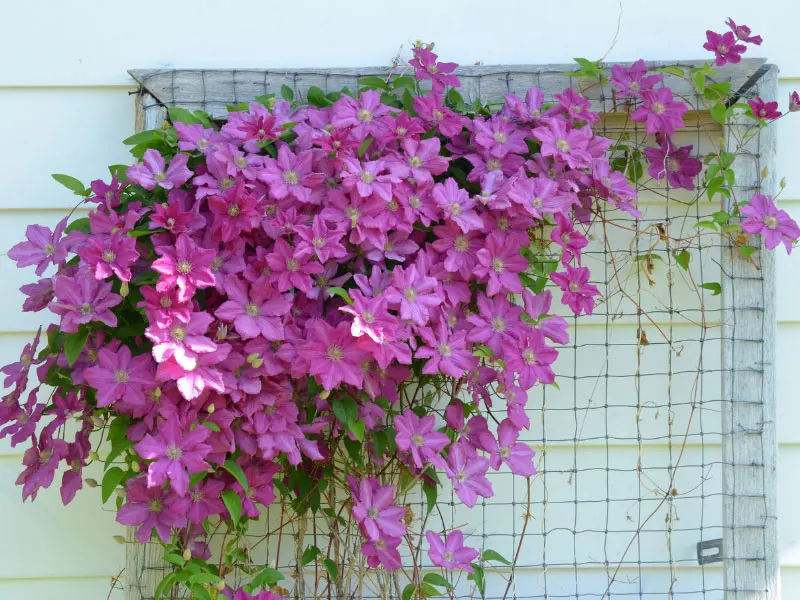 4. Arbor
Arbors are always an elegant way to grow climbings plants. The photo below is of my own metal arbor which serves as a support for my clematis and greets visitors into my garden.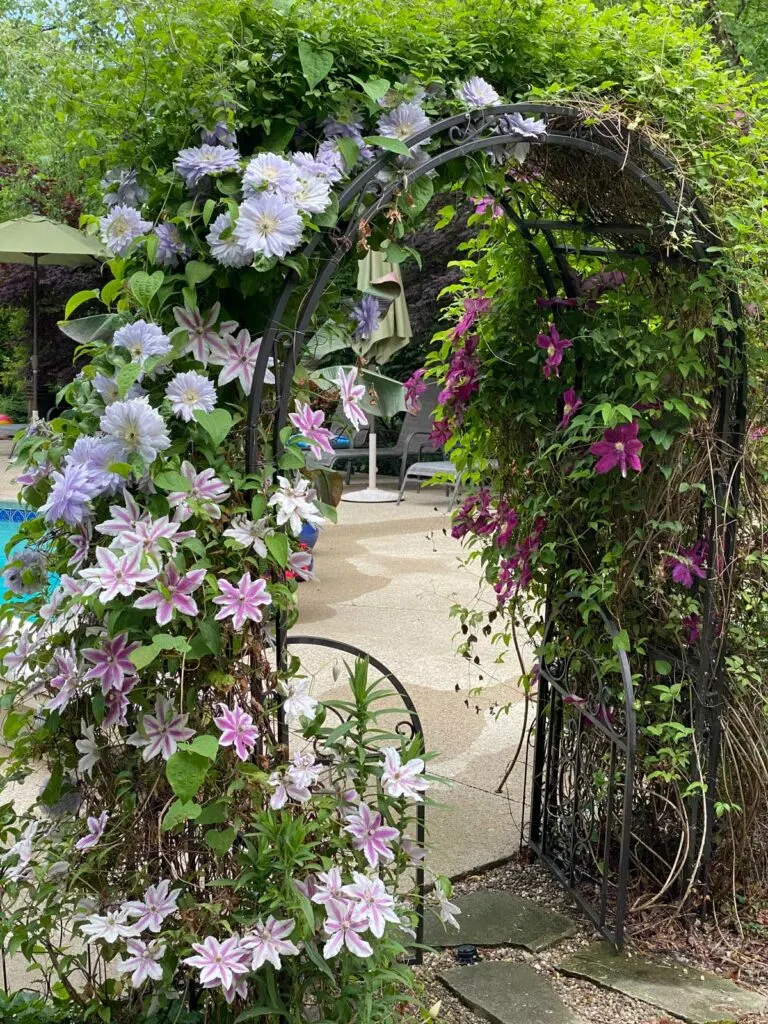 As the plants grow, I do have to continue to redirect and contain the growth so it grows where I want it to. I like to use clear fishing line (link to Amazon) to keep things tidy and provide any additional support for growing clematis to wrap around.
There is a huge selection of metal plant arbors that you can find on Amazon. It really helps to add a nice structural element to your garden!
5. Free standing round trellis
You can find many beautiful round metal trellises (link to Amazon) that you can simply push into the ground and allow your clematis to ramble on.
These can add a beautiful focal point and three dimensional touch to your garden.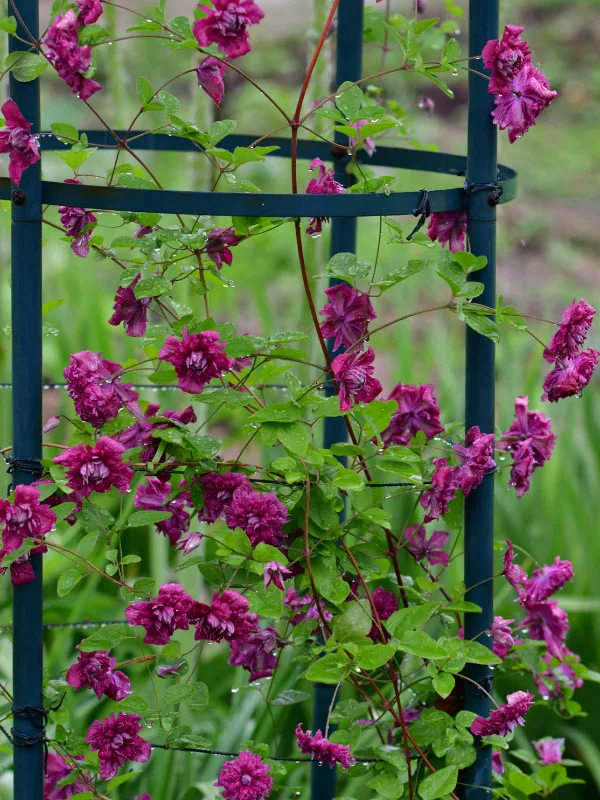 6. Wires from the ground to your house
Constructing a support for your clematis doesn't have to be bulky or expensive. You can simply anchor some twine or even clear fishing line into the ground, and tie it to a support on your house to allow your clematis to climb.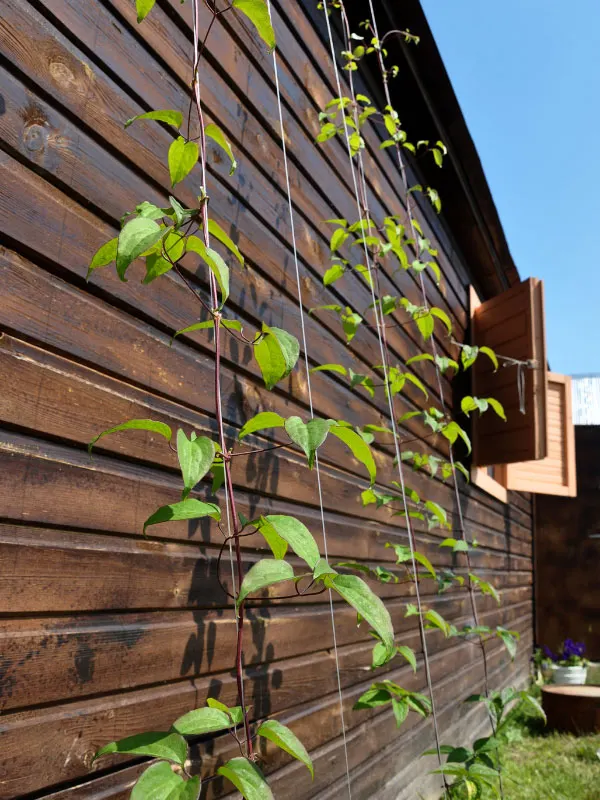 7. Up a tree stump
If you have a dead tree or tree stump, this would make for a very interesting structure for clematis support.
A tree trunk is much too wide though for your clematis to wrap its leaf stems around, so you will have to tie the plant as it starts to grow. You can use clear fishing line to easily accomplish this and keep tying as the plant grows.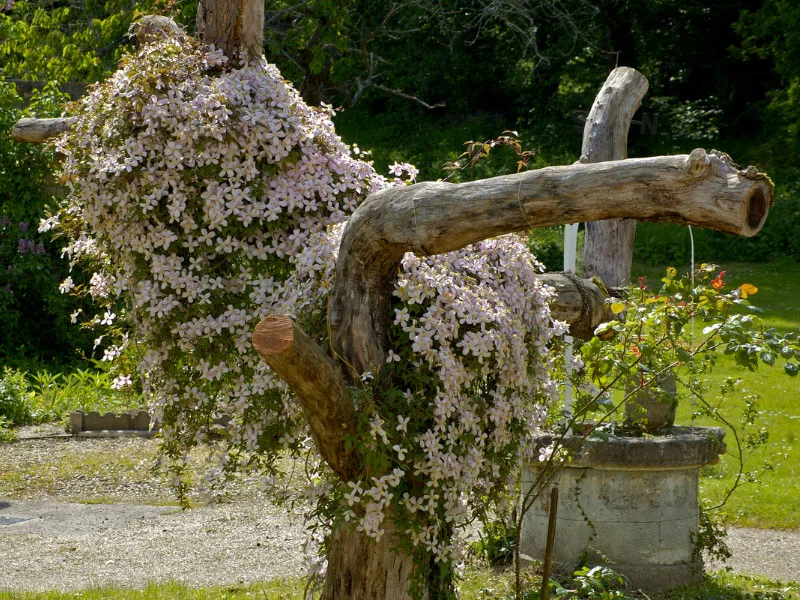 8. Up a lamp post
You can wrap inexpensive chicken wire around your lamp post and allow your clematis to easily climb up. Spray paint the chicken wire the same color as your lamp post for a sleeker look.
9. Gutter downspouts
Have you ever thought about using your gutter downspouts as a support for your clematis? What a great way to beautify your gutters!
You can purchase a kit that you can install onto your gutters and allow your plant to easily climb up.
I hope you've enjoyed this post on clematis trellis ideas. You can get creative and come up with countless more clematis trellis ideas. The sky is the limit!
If you've enjoyed this post, you may also enjoy my Mandevilla trellis ideas post and my Black Eyed Susan Vine Trellis Ideas post.