Some of the links in this post may be affiliate links.
Commonly called Elephant Ears, there are an increasing number of gorgeous Colocasia varieties for your garden. Whether you grow them in pots or in the ground, these beauties add an amazing tropical vibe to your garden, even if you live in a cold weather region like I do.
Keep reading to discover some stunning Colocasia varieties for your own garden. Few plants will give you such an astounding growth rate and almost instant tropical effect for your garden, regardless where you live.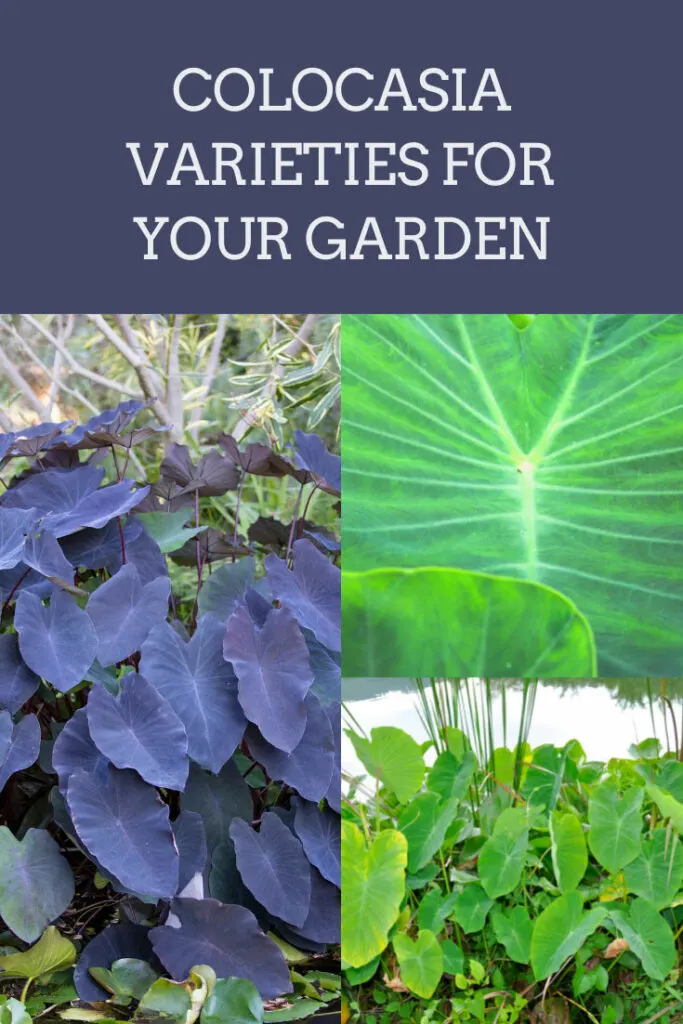 COLOCASIA VARIETIES
From green leaves to almost black leaves and everything in between, here are some amazing Colocasia varieties, along with photos of my own garden where I grew them, some in pots and some in the ground.
You can buy many of them as plants, or for some varieties, as dormant corms that you can pot up yourself.
1. COLOCASIA ESCULENTA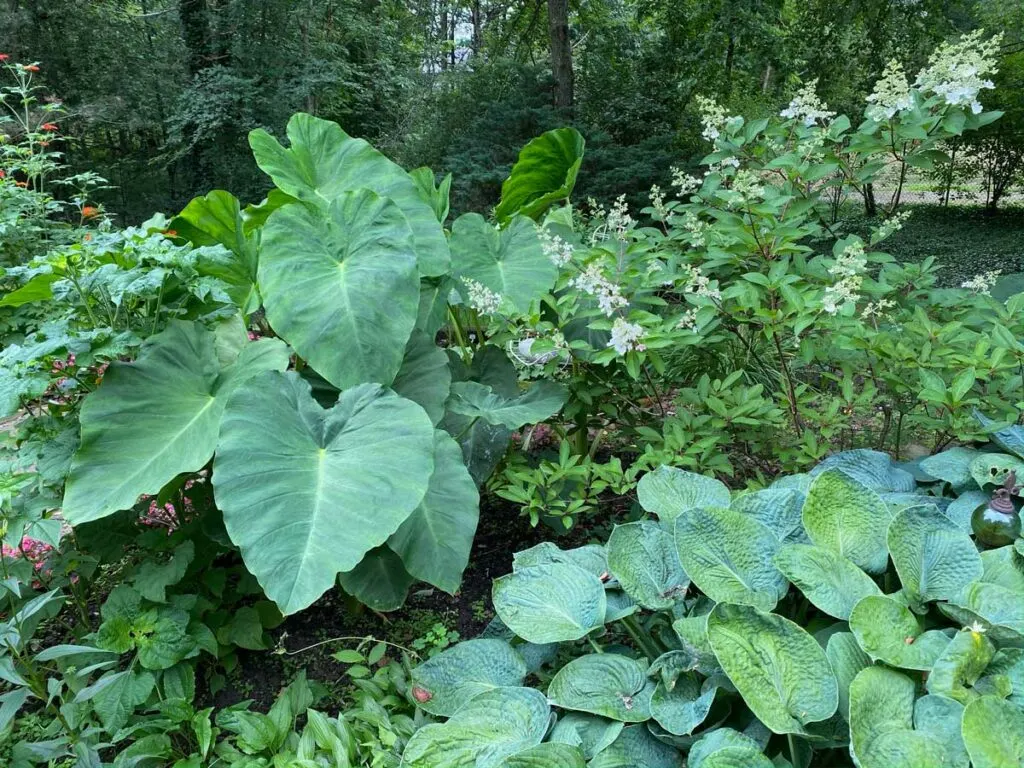 I'll start with the plain old species, Colocasia esculenta. This is actually the taro plant whose corms are used as a food source in many countries.
The corms are readily available at garden centers, and often times even at big box hardware stores.
Colocasia in general are very fast growers once the weather is warm, but you can get a head start by planting the corms a couple months before you plan on planting them outdoors.
I've grown these both in pots and in the ground, and the leaves get huge. Easily over 2 feet long with plenty of water and fertilizer.
Take a look at these that I grew in pots.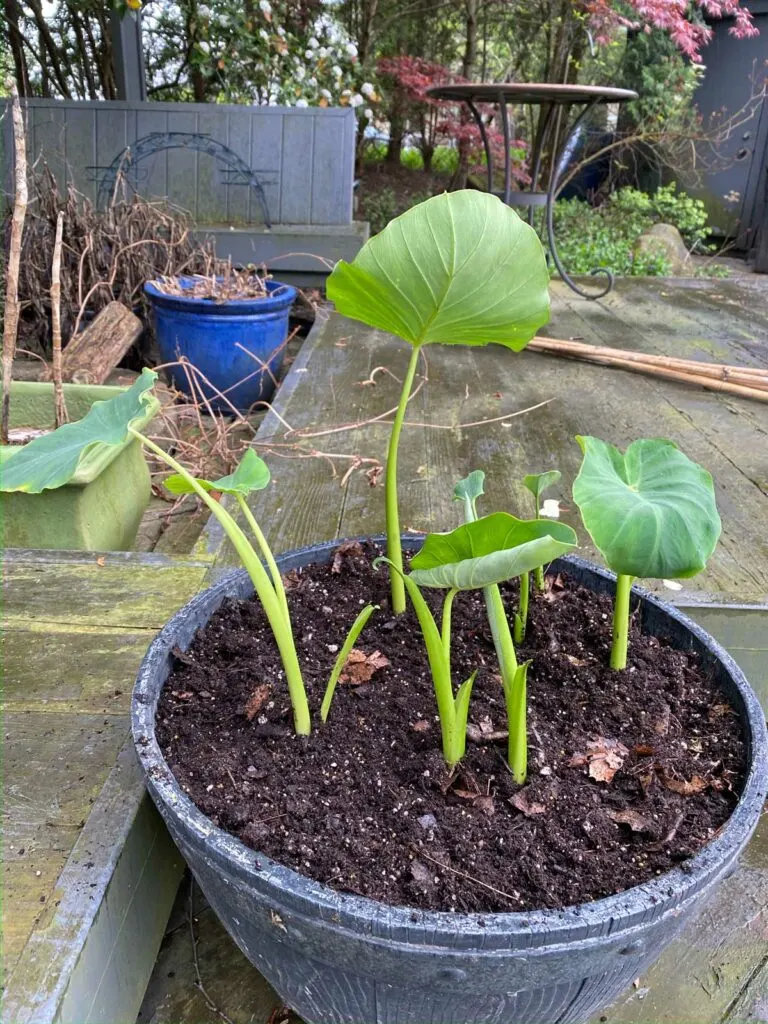 By the end of the summer, look how huge they got.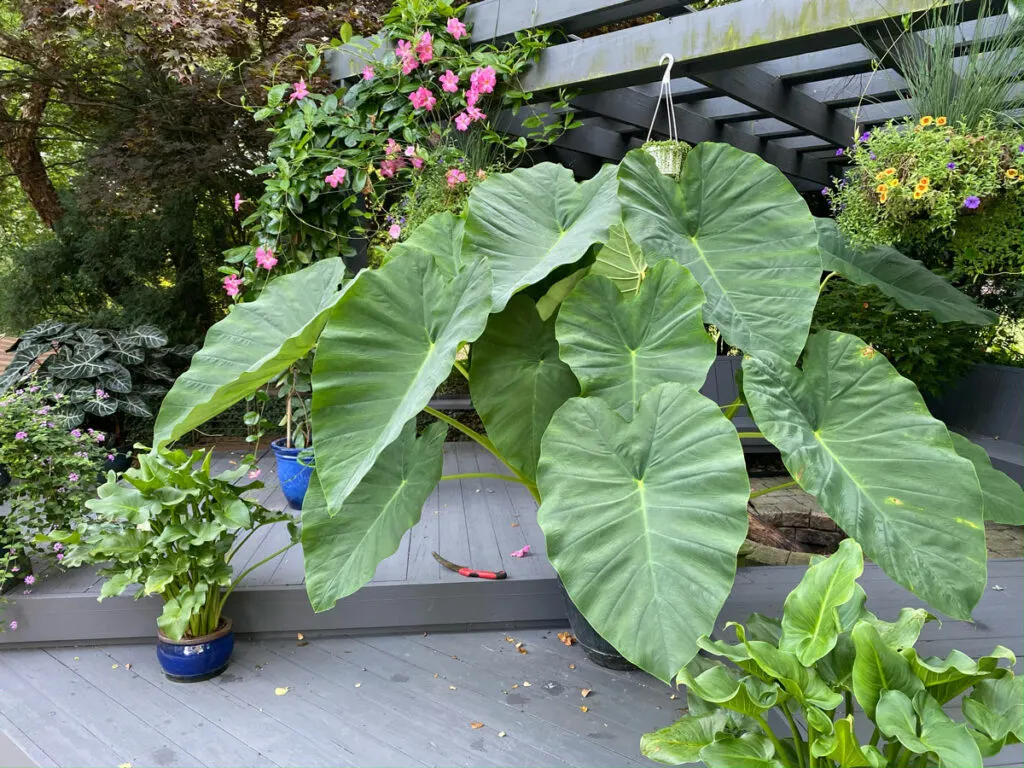 2. COLOCASIA 'DISTANT MEMORY'
Colocasia 'Distant Memory' is a hybrid made by Hans Hansen of Walters Gardens and was named after the memory of Harriet Walters who was diagnosed with Alzheimer's.
Distant Memory is a cross between Colocasia 'Black Coral' (seed parent) and Colocasia 'Thailand Giant' (pollen parent).
I've grown both of the parents and I can see characteristics of each in 'Distant Memory'. Both the parent varieties are also listed in this post below.
Distant Memory will get at least 4 to 4.5 feet tall, if not bigger under good conditions.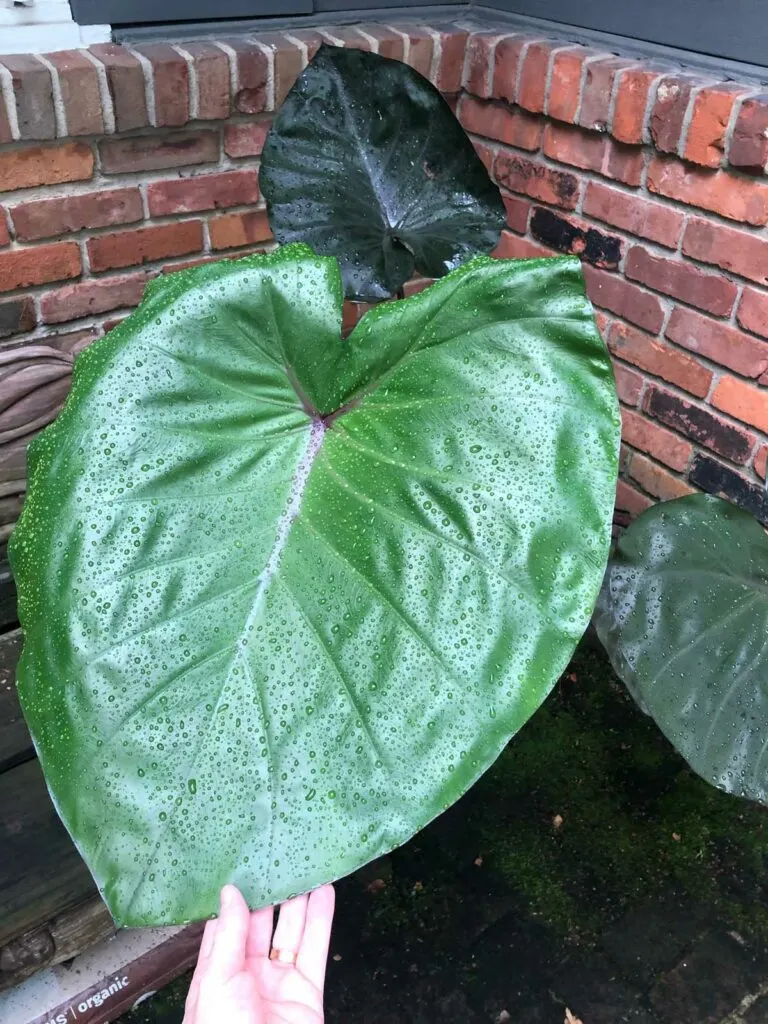 The plants get pretty massive!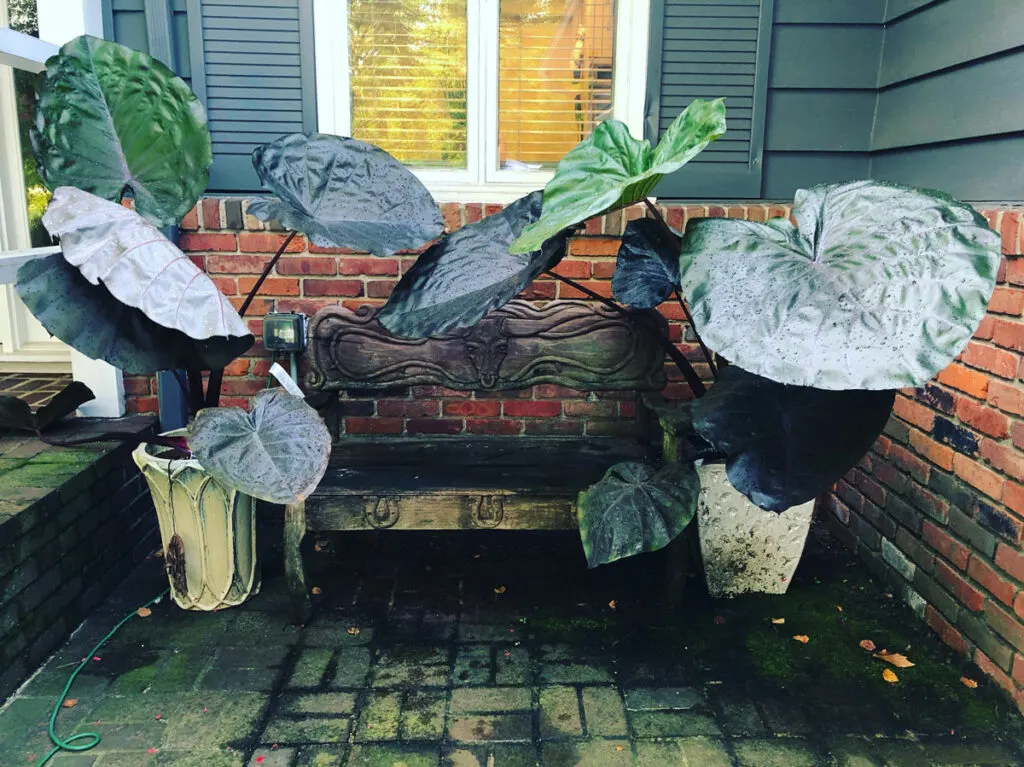 3. COLOCASIA ROYAL HAWAIIAN 'HAWAIIAN PUNCH'
This gorgeous variety has beautiful red petioles, and grows anywhere between 2 feet and 3.5 feet tall and should be hardy down to about zone 7b.
Otherwise, you can dig up the corms and store them for the winter if you live in colder winter areas.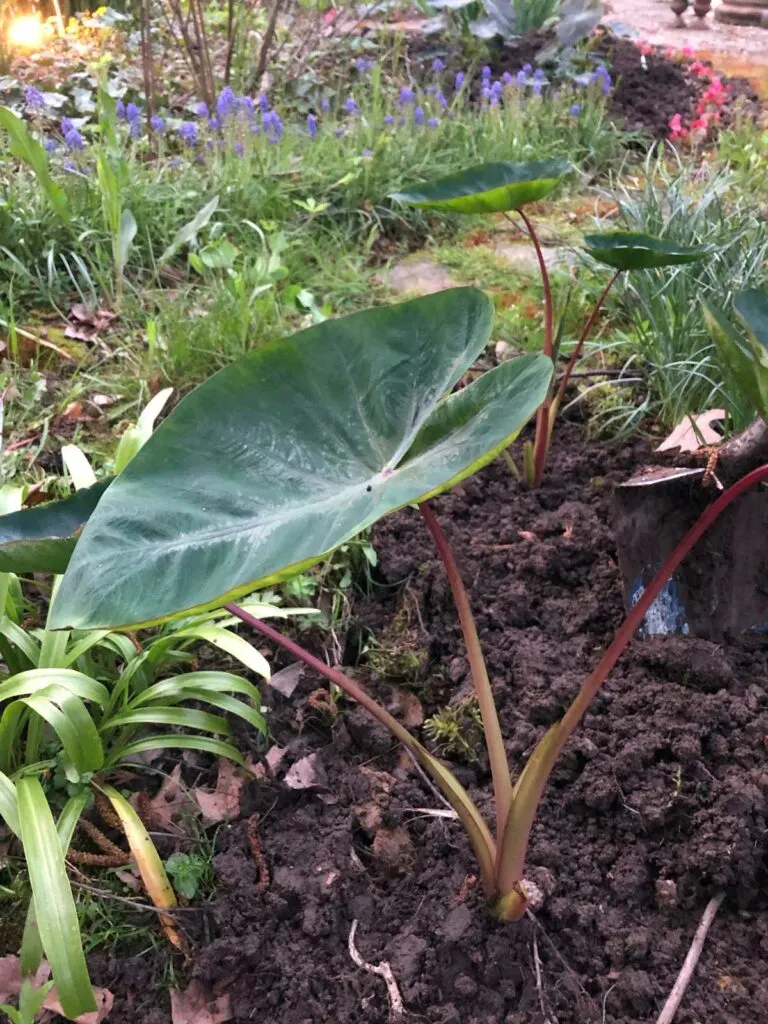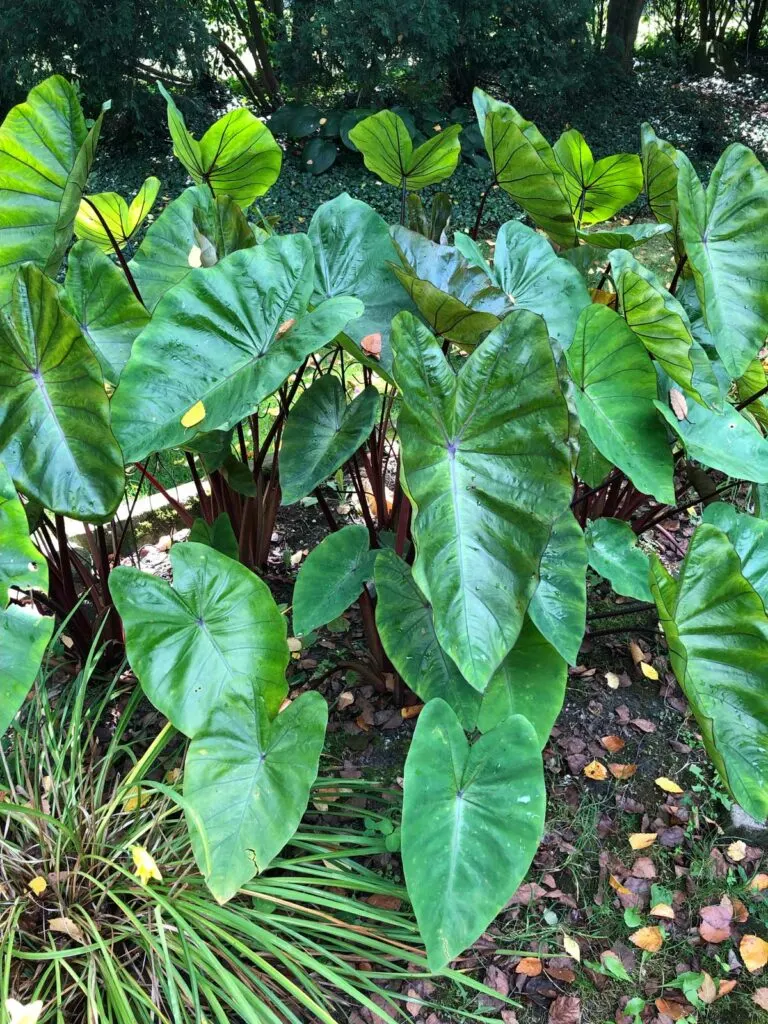 4. COLOCASIA ROYAL HAWAIIAN 'BLACK CORAL'
This is one of the shorter growing Colocasia and will grow to about 2 to 3.5 feet tall or so and is reportedly harder to zone 7b.
If you live in colder weather areas, you can dig up the corms and store them for the winter.
The leaves are a gorgeous, glossy, almost black color. Take a look at the photos below from my garden.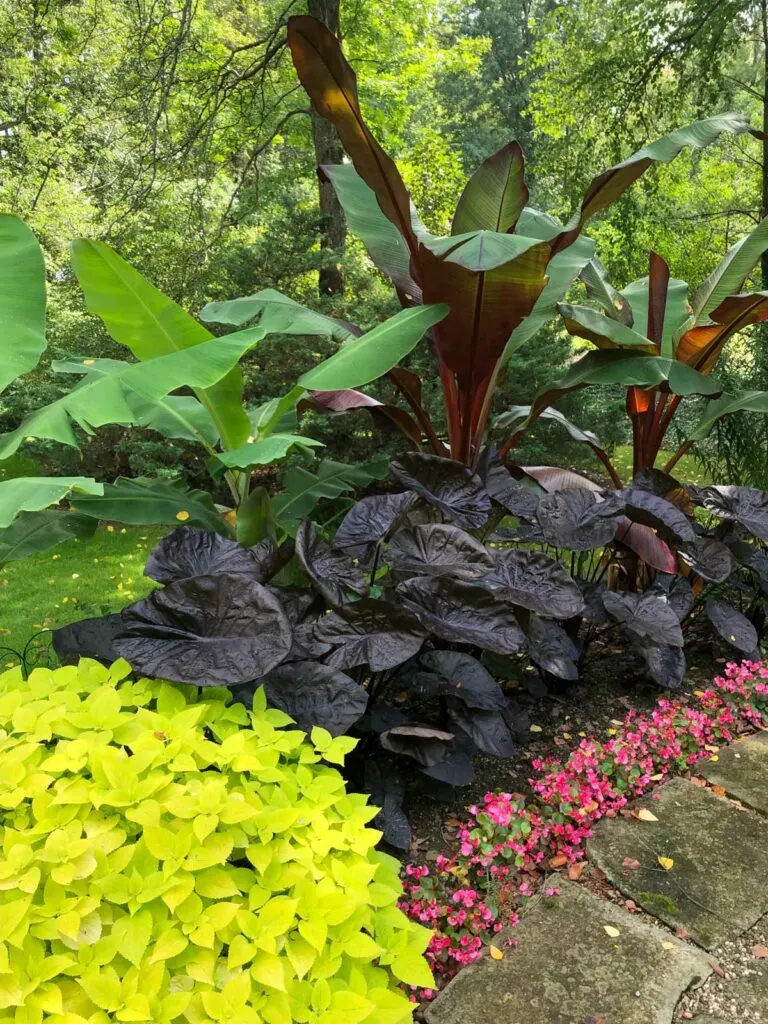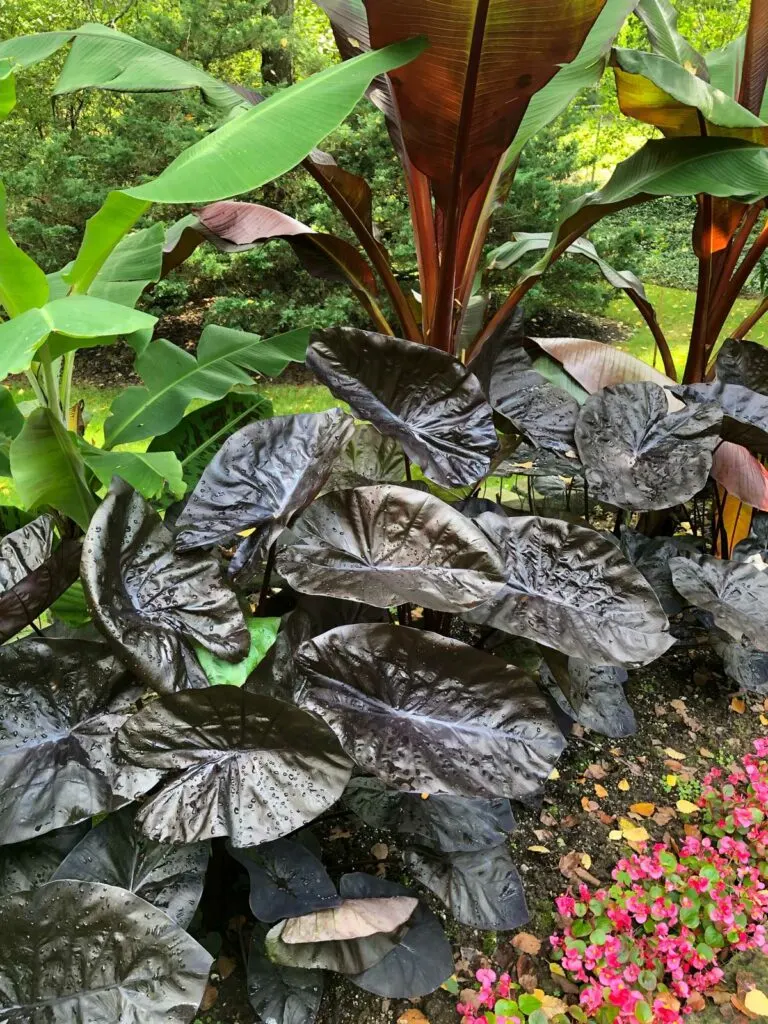 5. COLOCASIA ROYAL HAWAIIAN 'ALOHA'
I love the variation in color in the leaves of 'Aloha'. Also hardy to about zone 7b, this is a great garden performer and is one of my favorites.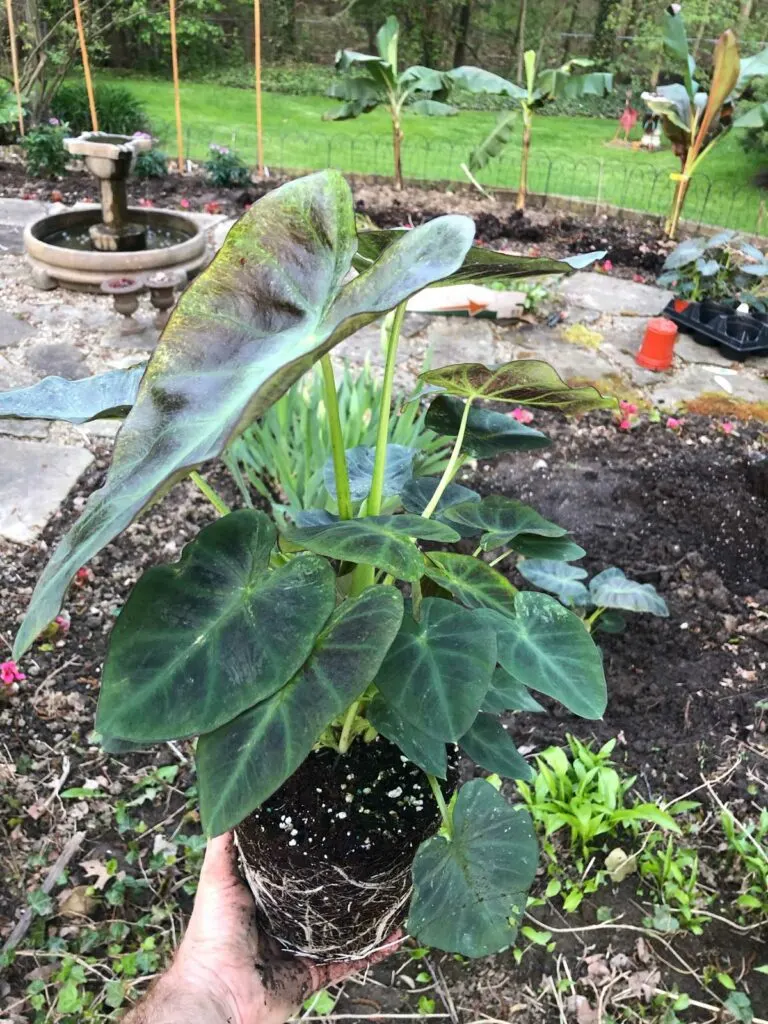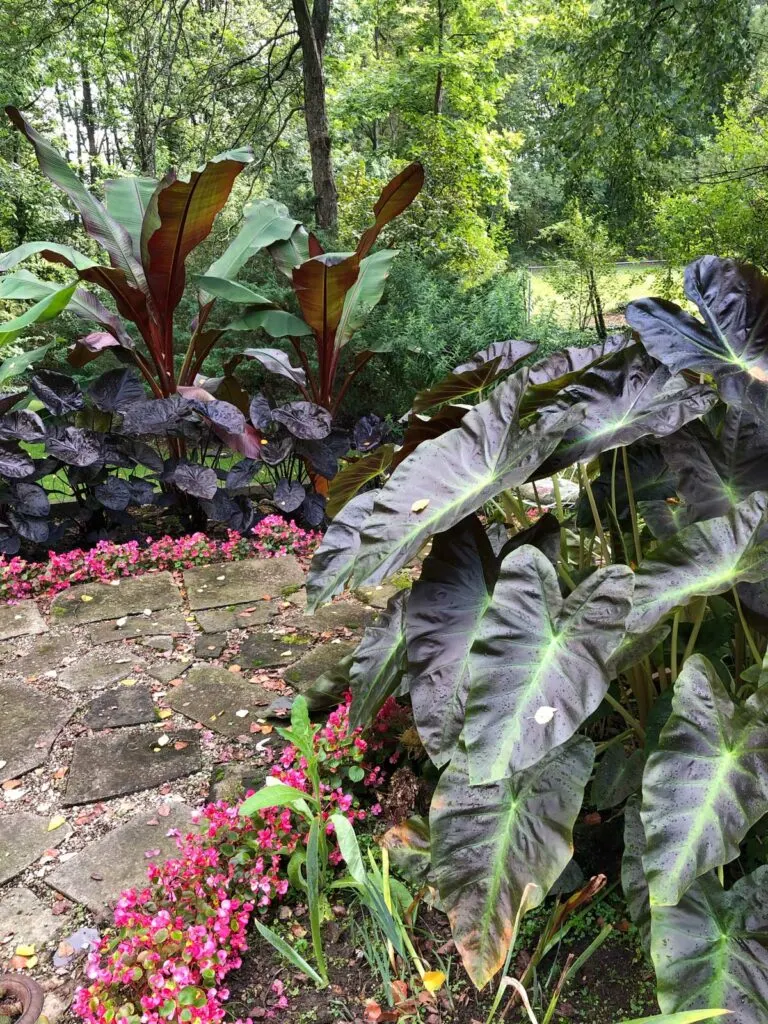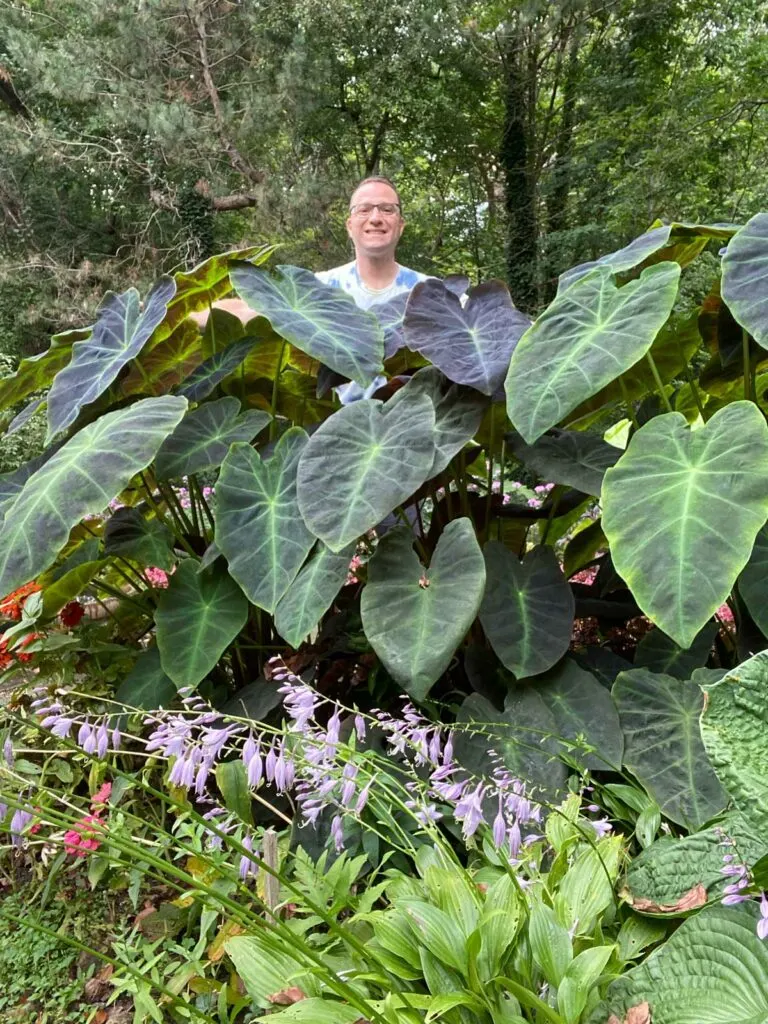 6. COLOCASIA ROYAL HAWAIIAN 'MAUI GOLD'
Reportedly hardy to zone 8a or even 7b, (otherwise dig the corms up and store for the winter), the color on 'Maui Gold' is refreshing! The gorgeous chartreuse foliage can easily contrast with other foliage plants, as you can see below in my garden.
7. COLOCASIA 'THAILAND GIANT'
Previously known as Colocasia gigantea, this is an enormous variety and has been classified as Leucocasia gigantea 'Thailand Giant'. It is hardy to zone 8b.
Plant Delights Nursery was able to secure wild collected seeds and offer this for sale. I purchased mine from Plant Delights Nursery.
It can reportedly reach 9 feet tall in a single season, and even taller when grown in tropical regions. With good care, the leaves should be able to reach 4 to 5 feet long even in my Ohio climate.
My photo below is shortly after planting, and I will update this post as the summer rolls along. Let's see how big she'll get!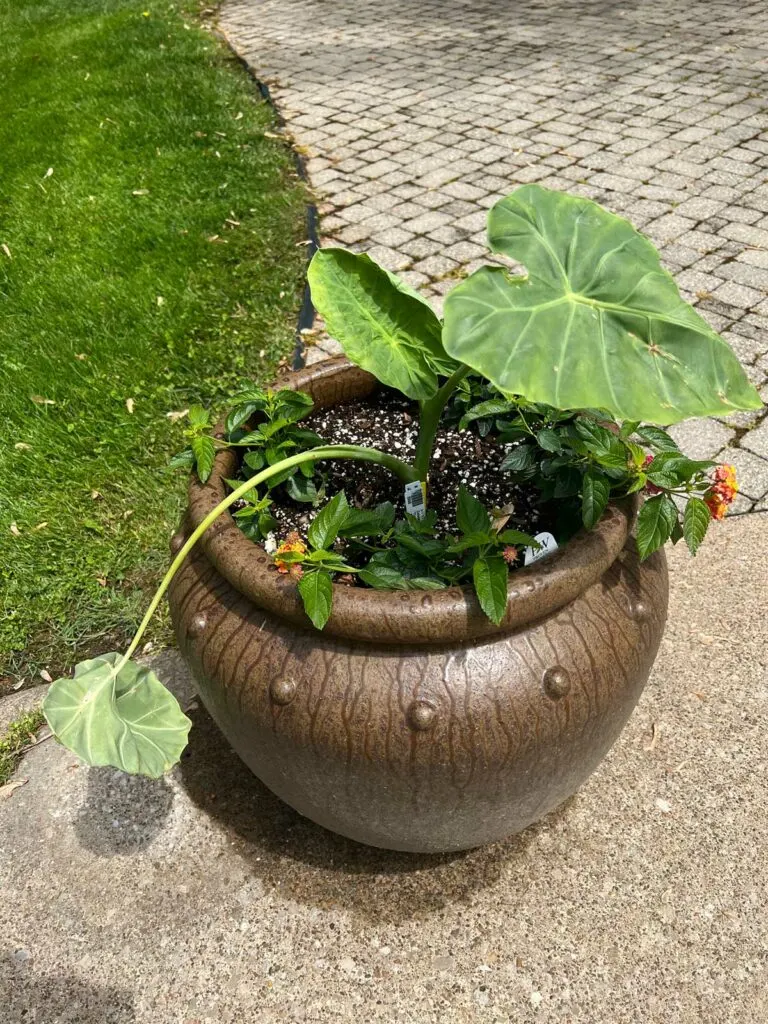 Unlike many Colocasia that can tolerate wet feet and even poor drainage (many grow on the side of ponds with their corms and roots submerged in water), 'Thailand Giant' can not.
It enjoys a moist potting mix, but it needs to be well drained.
Unlike many other Colocasia, 'Thailand Giant' does not form a large corm. To overwinter, either:
Dig the plant up if it's in the ground, and bring it inside and treat like a houseplant, or
Cut all the leaves off and place the pot in a dark, cool area, keeping the temperature at least at 45F and store for the winter.
This plant is best kept in active growth though if you can.
Take a look at the size of 'Thailand Giant' below. This one belongs to my friend Enid from NSE Tropicals.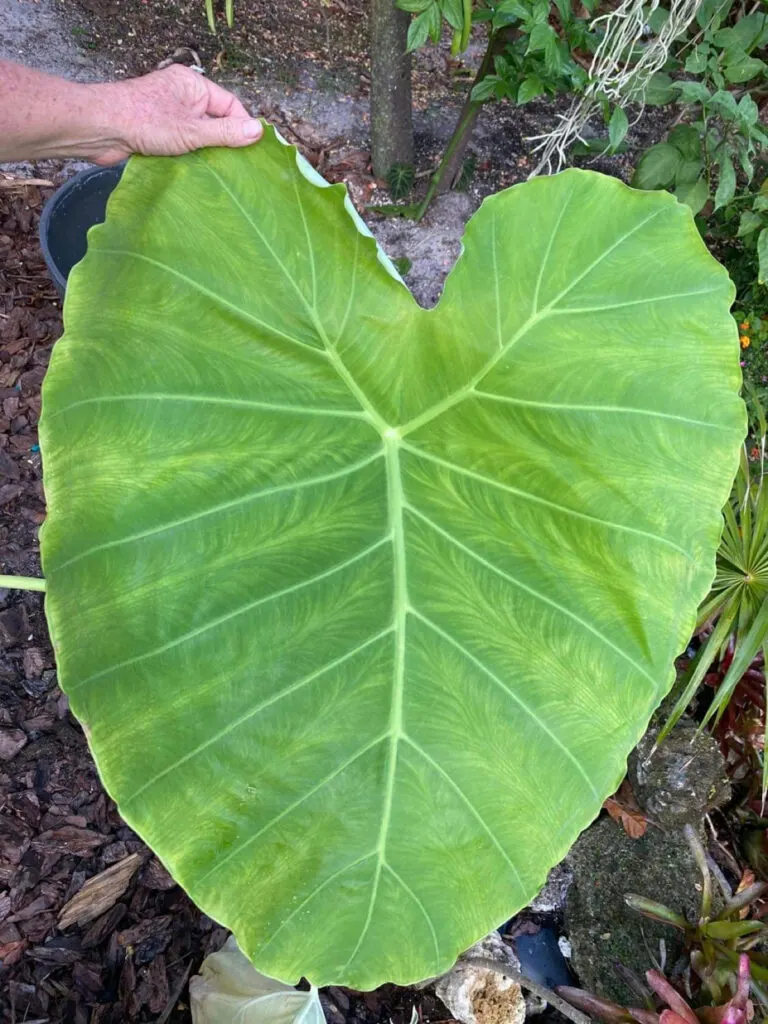 8. COLOCASIA 'HEART OF THE JUNGLE'
Growing up to about 5 feet tall and hardy to about zone 7b or 8a, and this one propagates by sending out runners (stolons) instead of forming corms.
If you want a spreading variety, this will quickly spread by runners. Otherwise you can plant some in a pot like I did below. I look forward to seeing how big these will get in the pot. They reportedly get about 5 feet tall.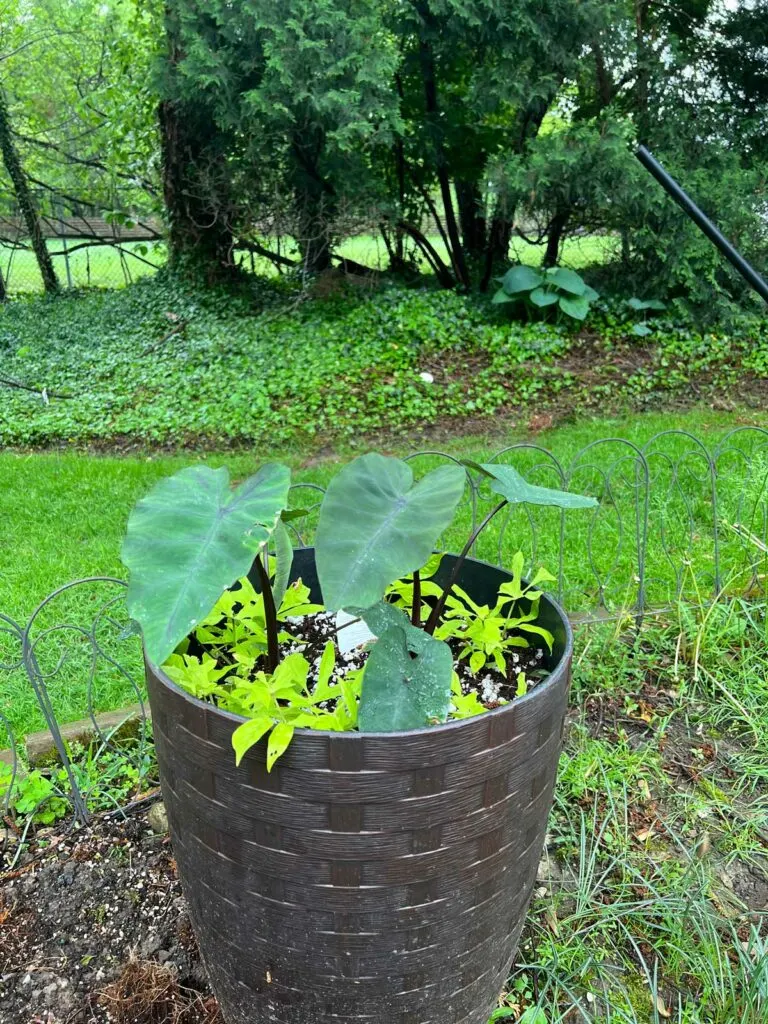 9. COLOCASIA 'COFFEE CUPS'
Coffee Cups is an unusual variety as a result of the cupped foliage. The leaves collect water as it rains, and then will tip over under the weight and pour the water out.
I planted a couple small plants in a pot, as you can see below. They should get about 5 feet tall. I'll update this post as my plants grow.
Hardy down to about zone 8a, this variety forms corms that you can dig up if you live in a colder zone than 8a, and you can store them for the winter.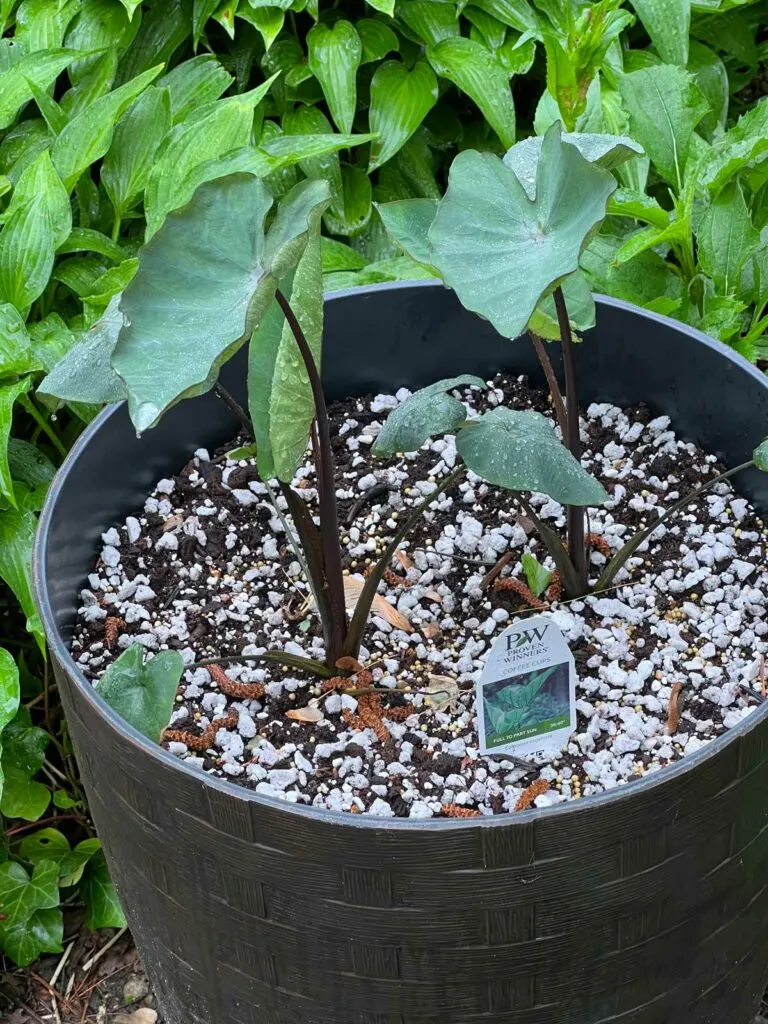 10. COLOCASIA 'MOJITO'
This stunning variety has chartreuse green leaves with flecks of dark purple to almost black. it will grow up to 4 feet tall or so, and is hardy to about zone 8 or even 7b.
This one can be tricky to overwinter since 'Mojito' does not produce big corms so you'll pretty much never see any sold as dormant corms. You are best off:
Digging the plant up, place it in a pot, and keep it growing above 60F in a nice, sunny location in your home, or even better, in a greenhouse.
Or keep it semi-dormant by digging it up (if it's in the ground of course) and placing it in a pot. Try and keep it between 45-50F and keep it pretty dry. You can ramp up watering and light as you get closer to the next growing season.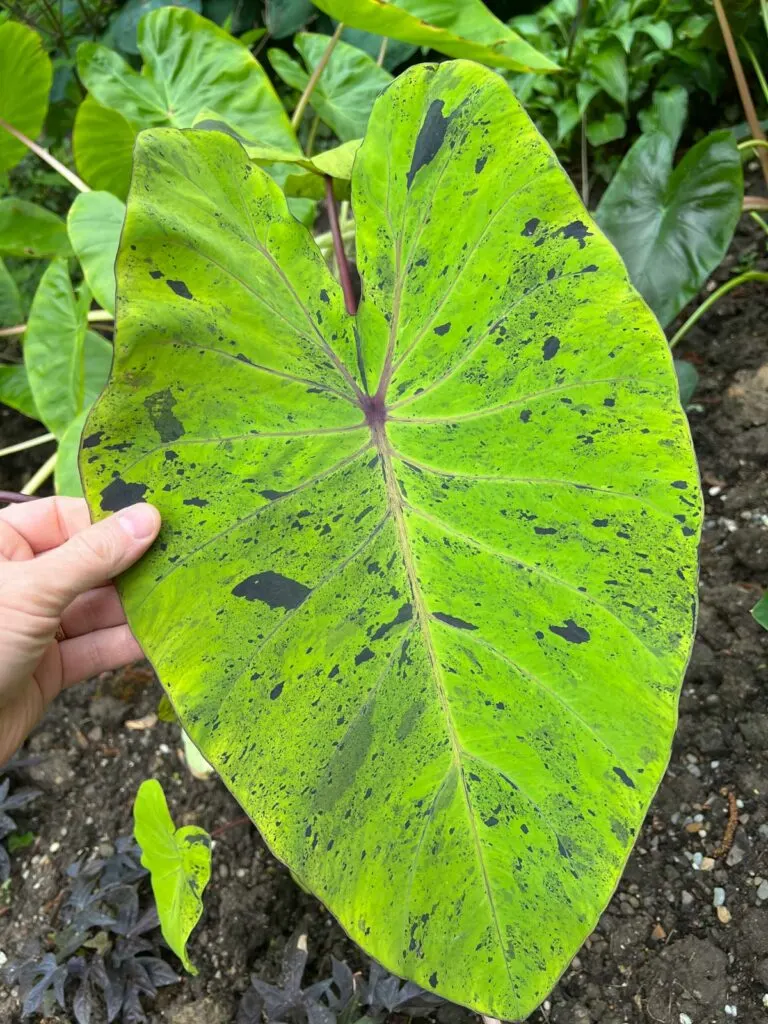 11. COLOCASIA 'BLACK MAGIC'
This stunning dark leaved Colocasia was discovered in the Philippines as a dark sport in a patch of green plants. It forms beautiful clumps up to 5 or 6 feet tall.
Similar to 'Mojito' the corms they form are not big, so follow the overwintering instructions in the 'Mojito' section above.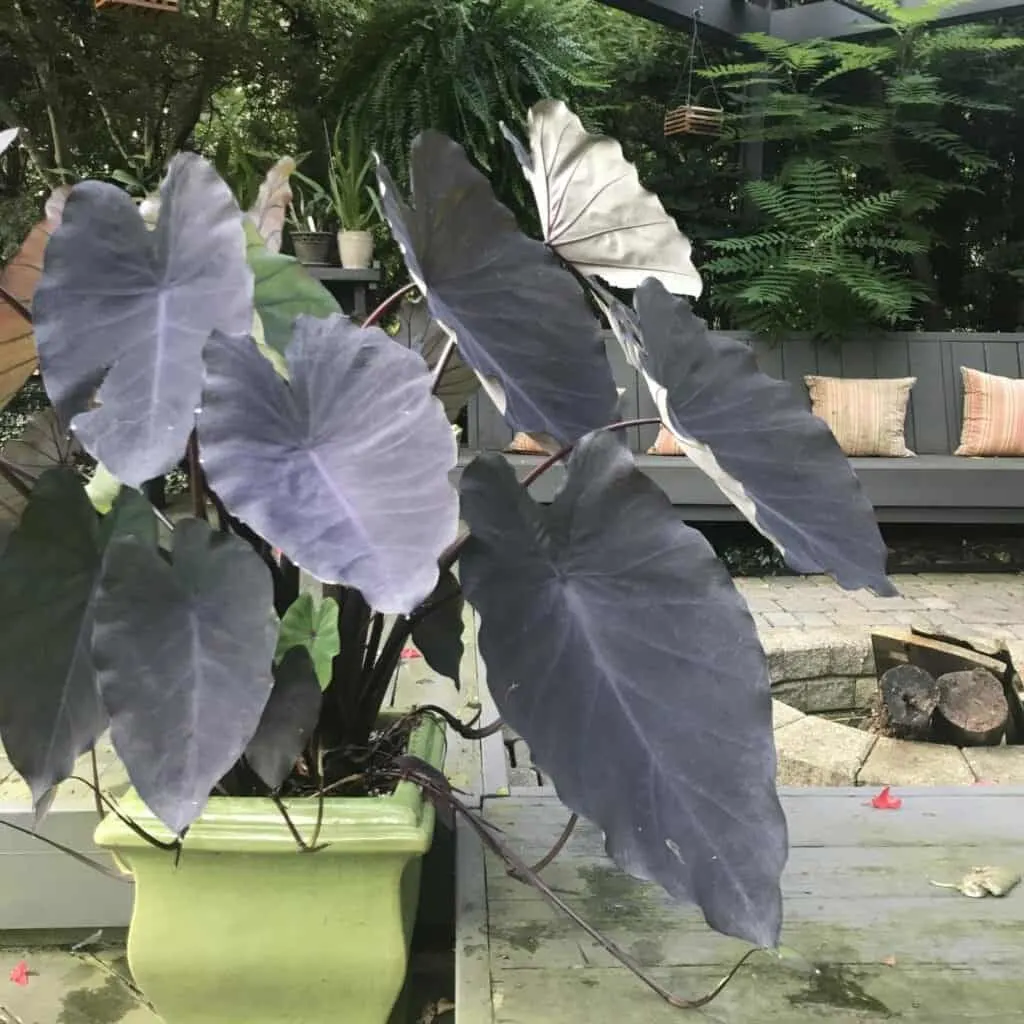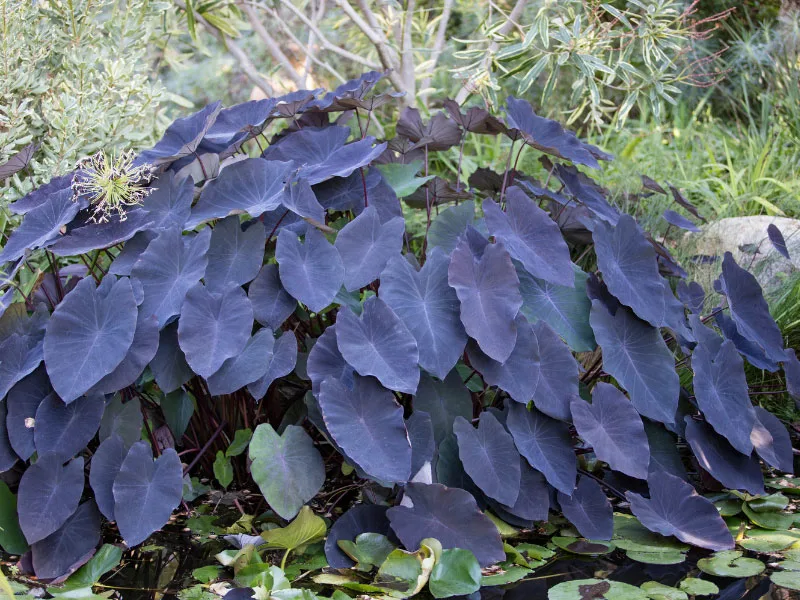 STORING COLOCASIA TUBERS
For the varieties that form corms, follow these instructions to save your corms from season to season so you can replant each year and enjoy them.
Wait until the first killing frost.
Cut all the stems back to the ground.
Dig up the corms.
Wash off the soil with a hose and let the corms completely dry.
To store for the winter, either wrap them in newspaper and store in brown paper bags, or you can store them in a box with the corms completed buried in dry peat moss.
Label everything so you know what you have, and ideally store them in a cool, dark location, preferably between 35F and 50F or so.
If you live in zones colder than 7a, and you don't want to store dormant corms, you can try and bring them indoors with the following method, as recommended by Plant Delights Nursery:
If your plants are already growing in a pot, cut back all the leaves except the two newest leaves, and bring them indoors before the first frost and grow them like you would any houseplant.
If your plants are in the ground, dig them up and put them in a pot. Place the pot in a cool area (45-60F) and place in an area that gets bright light.
Be careful of watering too much during this phase where your plants will be semi-dormant.
For more information on planting Colocasia and caring for them, check out my post Growing Spectacular Elephant Ears: Colocasia esculenta.
Which Colocasia varieties have you grown? Comment below. I'd love to hear!