Some of the links in this post may be affiliate links.
Calatheas are very finicky when it comes to their water quality. You probably already know that they hate tap water. But if you're like me, the thought of continually buying jugs of distilled water doesn't appeal to me.
In this post, I will explain why water quality matters for Calathea plants, and I'll show you the most convenient, effective, and easiest filtration system that I've found that will make your Calatheas jump for joy and eliminate those dreaded crispy, brown edges on your plants. And it won't break the bank either.
Now let's get into the best distilled water alternative for watering Calathea plants.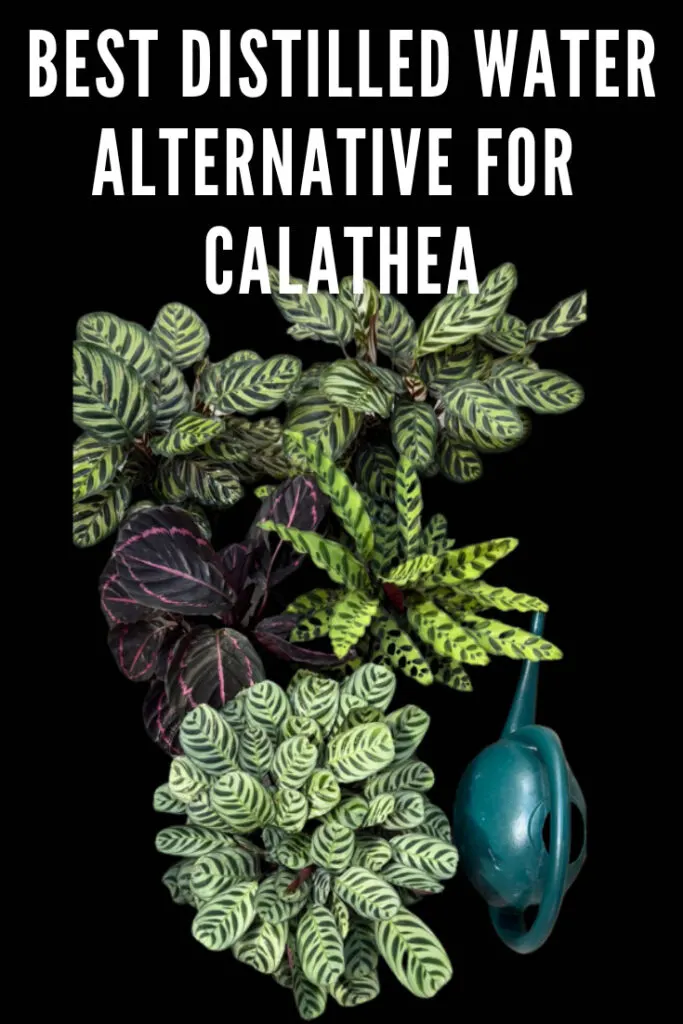 CALATHEAS AND WATER QUALITY
Many plants do just fine with tap water, but certain plants such as Calathea, carnivorous plants, Maranta, and even orchids and bromeliads (to name just a few) are sensitive to tap water and the many compounds found in it.
Calatheas are damaged by fluoride according to the IFAS Central Florida Research and Education Center.
Tap water with fluoride and other additives will cause ugly, crispy, brown leaf edges on your Calathea plants.
FILTERING YOUR OWN WATER FOR CALATHEAS
In this post, I'm going to talk about why I use the ZeroWater filtration system (link to Amazon) for my Calatheas and why I think it's the best alternative for distilled water and even other filtration systems.
Before I go into showing you how I use the filter, here are some benefits of using the ZeroWater filtration system:
It removes 99% of fluoride. Fluoride is damaging to Calatheas.
It removes 99% of chlorine.
It removes 99.6% of detectable dissolved solids, while many other brands only remove up to 50%. I'll get into TDS (total dissolved solids later). This creates very pure water for your plants.
Set up is super quick and easy not complicated.
ZEROWATER FILTERED WATER VS OTHER WATER TYPES
ZEROWATER vs BRITA FILTER
Brita filters do not remove fluoride, whereas the ZeroWater filtration system will remove 99% of fluoride. Fluoride is very damaging to Calatheas.
ZEROWATER vs DISTILLED WATER
Distilled water is created by boiling water and condensing the resulting steam, so the resulting water is extremely pure.
Although ZeroWater isn't as pure as distilled water, it is close and certainly pure enough to the point that you will see no negative impacts on your Calatheas or other plants that are sensitive to water quality.
ZEROWATER vs REVERSE OSMOSIS WATER
I've used reverse osmosis water (RO) in the past, and it produces water that is a similar purity level to the ZeroWater filtration system.
If you need a large quantity of water, it would pay to invest in an RO water system.
If you don't need large quantities of water and are only planning on using filtered water for some of your plants, the ZeroWater filtration system is by far the most convenient, while giving you water that is comparable to the purity of RO water.
RO filtration systems have a lot of equipment to set up and they also waste a lot of water throughout the filtration process.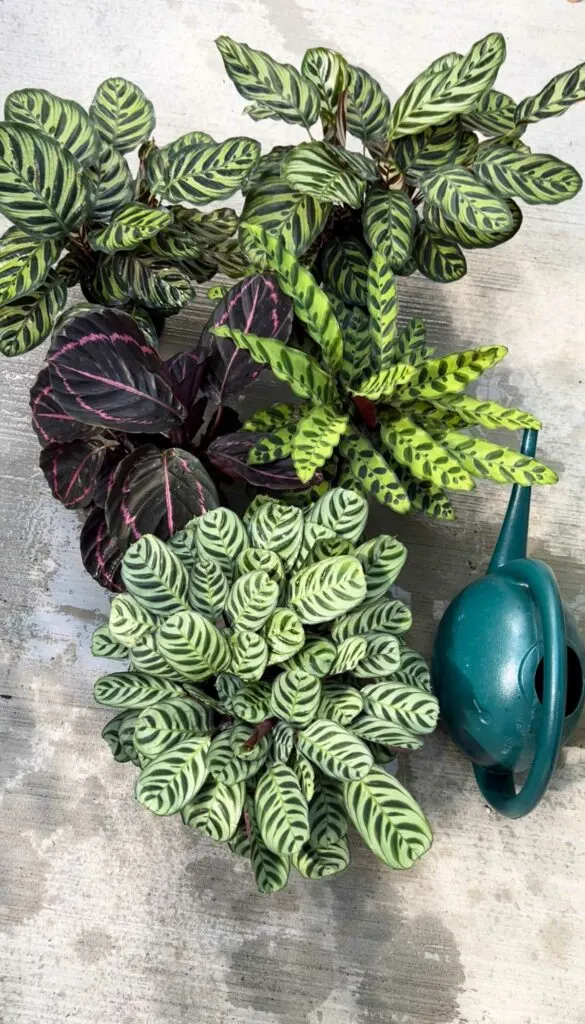 CAN YOU USE ZEROWATER FILTER FOR WELL WATER?
Yes, as long as your well water has been cleared to be OK for drinking, you can use the ZeroWater filtration system.
WHAT ABOUT LETTING TAP WATER SIT OVERNIGHT?
This does almost nothing for your water quality, and contrary to popular belief, it will not remove all the chemicals from letting it sit out.
People say that it removes chlorine, but it's more complicated than that.
Many water treatment plants started using a chlorine compound called chloramine, instead of just adding plain chlorine, because it is a more stable disinfectant.
Chloramine will NOT evaporate. This is where a good water filter like ZeroWater filtration system comes into play.
It doesn't hurt to let your water sit out, but I wouldn't bother as the benefits are negligible at best.
USING THE ZEROWATER FILTER FOR CALATHEAS
Now comes the fun part. ZeroWater makes different sized pitchers, as well as a water dispenser, which is what I use because it holds more water. I use the 23 cup ZeroWater filtration system.
Here is the dispenser below that I'm using in my greenhouse for my Calatheas, and a few other touchy plants. You simply press the button at the bottom to dispense the water into a watering can.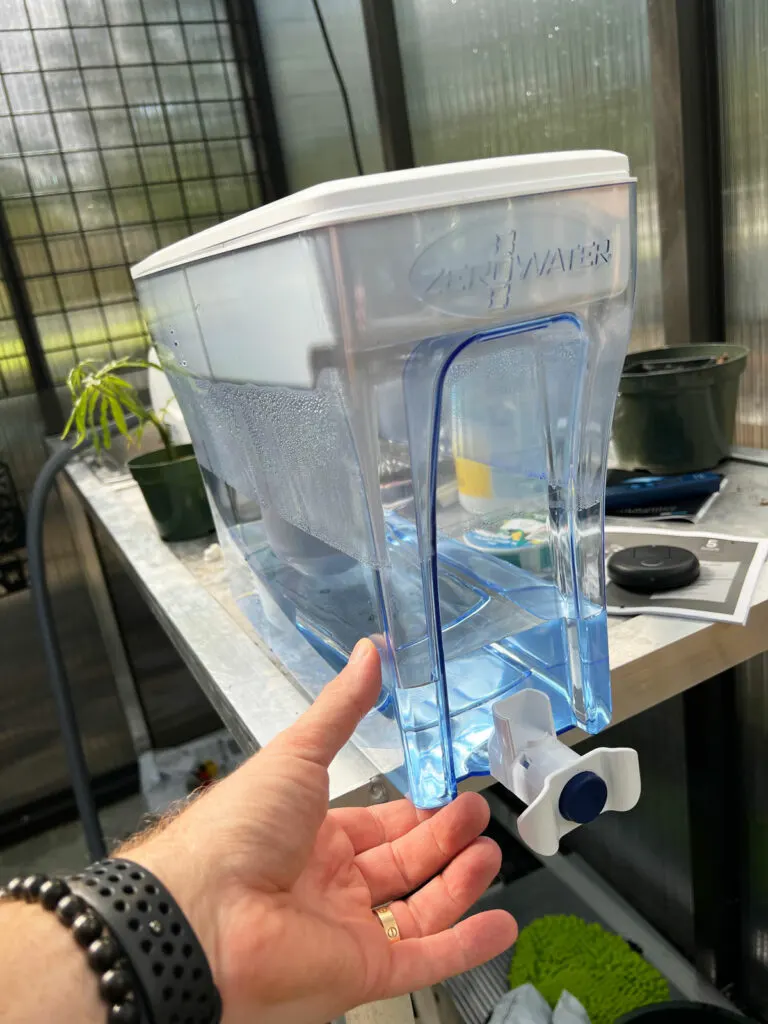 Here are the steps for using the unit:
1. MEASURE THE TDS OF YOUR TAP WATER
Before you do anything, the ZeroWater filtration system comes with a small TDS (total dissolved solids) meter. Simply follow the directions and measure the TDS of your tap water before filtering.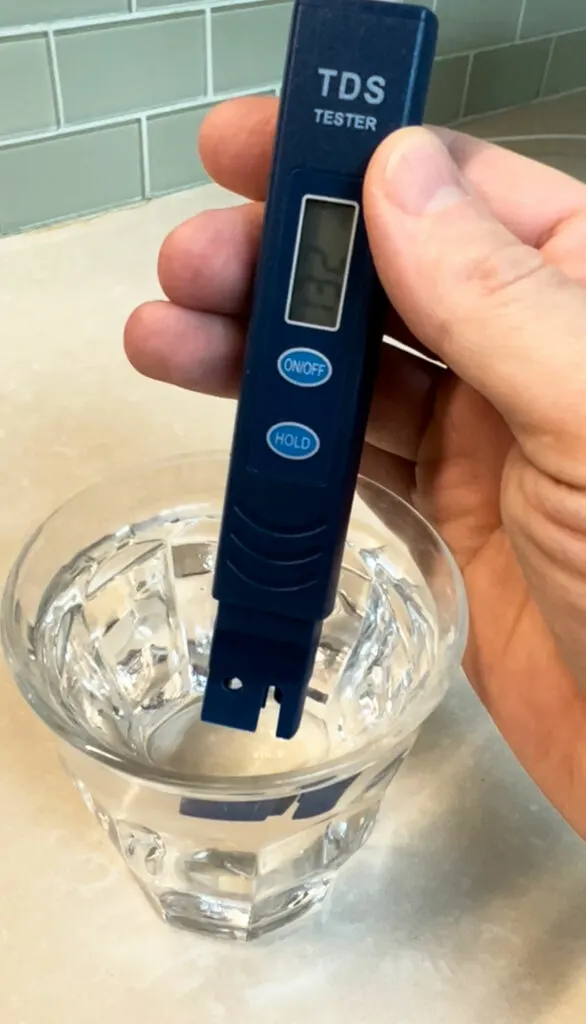 You can see in the photo above, my tap water measured 132 ppm (parts per million) in TDS (total dissolved solids).
TSD is the amount of both organic and inorganic ingredients that are dissolved in water. These include basically anything that's not water, including any metals, salts, ions, etc.
Now let's filter the water and see the difference.
2. FILTER YOUR WATER
All you need to do is place the filter in, fill the top reservoir with water and wait for it to trickle through the 5-stage filter.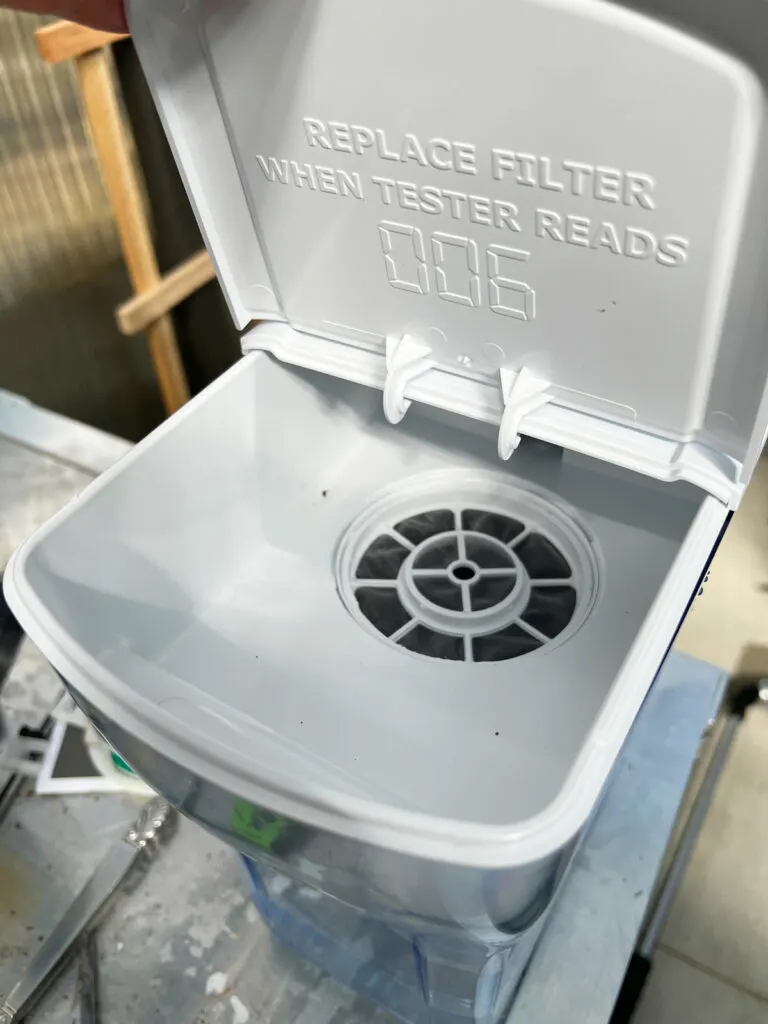 It is a little slow to filter through, so don't wait and stare at it!
The water will slowly make its way through the filter and start to accumulate in the clear plastic dispenser.
Wait until all the water has filtered through, and add more water in the top reservoir if you need more water.
3. MEASURE THE TDS OF YOUR FILTERED WATER
Lastly, check the TDS (total dissolved solids) of your water after filtration.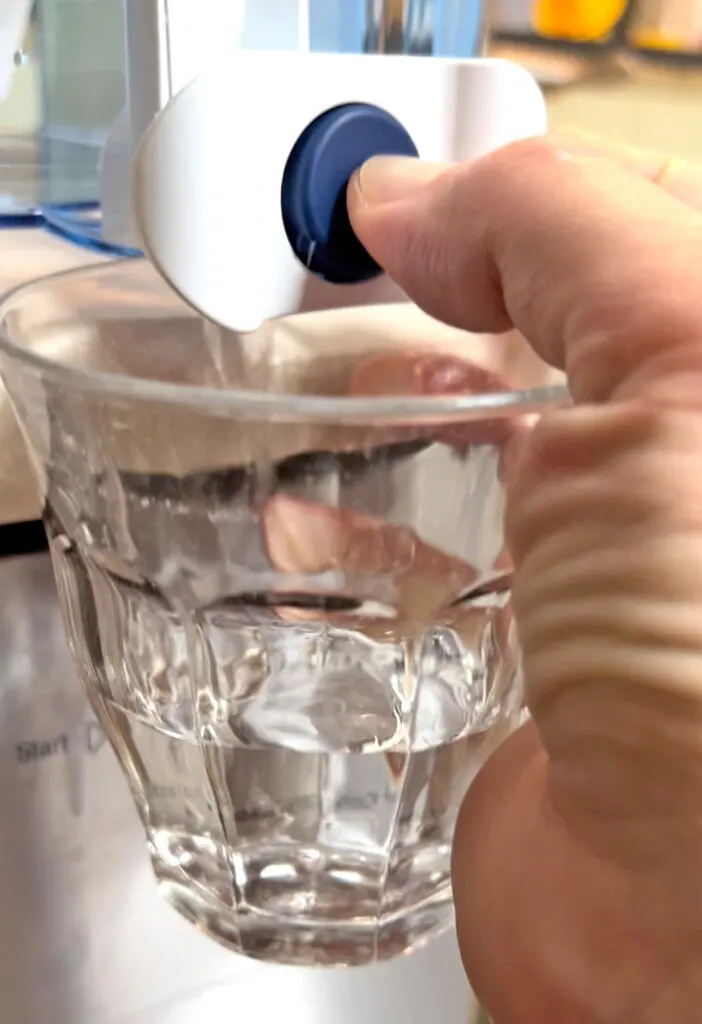 Simply press the dispenser button at the bottom of the unit to collect some water, like in the photo above.
Then use the TDS meter, as described in the user manual, to test the TDS of the filtered water.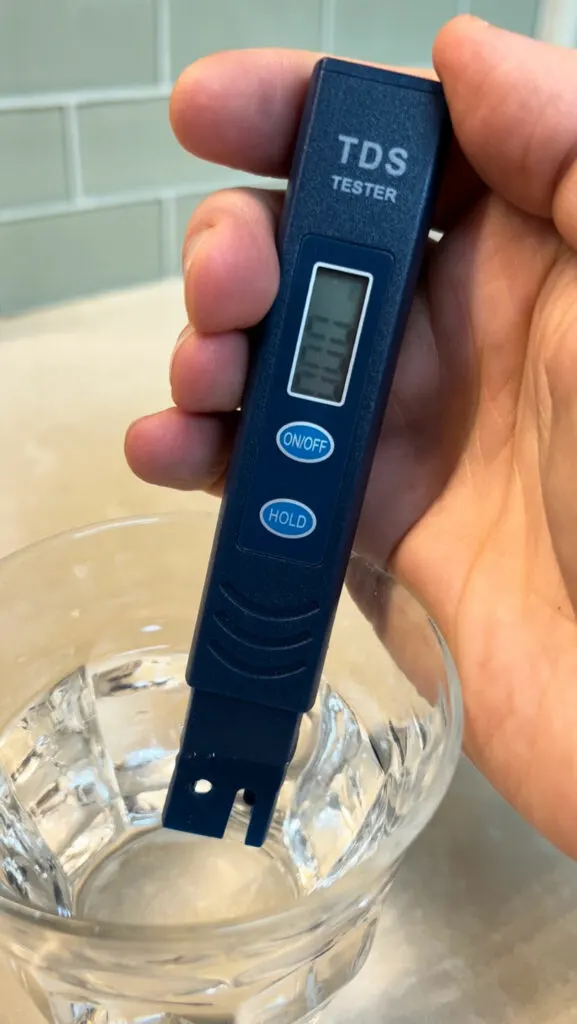 As you can see in the photo above, the TDS of the filtered water measured 0 ppm, which is what you want! Now you can dispense your water and use it for your Calatheas, carnivorous plants, orchids, and any other plants that can be sensitive to tap water.
Follow the directions on the ZeroWater filtration system for more details on maintenance and usage. They recommend switching the filter out once the TDS meter reads 6 or higher.
I hope you've enjoyed this post on the best distilled water alternative for watering Calathea plants. It will definitely save you from repeatedly purchasing and hauling gallons and gallons of distilled water, and help keep your Calathea plants in great condition!