Some of the links in this post may be affiliate links.
Previously known as Calathea lancifolia, Goeppertia insignis is one of the most strikingly beautiful houseplants. Commonly known as Rattlesnake Plant, this beauty can be tricky to grow but is well worth the effort! I'll share with you everything I've learned on how to grow this gorgeous houseplant.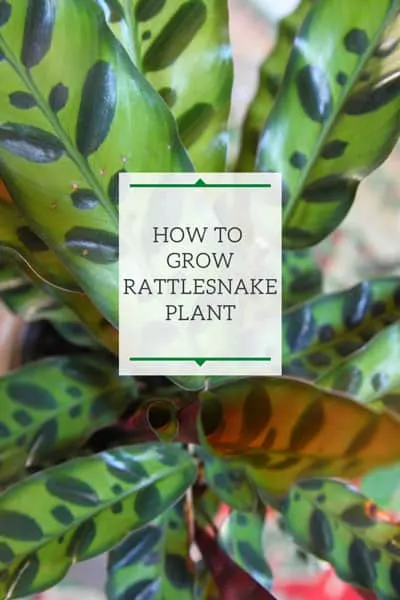 RATTLESNAKE PLANT CARE
Native to Brazil, this plant demands exacting conditions to look its best. You may know this plant as Calathea lancifolia, but it has been reclassified as Goeppertia insignis. Any of the Calathea/Goeppertia species can be very finicky, but once you are comfortable with basic houseplant care, I consider Goeppertia insignis to be one of easier species to grow.
LIGHT
These plants like plenty of light, but not too much direct sun. Some morning sun is fine.
If you live in the Northern hemisphere, Northern windows or Eastern windows would be ideal. My own plant is growing in front of an Eastern window and receives some gentle morning sunshine. Unobstructed Western or Southern windows may offer too long or too intense direct sun, depending on where you live, so either set them back a bit, or diffuse the light with sheer curtains or blinds.
If you live in the Southern hemisphere, Southern or Eastern windows will be ideal.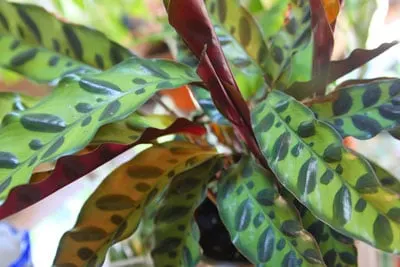 WATERING & WATER QUALITY
Keep your potting mix relatively moist, and water again only when only the surface feels dry.
Goeppertia species are sensitive to salts, and potentially other additives in tap water, so if you live in an area with very hard tap water, this will eventually build up in the potting mix and cause issues with browning leaves.
Keep in mind that brown leaves can also be caused by allowing the potting mix to dry out too much. On the other hand, never allow your plant to sit in water for extended periods of time as this can increase the risk of root rot.
For best results, use rainwater or distilled water to water these plants.
If you don't want to bother with buying distilled water or setting up a complicated RO water system, don't miss my post on the best distilled water alternative for Calathea plants. You will thank me for it!
FERTILIZING
I like to fertilize with a urea-free fertilizer. My go-to fertilizer for my houseplants is Dyna-Gro Grow. It is urea-free so it won't burn plants, and contains all the micro and macro nutrients needed for a healthy plant.
I fertilize very dilutely while the plant is actively growing. Be sure to periodically flush the pot with plain distilled or rainwater to avoid any build-up of fertilizer salts which will damage the plant.
TEMPERATURE AND HUMIDITY
Rattlesnake plants need warm temperatures and high humidity for best growth. This is a tropical plant that hails from warm and humid jungles in Brazil, and is not really robust in home environments that are too cool and that have bone dry air.
Avoid cold drafts and cool rooms and try to keep your plant in a warm area, and do your best to increase humidity. This is especially important in the winter time if you run forced air heat. My humidifier is running constantly and I try to keep the relative humidity in my sunroom around 60%.
Although proper watering practices and attention to potting mix moisture is much more important, increasing humidity is also important for these plants.
POTTING MIX
Three parts of a typical all-purpose potting mix plus one part perlite is a good blend.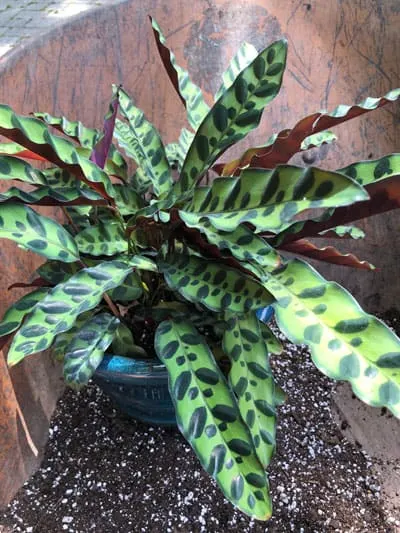 If you want an AMAZING potting mix that works beautifully, with NO modifications needed and that can be used straight out of the bag, check out the House Houseplant Mix. I have recently partnered with the local manufacturer of this blend.
The "House" mix uses compost created from food scraps, which would have ended up in landfills, and uses a wonderful host of organic materials. This is a real, living potting mix for your plants and I've been thrilled with the results!
And in today's world, we should be increasingly mindful of environmental sustainability, so this is a win-win! Be sure to try out the House Houseplant Mix. You will not be disappointed.
I am an affiliate of Tilth, the manufacturer, so I receive a small percentage of each sale, but at no additional cost to you.
REPOTTING
Repot your plant when it is root-bound and your potting mix no longer holds much moisture and dries out quickly.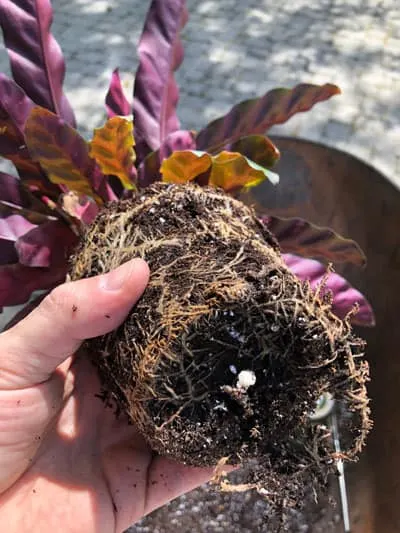 Loosen the root ball gently, and as a general rule of thumb, only go up one pot size.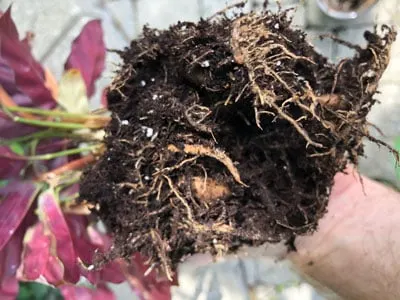 The thought behind only going up one pot size (for example, going from a 4 inch pot to a 6 inch pot), is that you don't have an excess volume of potting mix which would cause it to take too long to dry out.
PROPAGATION
These are best propagated by division. If you are repotting, you can split the plant at that time if you wish.
Looking to purchase a Rattlesnake Plant or even other Calatheas? One of my favorite and most convenient one-stop-shops to buy practically any plant is Etsy. Check out the Rattlesnake Plant selection (link to Etsy) today!
COMMON PROBLEMS and FAQs
This plant likes very even conditions and will protest if your home is too cold, has drafts, if your humidity is low, or if you repeatedly let your potting mix dry out too much. It can even be very picky with water quality as it is sensitive to salts. Here are some of the most common issues seen with this plant. One saving grace is that it tends to be pretty pest resistant! (At least in my experience.)
Why are my leaves turning brown?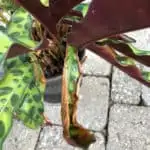 One common reason is allowing the potting mix to dry out too much, especially if you do it repeatedly. Leaves will quickly turn brown and crispy, especially on the edges or leaf margins as shown in the photo.
Another reason for browning is from long-term use of tap water since these plants are sensitive to salts and additives found in tap water in many areas. This will show up more often than not at the tips of the leaves.
Why are my leaves turning yellow?
If you notice yellow leaves, immediately feel your potting mix. There are many reasons that this may occur including your potting mix reamining too wet for too long. It can also result from dry conditions, so feel your potting mix to determine. Cold temperatures can also cause yellow leaves.
Always keep your plants in pots with drainage holes, don't expose your plant to cold temperatures, and never allow your plant to sit in water for long periods of time.
Why does my plant's leaves fold up at night?
Plants in the prayer plant family (Marantaceae) do this naturally. Leaves will rise up in the dark and then settle back down during the daytime. It is unclear why they do this and there are many theories. One theory is that they do this to essential dry themselves off so that any moisture drips off and therefore discourages bacterial and fungal diseases.
Why are my plant's leaves drooping?
This can be caused by a variety of things including cold temperatures, completely dry potting mix, or even potting mix that has stayed wet for so long that root rot has started to occur.
If your temperature is fine, feel your potting mix. Has it gone completely dry? Has it stayed wet for a long time?
Why is my plant not praying anymore?
This can also be caused by a variety of reasons. Check your temperature and avoid extremes. These plants grow best in temperatures ranges of 65-80F.
Try and avoid temperatures colder than this range, and avoid any cold or hot drafts. Try and keep the environment as stable as you can.
Another reason could be if you have a light source on the plant at night. In darkness, the leaves will fold up, and any light sources can potentially interrupt this.
Do you have a Rattlesnake Plant? Comment below. I'd love to hear!
Please do me a favor and share this post to social media because it will help me spread the Ohio Tropics houseplant care tips to the masses! Also, check out my shop on Amazon for all your houseplant care needs:

OHIO TROPICS PLANT CARE STOREFRONT