Some of the links in this post may be affiliate links.
Have you ever wondered what those little balls are on your string of hearts plant? Don't worry, there is nothing wrong with your plant. In fact it's a good thing! Keep reading to find out what those string of hearts balls are and what you can do with them.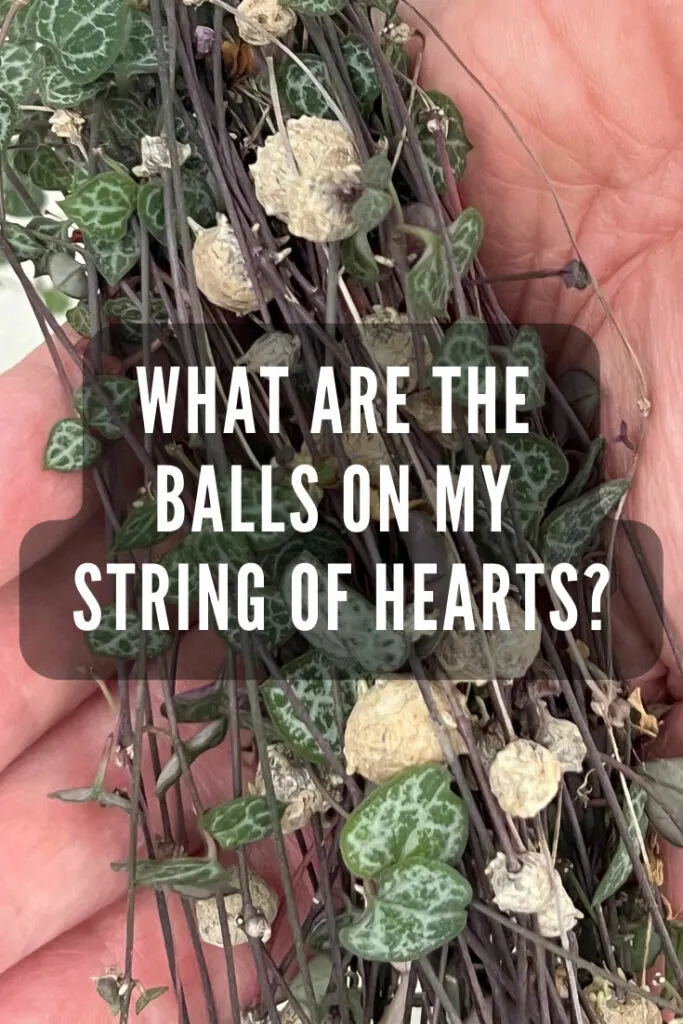 Ceropegia woodii, commonly called String of Hearts, Chain of Hearts, or Rosary Vine, is native to the African continent, ranging from Zimbabwe to South Africa.
Ceropegia woodii was named after John Medley Wood, a collector of African plants.
WHY IS CEROPEGIA WOODII CALLED ROSARY VINE?
It is apparent why this plant is called String of Hearts and Chain of Hearts, as a result of the heart shaped leaves, but have you wondered why it is also commonly called Rosary Vine?
It is called Rosary Vine due to the little balls that form along the vines. These white balls that resemble small potatoes are aerial tubers or bulbils that form on the vines.
The aerial tubers start to grow as very small white balls on the leaf nodes (where the leaf meets the vine) and then they will proceed to grow quite large.
The tubers themselves can get quite large, even approaching an inch in diameter as they grow.
Here is one of the largest ones on one of the vines on my plant.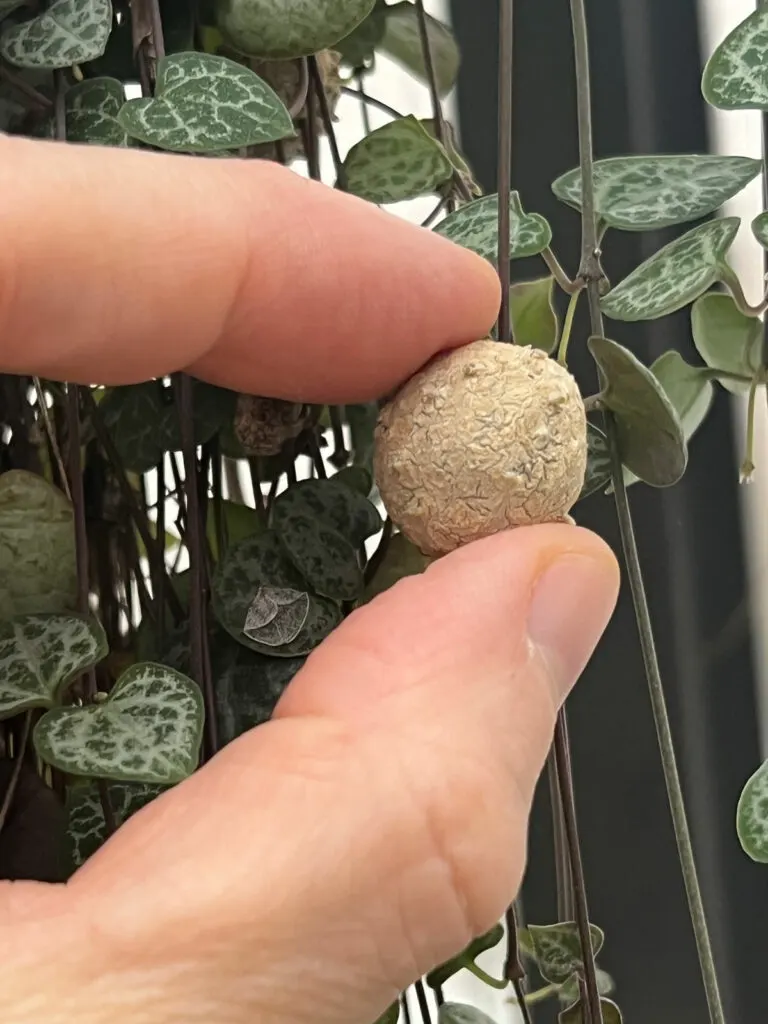 But over time, you will also see clusters of them at the base of the plant like in the photo below.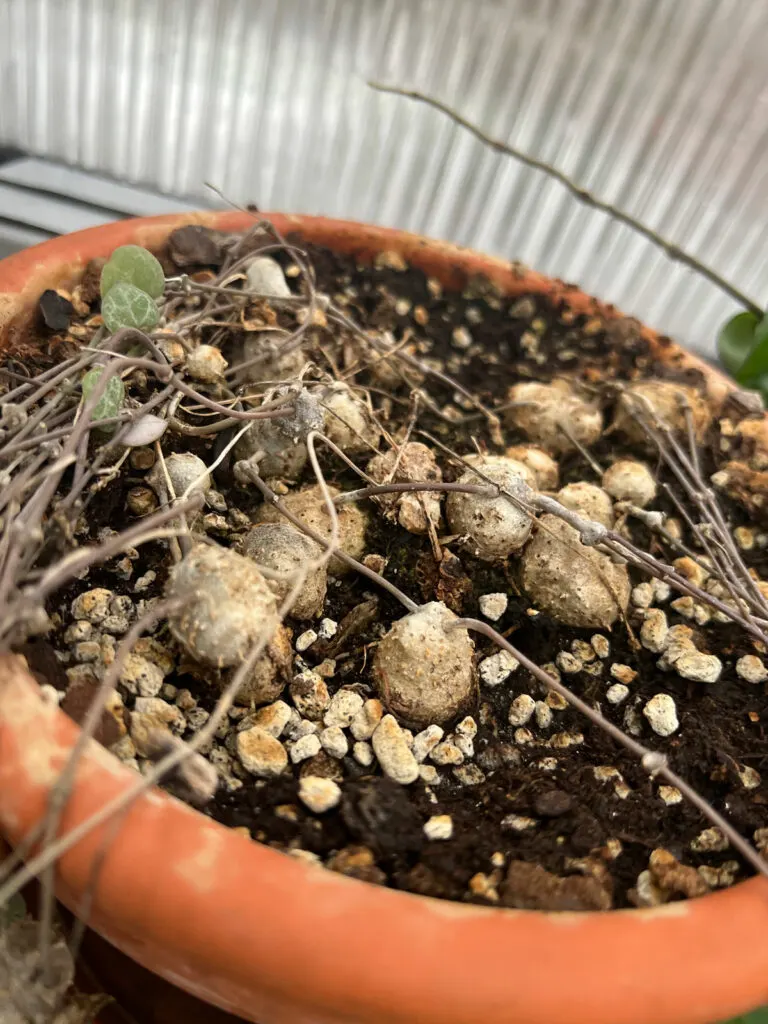 The little tubers will form all along the vines, and you will get quite a few of them over time! My own plant is loaded with them.
So, what do you do with them?
WHAT CAN YOU DO WITH STRING OF HEARTS BALLS?
You can use the aerial tubers to propagate your plant. Here are a few different ways that you can propagate with String of Hearts balls.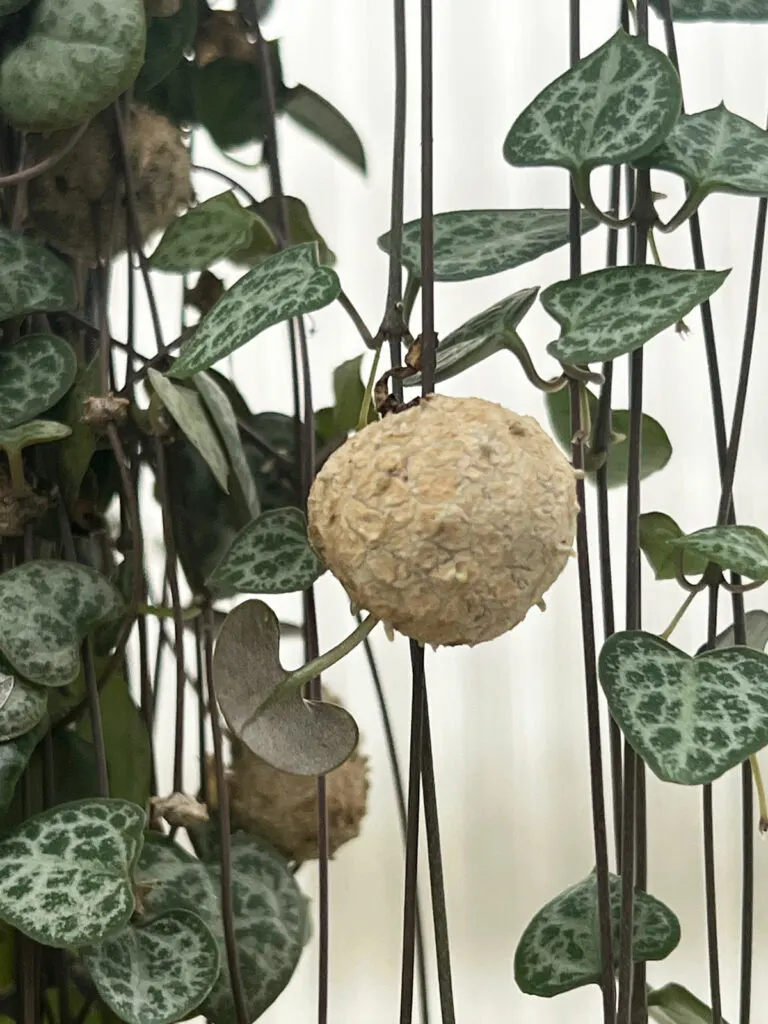 1. LEAVE THEM ATTACHED TO THE VINES AND PIN TO SOIL
If you'd like to create a new plant, or even help make your current plant fuller (if it has lost a lot of leaves at the crown), simply find a tuber and place it gently into potting mix.
If you want an amazing potting mix for string of hearts, try the String of Things soil blend from Oh Happy Plants. These are AMAZING mixes, and if you use my link, you will receive 10% off automatically at checkout for any products that you purchase.
Leave the vine attached to the plant and don't cut anything off. Simply bury the tuber about half way into the soil and make sure it's secure.
If you're returning the tuber to the base of the original plant to make it fuller, you can just leave it there and not cut the vine off.
If you've placed the tubers into a new pot (still leaving the vine attached to the original plant), give it several weeks to root before cutting the vine off of the mother plant.
Keep the soil moist to encourage rooting to occur. I'd recommend watering thoroughly but then allowing perhaps the top half inch or so to completely dry out before watering again.
After several weeks, if you're creating a new plant, you can see if the tuber has rooted by gently tugging at the tuber to see if there is any resistance, or you can very gently stick a chop stick or toothpick into the soil and lift it up to see if roots have formed.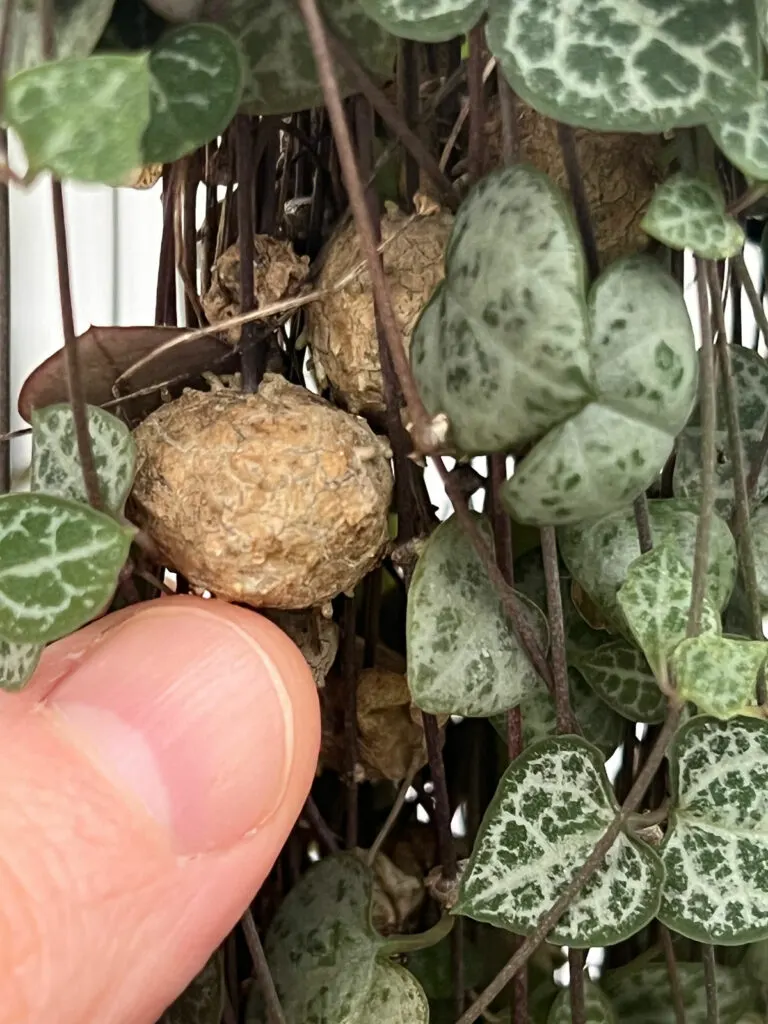 2. TRIM YOUR PLANT AND PLANT THE LOOSE TUBERS
String of Hearts vines can get very long, so if you want to trim your plant, you can do so and then use the cuttings to propagate new plants.
Don't leave the vines too long though. I'd recommend cuttings that are 6-8 inches long at the most. Cut the vines so that there is a tuber at one end, and then simply insert it half way into potting mix like I described in the previous section.
Or if you've accidentally broken the tubers off, you can even plant the bare tubers themselves even if there is no vine coming out of it. As long as it's firm and healthy, it should root and start to grow.
3. USE A HEATING MAT TO ENCOURAGE FASTER ROOTING
You can encourage faster rooting by using a seedling mat (link to Amazon) to provide bottom heat. If you haven't used a seedling mat before in propagation, you will be shocked at the difference it makes.
Using a seedling mat greatly speeds up the time that it takes for cuttings to root in soil. They are inexpensive and if you love propagating, I encourage you to use them. You'll wonder how you lived without it.
RELATED RESOURCES
I hope you've enjoyed my post on String of Hearts balls, and you may also enjoy my other String of Hearts posts including:
String of Hearts Care which includes good potting mix blends for healthy growth.
Variegated String of Hearts Care