Some of the links in this post may be affiliate links.
Do Monstera plants need sunlight? How much? How do you know if it's enough? These are all the questions, and more, that will be answered in this post. With all the ambiguous information out there (giving your plant "indirect sunlight", or "bright light", etc), this is simply not practical in order to truly understand what your Monstera plant needs.
Keep reading to learn specific tips on how to help determine what location, indoors, is best for your Monstera deliciosa from a light perspective.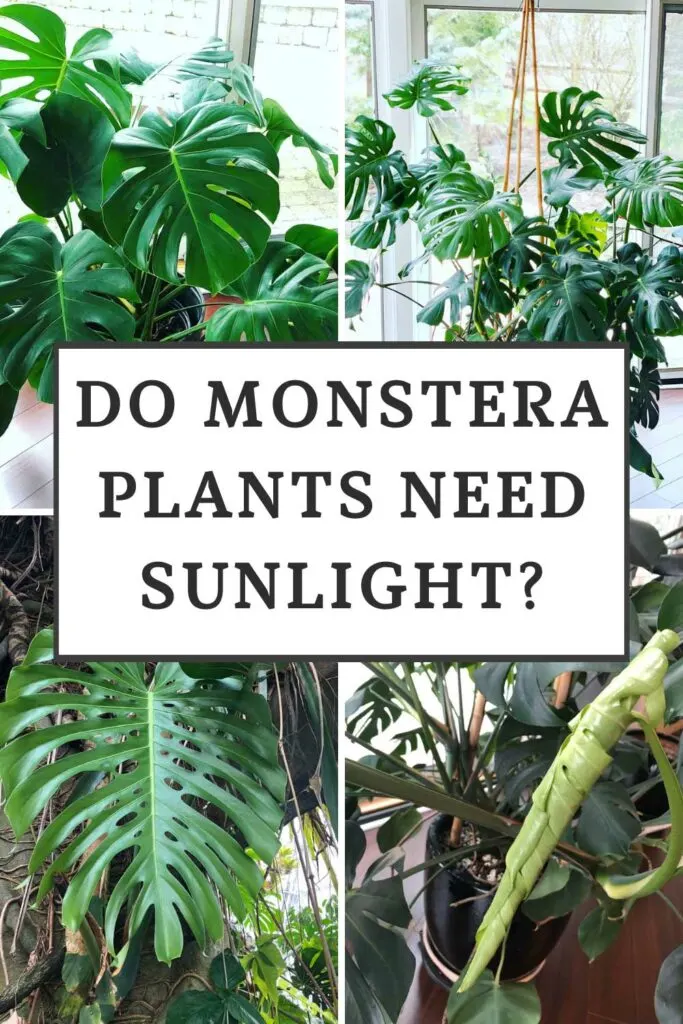 MONSTERA IN THE WILD
In order to understand how much light Monstera deliciosa (commonly known as swiss cheese plant) needs, it is helpful to consider their natural habitat and how they grow in the wild.
These tropical plants are native to southern Mexico and Guatemala. Seedlings will typically start to grow at the forest floor, and when they find a tree, they will start to climb up using their aerial roots, in pursuit of finding enough light.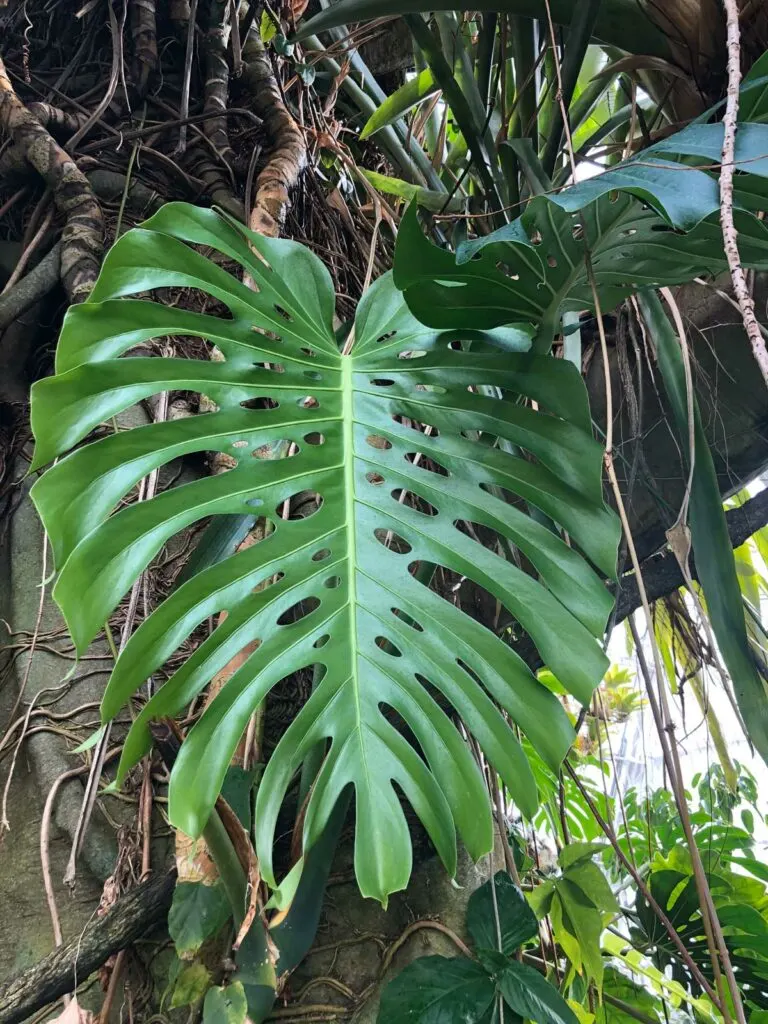 The will often grow in complete shade or dappled light in nature, can grow in quite sunny areas as well outdoors.
DO MONSTERA PLANTS NEED SUNLIGHT?
What are the light needs for your Monstera? In the following sections, you'll learn how to judge what the best spot is for your plant. All of our indoor environments are different, and light is a complicated topic, but I'll try and make it easy for you.
Monstera deliciosa is one of the most forgiving indoor plants, but proper light levels will make the difference between a plant that just sits there, and one that grows and thrives.
1. MONSTERA DELICIOSA OUTDOORS
It is really important to remember that the light intensity indoors is dramatically less than the light intensity outdoors.
Why is this important? This is very relevant to this post because I have seen many Monstera deliciosa plants growing outdoors in the ground in warm climates, in full sun in California, Mexico, and other areas.
This type of exposure outside causes the color of the foliage to turn a yellow-ish green, but in most cases, it doesn't kill the plant, though it may cause some foliage burn with these light intensities.
In shadier spots outdoors, the foliage will be a deeper green color.
This means that indoors, it is very difficult to overdo the amount of light because light intensity indoors is dramatically reduced.
You should be more concerned with low light conditions indoors as opposed to being terrified of too much direct sunlight indoors.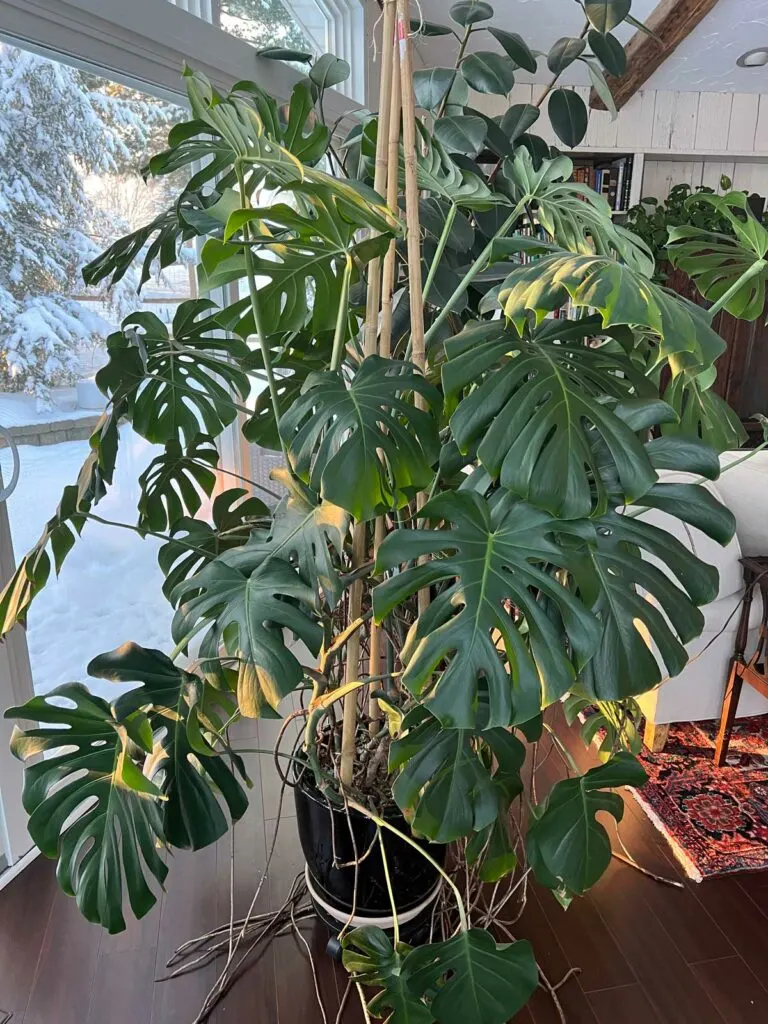 2. LIGHT REQUIREMENTS FOR MONSTERA DELICIOSA INDOORS
At an absolute bare minimum, I recommend that your Monstera deliciosa receive at least 100 FC (foot candles) of light. This is a bare minimum light intensity and you should aim for higher for better growth.
At 100FC, your plant will barely be chugging along. I'd recommend at least 200-300 FC and even into the 2,000 FC range indoors for good growth.
Keep in mind that the light intensities vary throughout the day and as seasons change. Don't overthink it too much. Observe your plant and see how it is growing and responding to your environment.
If you want to objectively measure your indoor light profile, invest in an inexpensive light meter. You can walk around your home to different windows and determine a good spot for your plant.
I love to use the Dr. Meter light meter (link to Amazon). It's inexpensive, easy to use, and gives you a whole new way to look at light in your home.
Remember the previous section where I mentioned Monsteras growing in full sun outdoors? Unless you live near the equator or in an area with super strong sun, it will be almost impossible to give your Monstera too much direct sun indoors.
This doesn't meant that you need to put your Monstera is your sunniest window, but here are some good tips and guidelines in order to give your plant the right amount of light to make both you and your plant happy.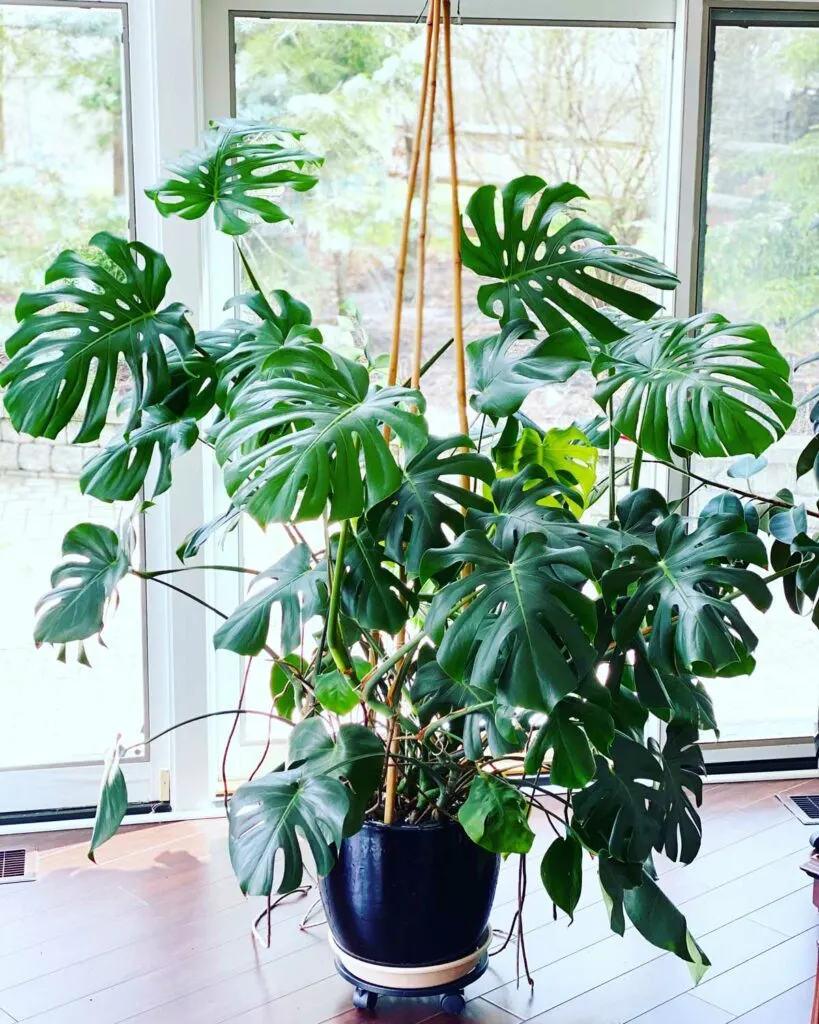 3. WINDOW EXPOSURES FOR MONSTERA
Each window exposure is very different in terms of light intensity. Depending on how big the window is, if you have any obstructions such as trees or buildings, and the construction of the window itself, it makes a huge difference in the amount of light that your Monstera receives.
In addition, the distance from the window to your plant makes an enormous difference in the amount of light it received. Light intensity drops dramatically even 2-3 feet away from a window. Use your Dr. Meter light meter to play around in your own home.
NORTH-FACING WINDOW
North-facing windows (if you live in the northern hemisphere), north-facing windows have the lowest light intensity of all exposures and there is typically no direct sun. In the southern hemisphere, the equivalent would be a southern window.
These windows should provide enough light for your Monstera, as long as it's not a tiny window and you have no obstructions such as trees, buildings, etc.
The only way you'll know for sure is to use the Dr. Meter light meter to get an idea of exactly how much natural light your window is getting.
At the end of this post, I'll give you things to look for if your Monstera is not getting enough light.
SOUTH-FACING WINDOW
Unobstructed south-facing windows (in the northern hemisphere) will give you the most light indoors and typically will provide plenty of direct sun. In the southern hemisphere, the equivalent with be a north window. Your plant can easily take this light indoors, but there are some extra tips to consider.
Skip to the end of this post to read about how you know if your Monstera is getting too much light.
You can always use sheer curtains to diffuse the direct sun, or even partially closed blinds, if you are concerned that your window is too sunny.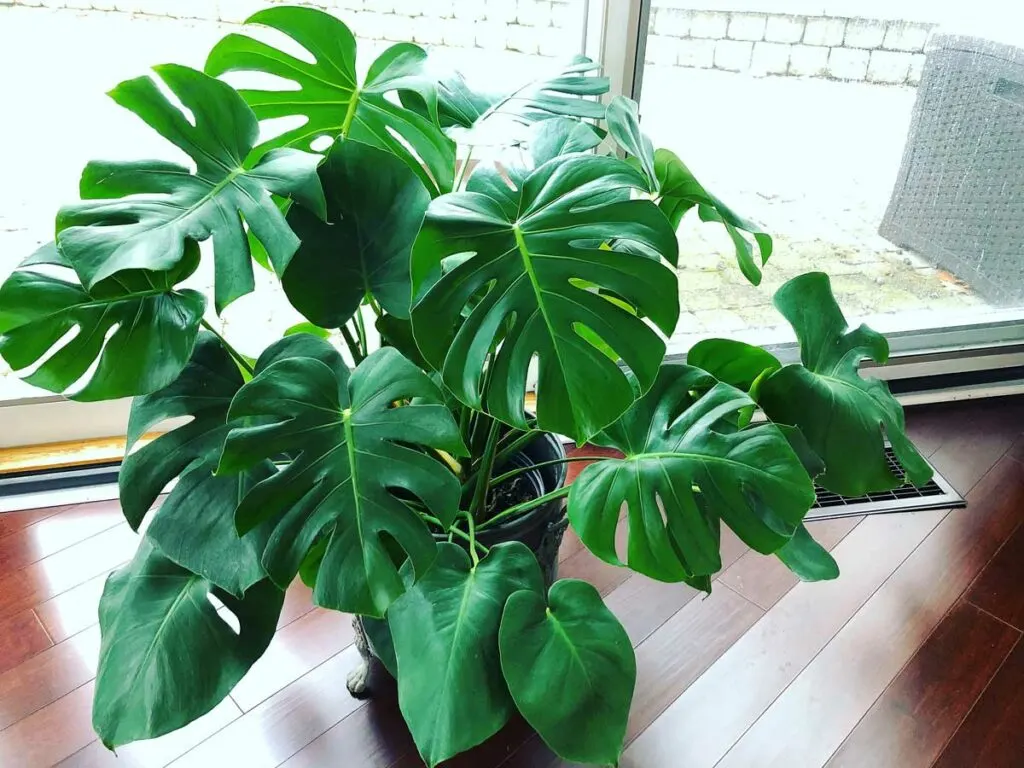 EAST-FACING WINDOW
My own Monstera deliciosa has been growing in front of a large wall of east-facing windows for years. It receives morning sun and the plant thrives in that light exposure. You can't really go wrong with unobstructed Eastern facing windows.
Morning sun is also gentler than afternoon sun.
WEST-FACING WINDOW
West-facing windows are also great for Monstera deliciosa as well. Unobstructed western windows will typically provide mid to late afternoon direct sun indoors.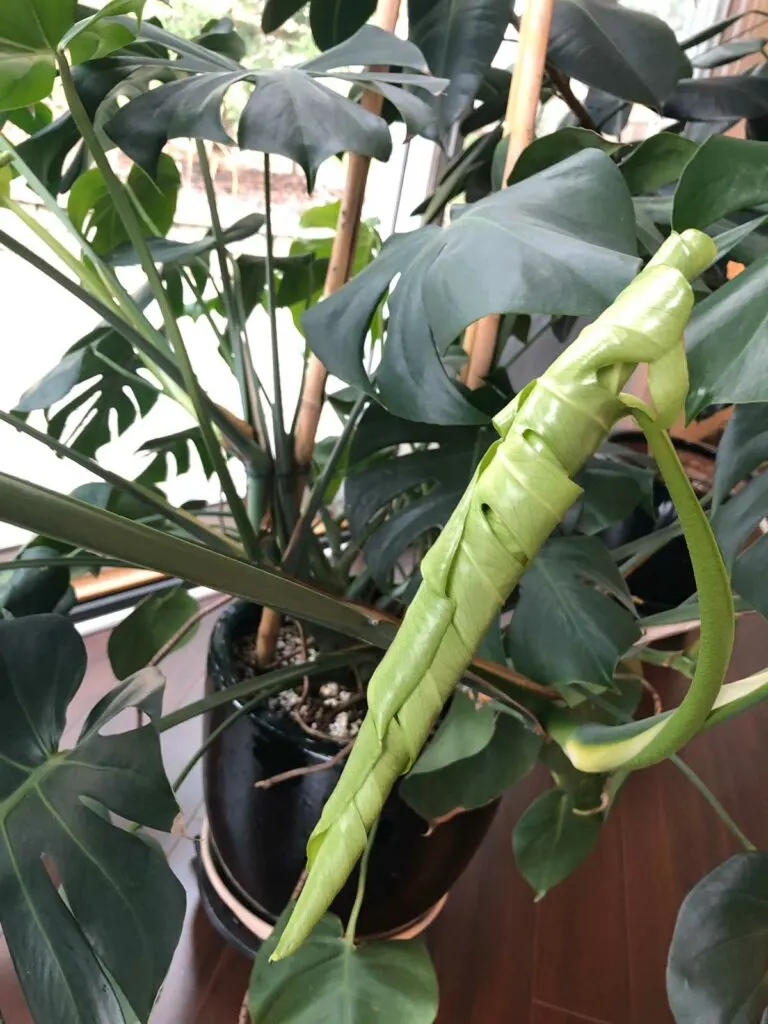 4. HOW DO I KNOW IF MY MONSTERA IS NOT GETTING ENOUGH LIGHT?
With too little light, the following can happen:
SLOW GROWTH TO NO GROWTH
If you've had your plant for longer than several months and you have no growth, or really slow growth, it might be time to move your plant to an area with more light.
The winter months can be particularly taxing with the lack of light and short, dark days. Don't be afraid to move your Monstera to a sunny window, especially during this time.
GROWTH IS STRETCHED OUT
If you find weak, leggy growth, this is also another sign of lower light conditions. Things to look for are if the petioles on your plant are longer than they used to be, and the leaves are spaced out further away on the vine.
It doesn't mean your plant is dying. It just means that it is growing in lower lighting conditions. In the end, it's all about if you are happy with what your plant looks like.
If your plant needs more light, consider switching it to a bright exposure window, as I described in the previous section, or consider a grow light as either a supplemental light source to the natural light that your plant is already receiving. You can even solely grow your plant under artificial light.
SMALL LEAVES
Smaller leaves, and a delay in the time that it takes to have mature leaves that are fenestrated, will be the result of not enough sunlight indoors.
5. HOW DO I KNOW IF MY MONSTERA IS GETTING TOO MUCH LIGHT?
The main thing to look for is sun scald, but indoors, as I mentioned earlier, it is difficult to overdo the amount of light.
But you CAN still get sun scald if your Monstera has not been acclimated to higher light slowly enough. What do I mean by this?
Here are two scenarios where you can easily burn your Monstera deliciosa plant:
MOVING YOUR MONSTERA OUTSIDE
If you've moved your plant from indoors to outdoors into any kind of direct sun without acclimating your plant, your plant can burn. You may be confused since I mentioned earlier in this post that I've seen Monstera deliciosa plants growing in full sun outdoors.
What is missing here? Indoors, light intensities are much less than outdoors, so it's similar to getting sun burn on our skin.
When you move a plant from indoors to outdoors (and this goes for sun-loving plants too), they must be placed in full shade for a few days FIRST and then receive a gradual increase of any direct sun over the period of another few days.
You can't acclimate too slowly, but you can acclimate too quickly!
BRINGING YOUR MONSTERA HOME FOR THE FIRST TIME
Along very similar lines, if you've purchased a Monstera plant from a big box store where it has been sitting in dingy, low light, for a while, and you take it home and place it in front of your sunniest window, it may also burn.
It's not that it can't take the light conditions in that window, but it must be acclimated in a similar way that I just described in the previous section.
In the end, all of our lighting conditions are different, and it's up to you to observe your plant and care for it accordingly.
OTHER MONSTERA RESOURCES
If you've enjoyed this post, I have plenty more blog posts on Monstera that may interest you: