Some of the links in this post may be affiliate links.
Many of my readers have asked me why little yellow mushrooms are growing in their houseplant soil and if they're a sign that something is off. First of all, the presence of mushrooms should not necessarily alarm you, so if you see any growing in your potting soil, keep reading to learn more about them so you can be at ease.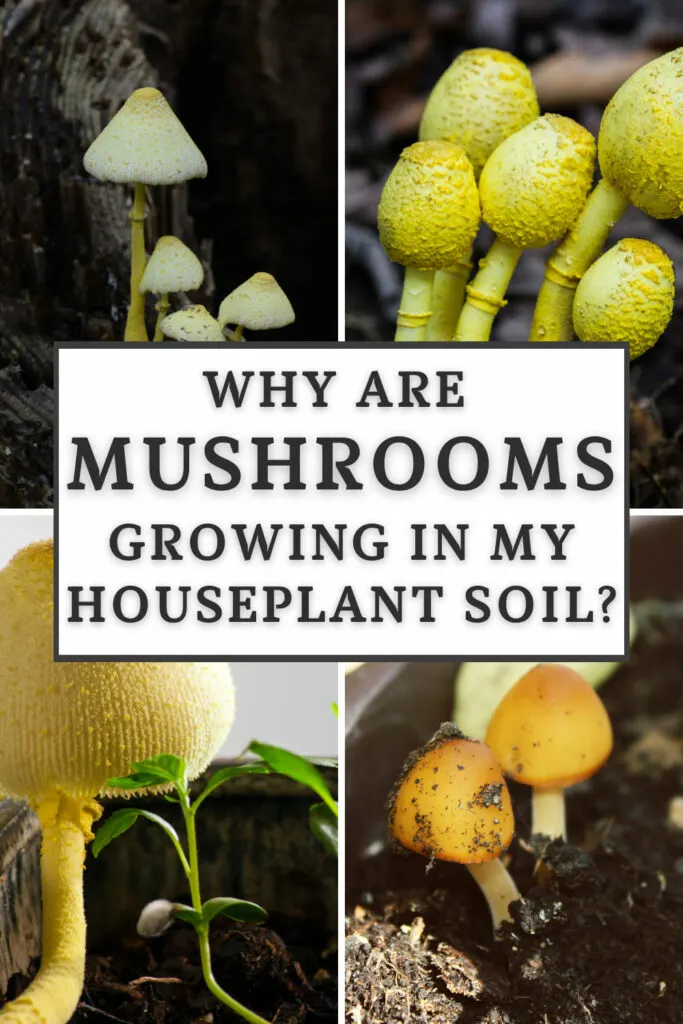 MUSHROOMS GROWING IN HOUSEPLANT SOIL
1. WHAT ARE THE YELLOW MUSHROOMS IN HOUSEPLANT SOIL?
If you see a yellow houseplant mushroom growing in your potted plant, it is likely Leucocoprinus birnbaumii. Although there are other types of mushrooms that can grow in your plant's pot, these are by far the most common mushrooms that you will see.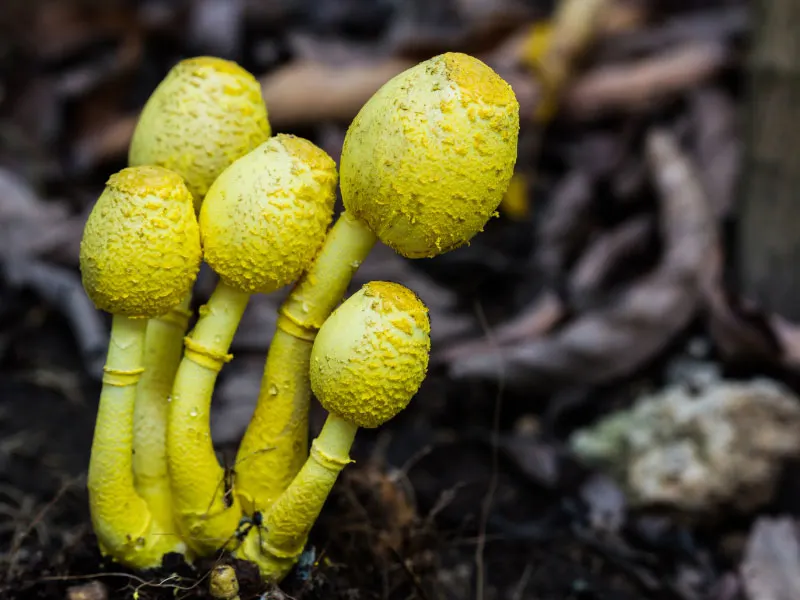 Some common names for this mushroom are Flowerpot Parasol, Yellow Houseplant Mushroom, Yellow Pleated Parasol, Yellow Parasol Mushroom, and Plantpot Dapperling.
This species of mushroom is commonly found in the tropics and subtropics. They are a bright yellow color, 1-3 inches tall, and have small yellow, bell-shaped mushroom caps.
Sometimes you will see single mushrooms, but often they will also be seen growing in clusters.
This mushroom is considered a saprotrophic mushroom. In simple terms, this means that they feed on dead organic material. The mushrooms will release acids and enzymes that break down the organic material in the soil.
2. WHERE DO THE MUSHROOMS COME FROM?
Originally, Leucocoprinus birnbaumii came from tropical forests, with the first description based on mushrooms in Sri Lanka.
As a result of the orchid trade, this mushroom has spread worldwide and is a familiar site growing in houseplant pots and greenhouses around the world.
Mushrooms reproduce by fungal spores, so if there is a visible mushroom or two growing in the soil of your indoor plants, the mushroom spores made their way into your potting mix somehow.
Normally, potting mixes are pasteurized to kill spores, weed seeds and any disease pathogens, but there can always be a chance that the process wasn't 100% effective. Your bagged soil mix is the likely source of the spores.
So if you see mushrooms growing in your potting plant, the mushroom spores either came from the potting mix that you used, or the spores may have landed into your pot somehow (particularly if you've had your plants outdoors since spores are transferred by the wind).
These mushrooms are common in the southern United States, where it is warmer, and are commonly found in mulched garden beds.
Besides spores, mushrooms can also spread by mycelium, which is the root-like structure of a fungus. Remember, mushrooms are not plants, but rather, fungi.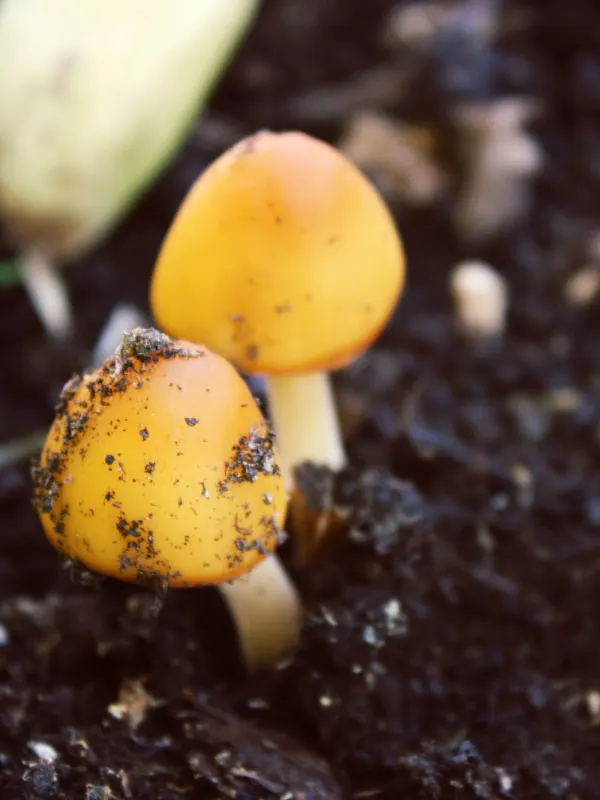 3. ARE MUSHROOMS HARMFUL TO THE PLANT?
The mushrooms growing on the soil surface are harmless to the plant, and in fact, there is a beneficial, symbiotic relationship between the plant and the mushrooms.
The appearance of mushrooms is actually a sign of healthy soil and is an indication of the presence of organic matter in your soil. It actually benefits the plant since mushrooms feed on dead organic matter in the pot and then will release nutrients into the soil that the plant itself can use.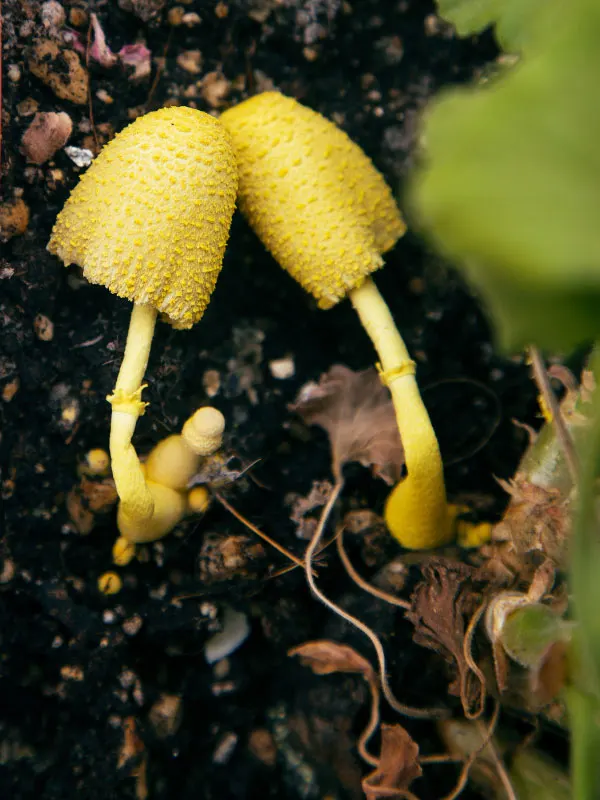 4. ARE MUSHROOMS TOXIC TO PEOPLE OR PETS?
Although harmless to your plant, Leucocoprinus birnbaumii (sometimes known as Lepiota lutea) is considered toxic if you consume it. (So when you're hungry, stick with the mushrooms that you buy at the grocery store!)
I would recommend removing them if you have any curious pets or small children since Leucocoprinus birnbaumii is considered toxic.
That being said, Tom Volk, a mycologist (one who studies fungi), has shed some light on the toxicity of Leucocoprinus birnbaumii.
According to Tom, if ingested, this mushroom can cause gastrointestinal upset in a small percentage of people, however, someone would have to likely eat several dozen of these mushrooms to have that effect.
As far as handling the mushrooms with bare hands, Tom also mentions that you can not be poisoned by a mushroom simiply by touching it.
He also states that even the most poisonous mushrooms can be handled with bare hands. If you are concerned though, go ahead and put on a pair of gloves if you need to handle them.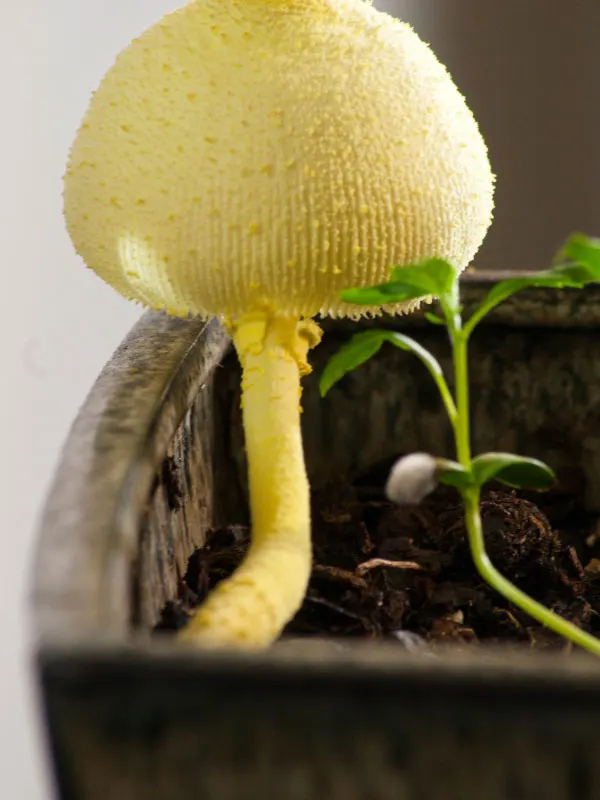 5. WHAT SHOULD YOU DO WITH THE MUSHROOMS IN THE SOIL OF YOUR HOUSEPLANTS?
Again, it's not a bad thing for your plant that they're growing in the soil, but as soon as you see the mushrooms you can follow these steps to try and eliminate them or at least manage them:
Gently pluck the mushrooms out of the houseplant pots. They're best removed as soon as you see them so that they're not depositing more of their tiny spores into your houseplant's soil and continually growing more. This will also help them from spreading to nearby plants.
You can scoop off the top inch or two of potting mix and replace with fresh soil. This may not be totally effective, depending on how much the mycelium (the mushroom's root-like structure) has grown into the soil.
Remove any dead leaves that have fallen on the surface of your potting mix. This organic matter will encourage mushroom growth if there are spores present.
Lastly, mushrooms tend to thrive in moist soil. So if your potting mix hasn't dried out at all and you chronically "overwater", you may want to let the top 1 or 2 inches of soil to dry out. This tactic is also beneficial to help control fungus gnats.
Change the environmental conditions. These mushrooms thrive in warm conditions and humid environments, so exposing your plant to cooler temperatures and drier air (assuming your specific houseplant will still be happy), can help to minimize the occurrence of these houseplant mushrooms.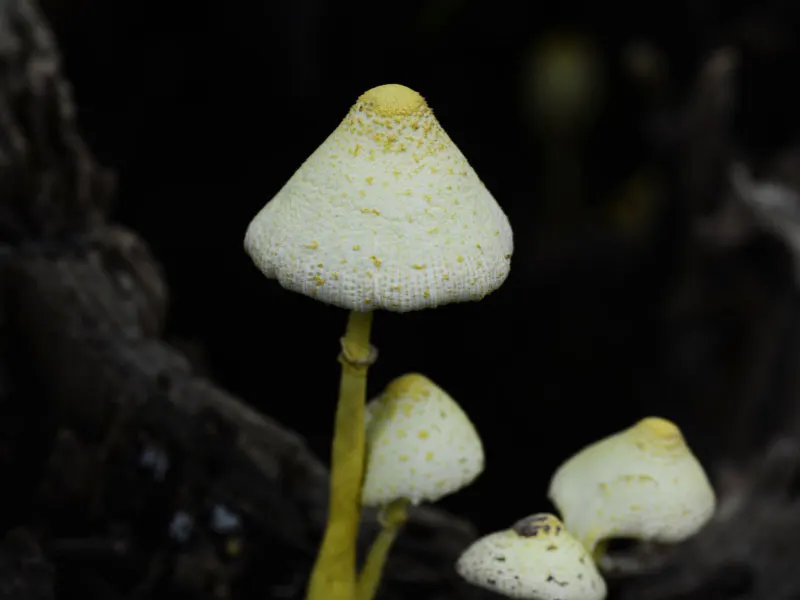 The North Carolina Extension says that fungicide treatment is normally ineffective against mushrooms.
I would not recommend trying to change out all of your houseplant's soil since it is much too stressful for your plant. Unless you are concerned over their toxicity if you have children or pets, I would avoid this.
Even so, it doesn't guarantee that the mushrooms won't come back. Mushroom spores are really small and it's virtually impossible to easily tell when they'll crop up again.
Perhaps the easiest way to to stop the spread of mushrooms to your other plants is to relocate the plant that has them.
6. IS LEUCOCOPRINUS BIRNBAUMII HALLUCINOGENIC?
Leucocoprinus birnbaumii is not hallucinogenic.
7. WHAT IS THE LIFECYCLE OF LEUCOCOPRINUS BIRNBAUMII ?
The lifecycle is quite fleeting and occurs over a period of 1 or 2 days. You may first notice neon yellow fuzz on the surface of the soil.
Within a matter of hours, small, yellow mushrooms will form and they look like little parasols or umbrellas. The color may fade to a paler yellow or whitish color.
By the end of the day or so, the mushrooms will have collapsed.
In the end, these little yellow mushrooms are nothing to be feared. They are part of the cycle of nature and have hitchhiked themselves into our houseplant pots. If the sight of mushrooms grosses you out, go ahead and pluck them away.