Some of the links in this post may be affiliate links.
Is your peace lily dying after repotting? I've had countless people experience this issue and come to me for help, that I've written this dedicated post to get down to the bottom of the issue. I'm confident that the reasons listed in this post cover the majority of the cases.
There is no reason why your peace lily should be suffering right after repotting. If it is, you may have done one of the following things outlined in this post.
Many of us (including myself) have received peace lilies after a loved one has died, so it is only natural to want to keep your plant alive in order to remember our loved ones!
PEACE LILY DYING AFTER REPOTTING – Reasons Why
1. YOU DIDN'T LOOSEN THE ROOT BALL BEFORE REPOTTING
This is a huge one, and you may not even realize that you could run into issues if you don't complete this one step when repotting.
And this is probably an all too common scenario. Allow me to explain.
Let's say your peace lily was root bound. You took it out of its pot and discovered very tightly packed roots. You then proceeded to place it into a larger pot, but you did not loosen the root ball and tease the roots apart.
What can go wrong with this scenario?
If your plant is severely root bound, what can happen is that even when you water after repotting it, you'll moisten the new soil in the pot, but since you didn't loosen the root ball, it becomes difficult for the water to penetrate the root system.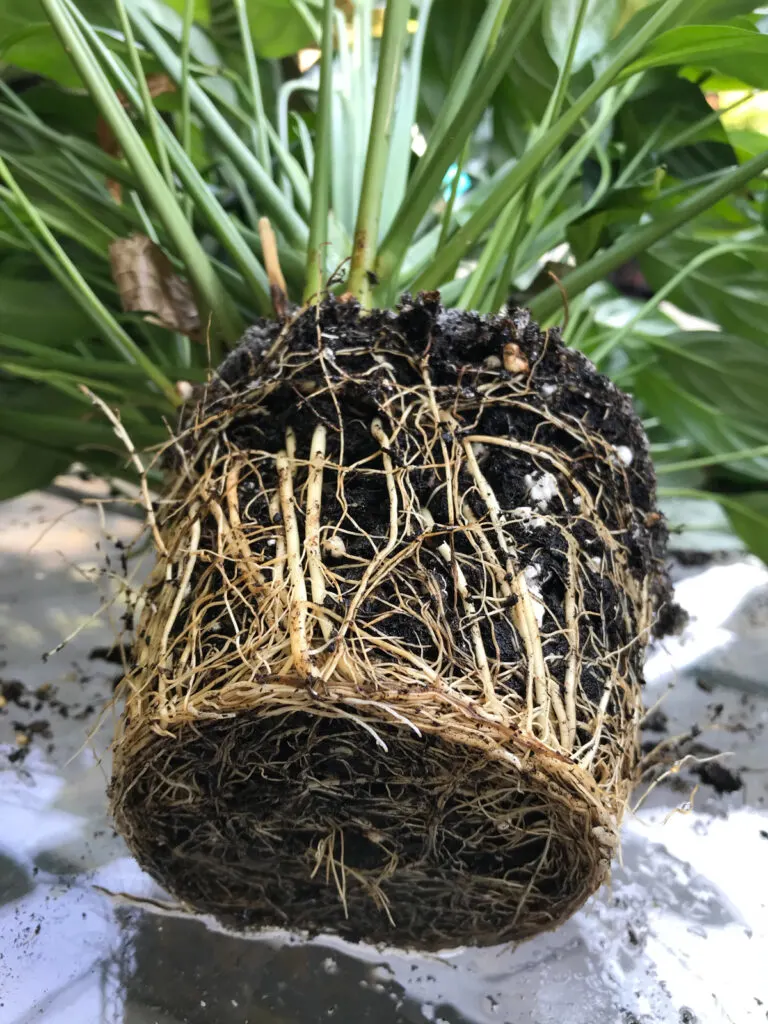 So even though you watered and felt that soil was moist, it doesn't mean that the water actually penetrated the root system of your plant (since you didn't loosen the root ball).
So what do you do in this case? Take the plant out of its pot, loosen the root ball, and replant it. I've written an article showing how to repot a peace lily step by step so that you can follow along.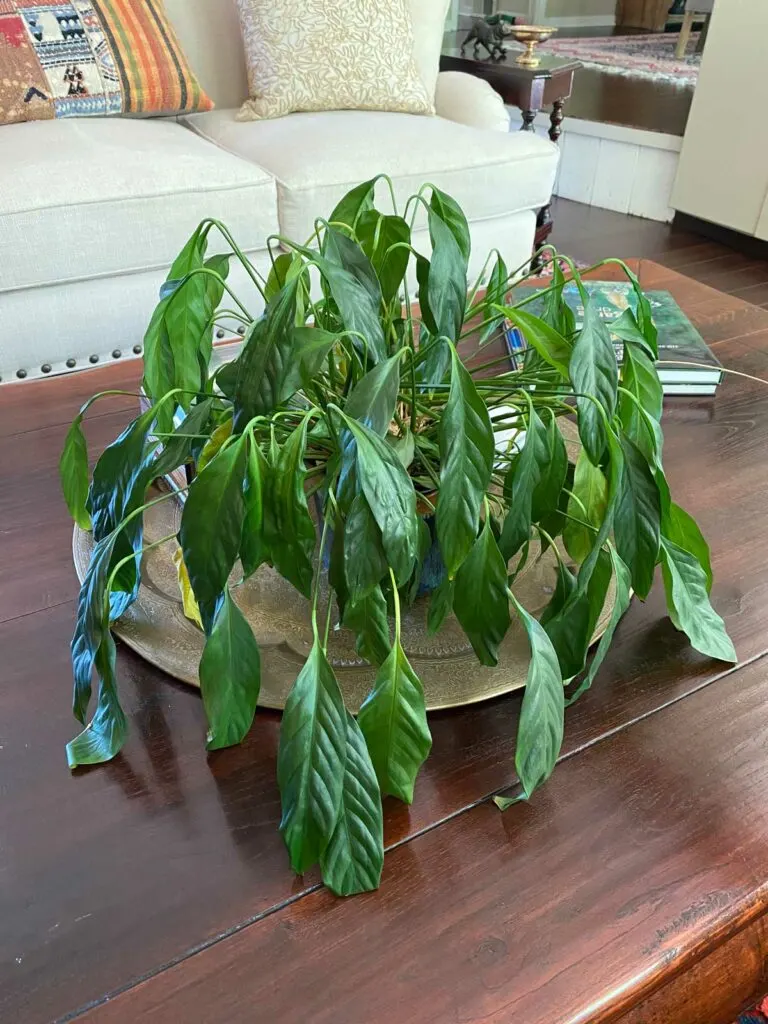 2. SOIL IS TOO DRY
Dry soil can be caused by quite a few issues.
NEW POTTING MIX
New potting mix can sometimes be very dry in the bag and it can take a while to moisten, especially peat based potting mixes. Peat moss becomes hydrophobic (repels water) when it get very dry.
If you've just repotted your peace lily, and you go to water and you find that the water sits on top and take a while for it to absorb, you must keep watering repeatedly until you actually observe that the potting mix has been moistened sufficiently.
And by observing, I mean feel the potting mix with your finger. Don't rely on moisture meters which are notoriously unreliable and faulty.
Keep watering until water escapes the drainage holes, and you'll be good to go. It may take a few waterings in a row in order to accomplish this depending on how dry your new potting mix was when you took it out of the bag.
IMPROPER WATERING
If you are barely adding any water because you are afraid of "overwatering", this will spell death for a peace lily. Your goal is to thoroughly moisten your soil.
If you don't water thoroughly, you will leave dry areas in your soil, and the roots will then suffer. If your root systems drives out, your plant will suffer.
Peace lilies hate dry soil, so be sure that you're watering throughly until excess water escapes the drainage holes.
3. YOU REPOTTED INTO TERRA COTTA
It's not to say that potting peace lilies into terra cotta pots is wrong, but it's a little counterproductive. Peace lilies are moisture loving plants, and terra cotta pots will dry out far too quickly.
If you can keep up with watering in terra cotta pots, you'll be fine. Otherwise, terra cotta is best avoided for peace lilies.
4. YOU REPOTTED INTO A POT MUCH TOO BIG
In general, I always recommend only going up one pot size when you repot anything. For example, if you have an 8 inch diameter pot, only go up to a 10 inch diameter pot when you repot.
If you go much bigger, the excess volume of soil will take much longer to dry out, and this can lead to root rot, especially if your soil is poorly draining and your plant is placed in a very low light area.
Related Resources
If you're looking for an amazing potting mix that you can use straight out of the bag for your Peace Lily, check out the Rainforest Soil Blend from Oh Happy Plants. This is an amazing mix and you will get 10% off at checkout automatically if you use my link.
For more peace lily related posts, don't miss these helpful posts.
Dying Peace Lily? Expert Tips to Grow and Revive Your Plant (this is a general care post)
Wilting & Drooping Peace Lily? 11 Common Causes w/ Fixes