Some of the links in this post may be affiliate links.
Are you wondering what the best way is to water your moss pole and keep it moist? In this post, I'll show you how to create a self watering moss pole using a very simple technique. It's not completely self-watering, but it barely takes any time to do, and it makes it super easy! Keep reading to learn more.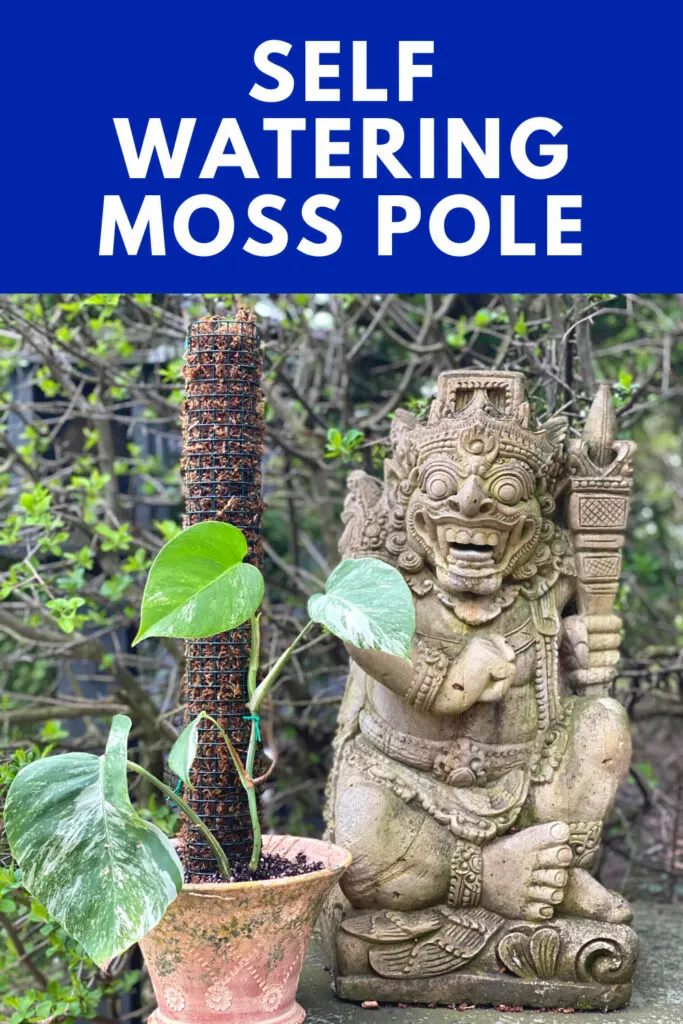 SELF WATERING MOSS POLE
The technique that I'm about to show you works for moss poles that you make yourself. I haven't found a single moss pole that is commercially available that I like, so I make my own and have a DIY moss post tutorial.
You'll definitely want to check out the tutorial. There is NOTHING that you can buy that is as good as one you make yourself!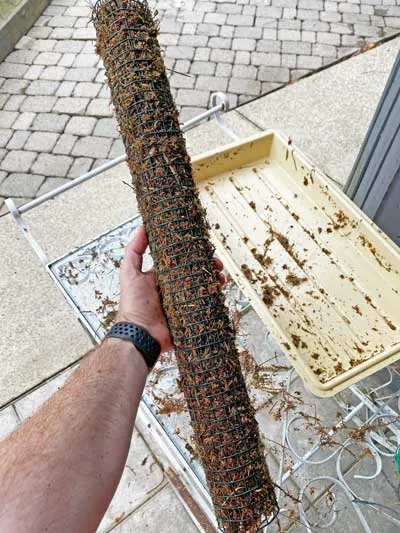 Now onto how to water your home made moss pole.
1. GET A WATER BOTTLE AND MAKE HOLES IN THE LID
For the first step, you'll want to:
Get a plastic water bottle
Fill the bottle with water
Drill 3 small holes in the lid, as shown in the photo below.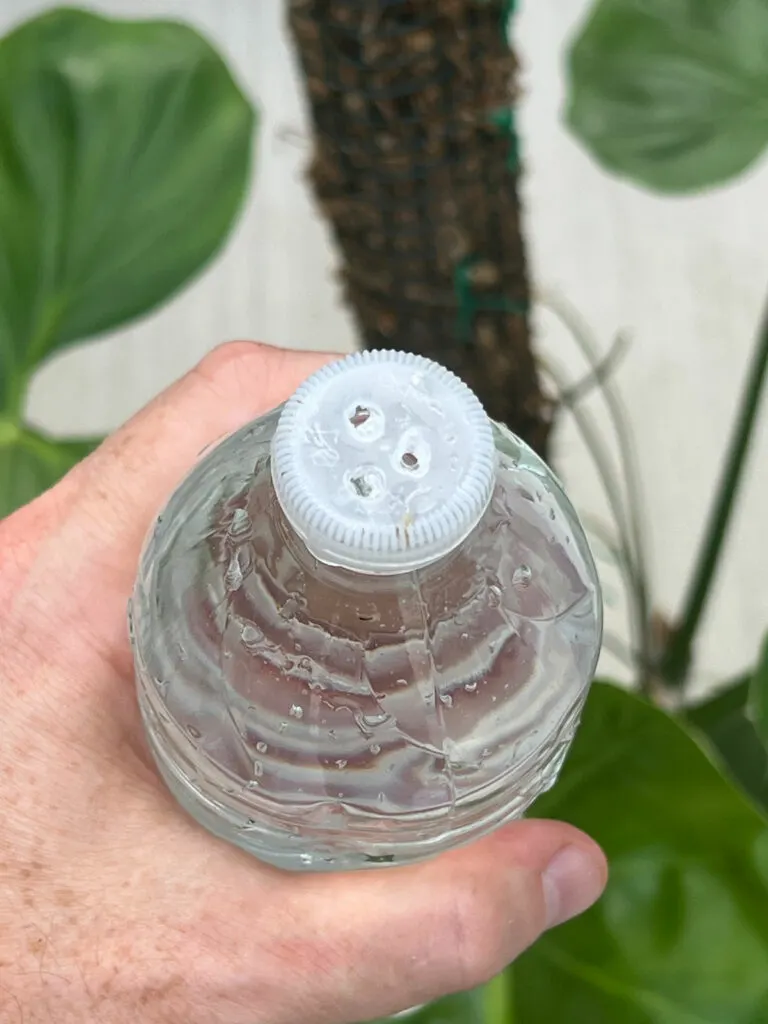 Some plastic water bottles can be quite flimsy. You may want to choose a Fiji water bottle because the plastic is thicker and sturdier and will last longer. Do whatever works for you.
2. MAKE AN INDENTATION ON TOP OF THE MOSS POLE
Next, using your finger, make an indentation at the top of the moss pole. You will place the water bottle here in the next step.
The indentation will help support the water bottle so it doesn't fall over.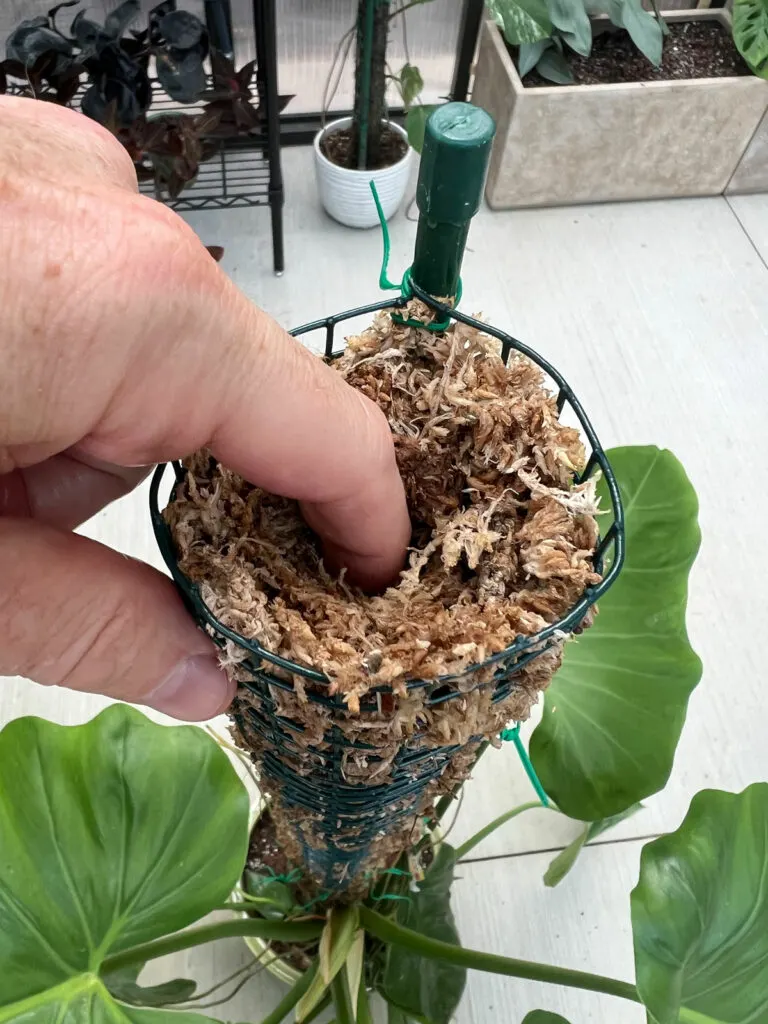 3. SET THE WATER BOTTLE UPSIDE DOWN
Lastly, simply place the water bottle upside down into the moss pole, with the cap inserted into the indentation that you created.
You should start to see air bubble escape upwards in the water bottle, and the water level will start to slowly go down. If you don't see the water level go down, gently lift the bottle up a bit, and set it back down.
(If you still don't see any air bubbles and/or the water level going down, you may need to drill the holes slightly larger.)
After a few minutes, the water bottle will have completely emptied into the moss pole. The time will vary a bit depending on how big the holes you made were, and how big the water bottle is. Mine in the photo above empties in just a few minutes.
Check the entire moss pole to make sure that ALL of the sphagnum moss has been moistened. particularly, check the base of the moss post. If it doesn't feel moist, go ahead and fill the water bottle again, and repeat the whole process again. That should do the trick!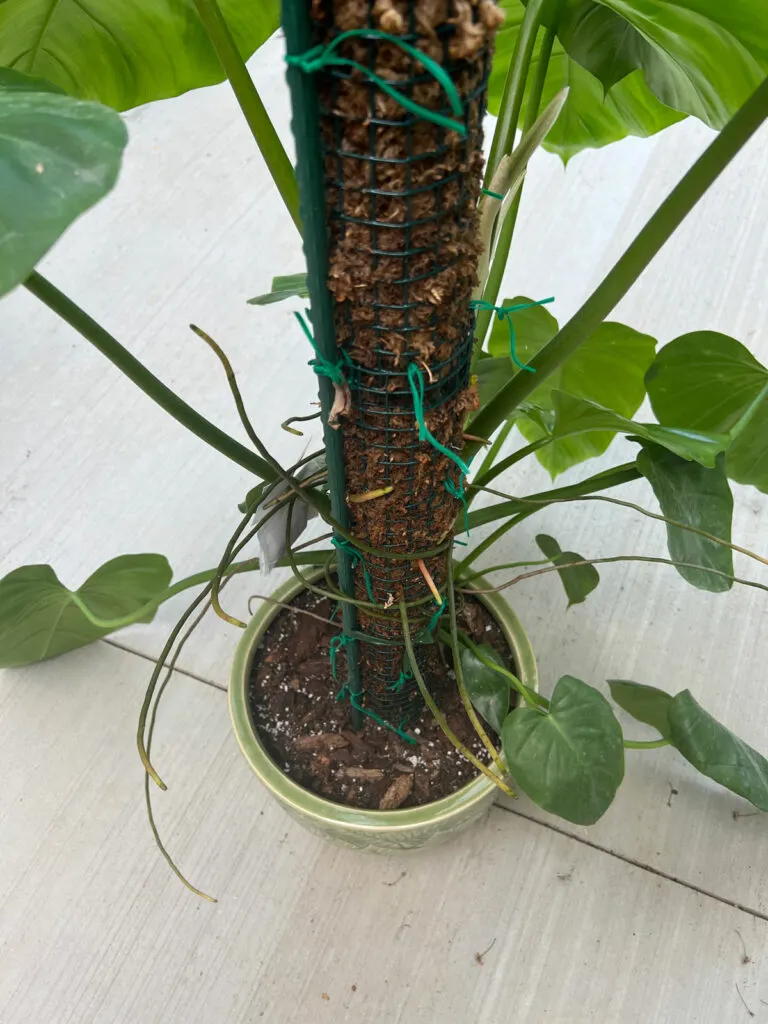 If it really bothers you and you have to repeat it a second time, you may want to consider getting a larger water bottle so that you only need to do this once.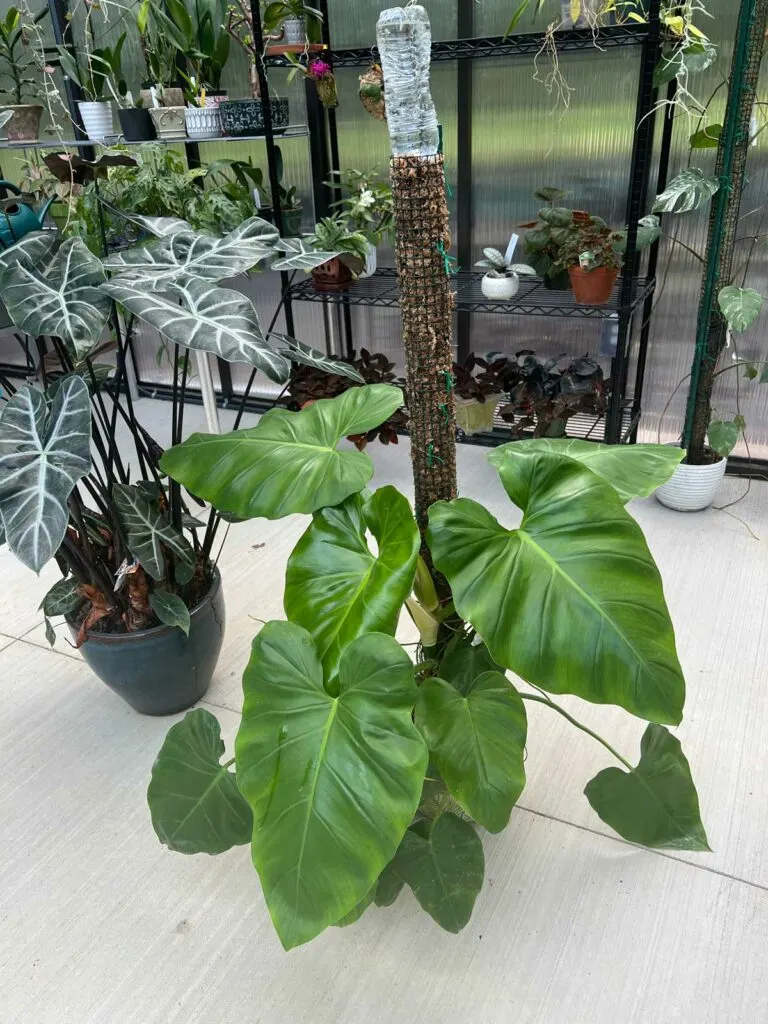 This water bottle method is really useful (versus taking your plant to the shower or sink and showering it to moisten it), because you don't have to move your plant, and it wastes much less water. Moving your plant can also be prohibitive once your plant gets too big.
Here are some commonly asked questions about watering moss posts.
HOW TO SET UP A SELF WATERING MOSS POLE
How often should I wet a moss pole?
Ideally, you never want your moss pole to completely dry out. It's not detrimental if it does, but sphagnum moss can take a while to re-wet once it gets too dry so try not to let it ever get bone dry.
So once your sphagnum moss feels almost dry to the touch, go ahead and water using this method.
The time that it takes for your moss pole to dry out varies drastically depending on temperature, humidity levels, light, and other factors, so every situation is unique.
Do you have to water the pot as well as the moss pole?
Many will tell you that you don't need to water your pot if you've moistened your moss pole. However, I'd like to elaborate on this:
If you've newly installed a moss pole, you need to water your pot. Until your plant gets more established and grows roots into the sphagnum, this is very necessary.
Some people say that the excess water from watering using this bottle method is sufficient and the excess will go into the pot. Don't trust this blindly. Feel your potting mix and if the potting mix is still dry after you've watered your moss pole, go ahead and water your plant.
For established plants that have grown up a moss pole and are nice and lush, you can get away with allowing your potting mix dry out as long as you keep your moss post pretty moist. I would still recommend watering the potting mix once it has completely, or almost completely, dried out.
Why use a moss pole in the first place?
It's not absolutely necessary to use a moss pole, it's a wonderful way to grow vining and climbing plants. Here are a few advantages of using a moss pole:
It will mimic conditions that many plants find in the wild, giving them support and moisture.
Many plants, particularly aroids (such as vining species of Monsteras, Philodendrons, Pothos, and others), will grow roots into the moss, and as they grow, you will find that over time, the plant will start to produce mature foliage. Without a support to attach onto, vining aroids will retain their small, juvenile foliage. Using a support like a moss pole will eventually give you bigger leaves, and fenestrations in certain species.
It will also save space by growing plants vertically.
I hope you've enjoyed this post and good luck in creating your first self watering moss pole. And when you do, comment below! I'd love to hear from you.