Some of the links in this post may be affiliate links.
Have you been struggling with keeping your cats away from your houseplants? It can be a really challenging endeavour! I conducted a survey of my following to see what people have done that actually works. Keep reading to find out some real-life, effective ways of how to keep cats away from plants.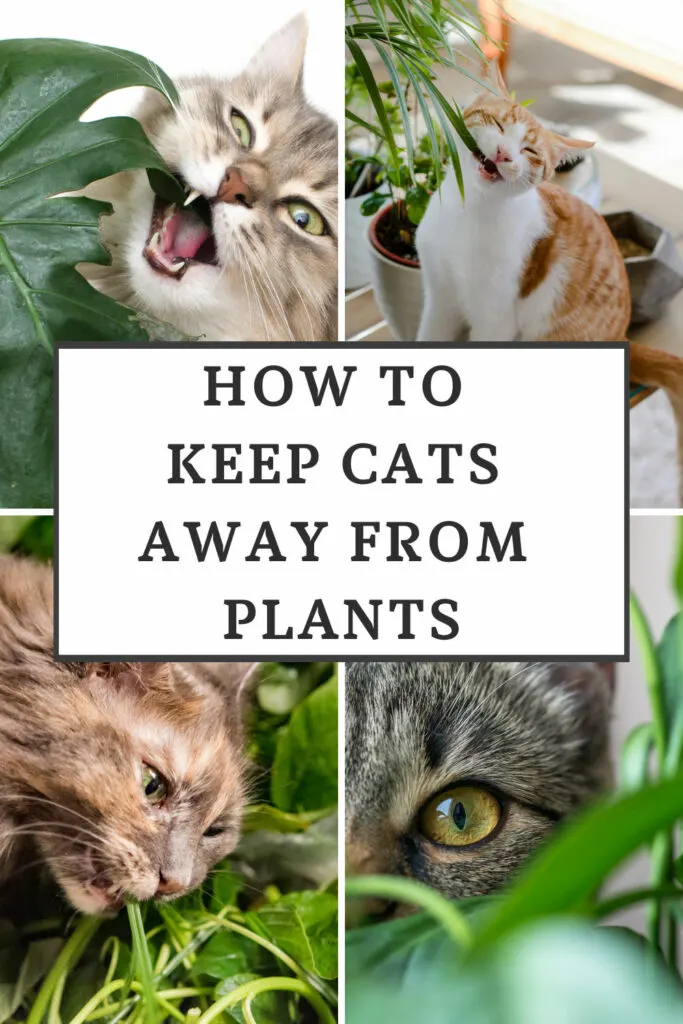 I've surveyed 85 people that have managed to keep their cats away from their plants, or at least minimized the damage.
The following list contains 19 different ideas that you can use to help keep your feline friends away from your prized houseplant collection.
Please note that people have mixed success with some of the methods below, so you should employ some of these methods and see if they work for you!
Keep in mind that there are many houseplants that are toxic to cats, but there are also quite a few nontoxic houseplants as well, so use these lists to help you plan your strategy.
Table of Contents
HOW TO KEEP CATS AWAY FROM PLANTS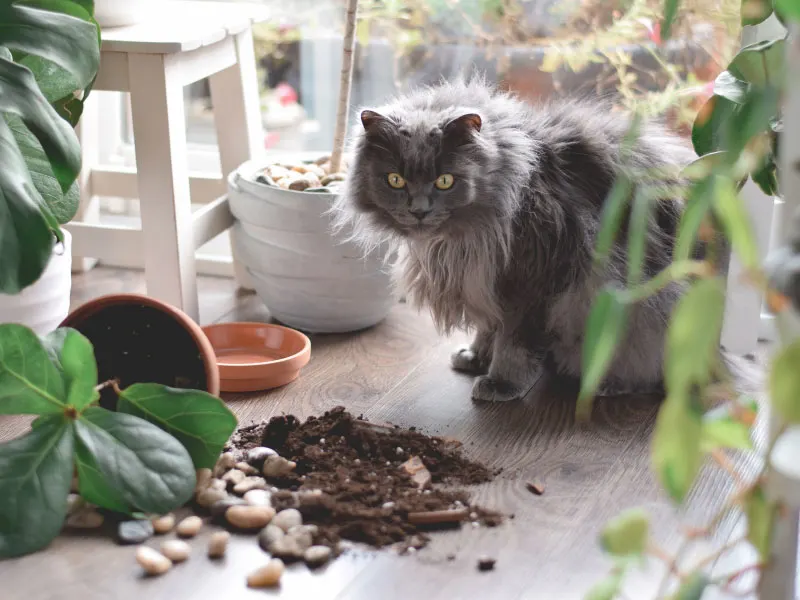 1. USE A MOTION ACTIVATED MISTER
One of the most effective ways to keep your cats away from your plants is to use a motion activated pet deterrent.
The product is called SSSCAT from PetSafe (link to Amazon) and it will help teach your cat (or dog) which areas in your home are off limits. The sensor detects your cat when your pet is within 3 feet and releases an odorless, nontoxic spray that does not leave any residue or stains.
Two of my readers that I surveyed had great success by using SSSCAT from PetSafe.
One of my readers, Tim Wade, had great success with SSSCAT. Tim mentioned "I've had the most success with using pressurized air with a remote sensor to keep them away from corners of the house I don't want them in."
Another reader also used SSSCAT to place near areas that were extra tempting to their cat. Eventually the cat got the point and stopped visiting those areas. Another application that this reader employed was to use SSSCAT when a new plant is purchased if the plant is placed in an area that the cat frequents.
Since it is automated, this product is especially effective because it will work whether you are home or not, and will help to correct your cat's behavior.
2. MANUALLY SPRAY YOUR CAT WITH WATER
If you don't want to purchase the product mentioned above, you can get by with manually using a mister to spray your cat with water when you need to correct any behavior.
Of course, this will only work if you are home, so you may want to use this method in combination with other techniques.
Quite a few of my readers have used spray bottles to squirt their cats when they encroach on their plants.
Most people have found this method to be very effective to the point where cats will learn and stop approaching any areas with plants where they were sprayed.
One of my readers uses this method when her cat tries to use her fiddle leaf fig as a litter box.
3. USE CITRUS ESSENTIAL OIL, CITRUS RINDS or LEMON JUICE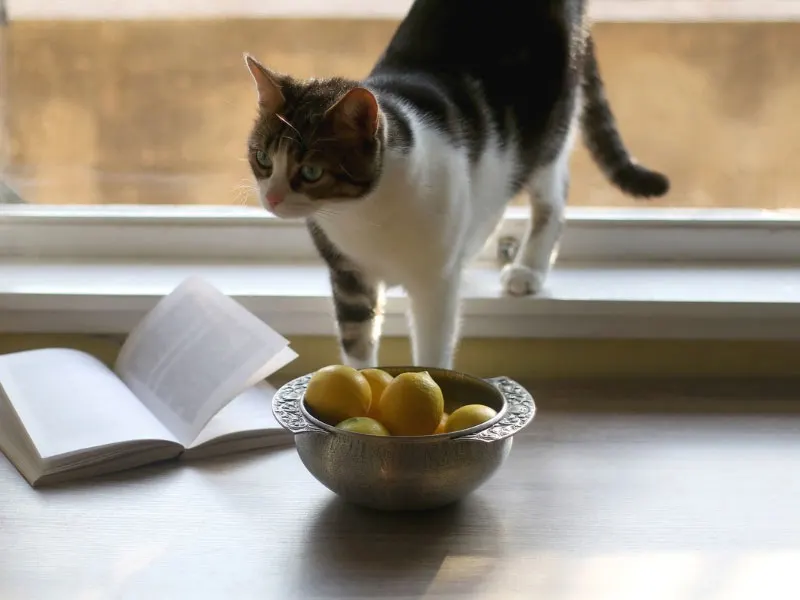 In general, cats do not like the smell of citrus. Simply add some lemon juice to a spray bottle, mix with water, and spray on the leaves of your plants. Some readers even take straight lemon juice and rub directly on the plant leaves to help deter cats.
White vinegar diluted with water is also sometimes used.
You can also take citrus rinds and place them near your plants. One reader noted that this will only work for a day or two.
Another reader uses citrus essential oil that is applied around the plants to help deter their cats. You can also try a bitter lemon spray if you want to purchase a ready-made product.
4. PLACE PLANTS IN CAGES
Perhaps one of the most creative methods to deter cats is to place your plants in decorative cages where the plants will be inaccessible to your cats.
5. GIVE YOUR KITTY SOME CAT GRASS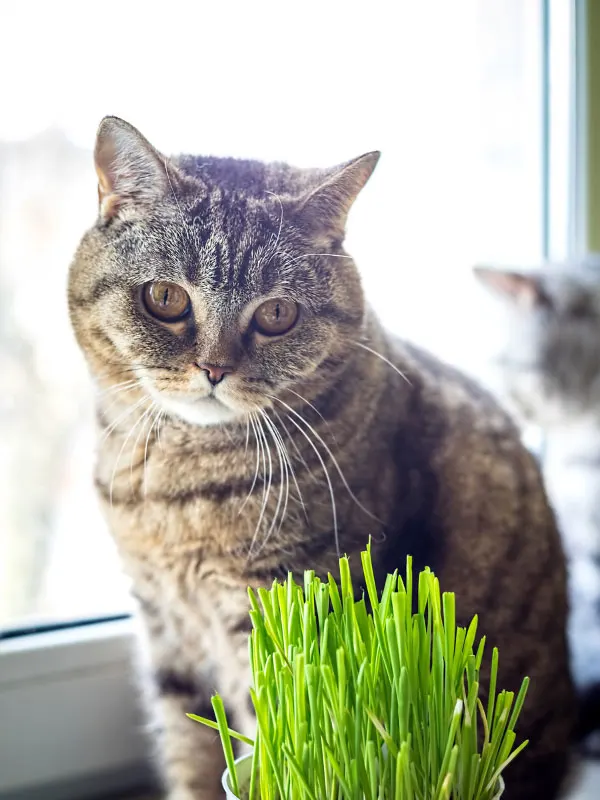 One of my reader's biggest pieces of advice is to plant cat grass. She stated that her cats only chew on her houseplants when they don't have any cat grass available.
In addition, cat grass aids with digestion and cats will chew on the grass in order to help their stomachs feel better.
Many of my readers reported good results with using cat grass, but one stated they their cat will not touch it.
The only way to find out is to try it for yourself. You can even grow your own cat grass with a kit (link to Amazon).
6. HANG YOUR PLANTS FROM THE CEILING
One of the best methods to keep cats away from your plants is simply placing the plants where the cats physically can't get to them.
Hanging your plants is a great solution. Just make sure that your cats don't have anywhere nearby where they can access the hanging plant (tables, shelves that they can jump on, etc.)
Hanging plants is also a great solution to keep toxic plants away from your cats!
7. USE HIGH SHELVES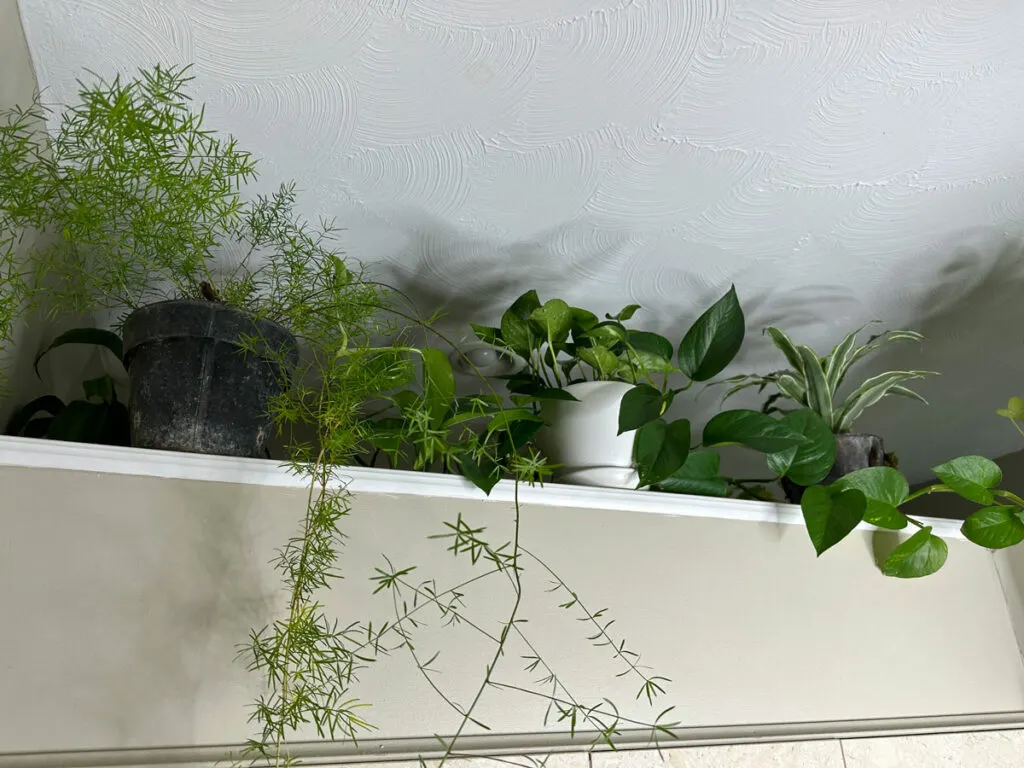 Similar to the previous solution, using shelves placed high up off the floor will prevent your cats from accessing your plants.
Just make sure the shelves are high up enough that your cat can't jump onto the shelf from another point below.
8. MOUNT PLANTS ON WALLS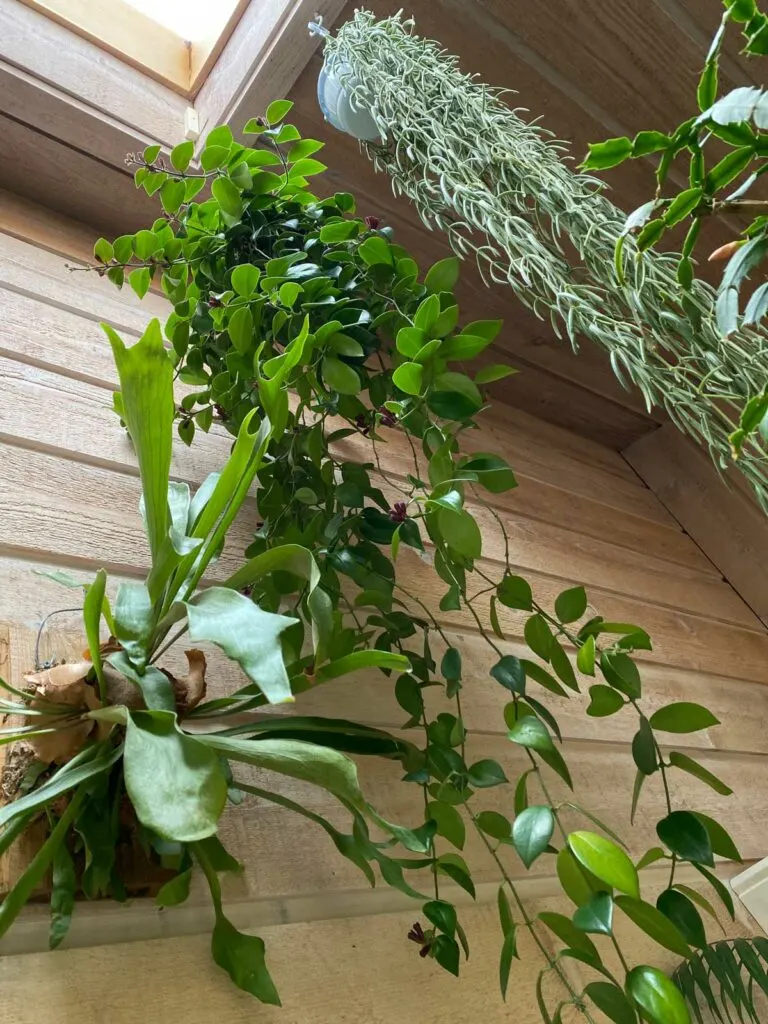 Hanging mounted plants on a wall is another great solution to prevent your cats from getting to your plants.
Plants like staghorn ferns are commonly mounted on a slab of wood and you can simply hang them on your wall as living art. Just make sure that you don't hang the plant too low.
9. MAKE A DEDICATED PLANT SPACE FOR YOUR CATS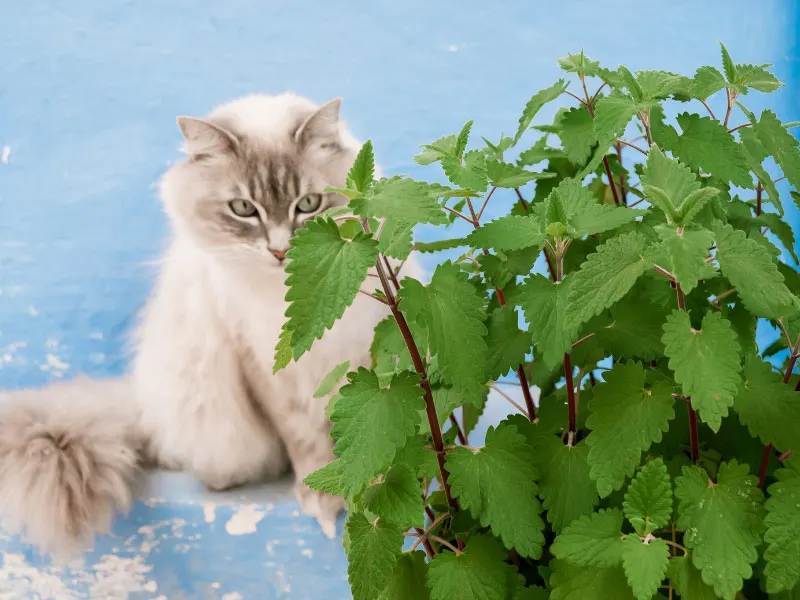 If all else fails, give your plants their own dedicated indoor garden that they can chew and play with. Just make sure that the plants are nontoxic.
One reader, April, said that she created a dedicated garden space that contains "a ponytail palm, cat grass, catnip, tricolor sage, and cat mint. Now they only bother the ones in this area."
10. CREATE OBSTACLES
One of my readers, Tim Wade, mentioned that he has had some success with "removing access to the intermediate climbing surface (a window ledge), by putting more objects – in this case some snake plants that I am propagating in water – on it."
Tim also states that "we know that cats love to knock things off but in my experience, if the surface they'd like to jump on is more cluttered, they will be less likely to to try to get up there."
11. USE ALUMINUM FOIL
Many people have reported success by using aluminum foil to deter cats from getting to their plants. Some simply place sheets of aluminum foil over the surface of the plant's potting mix, while others hang sheets of foil from ledges or shelves that would be accessible to cats.
The solution seems to be very dependent on individual cats. It will work for many cats, but not for others.
12. CLOSE YOUR PLANT ROOM
This may be the simplest solution of all. If you have a dedicated plant room, simply close the door so your cats can't get to the plants.
This may pose some issues though with air circulation. You may want to consider a gently circulating fan in order to allow for enough air circulation to keep your plants healthy.
13. USE A GREENHOUSE CABINET
Greenhouse cabinets, like the popular IKEA cabinet, offer a wonderful solution and make it impossible for your cat to get into.
These types of cabinets usually would require installation of grow lights inside. But with grow lights, it offers a lot of flexibility since you can place your greenhouse cabinet anywhere in your home.
There are some ready made greenhouse cabinets with lights on Amazon that you can purchase ready-made if you want a turn-key solution.
14. TELL YOUR CAT NO, CLAP OR HISS
Many of my readers responded that they yell "no" at their cat, or even clap or hiss when their kitties are being naughty. Often times, this help train your cats to avoid your plants.
15. TRY AND AVOID THIN, STRAPPY FOLIAGE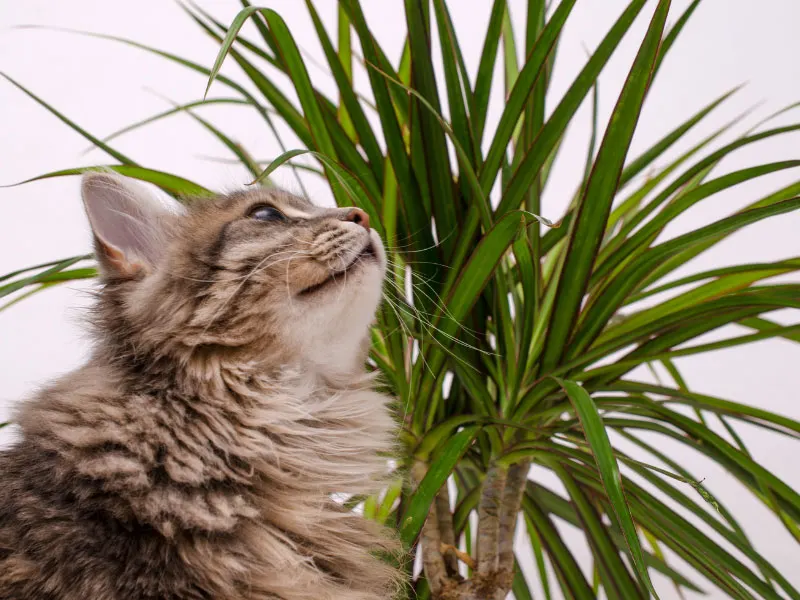 Cats tend to be very attracted to plants with thin strappy leaves, such as palms, ponytail palms, and spider plants. Even plants like ferns seem irresistible . Avoid these if you can, unless you can provide a physical barrier to your cats where they won't be able to approach your plants.
16. COVER THE SURFACE OF THE SOIL WITH A PLANT SAUCER
One of my readers came up with a creative solution for her cat that would use her fiddle leaf fig as a litter box, and would then proceed to fling potting mix all over the floor.
She cut a hole out of the center of a plastic pot saucer, with a slit from the center to the edge. Then she slipped it over to cover the top of the pot so that the entire surface of the potting mix was completely covered.
17. GIVE YOUR CAT TOYS AND SCRATCHING POSTS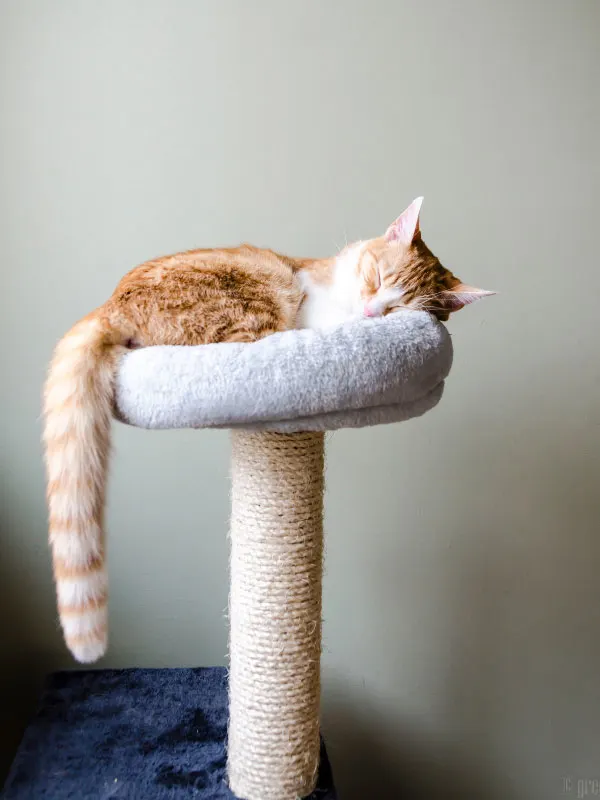 Many of my surveyed readers have mentioned that giving cats plenty of toys to play with, as well as a good scratching post, will make them less prone to play with your plants.
One reader likes to keep toys near her plants, and she stated that often times, the cats choose the toys over the plants.
18. MAKE A TERRARIUM
Make an enclosed terrarium that cats can't get into. I made this terrarium out of an aquarium and used a glass lid on top of the aquarium, along with an LED grow light.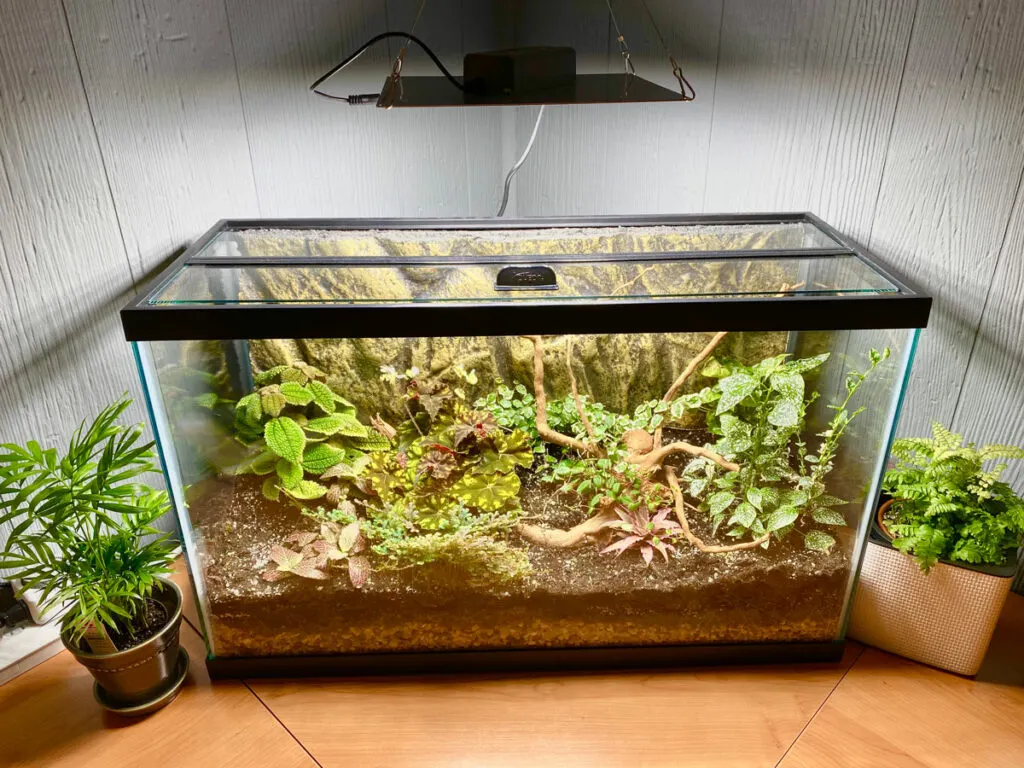 You can even find decorative cases that are enclosed with glass, and simply place some potted plants inside.
19. PLACE YOUR PLANTS OUTSIDE DURING WARM WEATHER
And literally when all else fails, or you don't want to employ any of the previous methods described, you can always place your houseplants outdoors during warm weather.
This will work particularly well for any plants that have been chewed up badly by your cat. Being in the outdoors will do wonders for your plants.
Just be careful to acclimate your plants slowly to the higher light outside so your foliage doesn't burn.
I hope you've enjoyed this post on how to keep cats away from plants. Have you tried any of these methods, or do you have any additional ones? Comment below. I'd love to hear!