Some of the links in this post may be affiliate links.
Are you wondering about how to choose the best pots for Hoyas? The simple answer is that there are many types of pots that work well. But there are some important things that you do need to know in order to choose the best pot. Keep reading to learn more.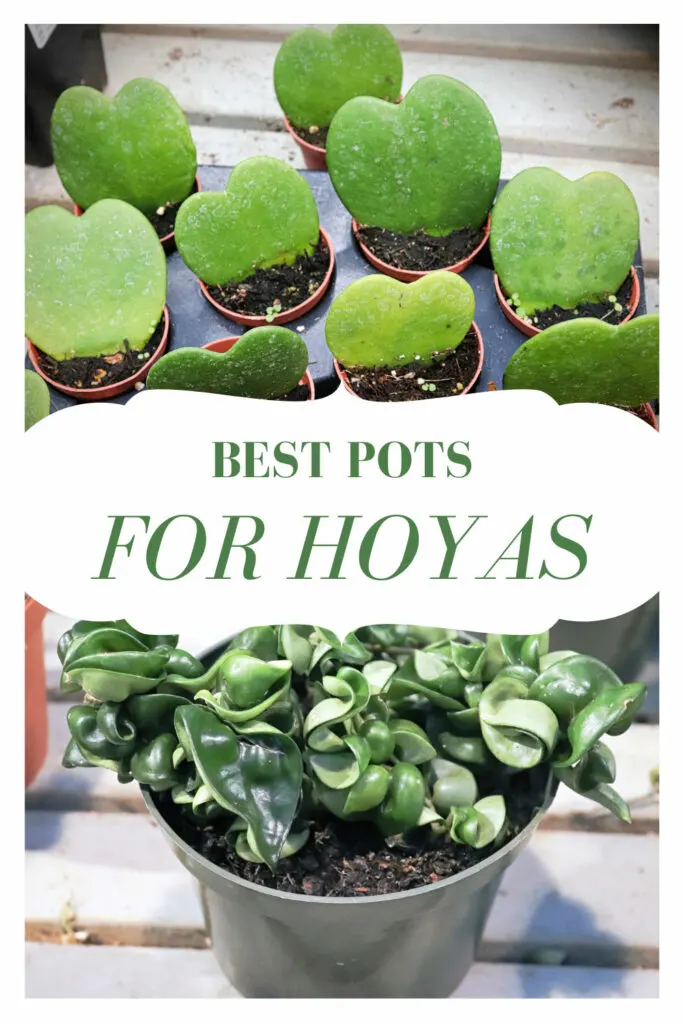 BEST POTS FOR HOYAS
The most important aspects of choosing a pot type are the following, and please keep reading as there are many nuances to consider.
When choosing the best pots for Hoyas, consider the following:
Drainage holes are a must! Enough said.
The size of the pot is very important.
You can use many different pot types, and you can choose depending on your indoor growing conditions and watering habits.
1. DO HOYAS LIKE BIG POTS?
The size of the pot will vary depending on the size of your Hoya's root system. A good general rule of thumb is to only go up ONE pot size when repotting Hoya plants.
(And you don't want to repot until your Hoya plant is root bound).
For example, if your Hoya is in a 4 inch diameter pot and it's time to repot, only go up to the next pot size up (6 inch diameter).
Why is this? The main reason is that Hoyas need to dry out pretty quickly in between watering. If you overpot your Hoya and place it in a pot that is much too large, the excess volume of potting mix will take too long to dry out.
Which leads us to…
2. DO HOYAS LIKE TIGHT POTS?
Yes, Hoyas prefer to live in smaller pots. There are 2 main reasons for this:
Assuming you have your plant in good light, having a root bound Hoya will help produce better flowering.
The soil will dry out in much less time.
3. HOYAS IN TERRA COTTA vs. PLASTIC POTS
TERRA COTTA POTS
Any pot type will work, but like I mentioned, there are nuances. Terra cotta pots are great for some people. Since they are very porous, they will dry out much more quickly than other types of pots.
If you tend to go heavy with your watering can and "overwater", terra cotta pots would be great for you. Keep in mind that the smaller the terra cotta pot is, the more quickly it will dry out, and they can dry out exceedingly fast.
This can be both a pro and a con. For me personally, it's a con because I don't like to water frequently.
PLASTIC POTS
Plastic pots will retain moisture much more than terra cotta pots. As long as your potting mix dries out in a reasonable amount of time, you will be fine.
There are many factors that affect how quickly your potting mix dries out:
The size and type of pot as mentioned above.
The type of potting mix (the chunkier the mix, the more quickly it will dry out).
Temperature (higher temps will dry out your plant more quicky).
Higher light (will encourage blooming in your Hoya and will help dry your soil out more).
Humidity (dry air will cause your soil to dry more quickly).
I take a holistic approach to houseplant care, and I discuss all of these topics in detail in my book, Houseplant Warrior.
The more succulent the Hoya is, the longer it can tolerate drying out. For example, Hoya obovata has nice, thick, juicy leaves and they can take drying out much more than thinner leaved Hoyas like Hoya multiflora.
In the end, the type of pot for your Hoya is all a personal choice, once you consider your watering habits and your indoor environment. Choose one that works for you!
ADDITIONAL RESOURCES
For more information on Hoyas, I have quite a few Hoya posts on my site. Here are some that you may enjoy!
Best Hoyas for Beginners (and within this post, I have links to the individual care of most/all the Hoyas mentioned.)
In addition, be sure not to miss my Indoor Plant Pot Types: 5 Great Choices w/ Pros and Cons for a more detailed discuss on the pros and cons of various pot types.